DIY Magnetic Dry Erase Menu for the Fridge
This post may contain affiliate links for your convenience. Read our disclosure policy.
Take any thrift store frame and easily turn it into a magnetic dry erase menu for the fridge to help you keep track of what's for dinner!
I love to keep a printed version of our monthly meal plan on the fridge for easy reference, but printing out those pages every month gets a little old! Plus, when I decide to change what we are having last minute, crossing out and rewriting makes the menu look messy and confusing! So for this month's thrift store challenge I decided to turn a regular picture frame into a magenetic dry erase menu to make planning (and changing) our meals so much easier!
---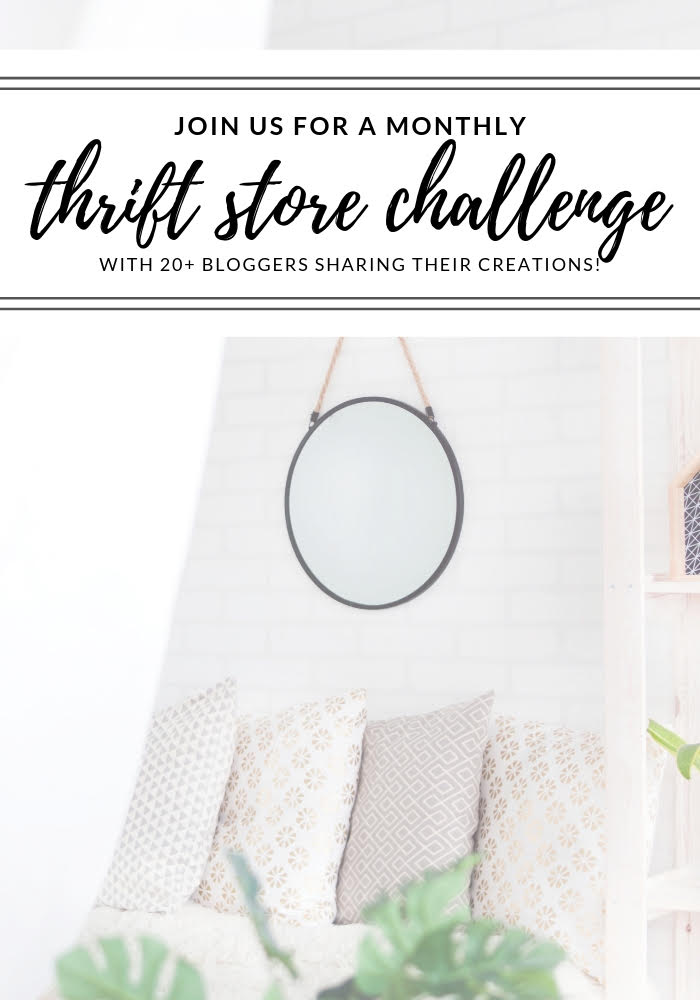 The Rules:
Upcycle an item(s) from a thrift store, resale store, or garage sale into a new piece of decor.
There's no monthly theme.
There's no budget to stick to.
Meet the Hosts
Angela | Simply Beautiful By Angela – Jenny | Cookies Coffee and Crafts – Heather | Glitter On A Dime – Amanda | Domestically Creative – Denise | My Thrifty House – Molly | Just a Little Creativity – Angie | Flippin Fanchers – Victoria | Dazzle While Frazzled – Debra | Shoppe No 5 – Marie | The Inspiration Vault – Deborah | Salvage Sister & Mister – Pili | My Sweet Things – Carmen | Living Letter Home – Habiba | Craftify My Love – Emy | Semigloss Design – Meredith | Southbound Blog
Make sure you follow our board on Pinterest for more upcycled decor inspiration!
---
DIY Magnetic Dry Erase Menu
Before we get to the tutorial, make sure you hop over and grab your Free Printable Meal Planner so you can print the sheets to fit into the frame. I prefer to use the monthly sheets, but the weekly menu sheets would work just as well! If you don't want to use the printable meal planner, you could also buy alphabet stickers to spell out Menu and use MTWTFSS for the days. Up to you!
Supplies Needed:
Picture Frame (thrifted for the best deal!)
Paint brush
Sanding block
I scored this simple frame at my local Goodwill for $0.99! I went on a Sunday and didn't expect to find anything left in the half off color of the week but was pleasantly surprised. It's not a fancy frame at all and is rather light weight, but it's perfect for my magnetic dry erase menu for the fridge.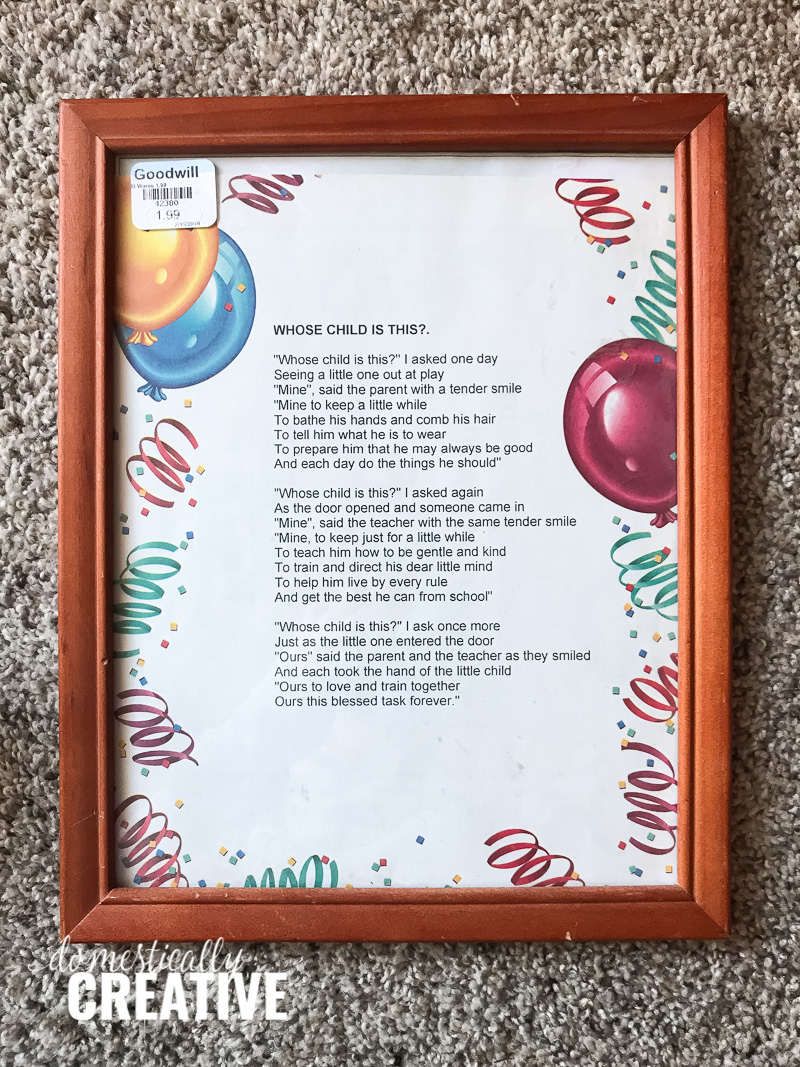 Always start any thrift store makeover by giving it a good cleaning. For the frame I just used a wet rag to clean it really well, and the glass I cleaned first with soap and water, then with glass cleaner.
Give the frame a light sanding to ensure all the grime is gone (even after cleaning!) and to give the paint a rough surface to stick to. This is especially important if you decide to use a latex paint.
Paint the frame in the color of your choosing. I used a white chalky paint because that's what I had. I would have preferred to use spray paint, but I was limited by the endless Winter weather we have going on here.
Once the frame is dry, give it another light sanding (may not be necessary with spray paint or latex paint). Spray on a coat of acrylic sealer to prevent any cracking or chipping of the paint.
Next, cut a piece of magnetic tape about 4″ long. If your frame is lightweight, one strip on the top and bottom of the frame should be plenty to hold up the frame. If your frame is on the heavier side, it may be necessary to use longer strips of magnetic tape on all 4 sides.
Put the menu sheet inside the frame and reassemble the frame with glass and backing. Fill in your menu using the dry erase markers over the glass and it's ready to hang!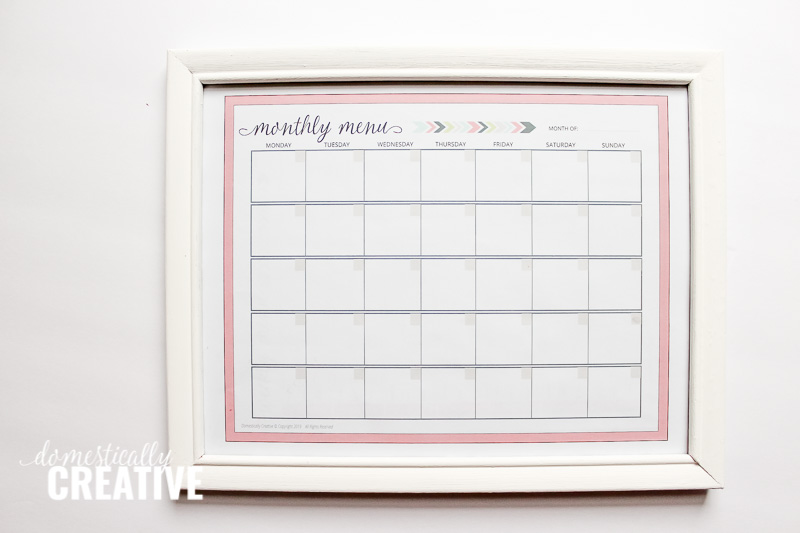 Easy right? Now you have a DIY magnetic dry erase menu that you can use over and over again. Simply use a paper towel, cloth or eraser to change the menu from week to week or month to month! These magnetic dry erase markers come in handy to keep next to your dry erase menu, and have a nifty eraser top as well.
I decided to keep our extra chip clips, magnets and our magnetic notepad next to the new dry erase menu for a nice little command center. The best part is it doesn't take up any extra room, as this side of our fridge is bare anyway. I wouldn't mind getting a little magnetic cup holder for pens too!
If you need ideas for monthly dinner ideas, check out my page of monthly meal plans!
Don't forget to pin it!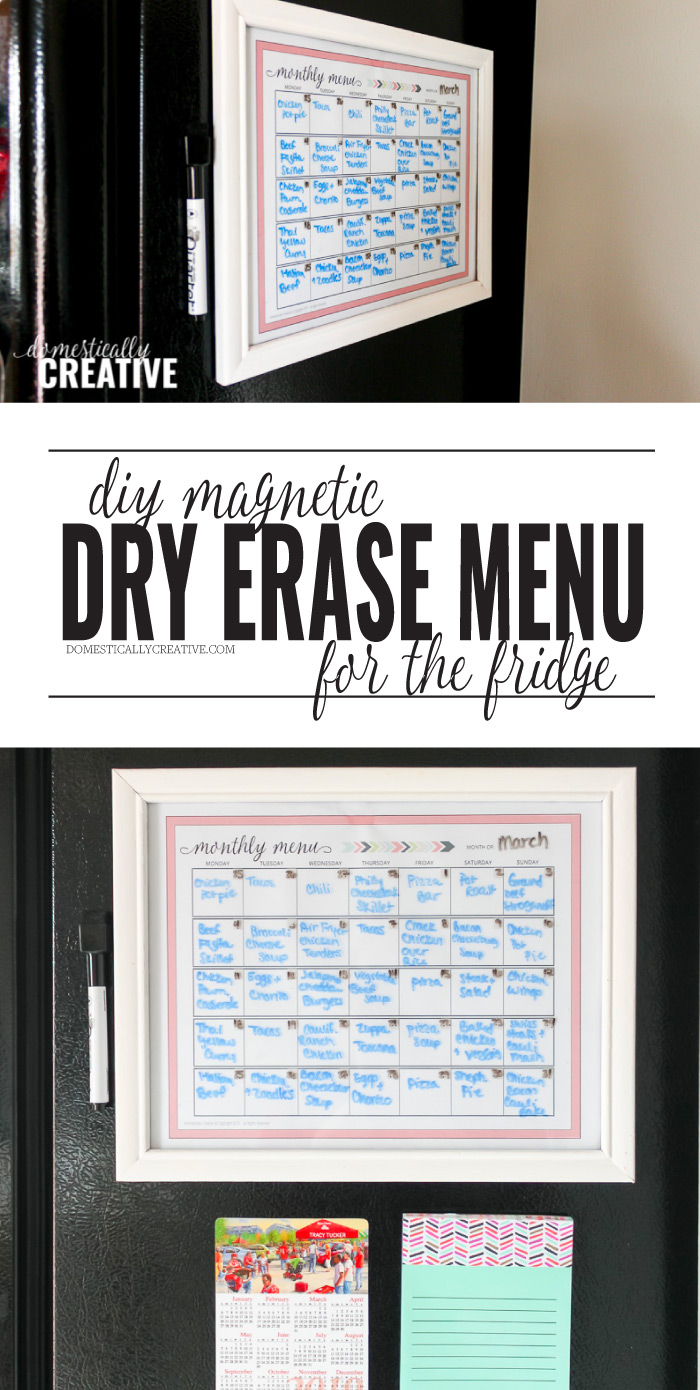 ---
And now for more thrifty goodness!
Check out what my fellow upcyclers created below!