How to Wallpaper a Bookcase for a Chic New Look!
This post may contain affiliate links for your convenience. Read our disclosure policy.
Just as I kept promising–I'm back with a completed project in my almost finished office space. Finally my sophisticated and girly space is almost complete. I have just a few more projects to share before I'll be ready for a final reveal. I'm so excited–aren't you?
If you have no idea what I am talking about, you can see my office makeover inspiration board HERE, and a few other projects HERE , HERE and HERE.
On to my newest project–an easy way to glam up an otherwise boring bookcase.
This post contains affiliate links for you convenience. You can read my full disclosure policy here.
I was approached by Graham and Brown to try out their products in an upcoming renovation project a few months ago. I was SO excited!! I mean really, their wallpapers are just gorgeous!! If you've never heard of Graham and Brown, be sure to hop over and check them out. Not only do they have a huge selection of modern wallpaper–traditional glue down, removable and paintable–but they also have a wide variety of wall art, home accessories and paint.

Like I said, I was ecstatic to try out some wallpaper, but I wasn't planning to use it in a traditional sense. Unfortunately, covering a whole wall in a girly/glam wallpaper isn't exactly great for resale value, and since this is by no means a permanent home for us, hubby and I decided not to cover the walls (or even paint for that matter).
I still wanted something that would make a statement, but without going directly on the walls. Understated chic if you will. So I ordered a few samples to choose from, and took to Instagram and Facebook for everyone's opinions.
There was a clear winner (which just so happened to be the one I loved too)–Cascada Pearl. It has a wonderful floral scroll pattern, with silver and gold metallic hints. The perfect accent for my space, and I knew it would look beautiful on my boring old bookcase.
Here's what I was working with before. Sorry for the terrible picture, I guess I just got so excited about this project I totally forgot to take good before photos!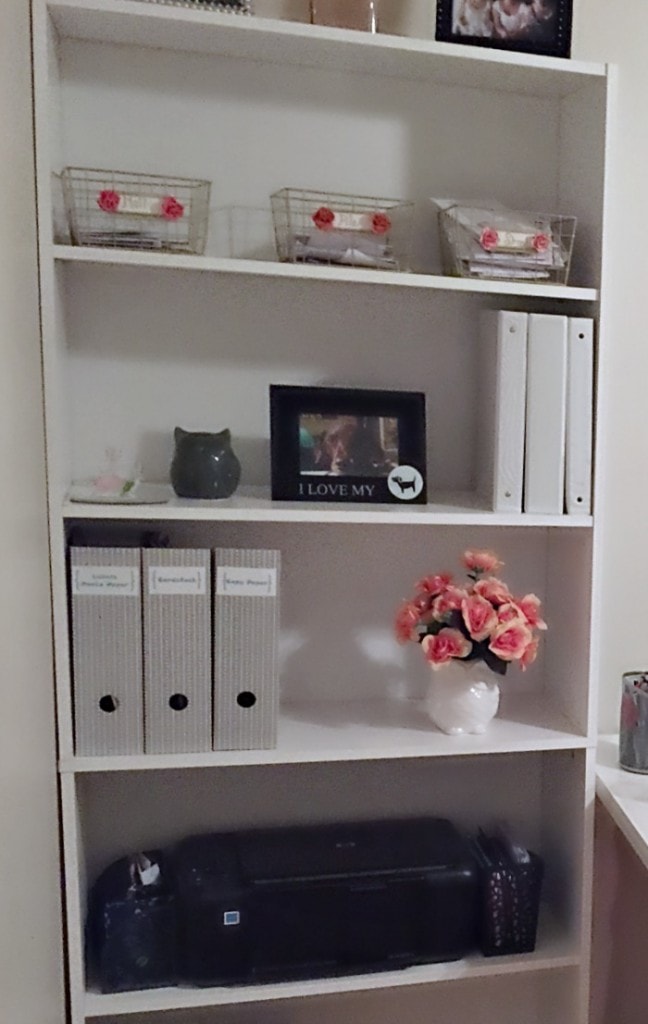 Guys, I must confess, I've never wallpapered anything, let alone a bookcase. Luckily the rolls of wallpaper came with very straightforward instructions on how to do it, and I can honestly say it was so simple. Even if I was doing a whole wall or room, I think it would still be a breeze. The only complicated part was lining up the patterns.
I also used a homemade wallpaper paste recipe I got HERE, made from cornstarch and water. It went on really easily with no mess, and has been holding up wonderfully.
If you've never covered a bookcase, don't stress. This is probably one of the easiest DIY projects I've taken on.
Here's how to wallpaper a bookcase to give it a chic new look:
First start off by taking the back(s) off of the bookcase, and wipe them down with a cloth to get rid of any dust.
Then cut the wallpaper to the correct length of your backs. I made each cut slightly longer than needed just in case. You can always trim the excess off when you are finished.
For this one, I also needed to do some pattern matching as the width of my bookcase was wider than the wallpaper. Even for a floral pattern it was pretty easy to match up.
Once you have the cuts made, you are ready to glue down. Just take a lint free rag or sponge roller brush, and brush your wallpaper paste onto the back of the bookcase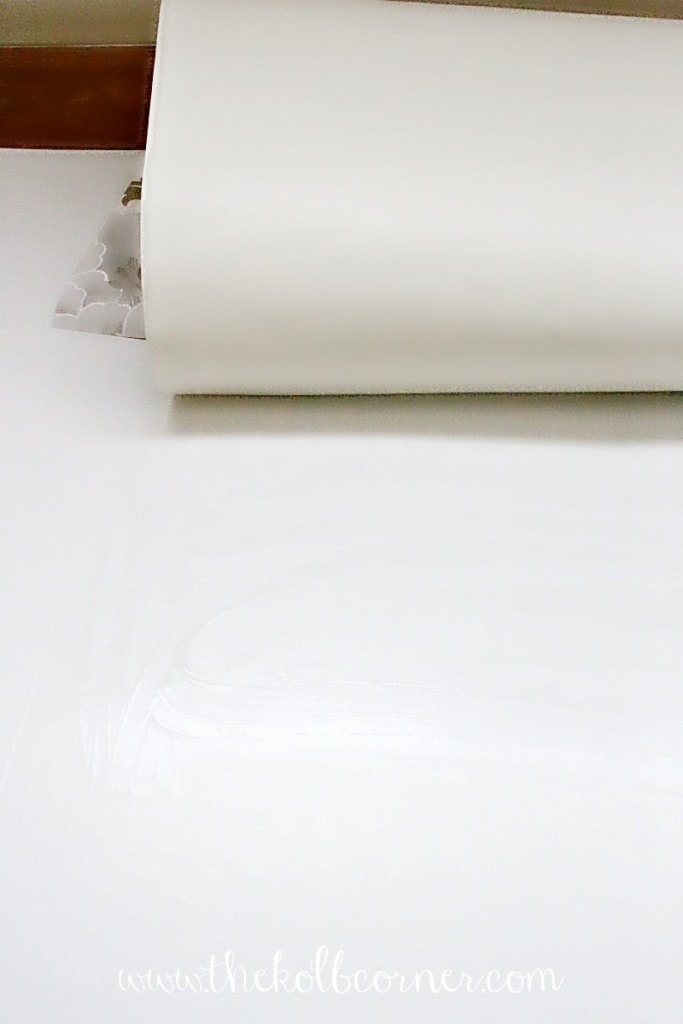 Then apply the wallpaper, making sure to smooth to get rid of air bubbles. I found using a squeegee really helped. Just be careful not to apply too much pressure or you may rip your paper!
Once the wallpaper is applied, let it dry for about 30 minutes before nailing the backs onto your bookcase.
You would use the same technique if you were applying the wallpaper to your walls. It really is as easy as it sounds.
What do you think? A pretty big difference right?
Side note: I am so in love with my owl vase I found 50% off at Michael's. I am slightly obsessed with owls…
I have a few more ideas up my sleeve for this particular wallpaper, so be sure to stay tuned to see what's in store!