How To Clean and Preserve Pine Cones
This post may contain affiliate links for your convenience. Read our disclosure policy.
Ever wonder how you can take those pretty pine cones you find in your yard, park, or on walks, and turn them into something you can use in your decor? I'll show you how you can collect, clean and preserve pine cones so you can use them for years to come.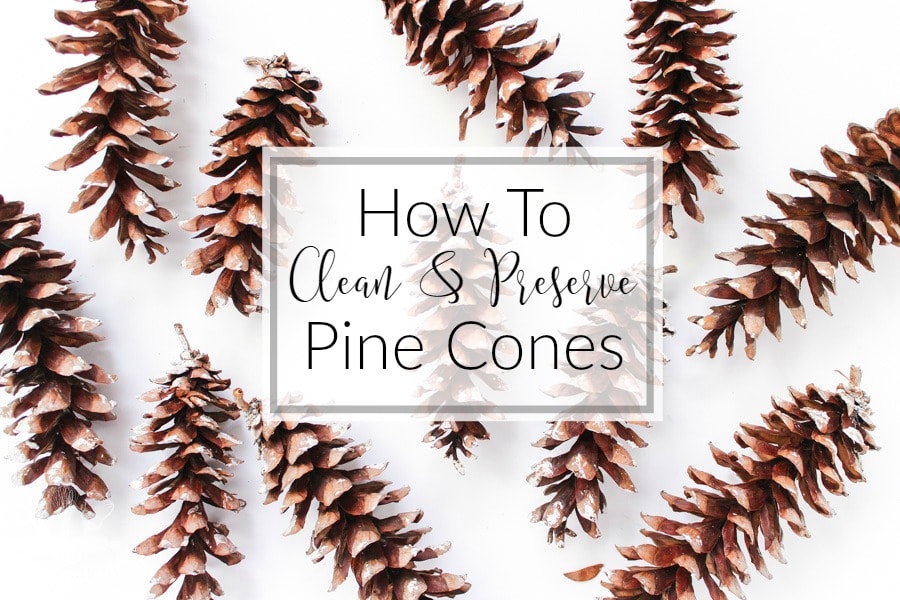 When I lived in Tennessee I used to love to collect things in nature to use in my seasonal decorations–things like fall leaves, acorns and pine cones. When we moved to Texas, it was hard to find those types of things to collect, especially pine cones.
We did have the occasional changing tree and acorns, but pine cones were nowhere to be found. With moving to Missouri, I was thrilled to discover a HUGE pine tree in my backyard that dropped massive pine cones just waiting for me to collect.
But, one of the downfalls to collecting pine cones from nature is that they are sticky, dirty, and filled with bugs. Yuck. Who wants that in their house? Not me… So that's why I have the perfect method to clean, disinfect and preserve pinecones to use in crafts.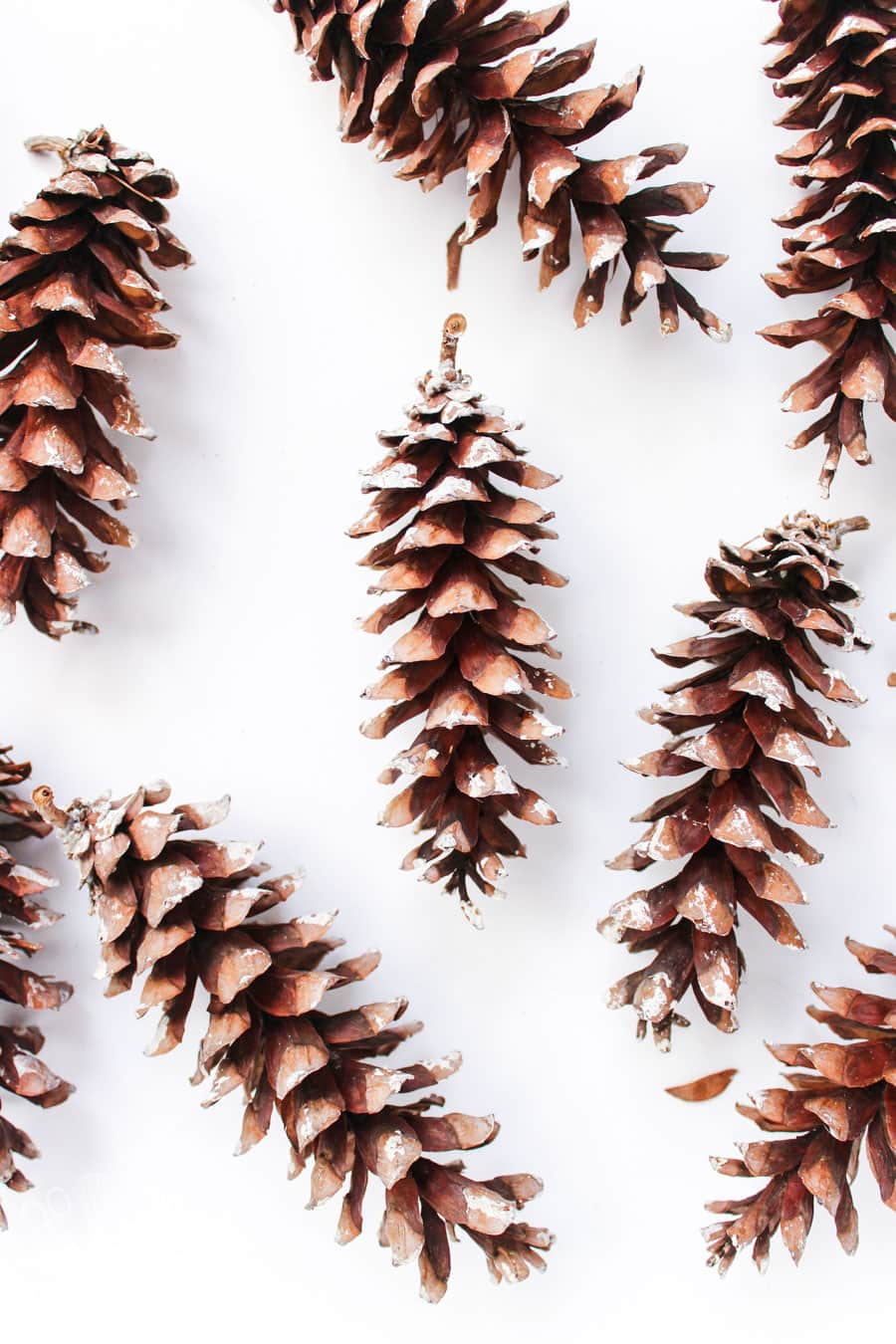 How to Clean Pine Cones for Crafts
Supplies Needed:
Pinecones
Large bucket (I used a 5 gal bucket)
Rubbing alcohol
Q-Tips
Vinegar
Hot water
Towel
How to Collect Pine Cones for Crafts
The best pine cones to collect are ones that still have a partial stem, no broken wings, and are open. I recommend picking pine cones from the tree so they will be cleaner than those lying on the ground, however, do what is easiest. I still collect pine cones from the ground.
How to Remove Sap from Pine Cones
Once you have collected all of your pine cones, you will want to spot-clean them before soaking in a vinegar solution. Remove any remaining needles, leaves, etc from the pinecones. Using rubbing alcohol on a Q-tip, clean any really dirty or gross spots on the cones.
Next, fill up a 5-gallon bucket with HOT water about 1/2 way full. Then add 2 cups of vinegar making a 1 cup vinegar to 1 gallon water solution. Vinegar will disinfect, kill any bugs that are living inside the pine cones, and get rid of the sap residue.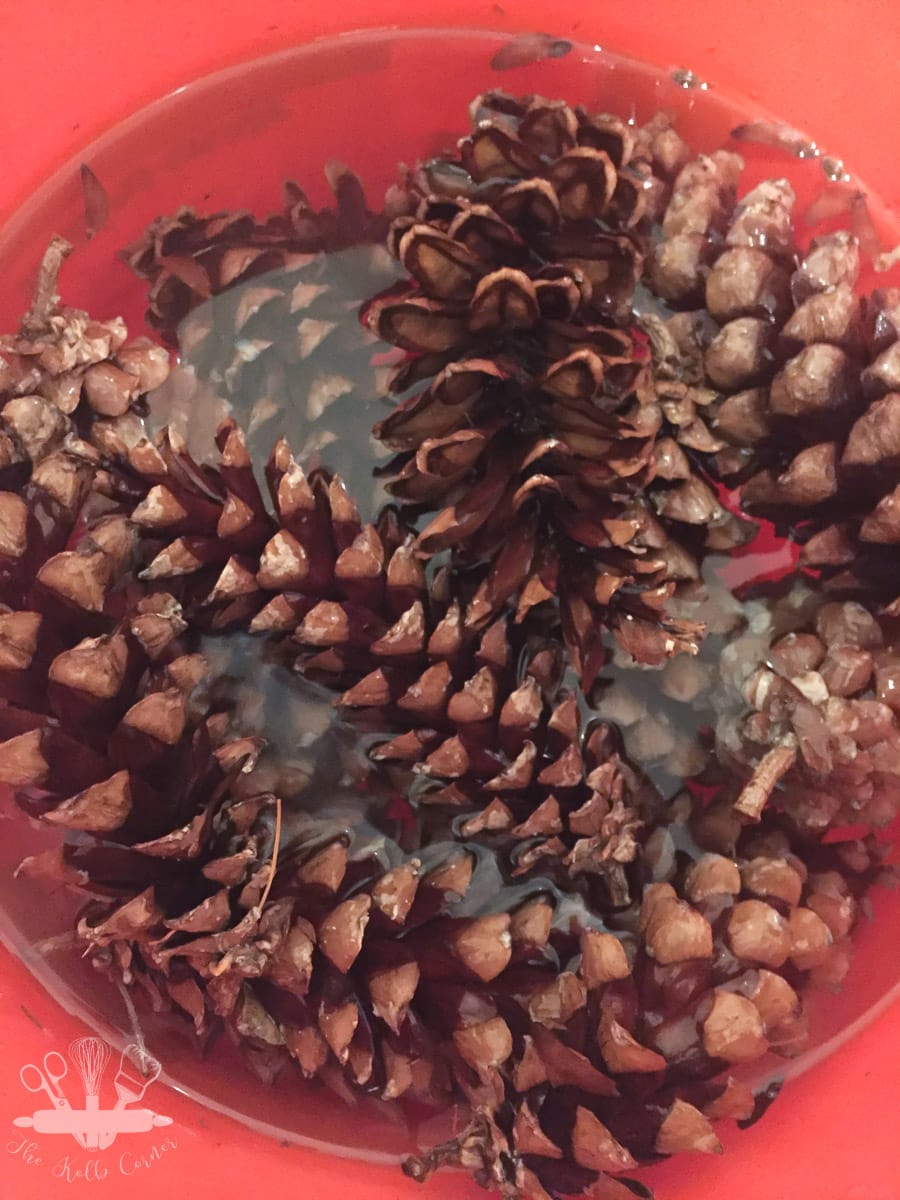 Soak the pinecones for 30-45 minutes, moving them around or stirring the bucket every 10-15 minutes. The pine cones will start to close up as they soak up the water. This is normal.
After soaking, remove the pine cones from the water and let them air dry on a large towel. Air drying can take 2-3 days for the pine cones to fully dry and open back up.
How to Oven Dry Pine Cones
If you don't have time to wait for the cleaned pinecones to air dry, you can dry them in the oven. Place the pine cones on a cookie sheet and in the oven at 200 degrees for about 30 minutes. Don't pre-heat the oven before placing the pinecones inside. Let the oven and pinecones heat at the same time.
Please watch closely while you dry using the oven method! I prefer the air-dry method personally because I'm afraid of setting our house on fire 😉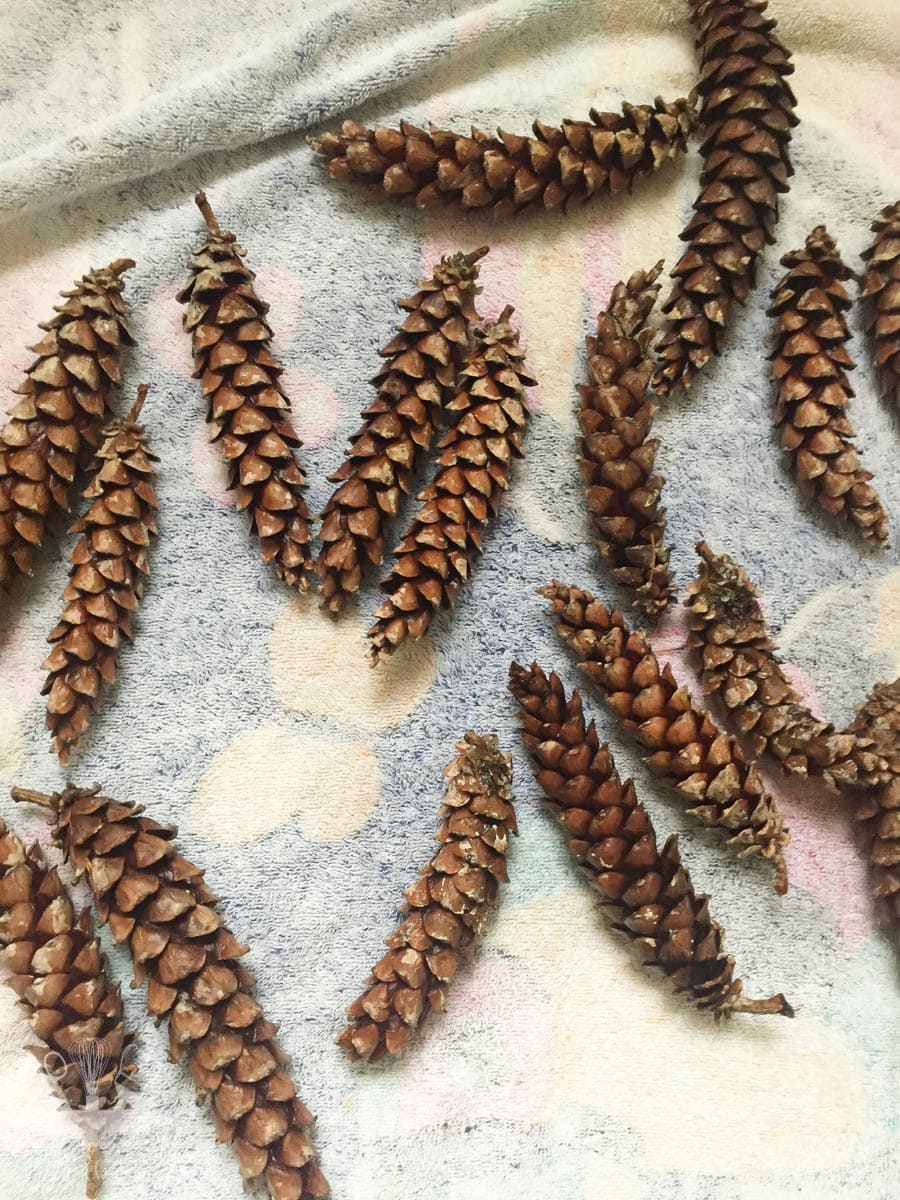 How to Preserve Pine Cones for Crafts and Decor
Once the pine cones have dried completely, you will want to spray them with some sort of clear acrylic spray to preserve them for crafts and decorating. My personal favorite spray is Mod Podge brand, but you can use whatever you have on hand.
The sealer keeps the pine cones from becoming brittle quickly. They will eventually, but spraying them with a clear coat keeps them for at least a few seasons.
How to Store Pine Cones Between Seasons
To store the pine cones after the holidays or between decorating, I keep them in a clear plastic freezer bag with as much air removed as I can. I then sandwich the bags in between a few layers of foam and make sure not to stack anything heavy on top of them to prevent crushing.
Now that you have clean and preserved pine cones, you can craft with them! I like to decorate with them as is, but you can also make them into pretty ornaments for the Christmas tree. Make sure you also check out this list of Pine Cone Crafts.
More holiday decor ideas