Keto and Low Carb Aldi Shopping Guide
Following a Ketogenic or Low Carb diet doesn't necessarily mean spending more on your groceries. I'm sharing my favorite foods to pick up for cheap in this Keto and Low Carb Aldi Shopping Guide!
My husband and I have been eating Keto for the last year! Can you believe it's been that long?! Even crazier to believe is that together we have lost 140 lbs! That is an entire adult that we've shed between the two of us. Every time I look at my husband now I just can't believe he's lost over 100 lbs. It's crazy to even picture him with an extra 100 lbs on him, and I know just how much healthier we are without that extra weight. We both have so much more energy, less aches and pains, and we sleep better. Ok well he sleeps better, I still some days have a hard time shutting my brain off at night, but once I'm asleep I sleep better.
Anyway, you're not here to read about me and hubby, you're here because you want to know what the best foods are to buy at Aldi when you are following a keto diet right? Just because you are eating more meats and vegetables doesn't mean you have to spend more money at the stores. I actually find that we spend less money on groceries than we did prior to Keto.
The big way we save on our grocery bills is by getting the majority of our foods and produce at Aldi. For those of you that don't have one around you I feel your pain! I went without shopping at Aldi for 4 years while we lived in Texas and I missed it dearly. But in that time, Aldi has really stepped up their game and are carrying so many more brands and products to fit into just about any diet. They even have a whole Gluten Free section now which is awesome.
There are some things we don't buy at Aldi, but it's more because of a brand preference than anything. You can check out my favorite low carb pantry items to see what we buy when it comes to protein powder and baking goods.
Keto and Low Carb Aldi Shopping Guide
Keto and Low Carb Meat Options at Aldi
Bacon
Salami/Proscuitto/Pepperoni
Bacon Bits
Lunchmeat
Chicken Sausages
Fresh meat and poultry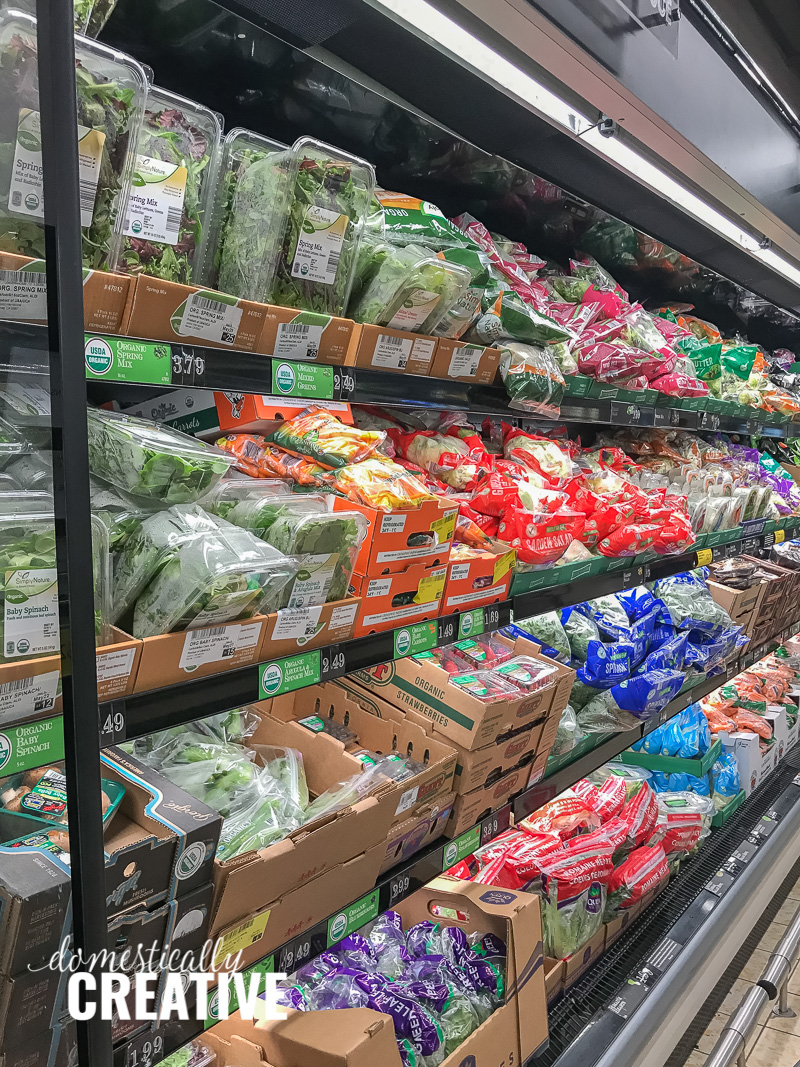 Vegetables
Broccoli
Cauliflower
Carrots
Lettuce
Spinach
Kale
Peppers
Onions
Asparagus
Brussels Sprouts
Mushrooms
Cucumbers
Zucchini
Low Carb Fruits (when in season)
Strawberries
Blueberries
Blackberries
Dairy Products to stock up on
Cottage Cheese
Cheese
Cheesesticks
Sour Cream
Heavy Whipping Cream
Butter–My Aldi even carries Ghee sometimes!!!!
Keto Friendly Fridge/Freezer Items at Aldi
Eggs
Unsweetened Almond Milk
Frozen meat/poultry–watch the ingredients on already made hamburger patties and other convenience meats
Frozen berries
Frozen vegetables
Low Carb Pantry Items
Peanut Butter–watch the ingredients, should be only peanuts and salt!
Almond Butter–same as above
Nuts
Sunflower Seeds
Chia Seeds–we add to protein shakes
Pork Rinds–seriously the Hot n Spicy are the best ones we've tried and I NEVER thought I'd be a pork rind eater
Freeze Dried Strawberries–the entire package is 20g NET carbs, so popping a few when you are craving something sweet or adding to a protein shake is great!
Condiments like mustard, mayo, pickles, hot sauce, sriracha etc
Canned vegetables–fresh is always better with less sugar, but sometimes a girls gotta grab a can!
Stevia sweetener packets–The big bag of stevia has artificial sugar added to it, but the individual packets do not, go figure
Hint Water–LOVE this stuff!
LaCroix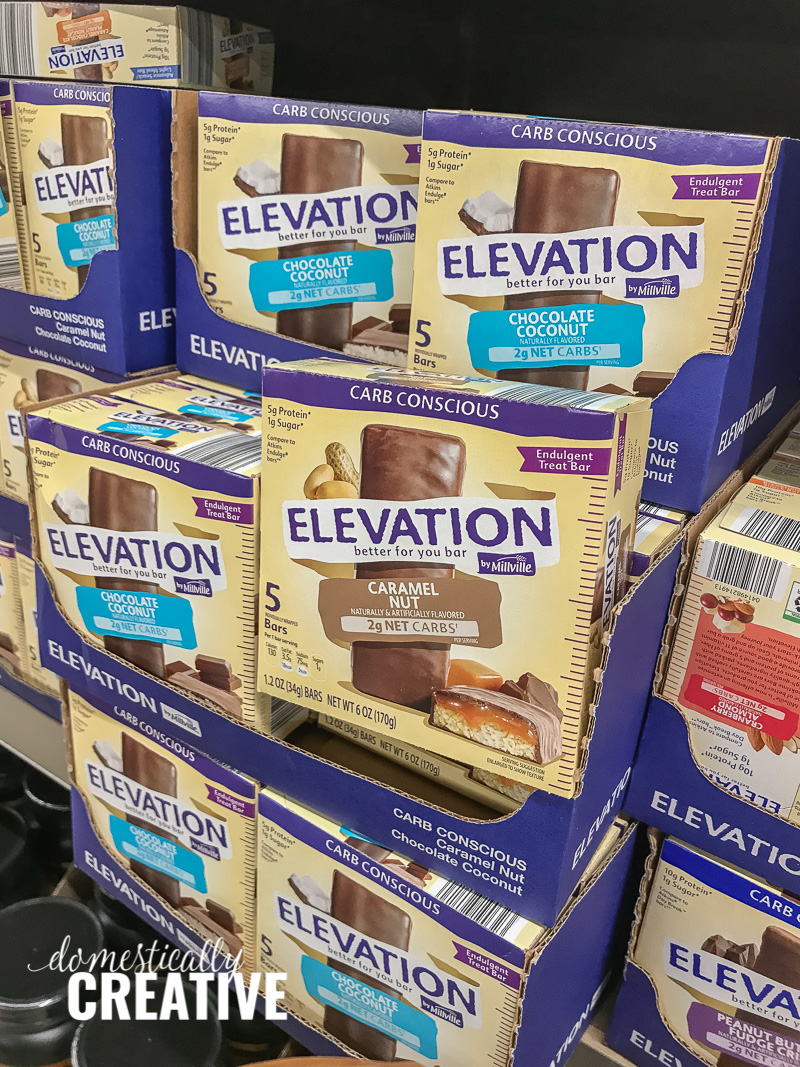 Low Carb (these are generally considered not Keto friendly due to artificial ingredients or higher net carb counts)
Low Carb Tortillas—my new Fav. tortillas!
Protein Wraps–our Aldi is hit and miss on when they carry these. 7 NET carbs per wrap.
French Onion Dip–to dip those pork rinds into!!
Sugar Free Coffee Creamer
Salted Popcorn–with 13-15 net carbs per serving, it's a lower carb snack that you can enjoy when you crave something salty. I usually only eat 1/2 of a serving at a time
Sugar Free water flavoring
Sucralose sweetener
Pea crisps –I like these better than the name brand, but still only eat 1 serving at a time because of the carb count
Sugar Free Maple Syrup
Carb Conscious Elevate Bars–the sugar alcohol in these can cause some serious stomach upset if you are sensitive so beware!
Zevia soda–my store only recently started carrying this, and only in the original flavor. I prefer the cherry flavor personally
What are some of your favorite Keto Aldi products? I'm always looking for new foods to try and add to this Keto Aldi Shopping Guide!
Want a printable PDF to take to the store? Sign up below and you'll be sent the subscriber library access instructions.
More Keto Friendly and Low Carb ideas:
Love it? Pin it for later!