Keto Chocolate Chip Cookies
Following a ketogenic diet doesn't mean you have to give up cookies! The texture and flavor of these keto chocolate chip cookies is just like the ones you grew up with and you can indulge without feeling bad.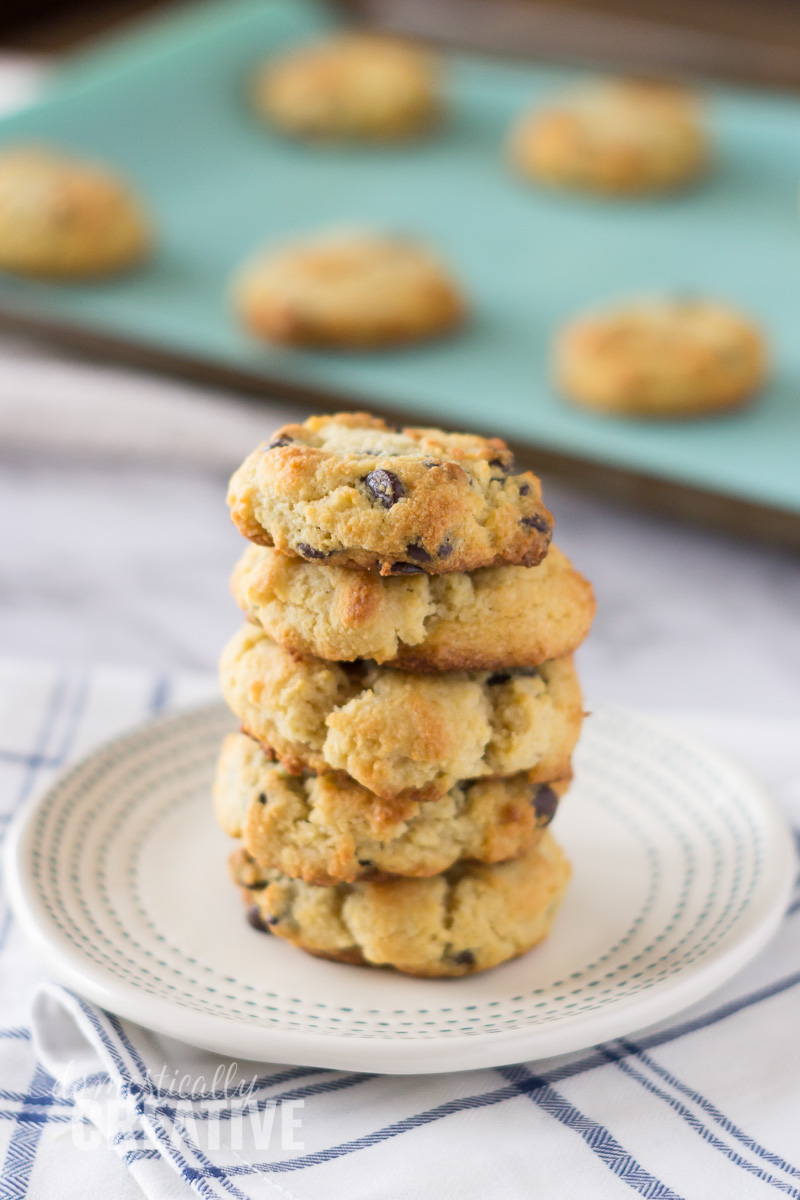 Chocolate chip cookies are kind of an iconic staple when it comes to baking right? Probably the first recipe I ever learned by heart was the recipe for Nestle Tollhouse chocolate chip cookies that came on the back of the chocolate chip bag. I even made my own alterations to the original recipe, and although it's been well over a year since I've made chocolate chip cookies, I still know the recipe by heart!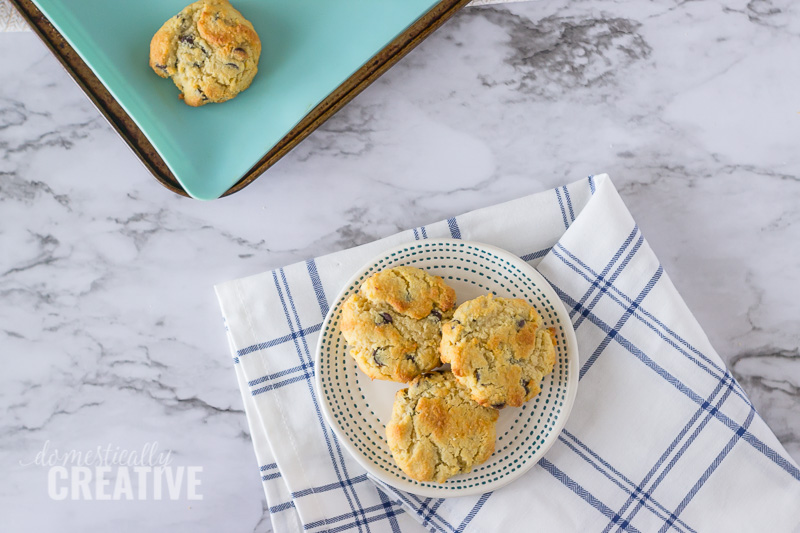 So sometimes great things are born out of desperation right? And by great things, I really mean delicious things. I was having an awful craving for something sweet. Yes, even though I am in ketosis, I still get hit hard with sweets cravings. I'm sure it comes from years and years of sugar addiction, and really just the way my brain is wired.
So to combat my craving, I was going to whip up some of these low carb pudding cookies to tide me over. Well, I had no sugar free pudding mix anywhere but I did have some of these Lily's dark chocolate chips. They are sweetened with a blend of Stevia and Erythritol and taste amazing! Plus there's only 3 NET carbs per serving.
I decided to experiment with my original recipe to come up with a great keto chocolate chip cookie recipe, and boy did I hit it out of the park! And just to make sure it wasn't a fluke, I made the recipe twice more. Not that I'm complaining. It's nice to have these cookies in our freezer. I just pop one out when I get a sweets craving.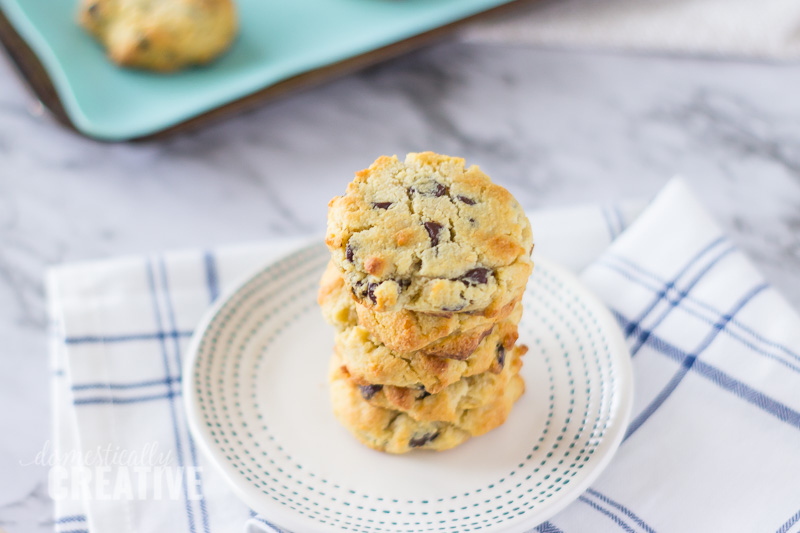 Because these chocolate chip cookies are make with a blend of almond flour and coconut flour, they form a bit stiffer of a dough than a non low carb cookie would, so keep that in mind when you are mixing up the dough. They also don't spread out like a normal cookie does when baking so go ahead and load up that cookie sheet before baking!

Keto baking definitely takes a lot of trial and error but is far from impossible! If you are new to the keto diet, or just curious, you can read all about my favorite low carb pantry items. I talk about the brands of sweeteners I've tried and like best, and some of the low carb flours too.
Keto Chocolate Chip Cookies
They are just as delicious as the traditional! Keto Chocolate Chip Cookies are made with almond flour and stevia-sweetened chocolate chips for a sugar free and low carb dessert.
Ingredients
1/2 cup unsalted butter, softened
1/3 cup swerve, or equivalent sweetener
1 tsp vanilla
2 large eggs
1/4 cup coconut flour
1 tsp baking soda
1/2 tsp salt, to taste
1/2 cup Lily's chocolate chips, or equivalent
Instructions
Preheat oven to 350 and line a baking sheet with non stick silicone mat
In a large bowl, cream butter, swerve and vanilla until well combined.
Beat in eggs and mix until smooth
Add in flours and baking soda and mix until dough well combined.
Gently fold in Lily's chocolate chips
Roll dough into 20 even balls and place on prepared baking sheet. Bake for 15 minutes or until golden brown. You may need to flatten some with the back of a spatula mid baking.
Nutrition Information
Yield

20
Serving Size

1 cookie
Amount Per Serving
Calories

130
Total Fat

11g
Saturated Fat

4g
Trans Fat

0g
Unsaturated Fat

6g
Cholesterol

31mg
Sodium

130mg
Carbohydrates

5g
Net Carbohydrates

3g
Fiber

2g
Sugar

4g
Protein

3g
Nutrition values are automatically calculated by third-party software using global standards. Please note that values can vary based on product brands and different nutritional calculators. The values stated here are only for a basic reference and are not evaluated by medical or nutritional professionals.
More Low Carb and Keto Desserts to try:
Love it? Pin it!