Simple Kitchen Utensil Drawer Organization
We all have those drawers in the kitchen that are just embarrassing right? For me it's definitely our utensil drawer, so I'm sharing my no brainer kitchen utensil drawer organization method with you. Seriously, this method is stupid simple and doesn't require a ton of time or ingenuity, just a few supplies from the dollar store!
Welcome to the Drawer Organization Blog Hop! For the entire month of April, 12 bloggers will be sharing the process of cleaning and organizing one drawer in our homes each week. To kick off the first week, we're focusing on drawers in our kitchen and dining rooms!
My Pinterventures • Intelligent Domestications
DIY Adulation • Domestically Creative • Cookies Coffee and Crafts
Domestic Deadline • Across the Boulevard • Michelle James Designs
Mom Home Guide • Centsably Creative
So for this first week in our month-long blog hop, we are tackling a drawer or drawers in the kitchen. I've already shared my tips on how to organize your junk drawers, so today I'm showing you our freshly organized utensil drawer. Let's look at where I started, shall we?
I only wish I had a picture of what it was like before I had tried some semblance of organization with those three baskets. We just literally threw our utensils in the drawer and called it a day. Of course, then when I started cooking and needed one of them I had to dig and dig trying to find what I was looking for.
So several months ago I bought 3 long narrow baskets from Dollar Tree to store some of our most used utensils in. My thought was that they would then be front and center. In theory it sounds like a good idea right? Wrong. See, my husband likes to put things away in the wrong place all the time, and these kitchen utensils were no exception. I was finding myself rearranging them every few months, so I decided to take things a little bit further.
Tips for an organized kitchen utensil drawer
First things first with this EASY kitchen utensil drawer organization and that's empty out the drawer completely. Give it a good wipe down, and get rid of all of the debris that tends to accumulate. I even use our little handheld vacuum to get all of those pesky crumbs that get into the corners.
Then, go through all of those utensils. Do you really need 5 different spatulas? Yes, I know some serve different purposes than others, but if you can part with any of those kitchen utensils then now is the time to do so! I ended up taking a few of our extra spatulas and spoons out and put them in our camper. Now I don't have to remember to bring cooking utensils with me when we go on trips! I also keep our grill tongs and spatula hanging on a hook above our stove along with our meat thermometer. They take up a lot of room in the drawer so this way they are out of the way, yet accessible.
After the drawer is cleaned out and extra utensils dealt with, line the empty drawer with some contact paper from Dollar Tree. This makes the drawer have a nice clean look, and just makes the overall organized utensil drawer look better.
Then arranged the original baskets, along with a few more to give the drawer more division. Be sure to measure your drawers before deciding which baskets to buy.
Then I just simply put everything back in a neat manner, using the small square basket to house our pizza slicer, garlic press, grater and other shorter utensils.
The longer narrow baskets hold our beloved ikea spatula and tongs (seriously we love these!) and meat tenderizer. Those are the things I use the most. The next basket houses our soup ladle, sauce brushes, and pasta spoon.
Then finally the back basket houses our extra spoons and spatulas and potato masher we don't use as often.
Organizing your kitchen utensil drawer doesn't have to take a lot of work or effort, and you can do it with just a few dollars worth of items. Now let's just see how long it stays this way!
More Kitchen Ideas:
Love it? Pin it!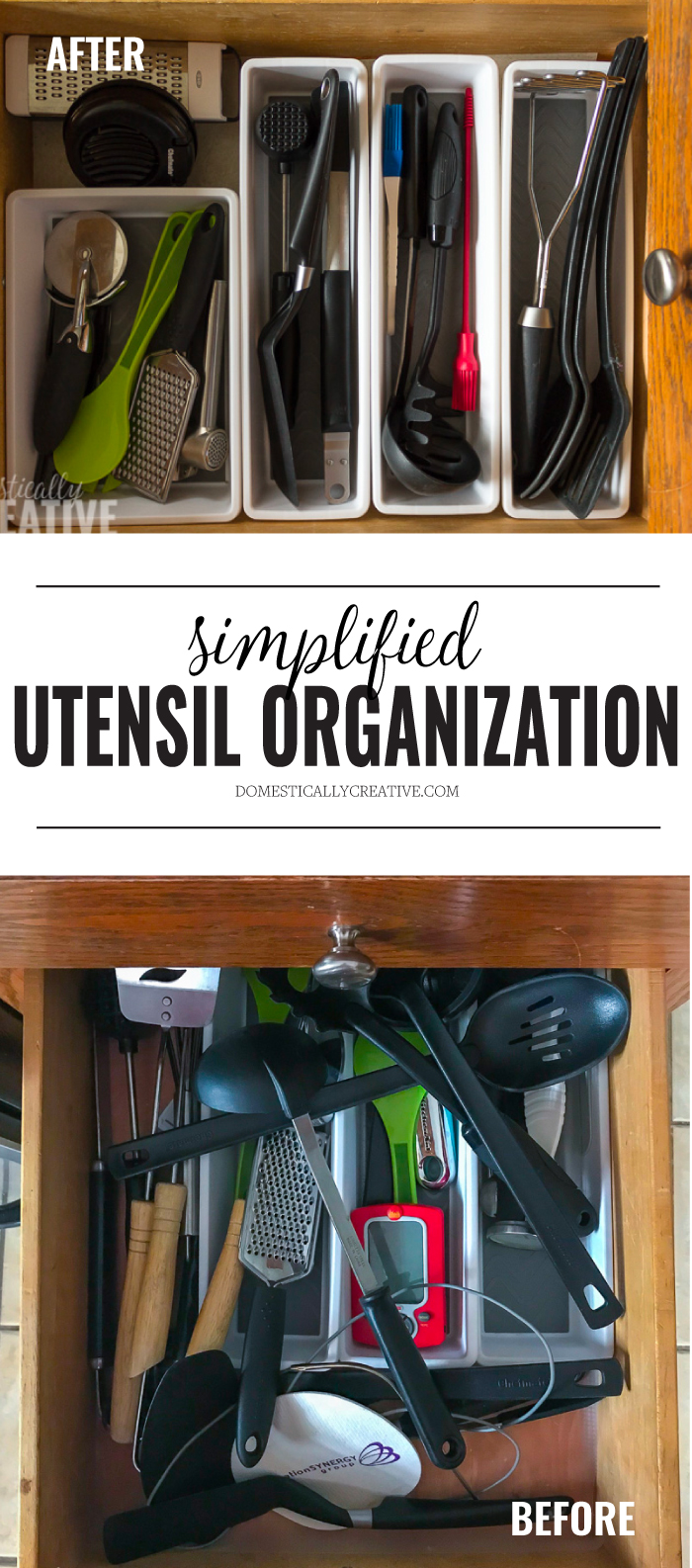 For more kitchen and dining room drawer organization ideas, visit the other host blogs below.