Master Bedroom Mini Makeover Reveal
This post may contain affiliate links for your convenience. Read our disclosure policy.
It's finally time! Time to reveal our Master Bedroom Mini Makeover! You've pretty much seen just about everything in the last few projects I've shared, but there are a few new things to show you too! Before we get started, though, let's take a look at where we started, shall we?
Yikes! Pretty plain and boring, right? Well here is where we are now!
That's SO much better than where we started! There is one thing I decided not to do in this mini makeover, and that was painting my husband's lamp. I decided I kind of liked the yellow/green, and it added a nice little contrast to all the blue and gray. Plus it plays off some of that Minted artwork in our new gallery wall.
I did purchase a new lamp for my side of the bed because I was tired of the giant, black Eiffel tower lamp I've had since college. It was time for an upgrade don't you think? The lamp I decided on came from Target and was only $30! The navy color ties in well with the headboard and the lamp base takes up much less space on the night stand.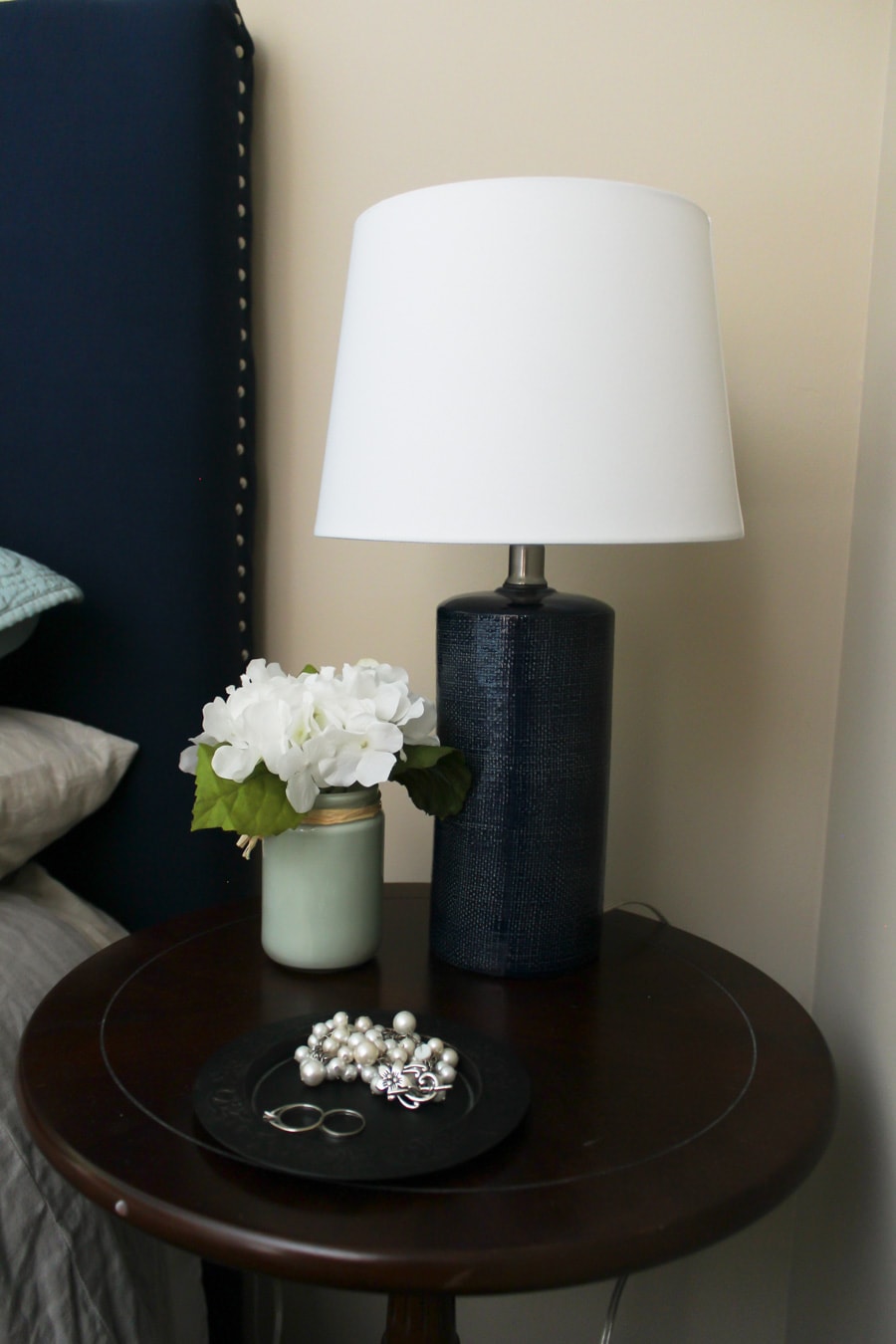 Like I stated in our original plan, I left the small night stands alone. Eventually we will get larger ones with storage, but for now they work well in the small space we have.
Probably my favorite part of this mini makeover is the headboard. It really takes the space from boring to elegant and I love that I was able to create it for less than $100. Read the full tutorial here.
Of course, next to the headboard, I am also in love with our mini gallery wall. I was so excited to partner with Minted and their limited edition art work for this project. It adds so much meaning to the space.
The final touch was this pillow that I made. It goes along with our gallery wall story and completes the bed perfectly.
So let's see how we did on the original list:
White bedskirt
DIY Headboard
New lamp to replace black eiffel tower lamp
Spray paint husband's lamp–Decided against, although a new shade is probably in store
Artwork from Minted
Decorative pillow(s)
DIY artwork for gallery wall
Shop the look:
Decorative pillow
You and Me wood sign
Accessories from Michael's
What's your favorite part of my mini makeover?