No Churn Key Lime Pie Ice Cream
Key Lime Pie in ice cream form! Creamy, tart and sweet all rolled into one delicious no churn recipe. No need to bust out the ice cream maker for this no churn key lime pie ice cream, all you need is a few simple ingredients.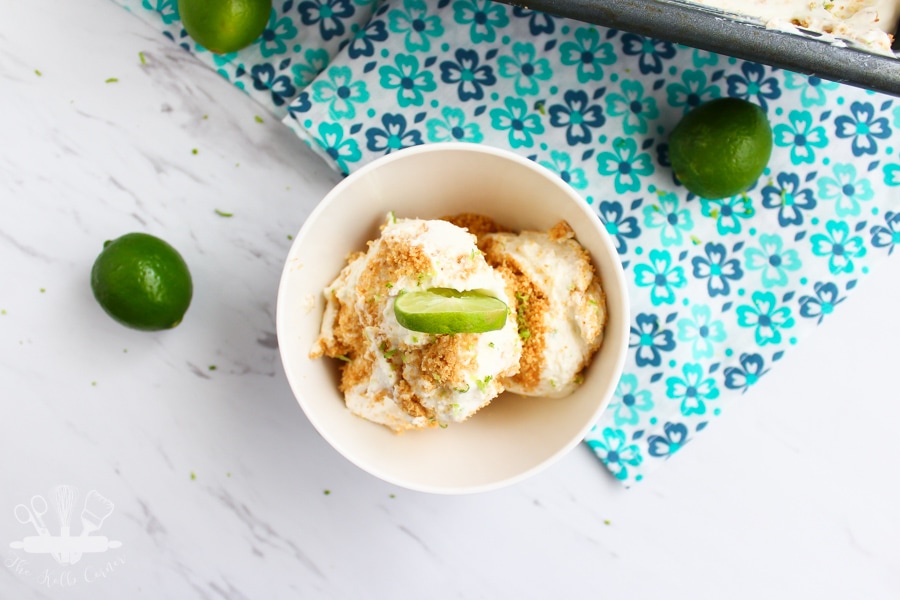 I remember the first time I had my first taste of key lime pie. And it wasn't even pie–it was ice cream!
Way back before we were married, and before we had even considered leaving the grand ol' state of Illinois (yes that is sarcasm) we took a mini tour of the Southeastern United States. We started our trip by traveling to Knoxville, TN, driving through the Smokey and Blue Ridge mountains, then headed through North and South Carolina, out to Hilton Head Island, to Savannah, GA, Jacksonville, FL and ended by driving back up through Chattanooga, TN and home again.
It was SO much fun and we got to see so many places. In fact, it was that trip that made us decide to pick up and move to Chattanooga, TN, but that story is for another day.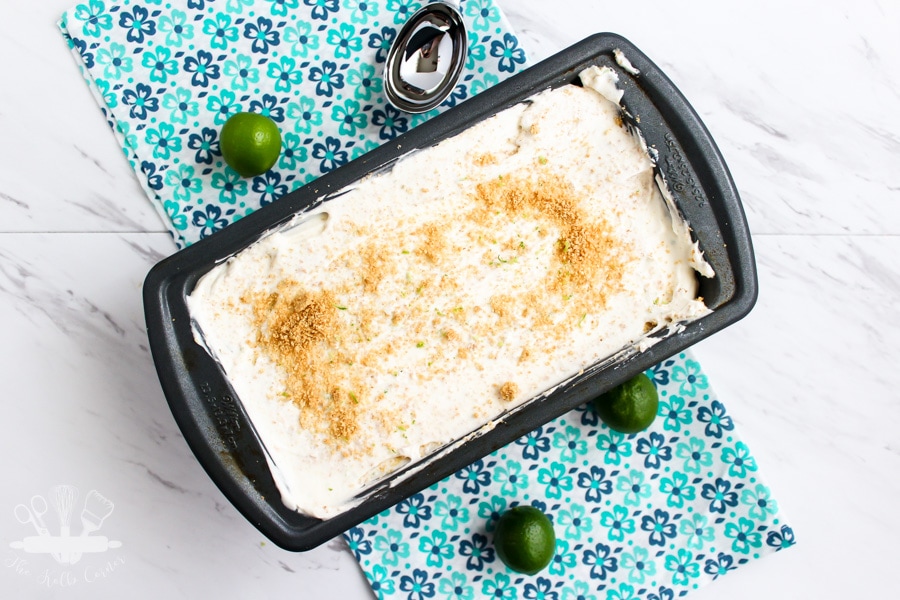 Back to the point of this little story. I had never even considered eating key lime pie or any variation of the flavor until that trip.
We were in Savannah and had just gotten done taking a trolley tour through the downtown area. Oh, and did I mention it was the middle of July, with 1000% humidity? All you had to do was take one look at my hair and you would know that I'm not exaggerating. We decided to grab some ice cream to cool down at a little local ice cream shop. I ordered something chocolate, of course, and my husband ordered key lime pie.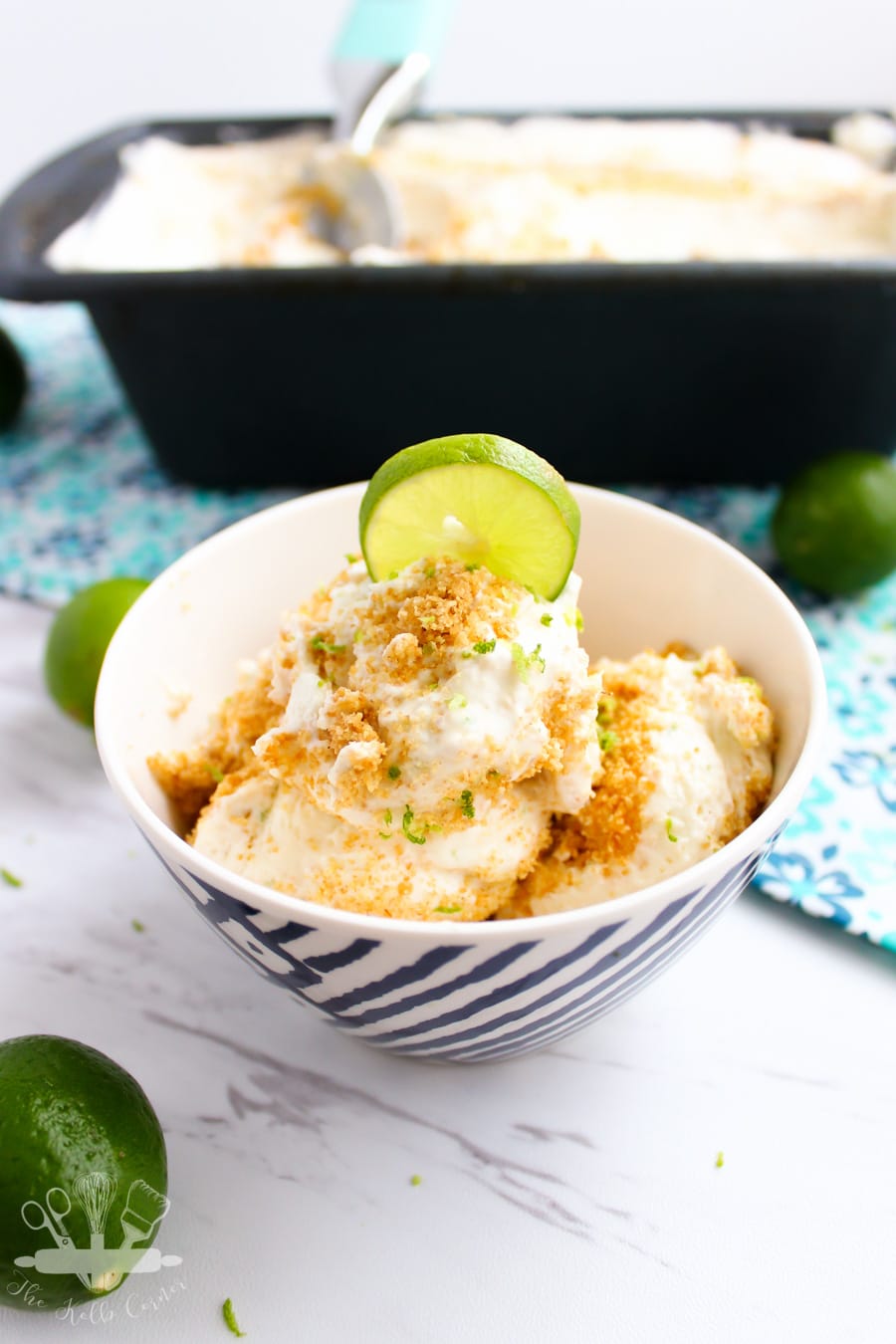 I can't really tell you why I never wanted to try key lime pie, except for maybe I had some weird picture in my mind of entire lime slices cooked up into pie form. Who knows. My early twenty something brain I'm sure had a very good reason at the time.
My husband begged me to try his key lime pie ice cream and I finally gave in. Let me tell you, from that point forward I was hooked on key lime. Add it to my list of favorite flavors.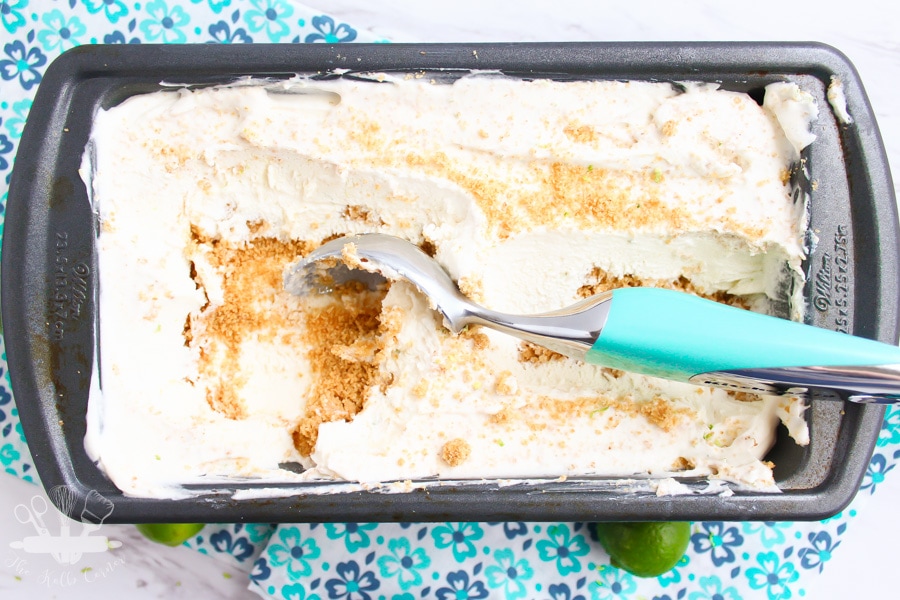 Well what's summer without a little bit of key lime pie? I decided to try to recreate that recipe from Savannah, but there is just one problem–we don't own an ice cream maker. And let's be honest–we don't really need one either.
So I turned to a trusty ol' no churn ice cream recipe and doctored it up for a key lime pie packed flavor. It may not be the original, but it's still pretty darn good.
Tips for making No Churn Key Lime Pie Ice Cream
Make sure to whip the cream into stiff peaks. This will give the no churn ice cream a stiffer texture closer to store bought ice cream.
Gently fold the whipped cream into the rest of the mixture, but do not over mix. This will cause too much air to get into the ice cream.
If your ice cream gets too hard to scoop, run your spoon or scoop under hot water for about 30 seconds before scooping.
I have read that adding a bit of vodka to the ice cream before freezing can help with it being too hard or forming extra ice crystals. I have not tested this yet, but do plan to do so in future batches.
No Churn Key Lime Pie Ice Cream
Tangy and sweet key lime flavor in ice cream form. No ice cream maker needed for this No Churn Key Lime Pie Ice Cream!
Ingredients
2 cups heavy whipping cream
1 can sweetened condensed milk
1 tsp vanilla extract
1/2 cup Key Lime juice, or lime juice
2 tsp key lime zest, or lime zest
1 1/2 cups crushed graham cracker crumbs
2 tbsp butter, melted
1 tsp sugar
Instructions
For the Crust Portion
Preheat oven to 350 degrees.
In a large bowl or food processor, combine graham cracker crumbs, melted butter and sugar. Mix until well combined.
Press graham cracker mixture into a small baking dish, and bake for 10 minutes. Set aside to let cool.
For the Ice Cream
While graham cracker mixture is baking, prepare ice cream by whisking cream on high in the base of a stand mixer (or by hand) until stiff peaks form.
In a separate large bowl combine sweetened condensed milk, vanilla extract, lime juice and zest.
Fold whipped cream in to mixture until just combined. Be sure not to over mix.
Assembly
Spread 1/3 of the ice cream mixture into a freezer safe container, sprinkle 1/2 of the cooled graham cracker crumb mixture on top.
Repeat previous step.
Spread remaining 1/3 of ice cream mixture on top, cover and freeze for 4-6 hours or until firm.
Nutrition Information
Serving Size

1 grams
Amount Per Serving
Calories

3711
Total Fat

246g
Saturated Fat

148g
Unsaturated Fat

0g
Cholesterol

848mg
Sodium

1720mg
Carbohydrates

340g
Fiber

5g
Sugar

252g
Protein

51g
Other recipes you may enjoy:
Don't forget to pin it!