This post may contain affiliate links for your convenience. Read our disclosure policy.
I'm sharing tips on how I decorated our very simple, no fuss Christmas tree using a very cheap (and partially broken) artificial tree and stuff I already had! I'm keeping it real this year, nothing fancy or fussy!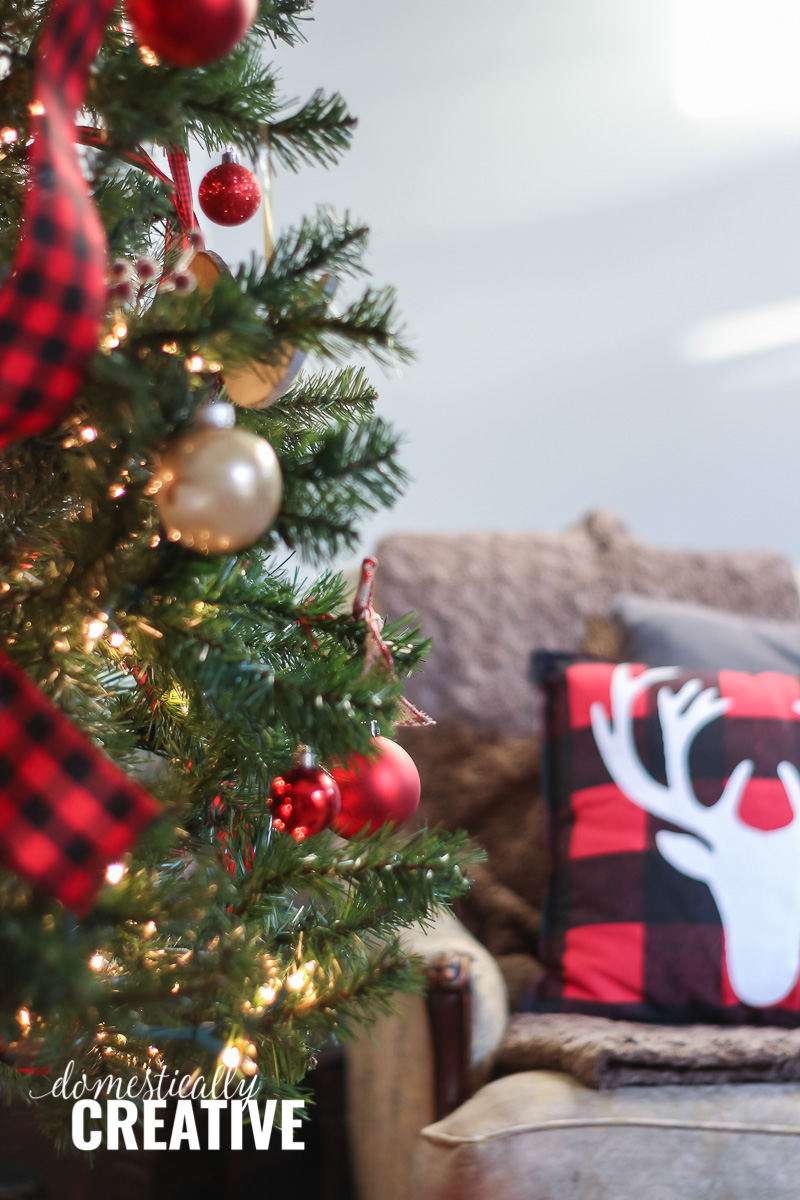 I actually had a completely different idea to share with you for our tree post, but things did not exactly go to plan with that project. Maybe next year? Instead I'm sharing how I decorate our simple buffalo check tree for the season. I used the artificial tree I've had for a few years, and ornaments, ribbon and picks I already had in storage. Scroll down to see more details!
---
Welcome to Day 10 of the Fourth Annual 12 Days of Christmas Series!
We have teamed up with 50 plus bloggers to bring you a oodles of DIY Ideas and Recipes to make your holiday season merrier. There are 12 different posts in the series and we have spread them out over a four week period with three posts per week. Now is the time to subscribe!
GO HERE for the complete list of Dates and Topics plus a collection of most popular holiday ideas including ornaments, games, recipes and more from all 50 plus talented bloggers!
It's Day 10 and we are sharing our Christmas Tree!
---
Simple No Fuss Christmas Tree Ideas
Let me be completely honest here for a moment. I was definitely not feeling the Christmas vibes this season. Usually I am all about "making Christmas vomit" all over the house (as my husband so lovingly puts it), but this year I just was not in the mood. I even contemplated not putting up our tree. Being a blogger who does a lot of seasonal decorating and crafting, I knew that I probably couldn't get away with it so I begrudgingly drug our tree out of storage.
Once I got started setting up though, I quickly got back into the spirit. I bought this 7′ artificial tree on clearance after Christmas 4 years ago. We had a real tree that year and while it was so pretty, smelled wonderful and was just so easy to set up, I was terrified to even turn on the lights I painstakingly placed on it. Our tree NEVER took up any water the entire 6 weeks it was in our home despite having a fresh cut on the trunk. By the time we discarded it after Christmas, it was crispy to say the least. I swore off real trees after that and went out to buy an artificial.
So back to this artificial tree. It definitely serves it's purpose, but it's as fake as fake can be. There's nothing fancy about the branches and it is very flimsy. So flimsy in fact that my cats have actually broken the bottom row of branches. The very first year! One of my cats tried climbing the tree (when do cats outgrow this habit?) and broke off one branch. Well since it's off balance now the whole rung tilts to the side, making the rest of my tree tilt slightly to the side. Character right?
This tree is not a pre lit tree. Last year I finally wised up and put two sets of lights on each section of the tree so that when I took it down, I wouldn't have to take the lights off. It definitely made setting the tree back up so much easier. To bulk it up a little bit more, I also stuffed some green garland in places as well as some larger pine picks and berry picks that I grabbed at Hobby Lobby last year.
I prefer to keep my tree a bit on the simple side. I've never liked over doing it with the embellishments, and actually the buffalo check ribbon is almost a little too much for me. I left it though because I do like that it helps fill out the artificial tree a bit more. I decided to stick with a simple bow for the top instead of a star or something else. I like the simplicity of it.
I stuck to simple red ball ornaments, wood slice ornaments from last year, and some of my DIY ornaments like these rustic Christmas ornaments I shared a few days ago. I also have ornaments from past ornament exchanges, like this cute hoop ornament from Keys to Inspiration from last year.
Another treasured ornament is this cute little deer my husband's uncle carved for us last year. Seriously, isn't he the cutest?!
You may also notice that my tree seems a little lifted. I took a note from my friend Kim when she shared her Bohemian Christmas Tree. She lifted hers and I decided to do the same, which looks great with our vaulted ceiling. Of course, mine was done mostly out of necessity because my cats just don't seem to understand they are "seniors" and senior kitties should not be climbing trees. Lifting the tree has helped in that department, but I do find myself still needing to pick up ornaments that have found their way into the dining room and kitchen at times.
I'm glad I decided to put our tree up after all this year, because it did put me in better spirits! Amazing how a simple, no fuss Christmas tree can do that right?
I even have some presents already wrapped and ready for Christmas morning! I decided to throw in a few small Target dollar spot items under our no fuss Christmas tree too just to jazz it up a bit. This sweet little Merry Christmas sled is one of my favorites!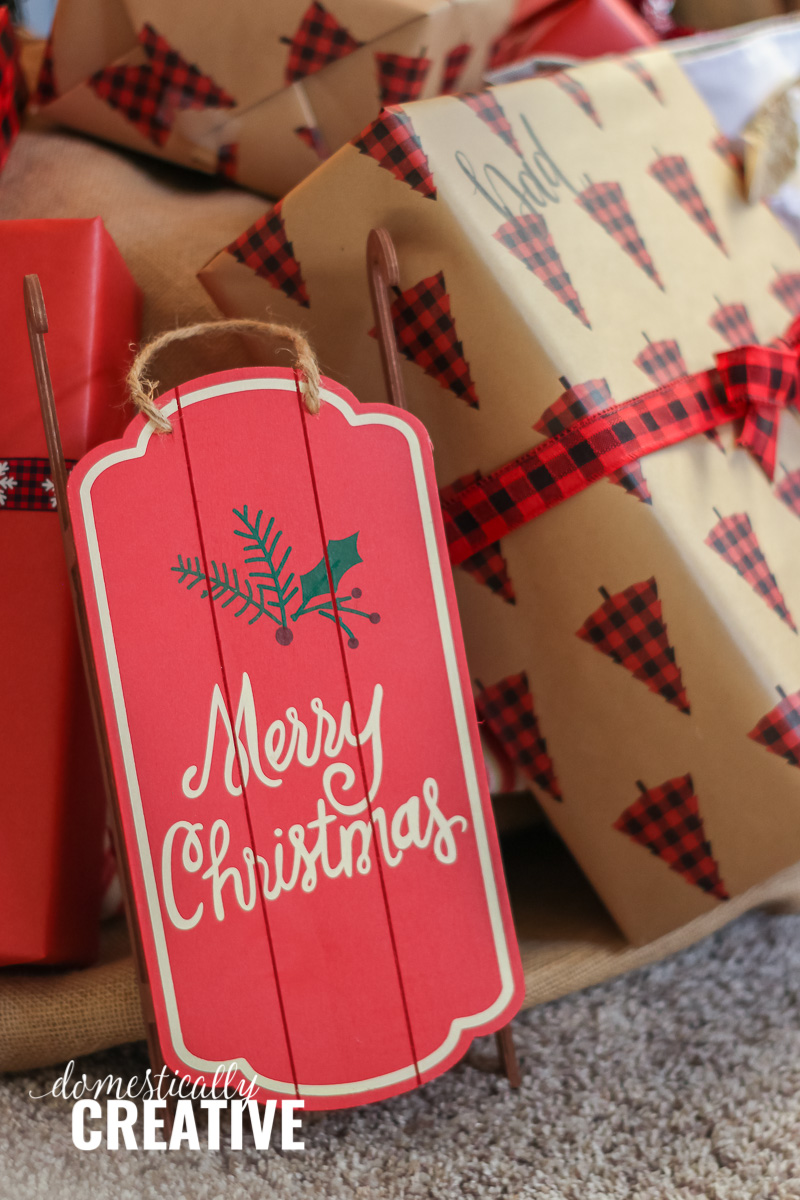 Scroll down for many more Christmas Tree decor ideas you can use this holiday season!
---
Past Christmas Decor:
Love it? Pin It!