Easy DIY Rustic Christmas Ornament
This post may contain affiliate links for your convenience. Read our disclosure policy.
These DIY rustic Christmas ornaments are so easy to make! Change out the scrapbook paper for a gift bag, wrapping paper, or any other Christmas themed paper you can come up with to make them your own!
I've created several of my own ornaments over the years, and one thing that always comes back into play it seems is scrapbook paper (like this ornament, and this one too!). Scroll down for the full tutorial on these DIY rustic Christmas ornaments.
Easy DIY Rustic Christmas Ornament
Items You'll Need:
Scrapbook paper (or gift bags work too!)
acrylic paint in the color of choice
paint brush
cardboard or thick card stock
glue stick
hot glue gun
twine or ribbon
Optional–Paint or metallic sharpie pen
Start by painting 4 craft sticks per ornament in the color of your choice (front, back, and sides) Set them aside to let dry.
Next, choose which scrapbook paper design you will be using. I chose a red and black buffalo check, a red and black plaid, a Christmas tree sign, and repeating Christmas tree patterned paper. You could also look at the dollar stores for pretty gift bags to cut up and use.
Cut the paper with a paper cutter into a square that measures 5″ x 5″ (or 1 inch shorter than the craft sticks you will be using)
Cut a piece of thick cardstock or cardboard slightly longer on all sides at 5 1/2″ square.
Using a glue stick, glue the scrapbook paper onto the cardboard, being sure to center it as best you can. This will leave a 1/4″ overhang to attach the craft stick frame to.
Using hot glue, glue down a painted craft stick to the top and bottom of the design.
Next, glue the other two craft sticks down on the sides, leaving a slight overlap on the corners from the first two craft sticks.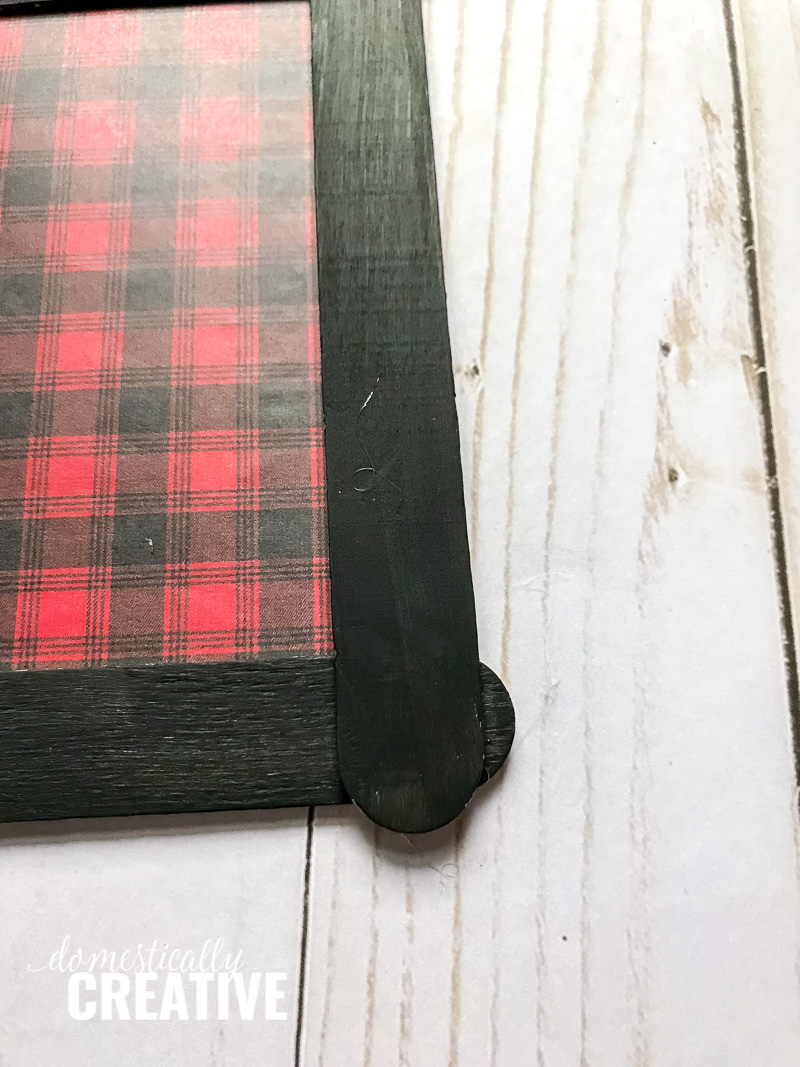 Last, cut an 8-10″ section of the ribbon, or twine. Using hot glue, glue both ends of the twine to the middle back of the ornament. You could also glue one end in each corner, but I prefer the loop look of the twine when it's hanging on the tree.
Optional: Letter your favorite Christmas word or phrase on to the ornament using a metallic or paint sharpie! Learn more about the art of hand lettering!
I made a super quick video of the process for your entertainment 😉 This is the first craft video I've made if you can believe it!
More DIY Christmas Ornaments
Love it? Pin it!