Patriotic Porch Decor and Flower Ideas
This post may contain affiliate links for your convenience. Read our disclosure policy.
Decorating your porch for the fourth of July can be so much fun! Check out my patriotic porch decor for ideas and flowers to add a pop of red white and blue.
This is the first year we've lived in our home, and the first time I've added any sort of decor to the front porch. It seems like between being on vacation, and the never ending rain we had this Spring, I'm getting a late start to my planting. Maybe that just means we will have a long growing season?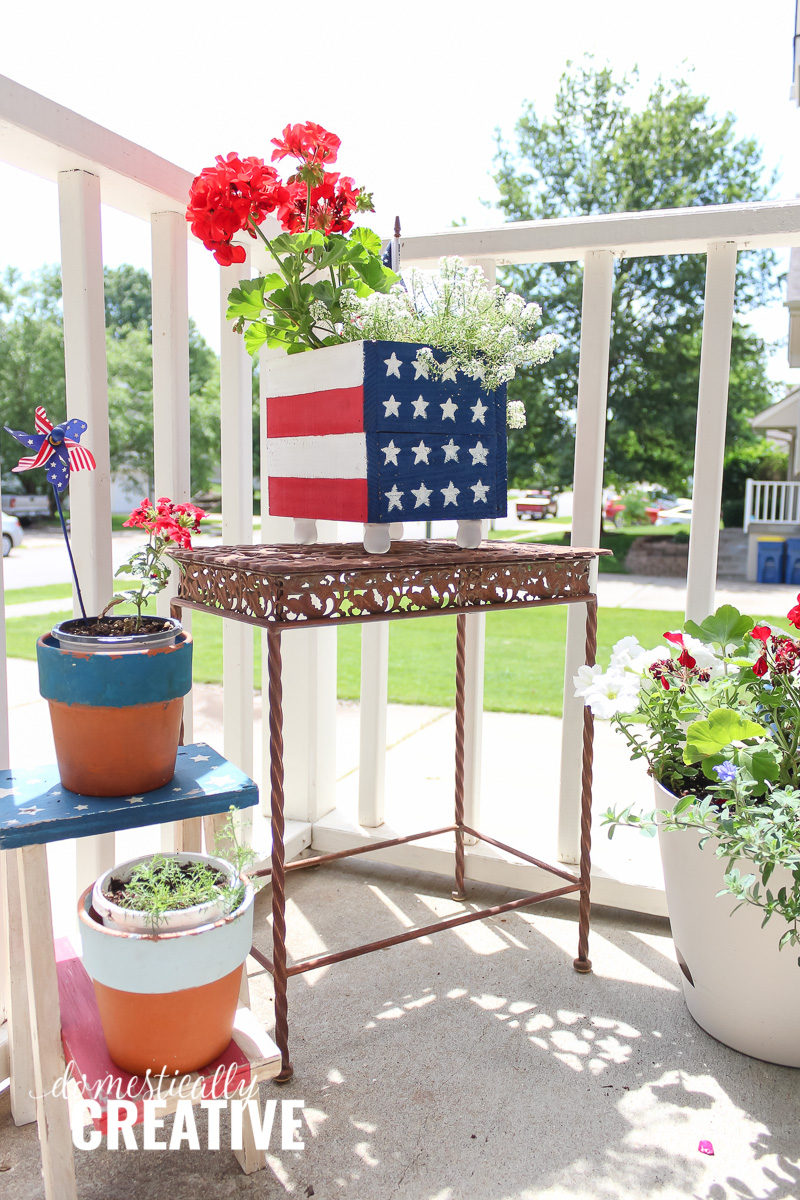 I decided to put together this Summer's porch with different patriotic porch decor. I have tons of different red white and blue wreaths and door decor that I've created in the past, but this 'Merica USA sign looked too good on my light blue front door that it had to be a part of my patriotic porch decor.
I didn't go too overboard with decorations and just a few planters, like this DIY American flag planter box. You can read all about it over on the Pretty Handy Girl blog!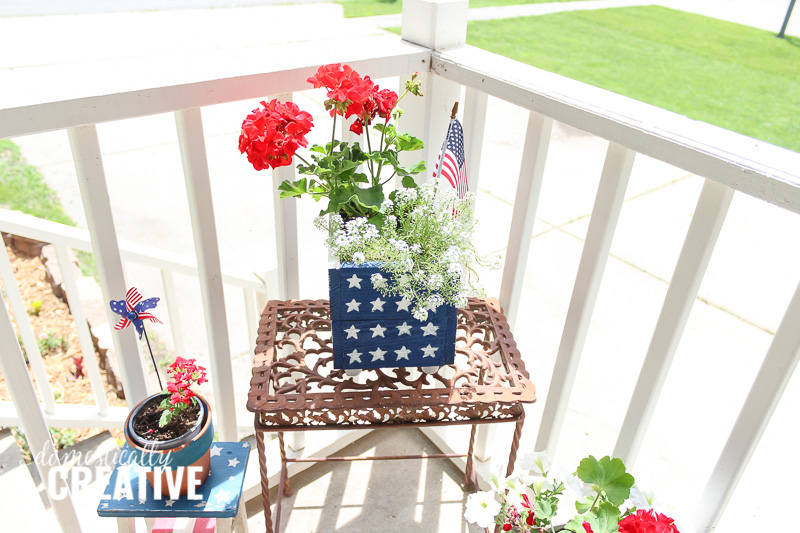 I set a few pots with red and white flowers on this painted Americana plant stand, filled with Verbena and a small Chamomile plant. When the Chamomile gets bigger and blooms it will have pretty small white flowers on it. The Verbena should fill out more as it grows too! I will probably end up replacing those small terra cotta pots with something bigger for both plants to fill out more.
For more pretty blooms, I also created a mixed container of red Geranium, white Petunias, and Blue Daze (mini Morning Glory) for a red, white and blue planter. Once the Petunias start to fill out, and the Geranium puts out more blooms, this planter will be gorgeous!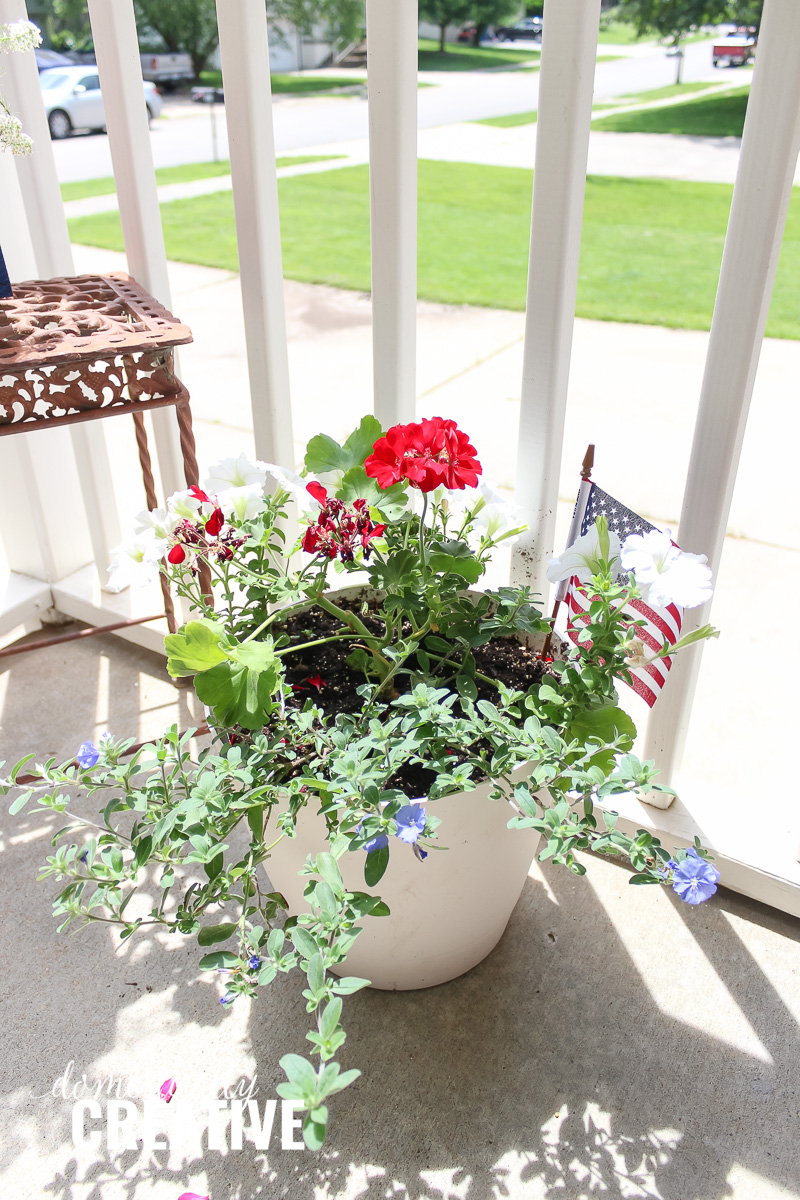 To finish off my patriotic porch decor, I added a few small American Flag and pinwheel picks to the planters that I picked up at the dollar store. It's so fun to watch those pinwheels spin!
I even added some flags to our front garden bed. There is a pot of red and yellow Celosia, and a bat plant (which is super cool!) to hopefully help attract more butterflies and hummingbirds to our yard. Those beds were empty when we moved in, so I've been busy planting them. There is a dwarf lilac in between the two pots that will hopefully fill out in the coming years.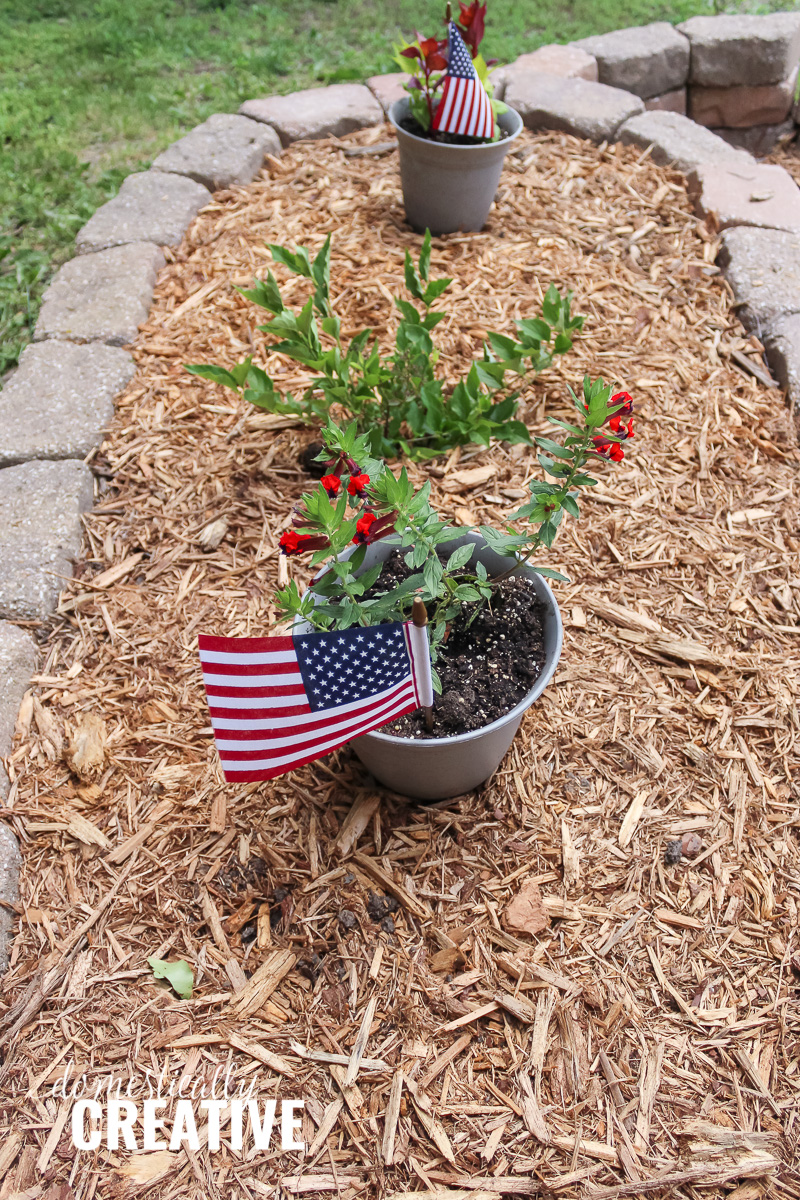 What would you add for more patriotic porch decor?
Patriotic flowers perfect for patriotic porch containers (part to full sun)
All of these annual flowers come in red, white and a few even in blue! They grow great in containers in part to full sun. Most of these will do well in hotter temperatures too but be sure to keep them watered.
Geranium
Alyssum
Verbena
Petunia
Blue Daze (mini Morning Glory, great for a "spiller" in containers)
Calibrachoa
Lobelia (doesn't do well in heat or hot sun but pretty in blue!)
Dahlia
Dianthus
Chamomile (pretty white flowers!)
Portulaca
You'll also love these posts:
Don't forget to pin it!