Painted Americana Plant Stand
This post may contain affiliate links for your convenience. Read our disclosure policy.
Turn a thrift store stool into a pretty painted Americana inspired plant stand for your porch or patio.

If you follow me at all on Instagram, you may have caught my thrifting stories that I shared last week. I went to 5, yes FIVE different stores looking for the perfect item to upcycle. Usually, I have an idea in my head of what to make before I go to the store, but this time I was really hoping something would grab my attention. Luckily this old stool/stand/I don't know what, caught my eye. I found this at the last store too!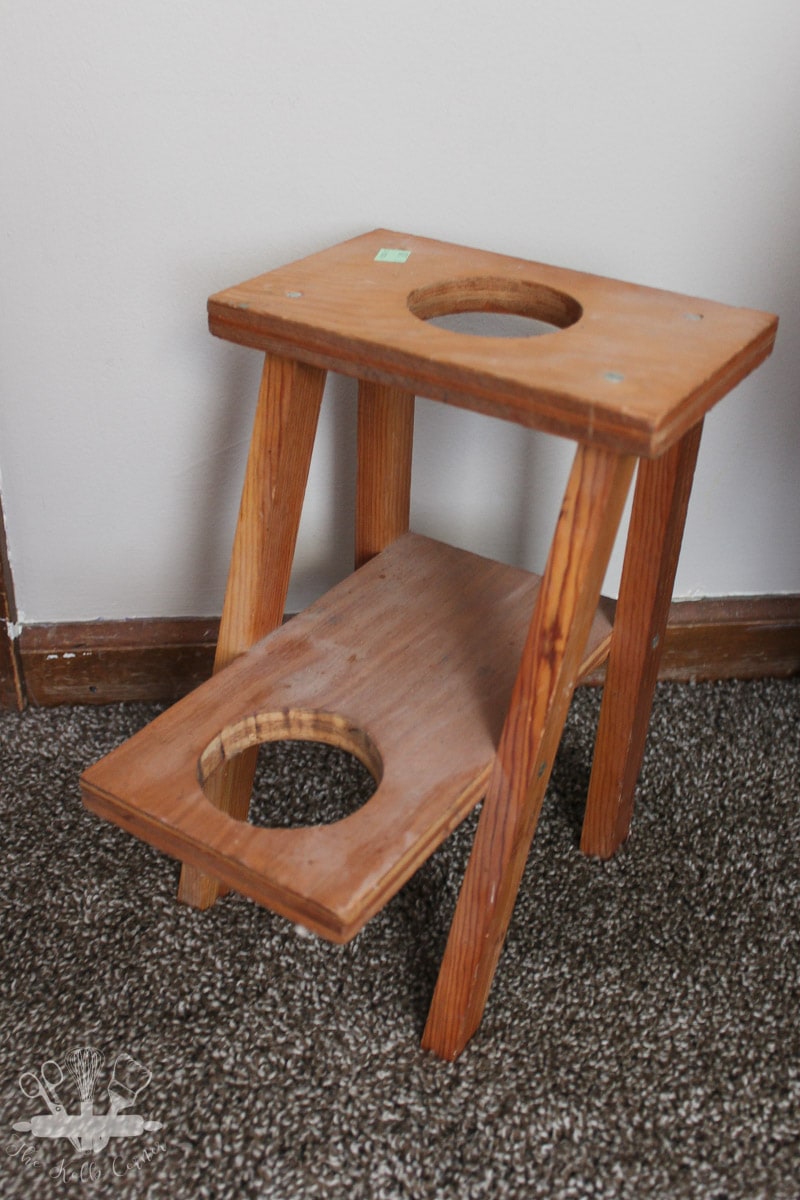 You can learn how to make your own painted Americana plant stand below, but first, let's talk a bit about the challenge.
Painted Americana Plant Stand
I really have no idea what this stand was supposed to be originally, but when I saw it lying in a pile of other random wooden pieces, I immediately thought plant stand. I guess the small holes made me think of placing small potted plants in them.
But even though I was thinking plant stand, I couldn't just paint it one single color right? How boring. Well, I am really on a red, white, and blue kick and I love the look of vintage Americana decor. So I decided to make this little stool an Americana plant stand. Here's how I did it.
Supplies Needed:
Thrifted stool or stand
ArtMinds Chalky Paint— I used True Red, Porcelain and Indigo
Fine sandpaper (180-220 grit)
Ruler
Paint Brush
Steps:
Start by giving the thrifted footstool/stand/whatever a really good cleaning. My stool had some yucky cobwebs, dust, and some sort of sticky residue all over it. I love using Murphy's Oil Soap on any of my wooden thrifted items because it cleans really well!
Next, lightly sand any rough or uneven spots as needed. My stool was in pretty good shape but I did need to sand down a few spots.
Once prepped, paint the entire stool white. This makes it easier to go back and add the red stripes and blue later.
Next, tape off where you will put the red stripes. I love using Frog Tape because it tends to give me crisper lines than the other brands. To make sure they are even, use the ruler to measure out the spaces. Paint the open spaces red to make the stripes and let dry.
Then apply the star stickers in whatever design you want. I actually used my Silhouette Cameo to cut out star shapes onto vinyl and used different sizes to add some extra interest. Then simply paint over the stars with the blue chalk paint.
Once the stool is completely dry, remove the painter's tape and the star stickers. For a more vintage Americana look, lightly distress the edges and painted lines with a fine-grit sandpaper.
Finally, protect the painted Americana plant stand with a coat of brown antique wax to dull down the colors giving it a vintage look. I like to use a rag to rub it on, and then use a clean rag to buff. It's very important to use some sort of sealer on any painted project to protect the paint, especially one going outside!
I love how my new painted Americana plant stand looks on our front porch. It fits in perfectly with the patriotic straw wreath I made earlier in the season and is a great place to display some pretty flowers.

Check out more of my front porch projects below:
Don't forget to pin it!