Rustic Fall Cinnamon Broom Wreath — Thrift Store Upcycle
This post may contain affiliate links for your convenience. Read our disclosure policy.
A thrift store cinnamon broom gets a quick and easy update to a rustic fall cinnamon broom wreath.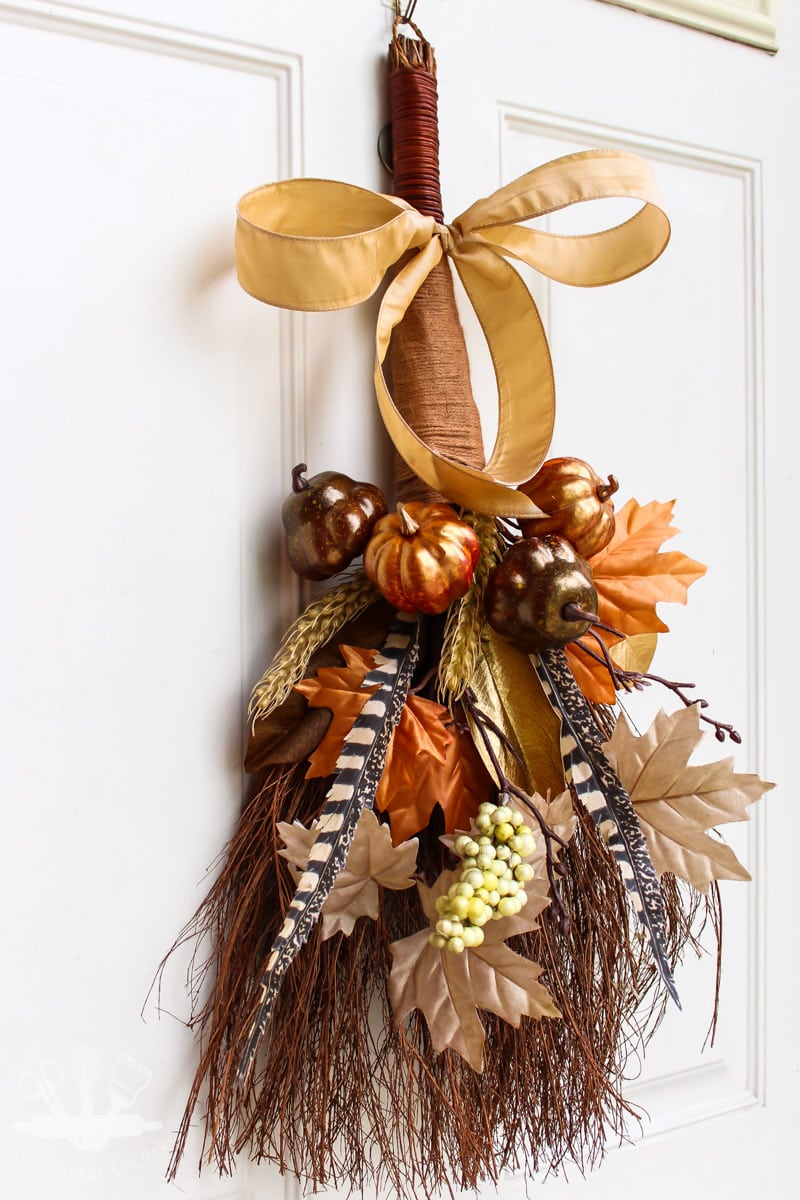 It's time for another Thrift Store Upcycle Challenge!! I've paired up with an amazing group of talented ladies to bring you a monthly thrift store challenge. Each month we will create a new home decor piece from an item(s) we've found at a thrift store, yard sale, resale shop etc. There is no budget or specific theme so we are free to let our creativity run wild!
Meet the Hosts
Amanda | Domestically Creative Chelc | Inside the Fox Den Erlene | My Pinterventures
Kim | Made in a Day Sara | Twelve on Main Debra | Shoppe No. 5
Shirley | Intelligent Domestications Marie | DIY Adulation Lindsay | Crazy Organized
Michelle | Our Crafty Mom Julie | Live From Julie's House Colleen | Life on Kaydeross Creek
Maureen | Red Cottage Chronicles Pili | Sweet Things Sherry | Savvy Apron
Ann | Duct Tape and Denim Dru | Polka Dot Poplars
Megan | C'mon Get Crafty Jennifer | Hydrangea Hippo
You can also follow our board on Pinterest for more upcycled decor inspiration!
---
Rustic Fall Cinnamon Broom Wreath
Do you know what a cinnamon broom is? Up until a few days ago, I had never heard of one but I have seen plenty around. I always thought they were just twig brooms that people used to decorate for Fall with. After looking around at Pinterest and google I realized that they are called cinnamon brooms because most of them are scented like–you guessed it–cinnamon
I stumbled across one that was already decorated for Fall at my local thrift store a few weeks ago. I snatched it up for only $1.50! While it doesn't really have much of a cinnamon scent left to it, it is still pretty in my eyes. I gave it a facelift with some new Fall floral picks that I found at Michael's for 60% off. Seriously this is the best $7.50 I've spent on a wreath. I love the way it turned out and the metallics look great with the rest of my Fall front porch.
How to Make a Rustic Fall Cinnamon Broom Wreath
This post contains affiliate links for your convenience. For more information read my full disclosure policy.
Fall floral picks
Wired Ribbon
Since my cinnamon broom came pre-decorated, I had to remove the old florals from it. It even included a sad little bird. And let me just tell you that all those leaves were hot glued onto the cinnamon broom and were not the easiest things to get off. I guess after years and years of the glue being hardened in place, it gets a little stubborn.
After I had removed the old Fall florals from the cinnamon broom, I carefully and gently fluffed it to make it look fuller.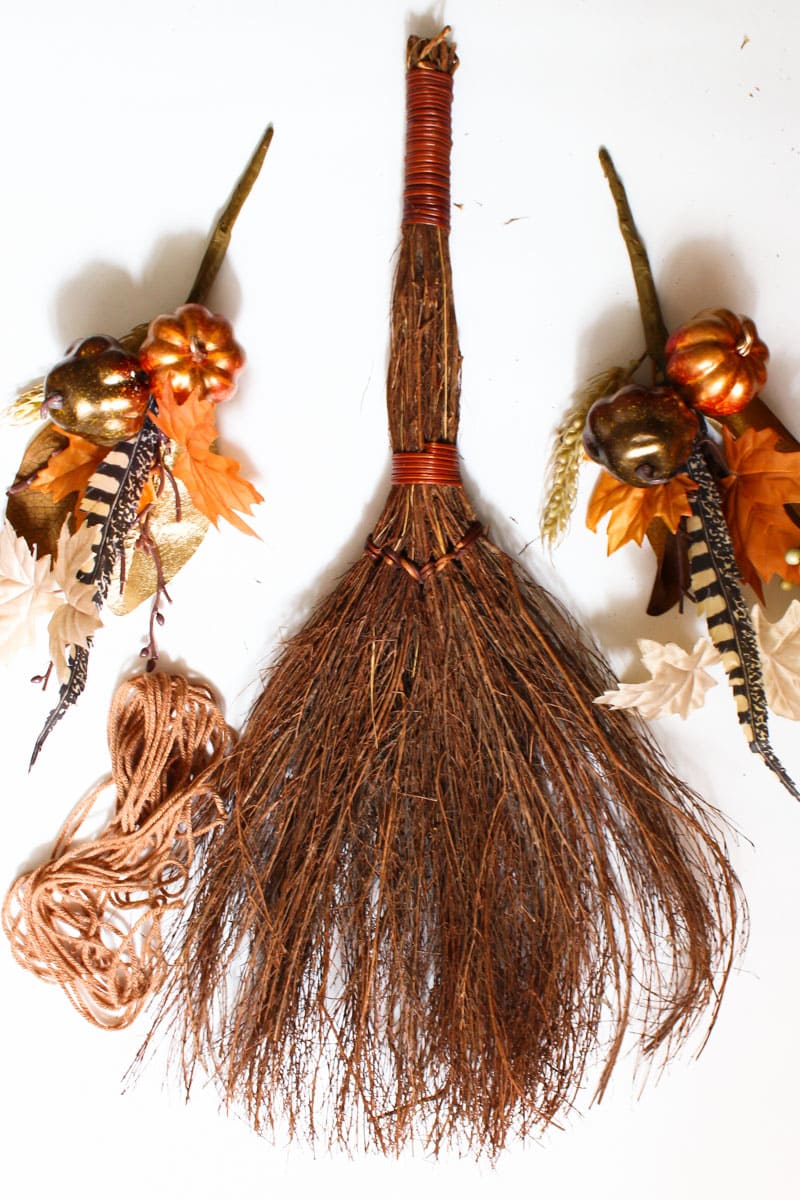 Next I arranged my Fall floral picks and secured them in place by tying a piece of yarn around the stems.
Once the Fall floral picks were secured, I wrapped more yarn around the stems starting at the top and working my way to the bottom. This part was a little time consuming, but really easy. Once I had the portion of the cinnamon broom covered, I tied off the end of the yarn and tucked it in on the back of the broom.
For the finishing touch, I tied a simple bow in a gold wired ribbon. I chose gold because it went along with the metallic tones in the Fall floral picks I used. I think it compliments it well!
And here it is with the rest of my Fall front porch decor.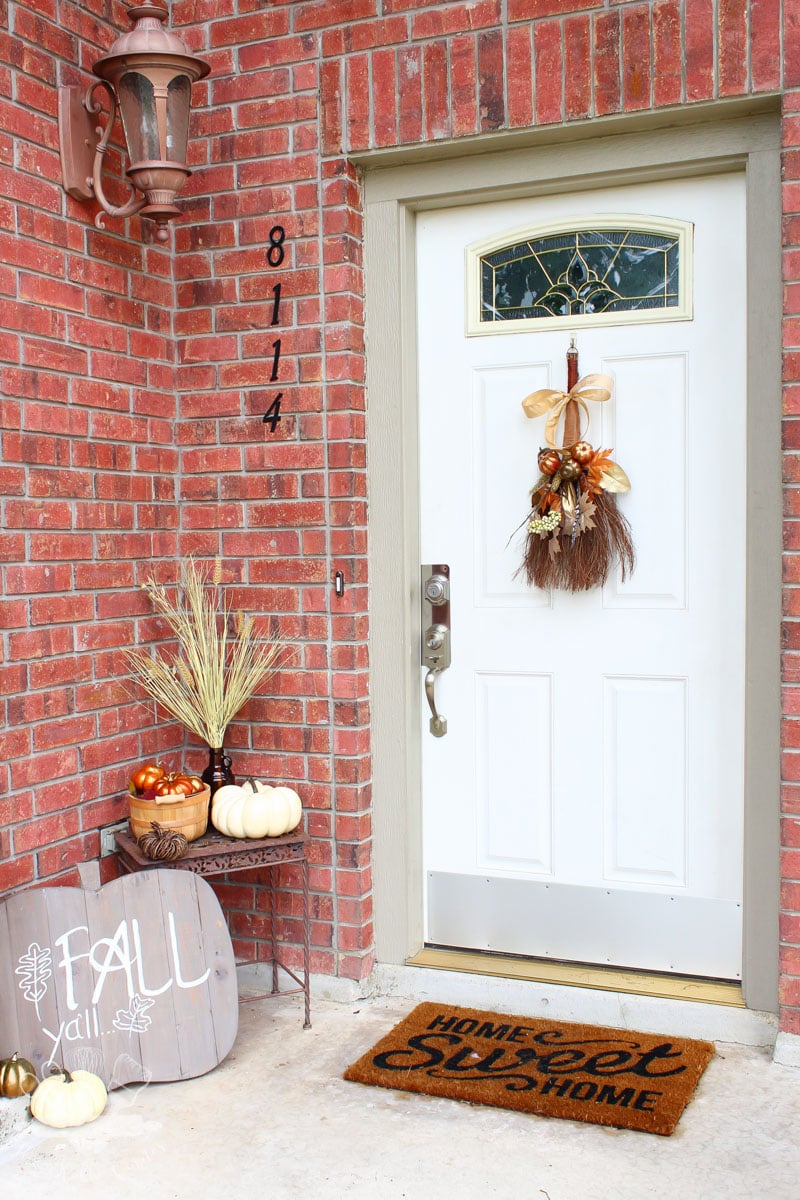 I still love that wooden pumpkin sign from last year. I think I need to make a few more 😉
Love it? Pin it for later!
---
Be sure to check out all of the other creative upcycle projects my fellow bloggers have come up with!