Sugar Free Slow Cooker Barbecue Ribs with Homemade Sauce
Craving some traditional country style barbecue ribs, but don't want the sugar or the mess? Try this sugar free version of slow cooker barbecue ribs. They are easy to make in the slow cooker, covered in a spicy rub, and smothered in a sweet and tangy homemade sugar free barbecue sauce. You definitely don't want to miss out on these!
Thank you SO much to Steviva Brands Sweeteners for sponsoring this blogger recipe challenge, and for providing me with free product to try out.
When I was asked to participate in the Steviva Blogger Recipe Challenge to create recipes using the Steviva brand sweeteners–Monksweet, Erysweet, Nectevia, and Fuctevia–I jumped at the opportunity! There are 3 different categories to compete in; entree, dessert and beverage, with winners in all three categories! I'm excited to come up with new recipes using these products!
My husband and I have been following a Ketogenic diet since April, and have eliminated all sugar from our diet. Even with sugar gone, I still get cravings every so often for something sweet! Lately though, I've been craving some sweet and spicy barbecue. Strange right? Not really. We live in Kansas City, one of the barbecue capitals of the world, so barbecue is everywhere we go.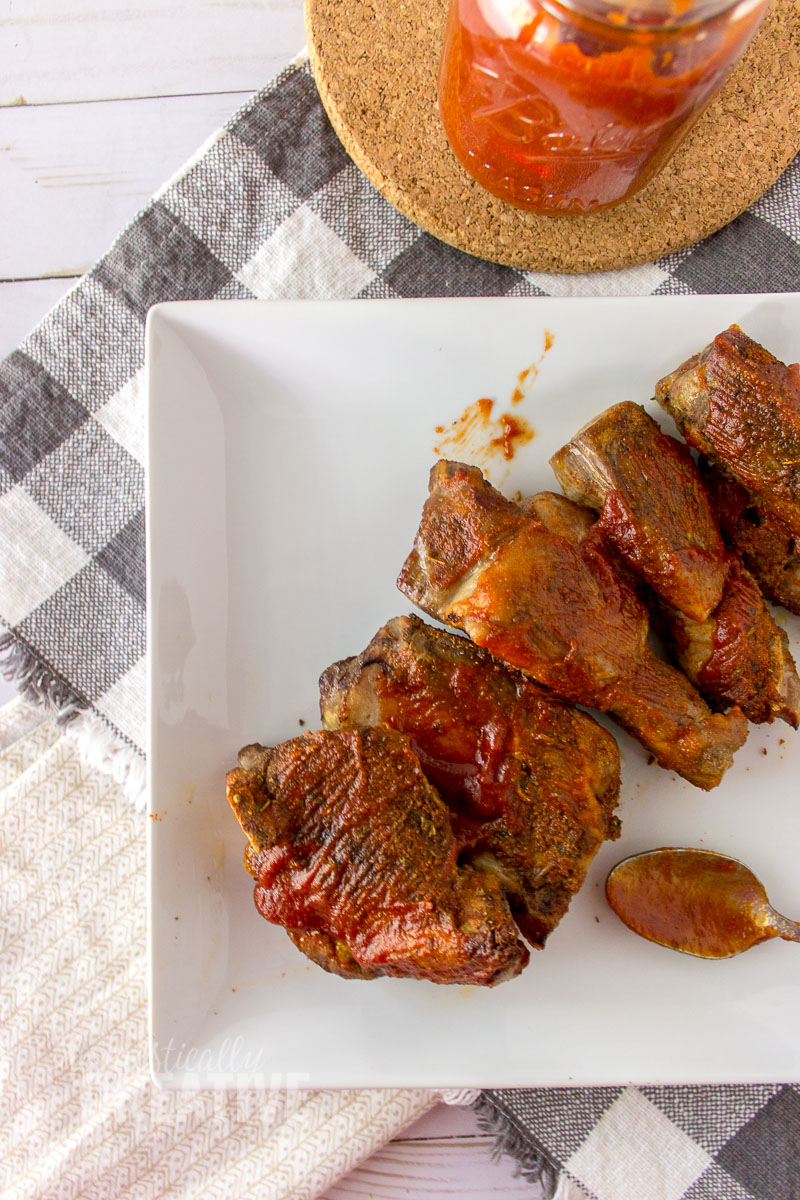 Now, it's true my husband and I have lived in 3 areas of the U.S. that claim to have the best barbecue in the world, so we know a thing or two about barbecue. The sad thing is, most traditional sauces include a ton of sugar, and even my very own barbecue dry rub includes brown sugar. That means no eating out for us.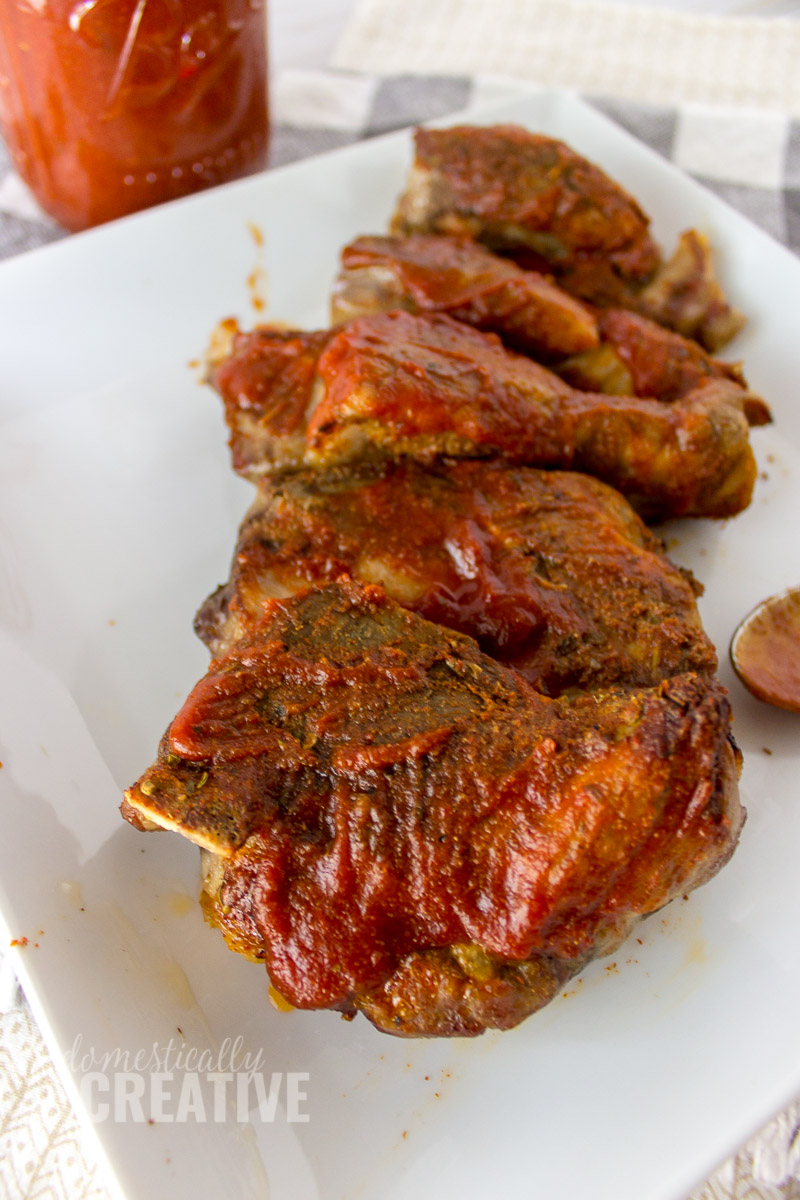 Well, as soon as I saw the categories for the blogger recipe challenge, I knew I had to perfect a barbecue recipe for the entree category that was sugar free, but still had the barbecue flavors I craved. I used the Erysweet and Nectevia sweeteners to perfect a sweet and spicy with a little hint of smokey slow cooker barbecue ribs recipe with sugar free barbecue sauce.
Erysweet is made from erythritol and is 70% as sweet as table sugar without all of the carbs, calories or glycemic impact. I simply replaced the brown sugar in my barbecue dry rub with Erysweet for the same great taste and texture in these slow cooker barbecue ribs.
Nectevia came to my rescue for the sugar free barbecue sauce! It's an all natural blend of blue agave nectar and stevia extract and is 4x more concentrated than agave nectar. That means you can use less and still get the same great taste!
Sugar Free Slow Cooker Barbecue Ribs with Homemade Sauce
Ingredients
Sugar Free Barbecue Sauce
1 6oz can Tomato Paste
3/4 cup beef or chicken broth
2 tbsp Apple Cider Vinegar
2 tsp Nectevia
1 tbsp Worcestershire Sauce
1 tsp Liquid Smoke
1 tbsp Dry Ground Mustard
1 tbsp Garlic Powder
1 tsp salt
1/2 tsp Pepper
1 tsp Onion Powder
1 tsp Paprika
1/4 tsp Cayenne (to taste)
1 tsp oregano
1 tsp Cumin powder
Sugar Free Slow Cooker Barbecue Ribs
1/8 cup Erysweet
2 tsp Garlic Powder
1 tsp Chili Powder
2 tsp Onion Powder
1 tsp salt
1/2 tsp pepper
1 tsp Paprika
1 tsp Cumin Powder
1/4 tsp Cayenne Pepper
2 lbs Country Style Pork Ribs
1/4 cup Beef or Chicken broth
Instructions
Sugar Free Barbecue Sauce
In a medium sauce pan, whisk together tomato paste, broth and apple cider vinegar over medium heat until paste is thinned.
Whisk in the remaining ingredients, and cook over medium heat for 5-10 minutes, stirring continuously. Mixture will reduce and thicken some.
Store in a glass jar with fitted lid (mason jar) in the fridge for up to 2 weeks.
Sugar Free Slow Cooker Barbecue Ribs
In a small bowl, combine all ingredients minus pork ribs and broth.
Rub mixture all over the country style pork ribs until they are fully covered.
Place ribs in slow cooker and add in broth. Cover and cook on low for 6-8 hours.
Serve topped with Sugar Free Barbecue Sauce
Nutrition Information
Yield

4
Serving Size

1 grams
Amount Per Serving
Unsaturated Fat

0g
Now I no longer have to crave all the barbecue I couldn't have before because I can make my own delicious version and feel good about what is in it!
Stay tuned to see my dessert and drink recipe categories for the Steviva blogger recipe challenge, and be sure to follow along on Instagram, Pinterest, Facebook and Twitter to see what the other bloggers are coming up with as well!
Pin it for later: