Make this sweet Valentine's Day Ribbon Wreath with just a few materials and a little bit of patience. Hang it on your front door if you want, or just use it around the home to add a little Valentine's Day decor.
How to Make a Valentine's Day Ribbon Wreath
What you'll need:
Floral wire, or other bendable wire (No More Wire Hangers!)
Ribbon
Scissors
Patience
You can see in the above photo, that I started by taking 2 pieces of floral wire to make my heart shape. I attached them together with floral tape, but you could twist them together. I was too lazy to walk downstairs to the garage to find pliers to twist them with, so the tape worked just fine.
Next, I cut my ribbon into 12″ long strips. You can cut them longer, or shorter, if you so desire. This length seemed to work best to tie the ribbon on, because of the type I used. If you were using regular satin ribbon, you could probably get away with cutting them shorter.
Start tying on your ribbons using a lark's head knot (thanks to my friend Mike for teaching me the proper name). You can see in the pictures just how I did that. Start by folding your ribbon in half, then feed the loose ends through the loop around the wire and pull tight. Voila!
You can do one knot, or repeat the steps to make it a double. With my tulle ribbon I found the double knot helped keep it from coming undone. Again, it will depend on what ribbon you use.
Just continue going around the wire, until it is all covered. This is where your patience will come in handy. Of course, in true Amanda fashion, I had to make this way more complicated than it needed to be. First off, I didn't have enough white ribbon to make the pattern around the entire heart, so I went back in and added the gold ribbon. Of course, then I didn't have enough gold ribbon to go all the way around. SO, I did an alternating pattern with the white and gold. Oh well, I'm happy with how it turned out.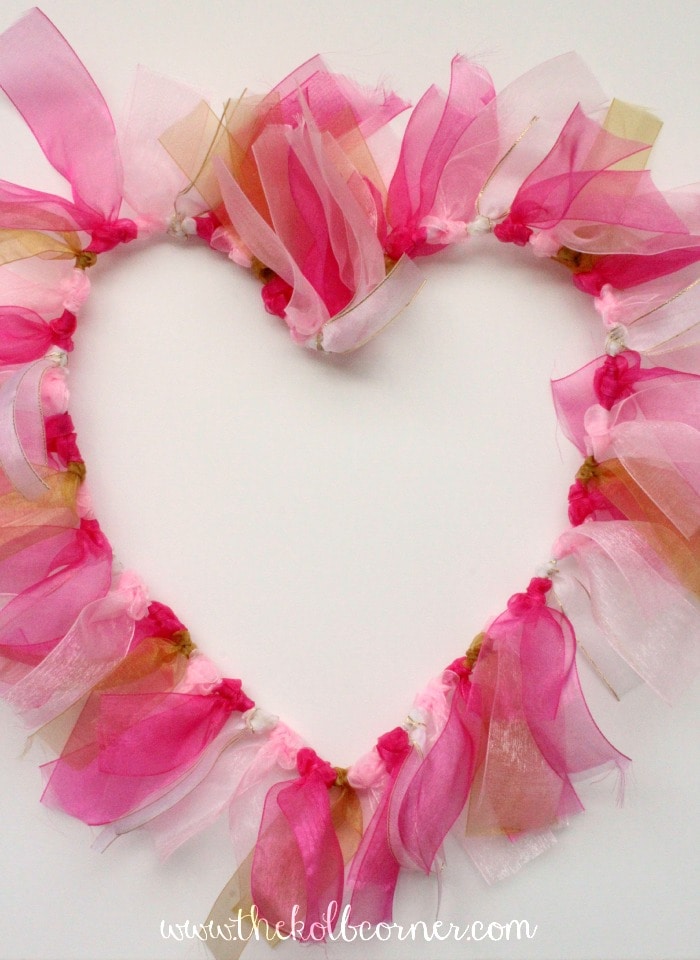 Since it is so light weight, hanging it on the front door isn't exactly appropriate. Not only that, but I don't think my husband would enjoy seeing this plastered on our front door. It is just a tad kitschy to parade on the front door.
Instead, I did the next best thing–hung it on the stair case so he sees it when he first walks in! Yes, he loves me.
Not too shabby for a FREE little craft, I'd say!
Make sure you hop over to the Spring Craft Bog Hop to check out what the other bloggers are sharing!
More Valentine's Day craft ideas: