Fudgy Keto Cream Cheese Brownies
If you are looking for a great sugar free, low-carb alternative to traditional cream cheese brownies, you've found it in these chewy, chocolate, keto cream cheese brownies. Curb your chocolate cravings without the guilt and still stick to your low-carb or ketogenic diet.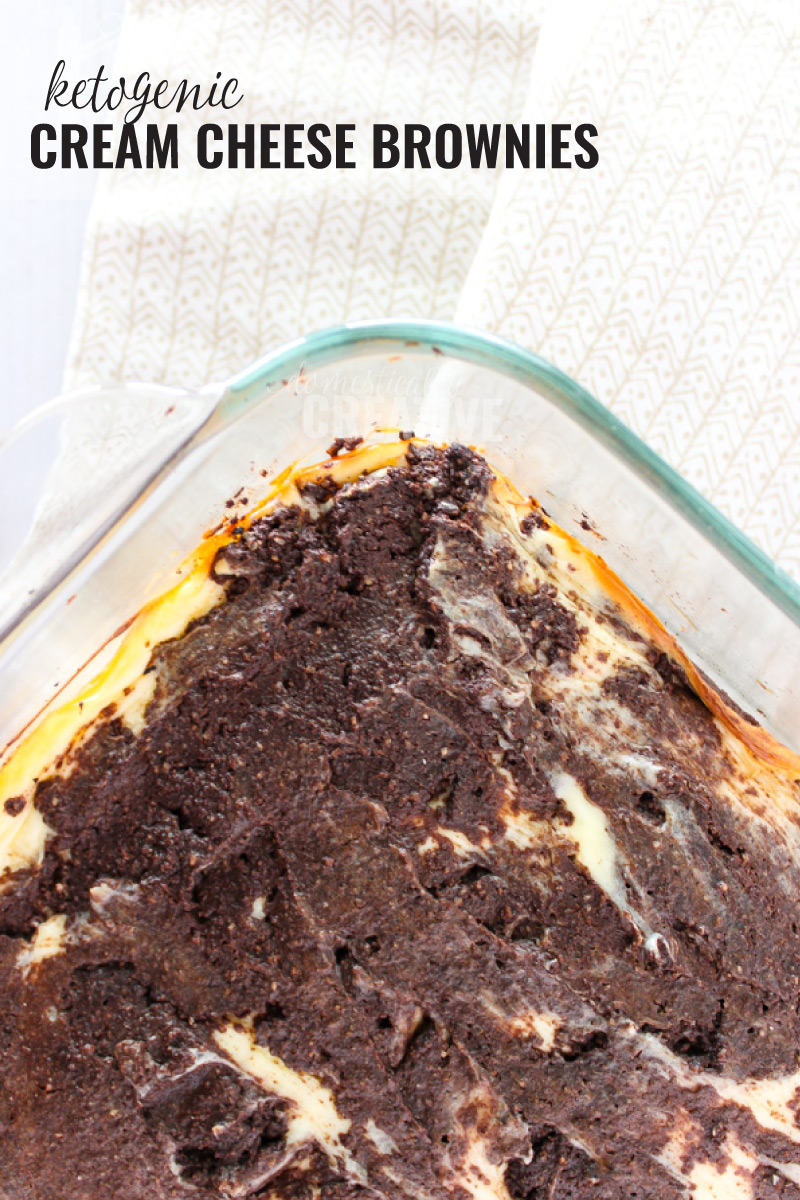 I have made these keto cream cheese brownies several times now. If you have been a reader for any length of time, you know that I love to bake. I would take baking over cooking, crafting, and even DIY any day. So when I started this thing called the Ketogenic Diet, I thought my baking days were over.
Well, luckily for me (and you!) they aren't over but rather they take a little bit more trial and error. I've already learned how typical flours, leavening agents, and sugar behaves in traditional baking, but now I am learning a whole new way to bake.
Read Also: Keto and Low Carb Aldi Shopping Guide
See, sugar alcohols like Erythritol and Xylitol** behave differently in recipes than sugar does. It took me making these keto cream cheese brownies a few times to learn that Erythritol needs time to soak in to a liquid. I've also learned that coconut flour absorbs liquid like you wouldn't believe! That's why it's best to add it in to a recipe in small increments rather than at once. A recipe also takes much less of it than it would of regular all-purpose flour.
All of these tips I've learned slowly from trial and error, but I know I have so much more to learn when it comes to keto baking. But in the meantime, we can all enjoy these delicious keto cream cheese brownies!
***UPDATED January 2019*** I have since discovered that I prefer baking with Swerve sweeteners. Not only is the taste the best I've found, but it comes in 3 forms–granulated, brown, and powdered. Powdered Swerve is great for frostings or for no bake desserts. The Brown sugar Swerve is awesome in some chocolate chip cookies, and granulated Swerve is fine in a recipe like these keto cream cheese brownies!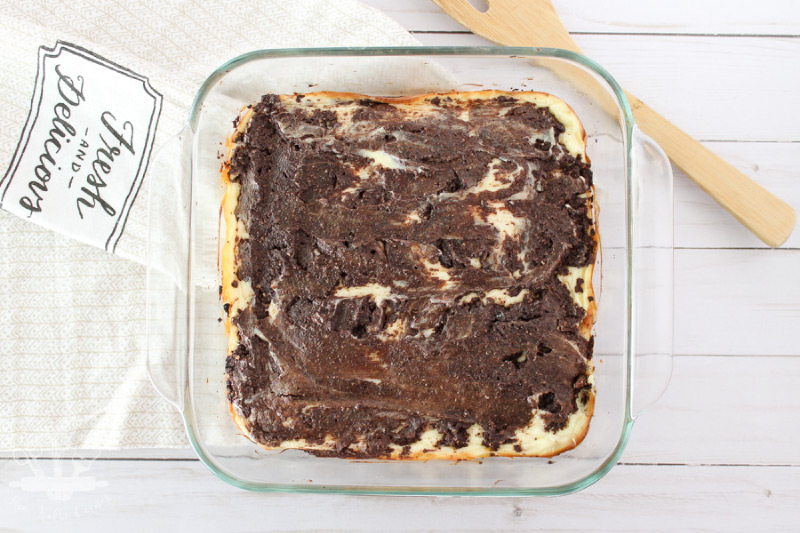 **I just want to add that if you use Xylitol in your household, please please PLEASE be sure that it is out of reach of your four legged friends. Let me go into a little bit of detail about how Xylitol affects our pets. For us, it's a great sugar substitute and most people actually prefer the taste of it to Erythritol. For our pets though, if they ingest any Xylitol, even in a small amount, it can be fatal. Their bodies react to Xylitol as they would to sugar, secreting insulin to lower their blood sugar levels. The problem is though, that Xylitol doesn't raise their blood sugar levels. So in fact, the body is producing insulin and lowering their blood sugar level, sending them into hypoglycemia. Hypoglycemia is deadly if not treated immediately. The scary part is that Xylitol is in our sugar free gum (which is easy for a pet to find on the ground) and even some peanut butter. So please please be very careful with using this around your pets and never give your pet something that has Xylitol in it.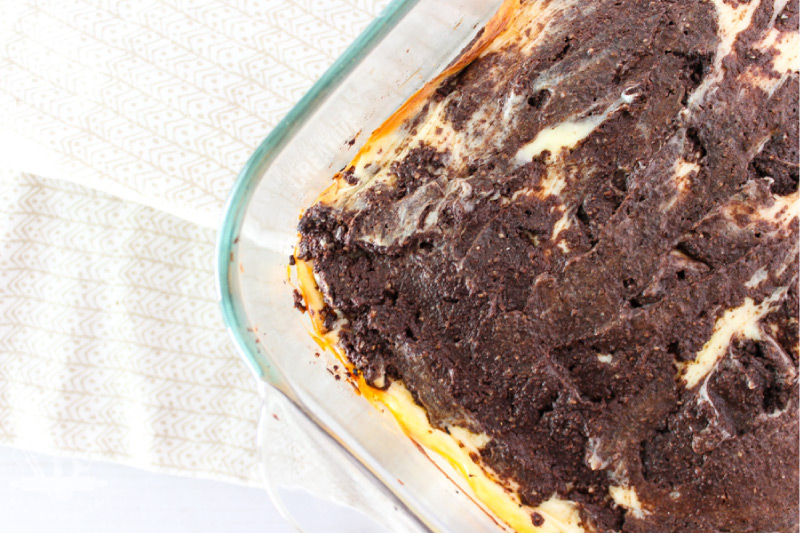 Tips for Making Keto Cream Cheese Brownies
Definitely make the cream cheese layer first as once the brownie batter is made it will quickly stiffen up. The coconut flour absorbs moisture super fast. If you make the brownie batter first, by the time the cream cheese batter is made the brownie batter will be too thick to "swirl" or marble.
If you want to really get that marbled cheesecake brownie look, add a little bit of heavy cream ~2tbsp to the top brownie batter portion right before layering it on top. This will help with marbling.
As with any keto dessert, these do have a different texture than traditional brownies made with all purpose flour. This is due to the egg, coconut flour and erythritol. The batter for these keto cream cheese brownies will be thicker than you are used to with regular brownies.
Almond flour cannot be substituted for the coconut flour in a 1:1 ratio. You would need probably 1 1/2 cups of almond flour to get the right consistency. Please note that I have NOT experimented with this ratio so I cannot guarantee the results. Also, the nutrition facts would be different so take that into consideration.
While you can substitute Stevia for the Erythritol in this recipe, please note that it will not be a 1:1 ratio swap. Stevia is much more concentrated in sweetness, and can actually taste bitter in large quantities. I have not tested this recipe using granulated Stevia so I am unsure how it would change the batter consistency and taste or affect the final outcome.
Looking for more low carb and keto desserts? Check out these recipes:
Don't forget to pin it!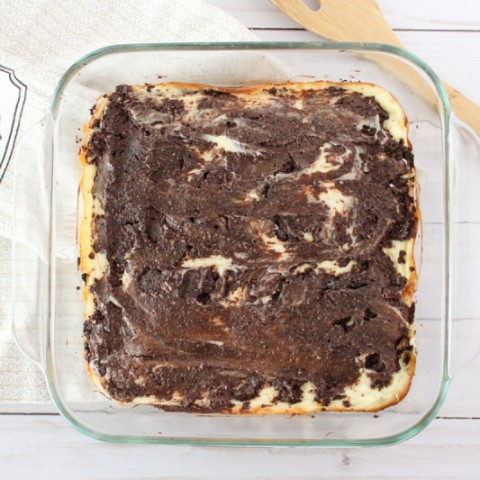 Keto Cream Cheese Brownies
If you are looking for a great sugar free, low-carb alternative to traditional brownies, you've found it in these delicious keto cream cheese brownies., sugar free and keto friendly alternative to traditional cream cheese swirled brownies.
Ingredients
Cream Cheese Filling
8 oz cream cheese, softened
1 large egg
1 tsp vanilla
1/4 cup powdered erythritol
Brownies
2 Large eggs
1/2 cup erythritol, (or brown sugar swerve)
6 tbsp butter, unsalted
3 oz unsweetened baker's chocolate
1 tsp vanilla
1/4 cup coconut flour
1/2 tsp salt
1/2 tsp baking powder
2 tbsp heavy cream, optional for help with marbling
Instructions
Preheat oven to 350 and grease an 8x8 pan. Set aside.
In a medium bowl, beat cream cheese until whipped. Mix in egg, vanilla and powdered erythritol until well combined. Set aside.
In a large bowl, beat eggs until they are frothy. Stir in erythritol and mix well.
In a small microwave safe bowl, melt butter and chocolate for 30 second intervals stirring between heatings, until chocolate is completely melted.
Add vanilla, salt, baking powder and melted chocolate to the bowl with the eggs and stir well.
Slowly stir in coconut flour (in 1 tbsp increments works best)
Once mixed, spread 3/4 of the brownie mixture into the prepared pan.
Spoon the cream cheese mixture on top and smooth it around.
Spread the rest of the brownie mixture on top of the cream cheese mixture to create a marbled look. (add 2 tbsp heavy cream before adding to help with marbling)
Bake 25-30 minutes or until a toothpick insterted in the center comes out clean
Nutrition Information
Yield

9
Serving Size

9 brownies
Amount Per Serving
Calories

252
Total Fat

24g
Saturated Fat

15g
Trans Fat

0g
Unsaturated Fat

7g
Cholesterol

114mg
Sodium

270mg
Carbohydrates

12g
Net Carbohydrates

2g
Fiber

3g
Sugar

1g
Sugar Alcohols

7g
Protein

5g
Nutrition values are automatically calculated by third-party software using global standards. Please note that values can vary based on product brands and different nutritional calculators. The values stated here are only for a basic reference and are not evaluated by medical or nutritional professionals.