Looking for a simple weeknight dinner? This Italian Beef made in the Crock Pot is really easy to throw together in the morning, and it's ready when you get home!
This post may contain affiliate links for your convenience. Read our disclosure policy.
I know that I have been sorely neglecting my readers lately. Please Please Please forgive me! This moving into a new house and starting a new job business can certainly wear a person out! When I do have any free time, I'm too exhausted to do much writing.
I have managed to do some Christmas decorating and I will be sharing some of those photos with you soon! I also got a new camera, so good news for you–soon you won't be staring at my Iphone pictures! That should make ya'll happy as I know it makes me VERY happy.
So in the meantime, I do have another really easy recipe to share with you guys today-Crock Pot Italian Beef. This is my hubby's all time favorite dinner–and the best part is it's SO AMAZINGLY EASY!!! When he asks me to make it, I never argue. The only difficult part is finding a good sale on a roast.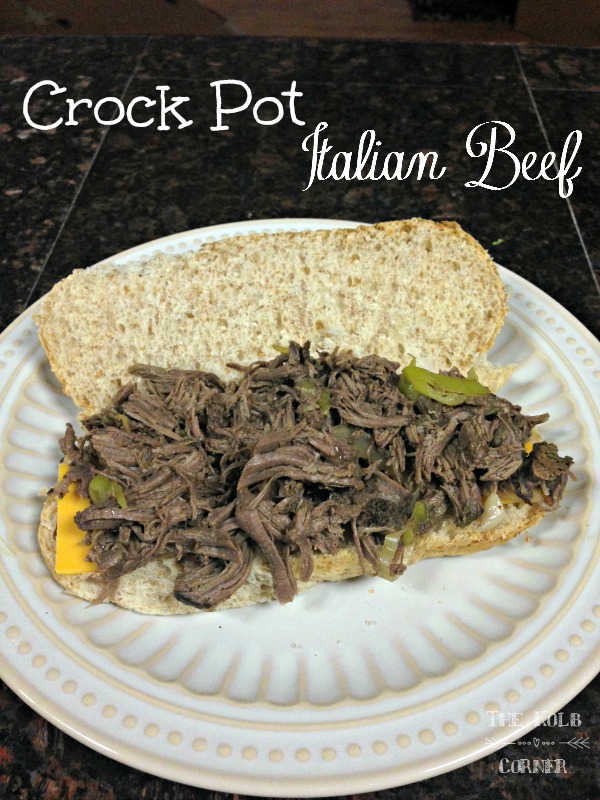 The first time I ever had Italian Beef was at a small, hole in the wall, restaurant in my home town called Mr. Mike's. Believe me, this stuff was amazing! Slightly spicy shredded beef served on a hoagie with cheese–a pretty simple concept. After that my mom started making her own version at home, and that is the starting point for my recipe.
It's really easy actually. All you need is a roast, a few simple ingredients and a Crock Pot *. You can use just about any type of roast because after it cooks all day, even the toughest cut will become tender enough to shred.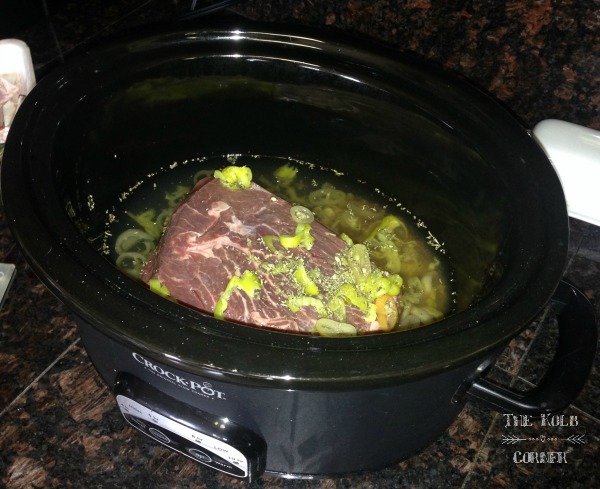 Cook it on low for at least 8 hours. If you are using a tougher cut of meat do not try to cook it on high or it will be very hard to shred.
Speaking from experience.
We like to eat our Crock Pot Italian beef on whole wheat hoagies, with Provolone or Mozzarella cheese. Sadly, this last time I forgot to pick up the cheese so we had to deal with Cheddar.
That's OK though, hubby is never one to complain when I make this, and the Cheddar was still delicious.
What's even better about this recipe is that there is usually leftovers. You can eat them again as a sandwich, just plain as shredded beef, OR you can eat it served over rice. Crock Pot Italian beef is just as good served the next day!
Crock Pot Italian Beef
Looking for a simple weeknight dinner? This Italian Beef made in the Crock Pot is really easy to throw together in the morning, and it's ready when you get home!
Print Recipe
Ingredients
1 3-4

lb

chuck roast

(or another cut)

6

oz

jarred Peperoncini and juice*

(I used Mezzeta brand)

1

cup

beef broth

1

tbsp

Italian seasoning

1

tsp

garlic powder

Salt and Pepper to taste
Instructions
Place roast in the bottom of Crock Pot

Pour juice, Peperoncinis, and beef broth over roast

Add in seasonings and cook on Low 8 hours.

When finished cooking, take meat out and shred with 2 forks.

Place shredded meat back in Crock Pot and cook 20 minutes longer.
Notes
*If you like it spicy you can add in more peppers or juice to taste. I generally buy the 12 oz jar and use 1/2-3/4 of the juice and peppers.
Nutrition
*Denotes affiliate link. Purchasing items linked to in this post may result in a commission paid to me to keep great content coming your way. Please read my full disclosure policy HERE.
---
Looking for more Crock Pot recipes?