This post may contain affiliate links for your convenience. Read our disclosure policy.
One Pot is all you need to make this delicious and comforting Beef Pot Roast. Recipe is also adaptable for the Slow Cooker and Instant Pot!
I'm all about comfort food. You know, homestyle cooking, just like mom used to make? Well one of my favorite comfort meals to make is Pot Roast. It's really simple, but it reminds me of growing up. Even though my mom worked full-time, she was always there to make us a home cooked dinner. Sure, just like today, there were days where dinner was something really simple, and even special occasions where she would bring home a pizza. But, for the most part, she always made great, homestyle, meals.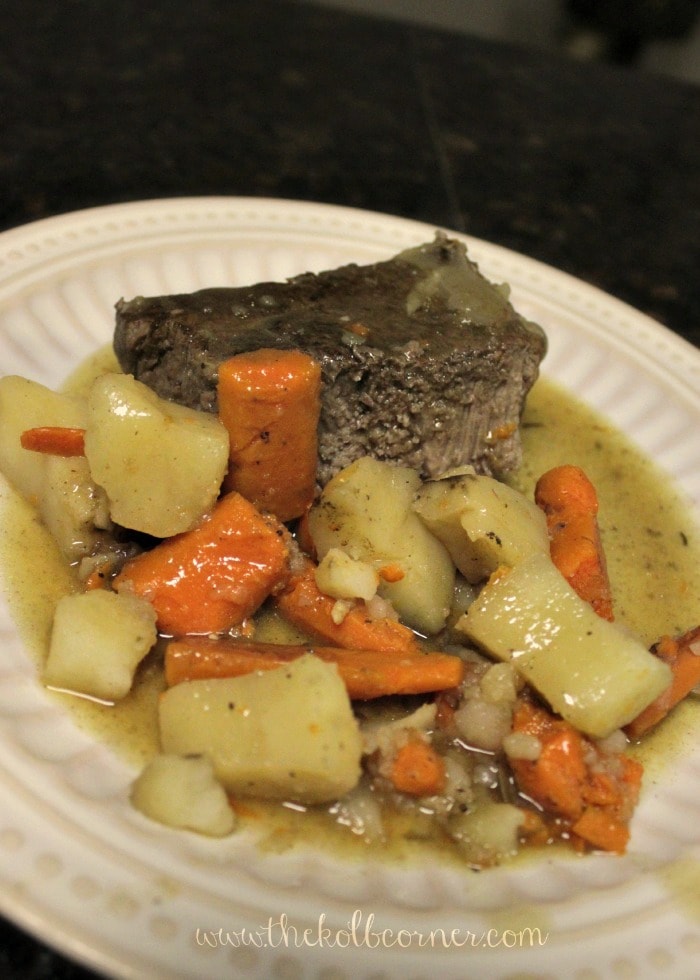 The best part about this Pot Roast recipe is you can braise it in the oven, OR you can throw everything in the Crock Pot or Instant Pot. Either way, it's sure to please. In this recipe I use carrots and potatoes cooked right in with the roast. I always loved biting into those chunks of cooked potatoes dripping in the juice from the roast, and those carrots, roasted to perfection. Can you taste it yet?
Ingredients
3-5

pound

Chuck Roast

1

tbsp

butter

1

onion

, cut into quarters

2

cloves

garlic

, minced

5-6

carrots

, washed peeled and cut into 1 1/2" chunks

3-4

potatoes

, washed, peeled and cut into large cubes

3

cups

beef broth

salt and pepper to taste

1

tsp

rosemary

1

tsp

tyme
Instructions
Salt and Pepper the Roast to taste, set aside.

Heat a large Dutch Oven over med-high heat, and melt butter.

Add in onion quarters and cook just until browned. Remove and set aside.

Add in carrots and brown on both sides. Remove and set aside.

Add in roast and sear meat on all sides just until browned. Remove and set aside.

Deglaze pot by pouring in 1 cup broth and scraping the browned bits off the bottom.

Put roast back in pot and add remaining broth. If broth doesn't cover half of the meat you may need to add more.

Add the carrots, potatoes, onion, garlic, rosemary and thyme to pot.

Cover and roast at 275 for 3-4 hours depending on roast size.
Notes
To Cook in a Slow Cooker:
Add all ingredients to the pot of slow cooker (minus the butter!). Cook on low for 8 hours or high for 4 hours.
For Instant Pot:
Season roast with salt and pepper. Turn on saute setting on Instant Pot and melt butter. Once melted, place meat in pot and sear on all sides until browned. Remove meat from pot and pour in beef broth. Deglaze pot by scraping the browned bits off the bottom/sides of pot. Add meat back with onion, garlic, rosemary and thyme. Pressure Cook normal for 30 minutes. Once finished, do a quick release to release steam. Open lid and place potatoes and carrots in with meat. Pressure cook normal for 15 minutes. Once done, let the Instant Pot natural release for 10 minutes, then quick release the rest of the way.
Nutrition
More One Pot recipes:
Don't forget to pin it!