Easy Mini Halloween Wreath
This post may contain affiliate links for your convenience. Read our disclosure policy.
Here's an EASY Mini Halloween Wreath you can whip up in no time! Plus it's made from items you can find at most dollar stores or Target's Dollar Spot.
In the past, I was never one to really decorate for Halloween, but this year I figured I would give it a try. When I ran into Dollar Tree to grab more pumpkins to paint for this year's Fall decor, I just couldn't pass up some of their Halloween stuff!
The wheels instantly started spinning with everything I could make this year, and it made my little frugal heart so happy that I wouldn't be spending a ton of money. Because who doesn't love making new things on the cheap?
So I quickly gathered up my hoards of inexpensive Halloween decor and got busy. The first thing I made was this really easy mini Halloween wreath. A wreath is always a necessity when it comes to seasonal and holiday decor.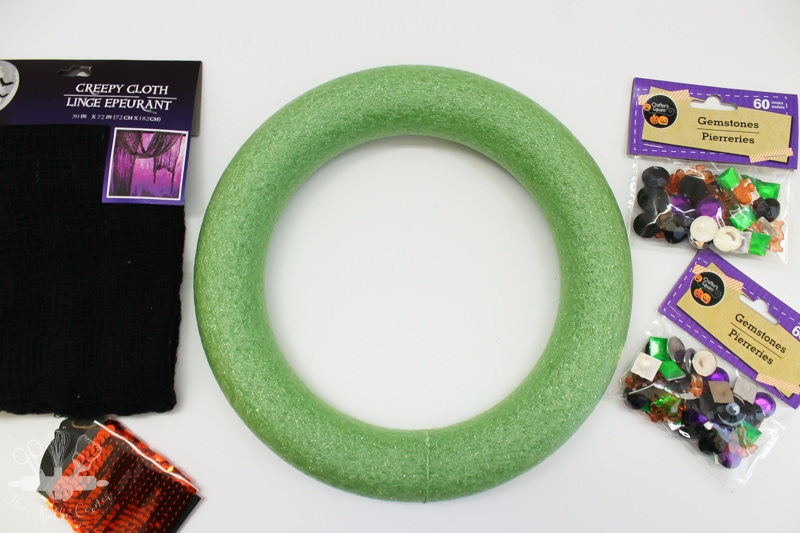 This post contains affiliate links for your convenience. You can help keep this blog running at no additional cost to you! Read my full disclosure policy here.
Easy Mini Halloween Wreath
What you'll need:
I ended up picking up my supplies from Dollar Tree, and the sequin ribbon from Target's Dollar spot. I've linked to similar items in case you don't have a Dollar Tree or Target near you.
Start by cutting black fabric into skinny strips about 1 1/2″ wide.
Wrap fabric around the wreath. When starting with a new fabric strip, tuck ends into the previous wrapped fabric to keep in place. You could also use a drop of hot glue to keep it in place.
Wrap orange ribbon around the wreath and secure end with hot glue.
Glue on jewels in the desired pattern. I chose to glue mine on each space between where the orange sequin ribbon was wrapped.
To hang, use more of the orange ribbon, or a strip of the black netting. Secure with hot glue or by tying a bow.
See, I told you it was easy!! I think it will go so well with my apothecary jars from last year!
Since I haven't done much Halloween decorating in the past, I'm having so much fun coming up with easy and inexpensive crafts to add to my collection! Stay tuned for some more fun projects coming soon.
More Halloween goodies: