Rainbow Honey Lime Fruit Salad
A rainbow blend of fruit, combined with a sweet and tart dressing makes this honey lime fruit salad a sure to be hit at any Summer cookout.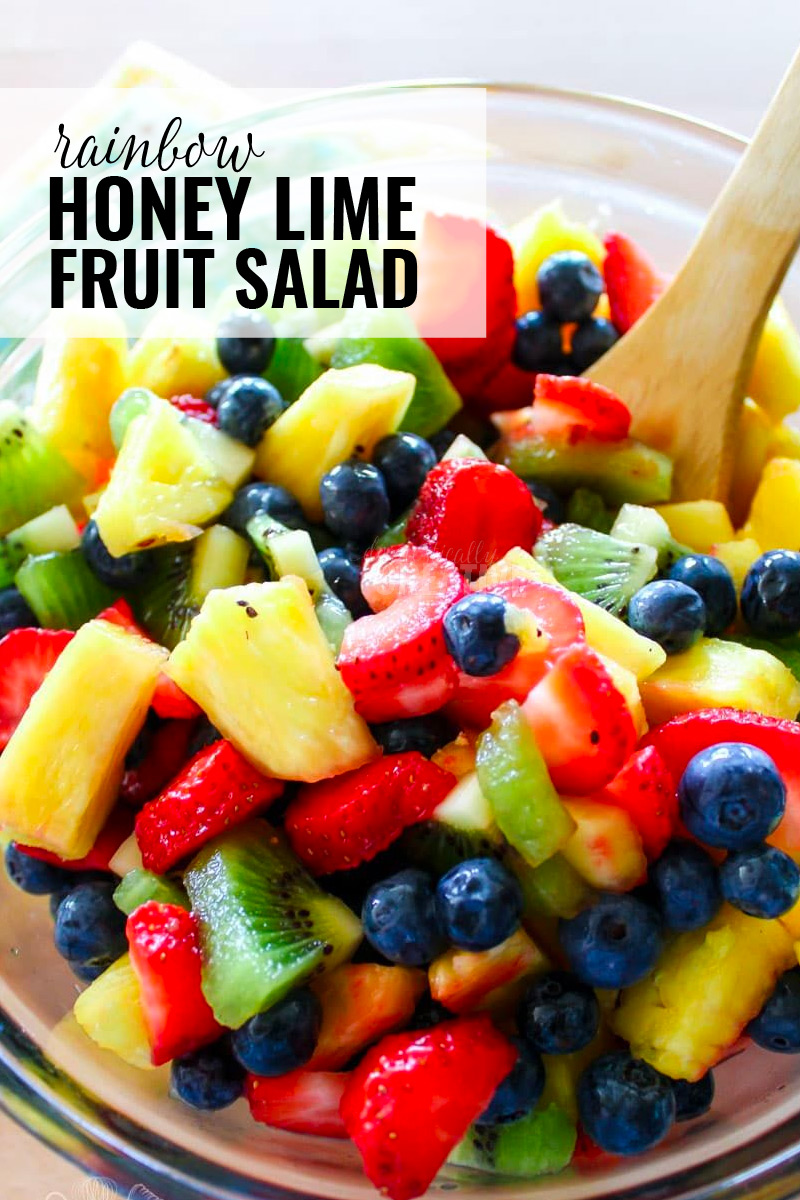 I love mixing up a big bowl of fruit in the Summer. Fresh fruit is always in abundance, it's cheap and so colorful, plus it's pretty good for you. My husband loves eating it mixed with a little bit of yogurt and granola for breakfast, but I prefer it just as it is. My issues with textures prevents me from mixing it with anything else. Yes, you read that right.
I've always had issues with texture. Peaches are one thing that come to mind, as well as lumpy mashed potatoes. And for the longest time, I REFUSED to eat yogurt that had any sort of fruit mixed into it. I just couldn't stand if a food that should be creamy and smooth had a lump of something in it.
Usually when I make a fruit salad, I don't add any sort of dressing or sauce to it-the fruit speaks for itself. This time though I thought I would get a little bit fancy and add a honey lime dressing to spruce it up a bit. Guys, it took this plain ol' fruit salad to the next level of deliciousness.
We served this at our party a few weeks ago, but this honey lime fruit salad is the perfect addition for a Summer cookout, for breakfast or even just to have in the fridge for a quick snack.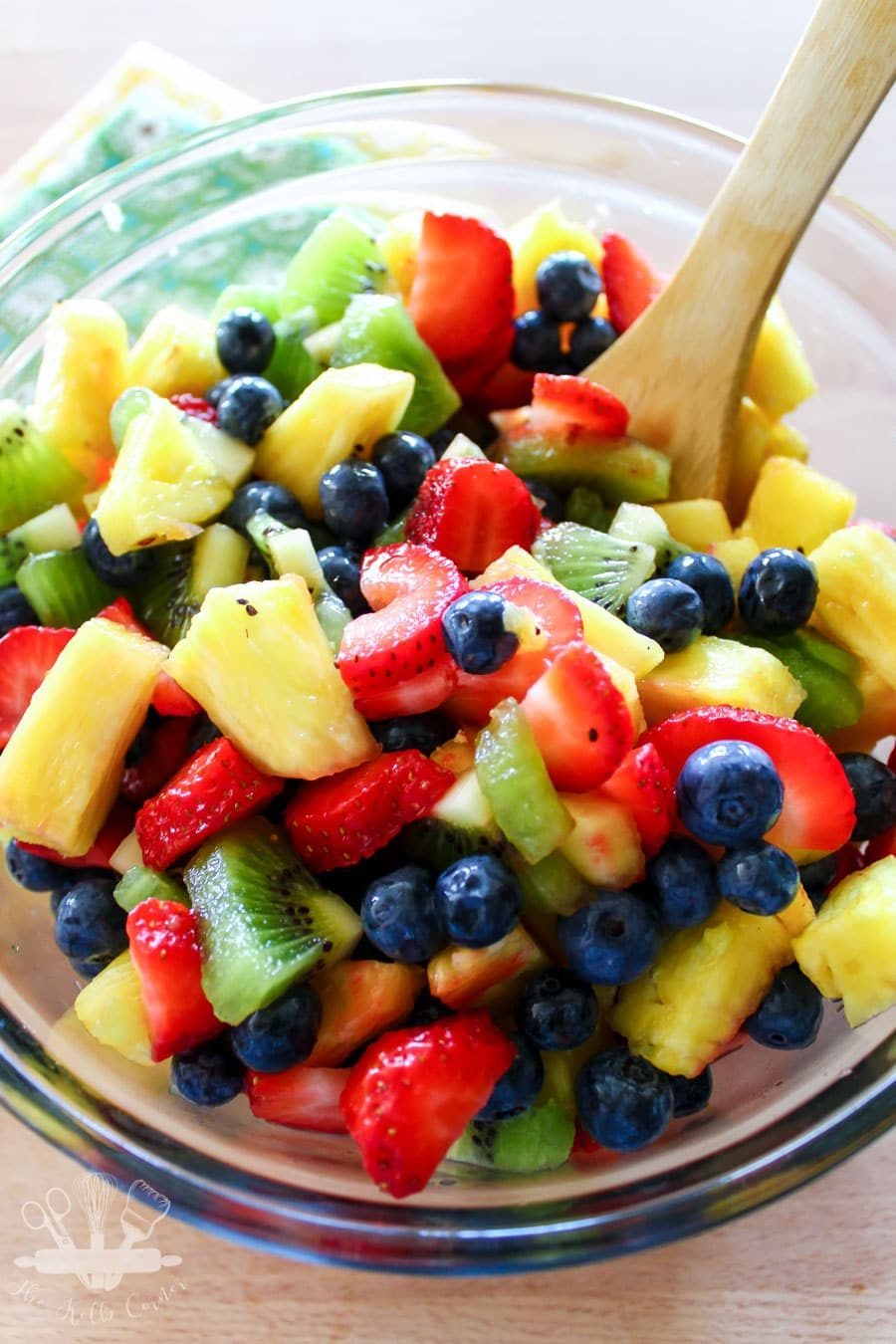 Tips for making Rainbow Honey Lime Fruit Salad
One question I get about this fruit salad recipe is if it can be prepared ahead of a party to save time. The short answer is YES, this honey lime fruit salad can absolutely be prepared ahead of time and kept covered in the fridge. I don't recommend preparing it more than 48 hours in advance though, as some of the fruits will start degrading after that time.
Another question I get asked is if fruit substitutions can be made. Of course they can! If you aren't a fan of kiwi, you can certainly add in a different fruit, or just omit the kiwi all together. Other fruit suggestions that would make a great addition to this easy fruit salad recipe are mango, banana, raspberries, blackberries or even watermelon!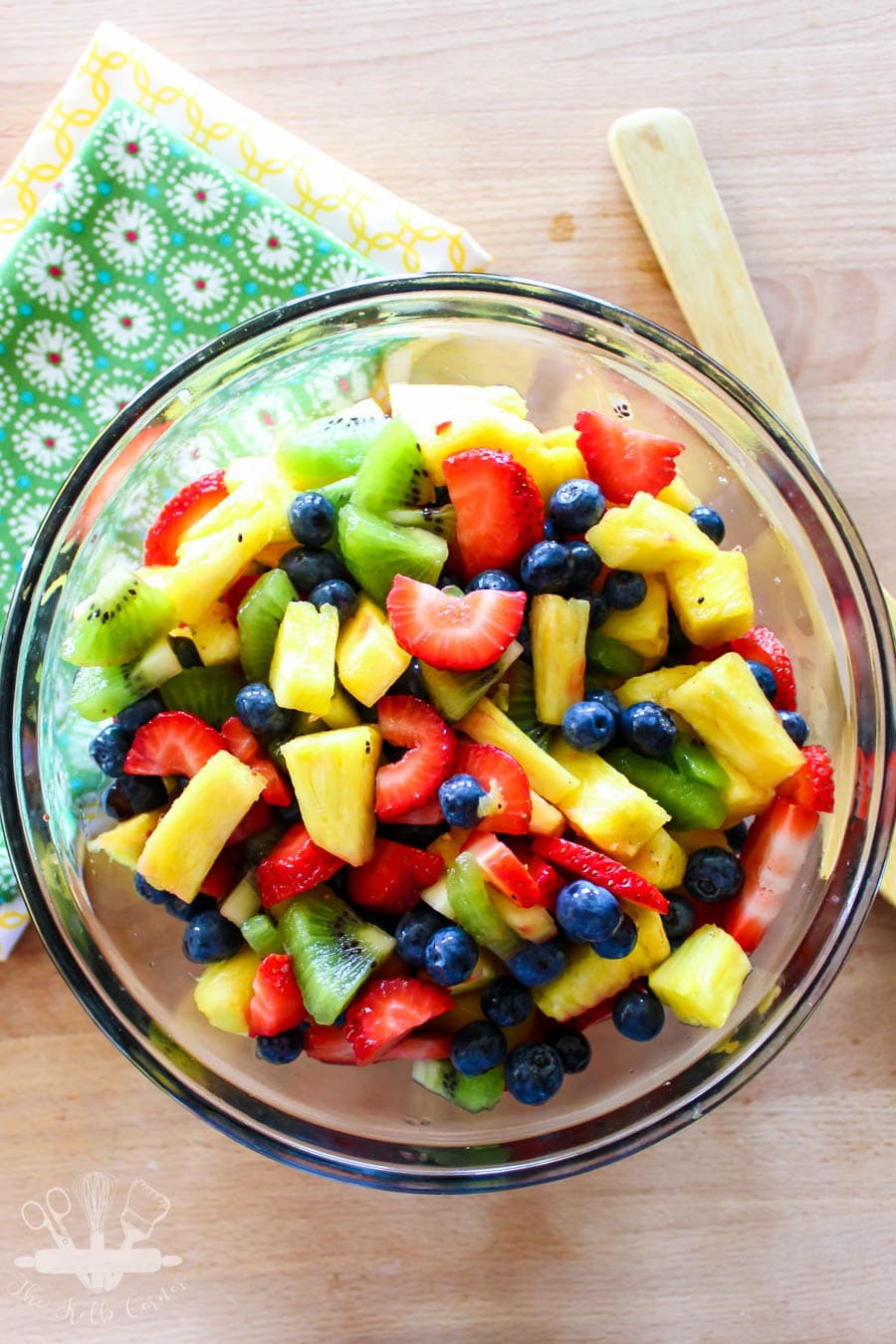 When prepping the fruit for this delicious salad, it is best to use a water/vinegar solution to wash the fruit in first. Use 1 part vinegar and 10 parts water to create a fruit bath in your sink or a large bowl. Then place the fruit in for a minute or two. Give the water/vinegar solution a few stirs, then drain off the water. The vinegar solution will wash any bacteria from the fruit as well as mold spores. This is a great practice for washing fruit in general, but really helps the honey lime fruit salad stay as fresh as possible!
More Summer cookout recipes:
Pin for Later!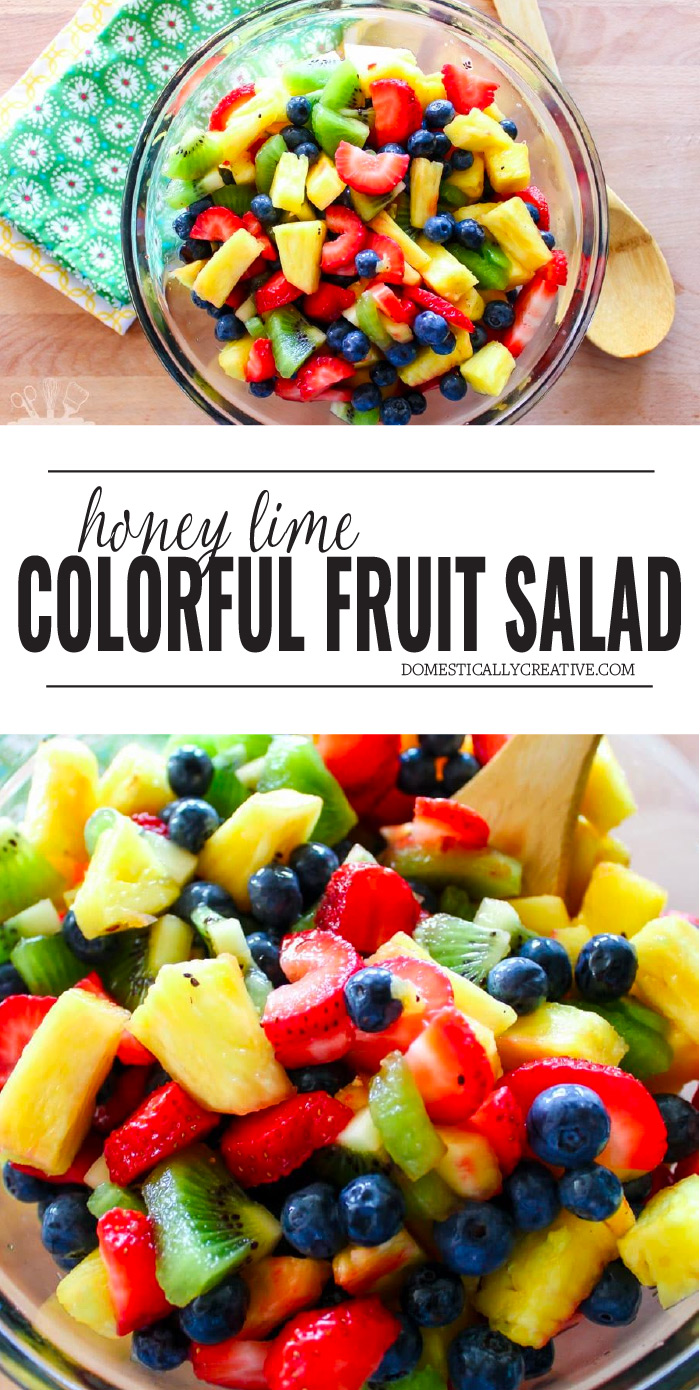 Honey Lime Fruit Salad
A rainbow blend of fruit, mixed with a sweet and tart dressing. The perfect dish to add to a summer cookout!
Ingredients
2 cups strawberries, hulled and sliced
1 cup blueberries
3 kiwis, peeled and sliced
1 pineapple, peeled and diced
1/4 cup honey
2 tbsp orange juice
Juice and zest from 1 lime
Instructions
In a small bowl, whisk together the honey, orange juice, lime juice and zest and set aside.
In a large bowl, gently toss the prepared fruit together.
Pour the prepared honey lime marinade over the fruit and give it a few stirs to combine
Cover the bowl and keep prepared fruit salad in the refrigerator.
Serve chilled
Recommended Products
As an Amazon Associate and member of other affiliate programs, I earn from qualifying purchases made by clicking some links. I only recommend products I use personally.
Nutrition Information
Yield

10
Serving Size

1/2 cup
Amount Per Serving
Calories

63
Total Fat

0g
Saturated Fat

0g
Trans Fat

0g
Unsaturated Fat

0g
Cholesterol

0mg
Sodium

16mg
Carbohydrates

16g
Fiber

1g
Sugar

14g
Protein

0g
Nutrition values are automatically calculated by third-party software using global standards. Please note that values can vary based on product brands and different nutritional calculators. The values stated here are only for a basic reference and are not evaluated by medical or nutritional professionals.