Sugar Free Broccoli Salad
Loaded to the brim with bacon and cheddar and smothered in a creamy tangy dressing, sugar free broccoli salad is a great low-carb alternative to the traditional cookout side dish favorite.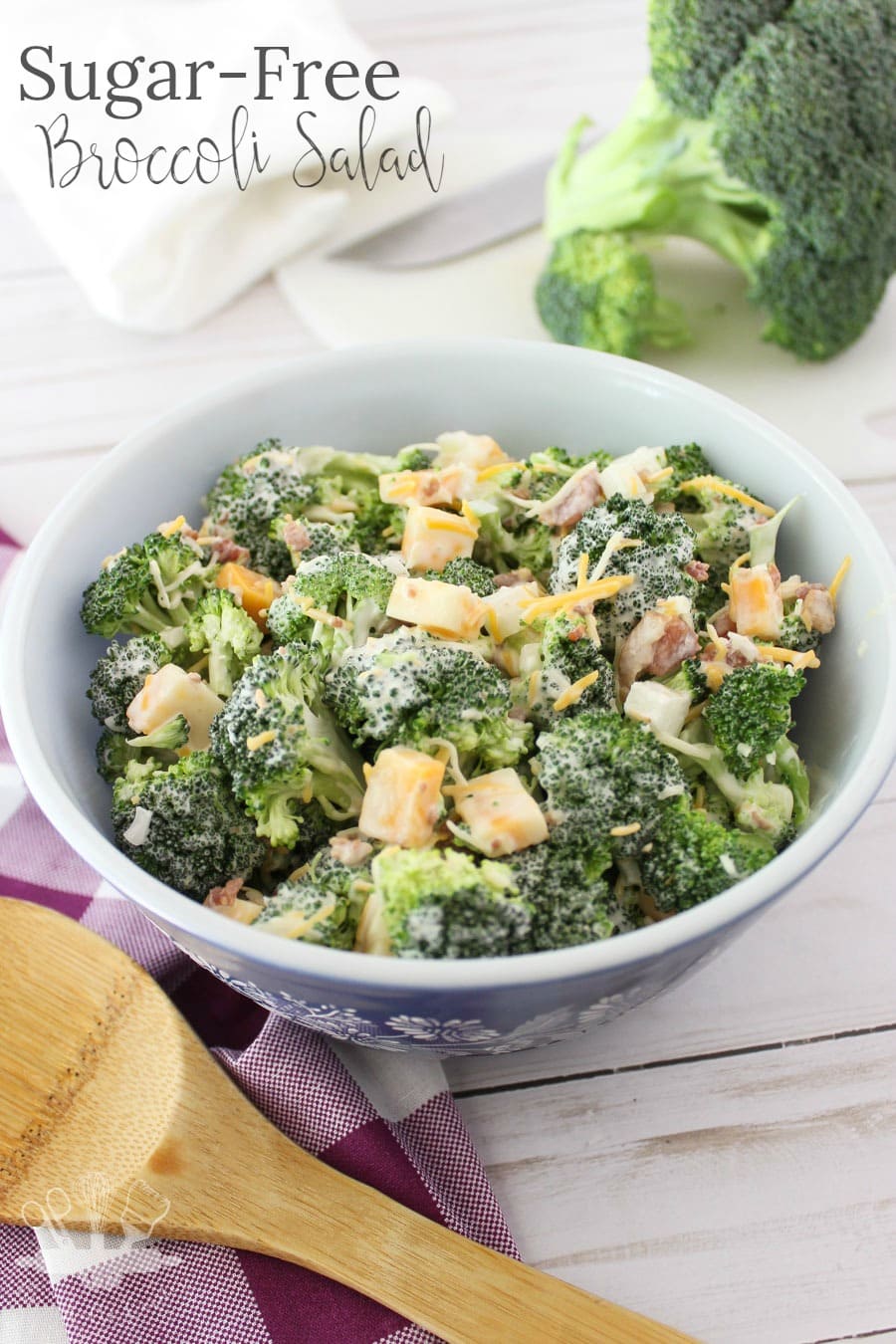 As a kid, I hated the thought of eating broccoli. The texture of it, and even the flavor, completely grossed me out. The same with lima beans. In fact, just thinking about putting a lima bean in my mouth is making me want to gag right now. TMI?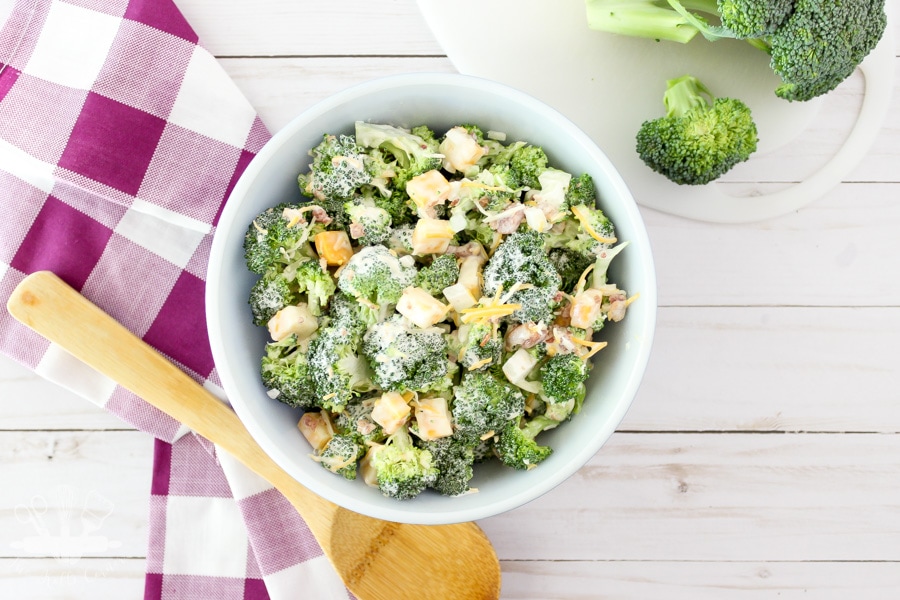 Anyway, I think we were discussing broccoli. Maybe it's a kid thing to not enjoy eating it, maybe I'm just a weirdo, or maybe it's both. Probably both. I am a bit of a weirdo. But now that I am an adult, suddenly I love broccoli. I'll eat it raw with veggie dip, roasted in the oven, grilled, steamed, it doesn't matter I will eat it.
So you can imagine my disappointment now that I enjoy broccoli, to discover that my one of my favorite summer cookout dishes, broccoli salad, has sugar in it. I literally had no idea until I saw the recipe in my good ol' Better Homes and Gardens cookbook.
With my new found secret to weight loss and energy being the Keto diet, I figured I needed to find a sugar free alternative stat so I could still get plenty of enjoyment at all of this Summer's cookouts I'll be attending. Because really, the best part about a good broccoli salad isn't necessarily the broccoli itself, but the sweet and tangy dressing that it's smothered in.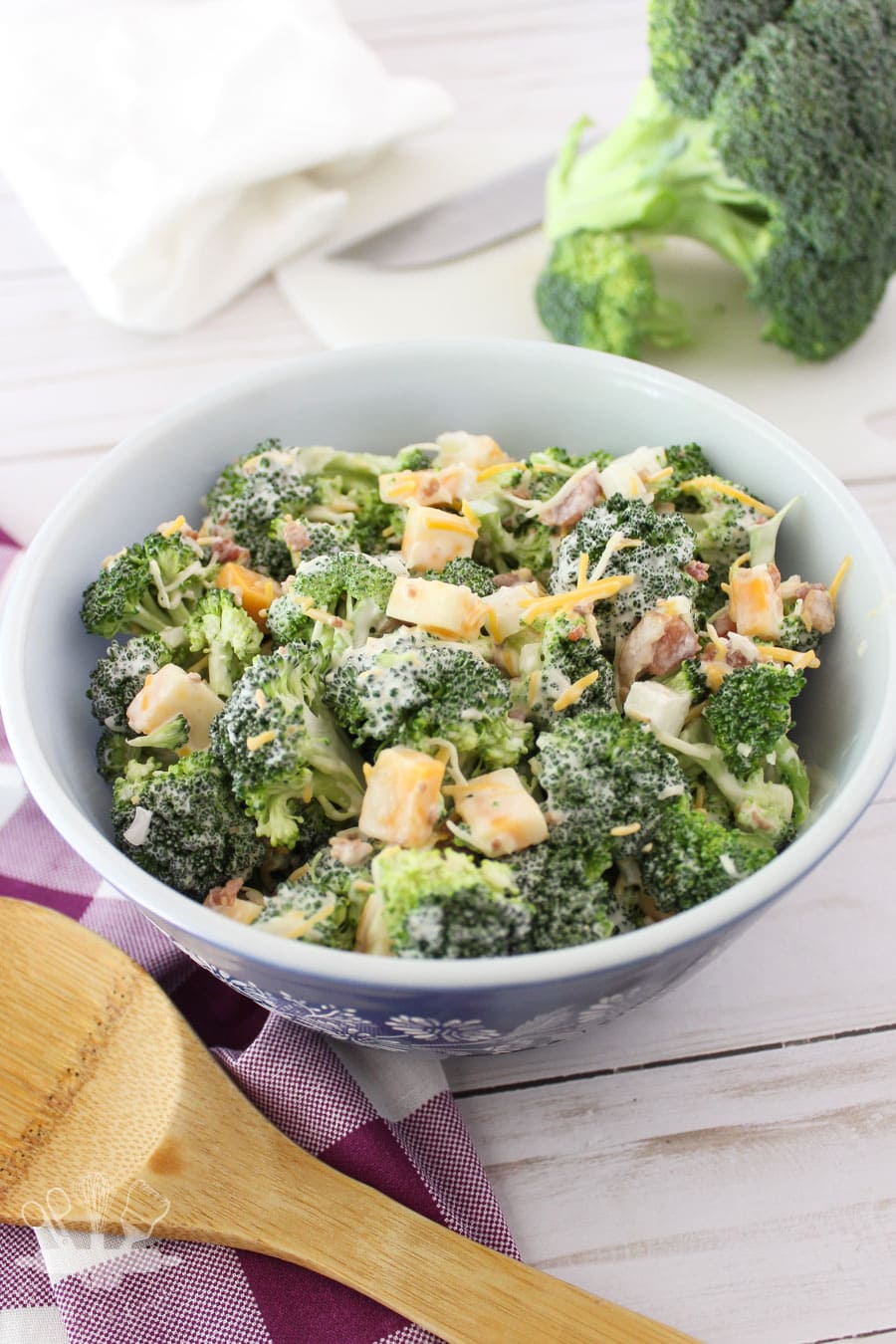 After a bit of trial and error, I found all natural sugar replacements that taste as close the real thing as you can get–Erythritol by Now Foods and SweetLeaf Liquid Stevia. You could use either sweetener in this recipe, but keep in mind that Stevia is much sweeter than sugar so the substitutions are not the same. Erythritol is very similar in its sweetness, but I do find that sometimes you need to add a little bit more than you would sugar.
Lucky for you though, I've already tested the amounts and have a nice handy recipe for sugar-free broccoli salad for you to print out. Enjoy!
More Summer cookout favorites you may enjoy:
Don't forget to pin it!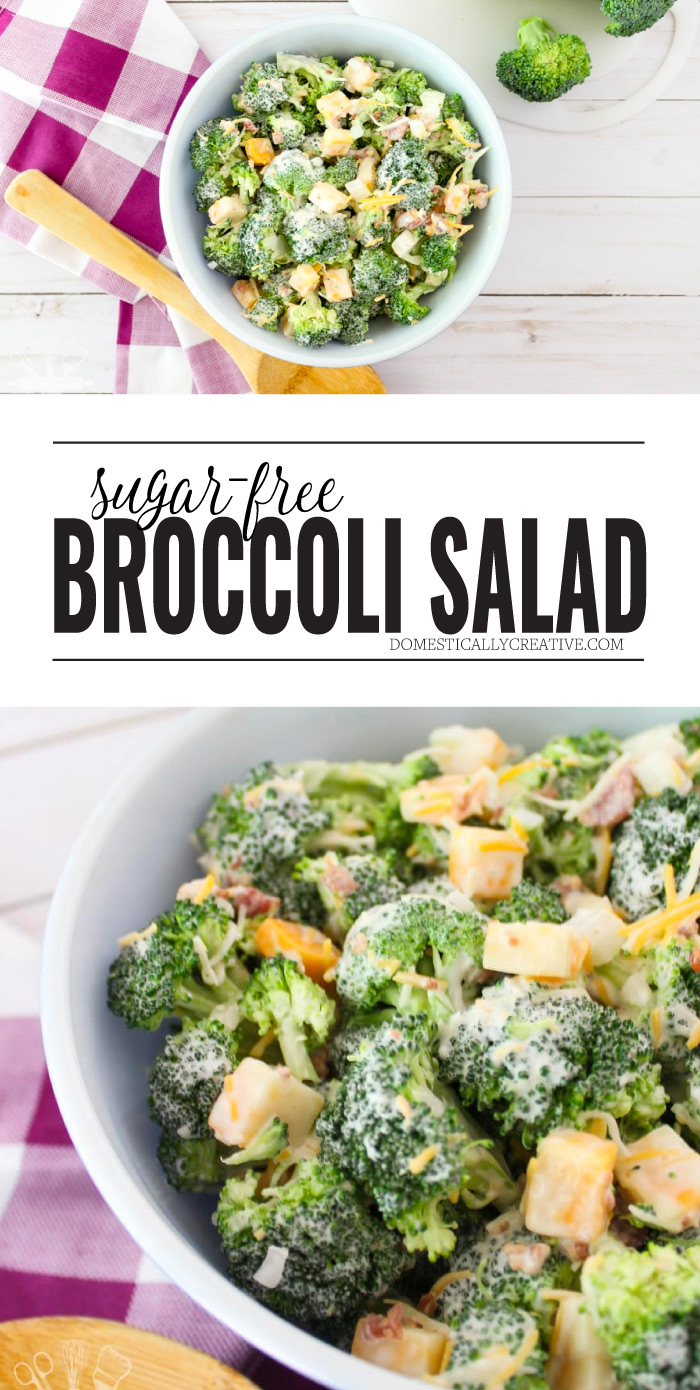 Sugar Free Broccoli Salad
Loaded with bacon and cheddar and smothered in a creamy tangy dressing, sugar free broccoli salad is a great low-carb alternative to the traditional.
Ingredients
4 cups broccoli, cut into small bite size pieces
6 slices bacon, cooked and crumbled
1/2 cup onion finely diced
1/2 cup Cheddar cheese, cubes or shredded
1/2 cup sunflower seeds
1 cup mayonnaise, (not miracle whip!)
2 tbsp white vinegar
1/4 cup SWERVE or 1/4 tsp liquid stevia, or scant 1/8 cup powdered stevia
salt and pepper to taste
Instructions
In a large bowl, toss broccoli, bacon, onion, cheddar and sunflower seeds together. Set aside.
In a small bowl, whisk together mayonnaise, vinegar, erythritol or stevia and salt and pepper.
Pour dressing over broccoli mixture and stir together until covered.
Serve cold.
Nutrition Information
Yield

8
Serving Size

8 Servings
Amount Per Serving
Calories

339
Total Fat

31g
Saturated Fat

6g
Trans Fat

0g
Unsaturated Fat

23g
Cholesterol

28mg
Sodium

924mg
Carbohydrates

12g
Fiber

4g
Sugar

2g
Protein

9g
Nutrition values are automatically calculated by third-party software using global standards. Please note that values can vary based on product brands and different nutritional calculators. The values stated here are only for a basic reference and are not evaluated by medical or nutritional professionals.