This post may contain affiliate links for your convenience. Read our disclosure policy.
Adding a simple banner to your decor is a great way to add in a little bit of flair for any holiday. Use materials you probably have lying around the house to whip this USA banner up in no time.

Last week I told you about an adult board game party we hosted and shared how I made some simple red, white and blue table decor. Well this week I'm going to show you how I made this cute little USA banner to dress up my dining room for the 4th of July!
You guys all know how I love simple projects and this is another one of them! Really if something is going to take up a lot of my time I'm not inclined to make it, but this USA banner is so easy and doesn't require any sewing/crafty/technical skills.
For real though.
The following tutorial includes affiliate links for your convenience. Read my full disclosure policy here.
How to Make a USA Banner
Item's You'll Need:
Old blue jeans, or jeans fabric
Red ribbon
Lace or lace ribbon
Paint brushes
Alphabet stencil: optional (I didn't use one)
Ruler
Lay out the blue jeans and cut a rectangle at least 12″ tall and 30″ wide.
Using a ruler, measure out 3 triangles that are 8″ wide and 10″ tall and draw them in with the fabric pen. (mine are 8″x 8″ but I realized too late the USA banner would looks much better with triangles that are longer than they are wide)
Cut out each triangle and set aside.
Using the white acrylic paint and stencil (if you are using), paint out the letter "u" on one triangle, the letter "s" on another triangle and the letter "a" on the last triangle. Let them dry completely.
White the paint is drying on the letter, cut the lace fabric into strips 16″ long, and cut the red ribbon into 16″ long strips as well.
Cut a piece of jute twine to hang the USA triangles on as well as the ribbons, leaving enough for several inches on each end of the USA banner.
Using the hot glue gun, glue the jute twine to the backs of each triangle about 1/2″ at the top, and fold the top over the twine. See picture.
After each triangle is glued down, tie on the strips of lace and red ribbon alternating to finish off the USA banner.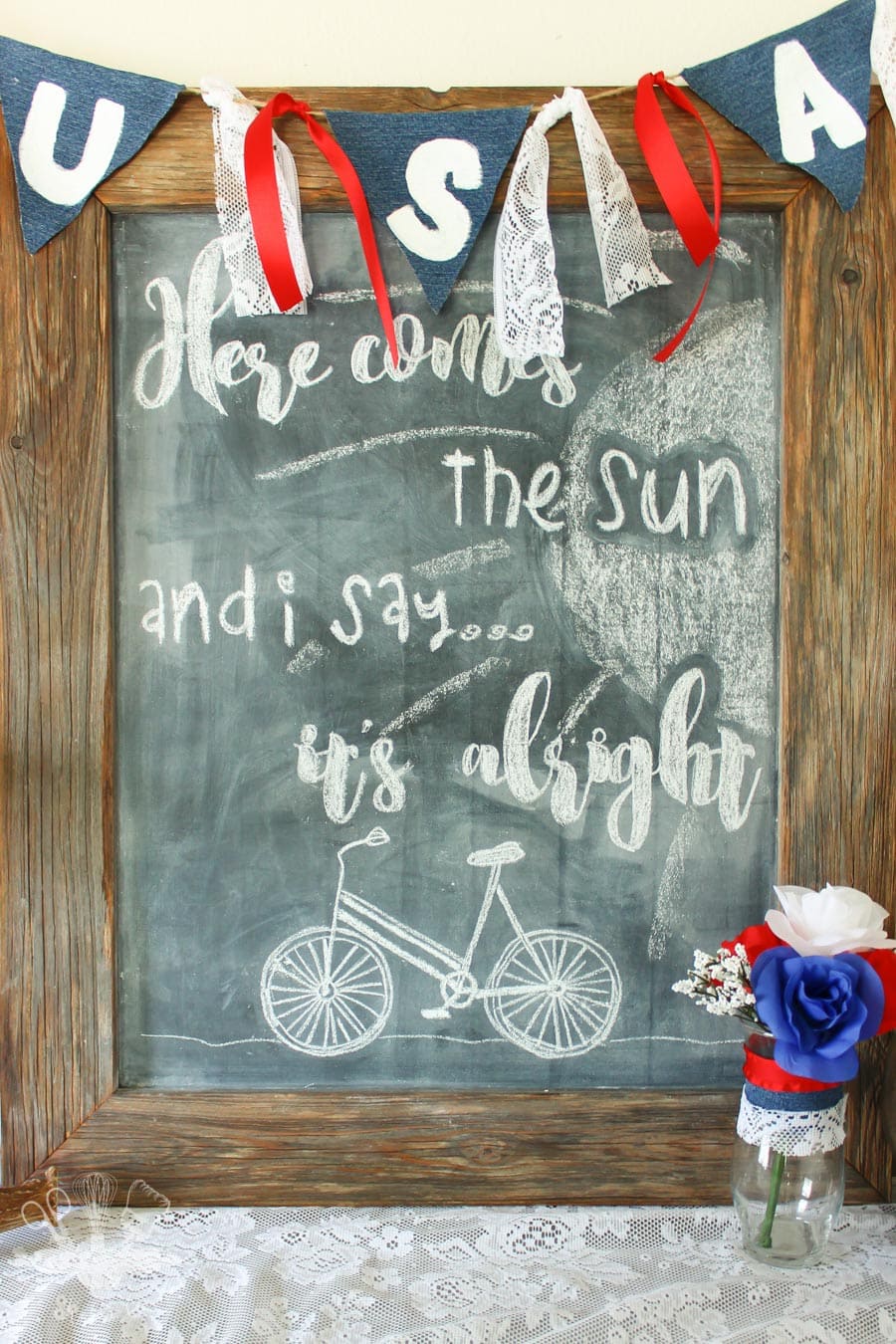 Other Fourth of July decor ideas: