How to Cook Chicken Breasts in an Instant Pot–Easy Shredded Chicken
Quickly and easily cook fresh or frozen chicken breasts in an Instant Pot for a simple way to yield shredded chicken for various recipes.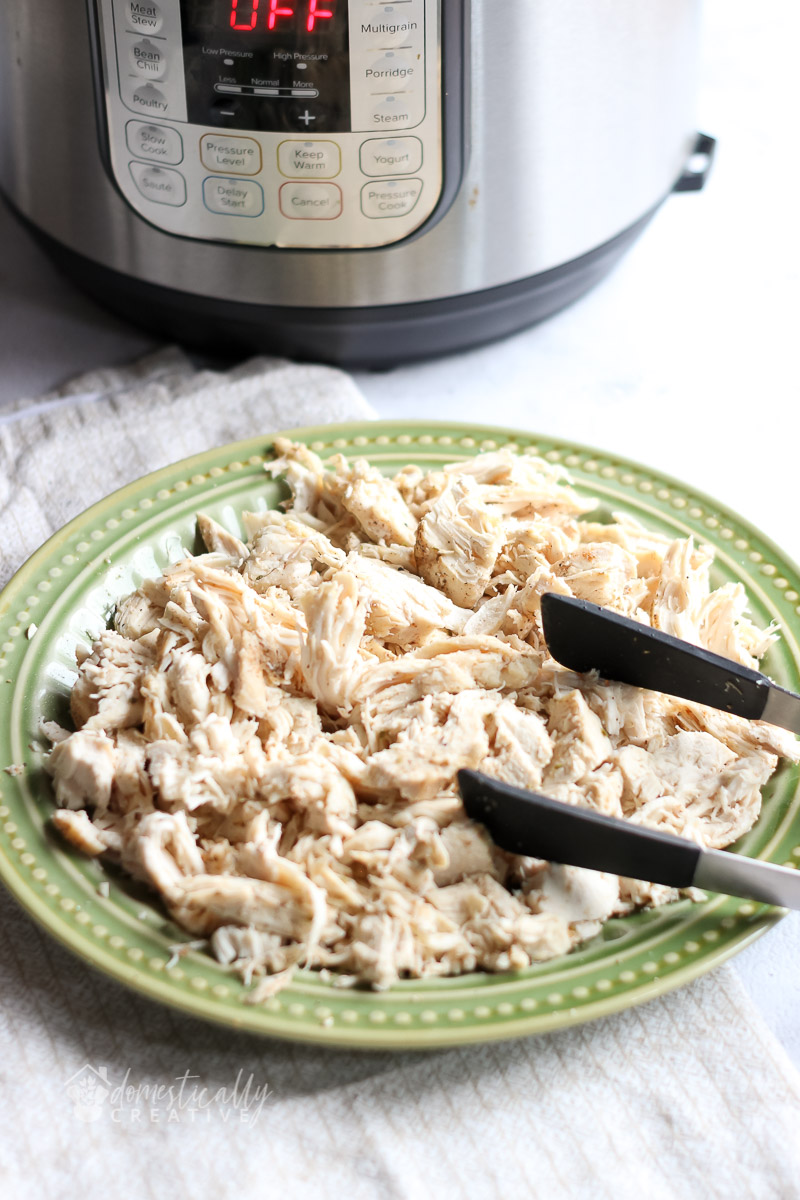 How many times have you (like me) forgotten to thaw out meat for dinner? Or maybe you had no plans for dinner and need to come up with something? If you have an Instant Pot or pressure cooker, you are in luck!
This easy recipe for cooking chicken breasts in an Instant Pot is hands off, and can use fresh or FROZEN chicken. That means if you forgot to thaw, you are still in luck. Even better is you can cook a large batch of chicken breasts this way for shredded chicken to use in many different recipes.
How to Cook Chicken Breasts in an Instant Pot
You'll need an Instant Pot. I have a 6qt. Instant Pot 7 in 1 Duo. You'll also need a trivet. I highly recommend using a trivet as it helps the chicken cook more from the steam, instead of in the liquid. In multiple tests the chicken stayed moist when cooked on the trivet compared to no trivet.
Season the chicken liberally on both sides. Place the seasoned chicken breasts in the inner pot of the Instant Pot on top of the trivet. Pour 1 1/2 cups of chicken broth into the Instant Pot. Note that if you are using a larger Instant Pot, you may need more liquid. As a general rule, I like to add enough liquid to reach the bottom of the trivet, but definitely consult your Instant Pot or pressure cookers instructions for liquid amounts.
If you just purchased an Instant Pot, or you've had one for a bit but don't think you are using it to it's full potential, then check out this Instant Pot Mini Course. It's FREE!
Place and lock the lid. Make sure to turn the pressure knob to the sealing position. Use the manual setting on high pressure to cook for 8-10 minutes. If you have larger thicker chicken breasts, I would use 10 minutes. It will take 5-7 minutes to build up pressure.
When the timer beeps, let the steam naturally release for 5 minutes. Then flip the valve to the venting position to release the rest of the steam.
Watch the 1:30 video for the steps
Can I use Frozen Chicken Breasts for Instant Pot Chicken Breasts?
Yep. In fact, 99% of the time I cook ours using frozen chicken breasts. I simply add 2-3 minutes to the cooking time. They cook more evenly if the frozen chicken is separated a not just sitting in the pot in a clump.
How to Shred Chicken Breasts after Cooking
One more reason this recipe for Instant Pot chicken breasts is that you can use it to cook up chicken to shred and use later in other recipes. I use shredded chicken alot when I cook. Check out these 12 shredded chicken recipes you can use in a pinch.
To shred, simply place the chicken breast on a plate. Use two forks to gently pull the meat apart. When cooked just right, the chicken should pull apart easily!
Here's a tip for quickly shredding a lot of chicken at once. Remove the trivet from the Instant Pot but leave the chicken. Take a hand held mixer to the chicken breasts and after about a minute you'll have shredded chicken! You can also do this with a stand mixer.
More chicken recipes you'll love!
Don't forget to pin it!
How to Cook Chicken Breasts in an Instant Pot
Yield:
4 chicken breasts, 4 cups shredded chicken
Additional Time:
10 minutes
Juicy and flavorful shredded chicken in minutes with this easy Instant Pot Chicken Breast recipe. Use fresh or frozen chicken breasts for easy cooking.
Ingredients
4 boneless, skinless chicken breasts
1/2 tsp salt
1/4 tsp pepper
1/2 tsp garlic powder
1/2 tsp paprika
1 1/2 cups chicken broth (water will work too)
Instructions
In a small bowl, combine the seasonings together.
Liberally season both sides of each chicken breast with the seasoning mixture.
Add chicken broth to the inner pot of a 6qt Instant Pot *
Place trivet inside the inner pot.
Add the seasoned chicken breasts to the pot, on top of the trivet.
Place the lid on and lock in place. Turn the valve to the sealing position.
Use manual or pressure cook setting on high. Set timer for 10 minutes (if breasts are thinner, use 8 minutes, and for frozen use 13).
When cooking is over, let the steam naturally release for 5 minutes. Then flip the valve to venting to release the rest of the steam.
Remove the chicken and serve as is or shred to use in other recipes.
Notes
If you have a larger Instant Pot or different model, refer to the user manual to determine how much liquid your specific model needs. Some need 2 cups for example.
Alter the seasonings for your own personal preference if desired.
Recommended Products
As an Amazon Associate and member of other affiliate programs, I earn from qualifying purchases made by clicking some links. I only recommend products I use personally.
Nutrition Information
Yield

4
Serving Size

1 cup shredded
Amount Per Serving
Calories

206
Total Fat

5g
Saturated Fat

1g
Trans Fat

0g
Unsaturated Fat

2g
Cholesterol

104mg
Sodium

726mg
Carbohydrates

1g
Fiber

0g
Sugar

0g
Protein

38g
Nutrition values are automatically calculated by third-party software using global standards. Please note that values can vary based on product brands and different nutritional calculators. The values stated here are only for a basic reference and are not evaluated by medical or nutritional professionals.