Blueberry Muffins with Greek Yogurt Recipe
Light, fluffy and flavorful blueberry muffins made with Greek yogurt are sure to be your new go to muffin recipe. The recipe calls for whole wheat flour, but can be made using all-purpose.
This post was originally published in June 2014, but the recipe has since been updated and the post rewritten with new photography. Enjoy!
Looking for a healthy blueberry muffin recipe with Greek yogurt? You are in the right place! This muffin recipe uses whole wheat flour and Greek yogurt, giving it a boost of protein and fiber! The yogurt helps counteract some of the denseness that comes with using whole wheat flour!
These blueberry muffins are great for a quick breakfast idea on the go. They also come in handy for a healthier snack idea that you can grab for work or after school.
How to Make Blueberry Muffins with Greek Yogurt
The first step is to sift together all of the dry ingredients into a large mixing bowl. This will be the flours, salt and baking soda.
Then in another mixing bowl, combine all of the wet ingredients and sugar. Mix the Greek yogurt, milk and oil together with the sugar. Beat in the egg and vanilla next.
Then stir the wet ingredients in with the dry ingredients. Do not over mix here, just stir until they are combined. Fold in the blueberries just until they are incorporated. Again do not over mix!
I used a regular muffin baking pan and liners for easier clean up. You can skip the liners all together, just be sure to grease the muffin pan liberally. You can also use a silicone muffin pan for these and they should be easier to remove.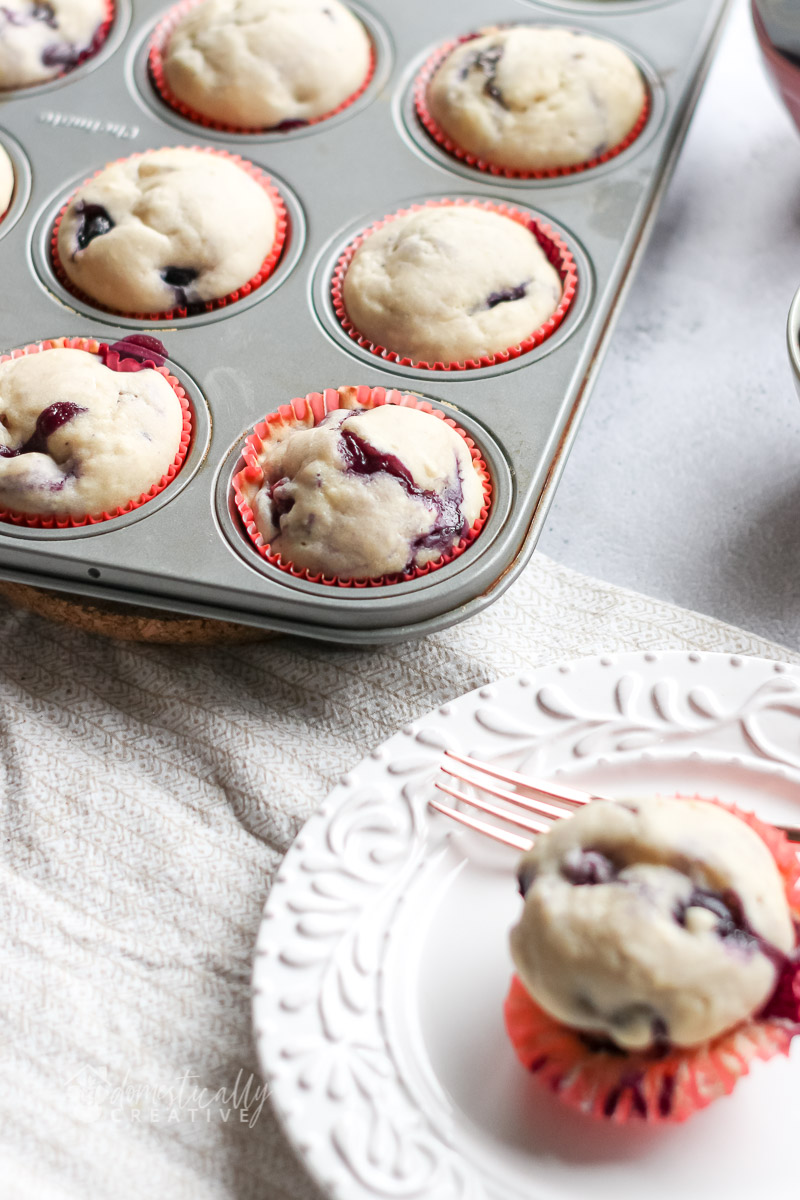 Can I use Frozen Blueberries for Blueberry Muffins?
The easy short answer is yes, you can use frozen blueberries in this blueberry muffin recipe. However, after several experiments, I will say that I prefer fresh blueberries.
Maybe it's the brand of frozen blueberries I buy, but I always find them to be a bit on the sour side. They are also huge! Fresh blueberries in season are sweeter and smaller.
If you only have frozen berries in your arsenal, don't worry! You can absolutely use frozen berries in this muffin recipe. First, make sure that you let them thaw out or the muffins can get a little soggy while baking.
After the frozen blueberries have thawed, toss them in a few tablespoons of all purpose flour. This will help the berries from sinking to the bottom of the muffin batter while baking, and prevents the batter from turning blue.
How can I store blueberry muffins made with Greek yogurt?
There are a few options for storing these Greek yogurt blueberry muffins. Since we eat ours fairly quickly (in a few days), I store them in an airtight container on the counter. Make sure they have completely cooled or you will get condensation in the container making them spoil faster.
If you plan to have them for 1-2 weeks, I would recommend storing in the refrigerator. Keep them in a storage container, and pop in the fridge (after cooling of course!).
Can I freeze Greek yogurt Blueberry Muffins?
Yes! I have frozen these several times, and can keep for up to 3 months in the freezer. To do this, let the muffins cool completely first. Then place them in the freezer for about 5 minutes to "flash freeze". Then remove from the freezer and put the muffins in a freezer bag.
Place the freezer bag back into the freezer! Make sure you label the bag with the date!
These blueberry muffins with Greek yogurt are so moist and full of flavor! I'm sure they will be your next go to muffin recipe that you can enjoy on the go.
You may also like these recipes:
Don't forget to pin it!
Blueberry Muffins with Greek Yogurt Recipe
Light, fluffy and flavorful blueberry muffins made with Greek yogurt are sure to be your new go to muffin recipe. The recipe calls for whole wheat flour, but can be made using all-purpose.
Ingredients
1 cup whole wheat flour *
1/2 cup all purpose flour
3/4 cup granulated sugar
2 tsp baking powder
1/4 tsp salt
1 cup (8oz) plain Greek Yogurt
1/2 cup whole milk **
1/4 cup canola oil
1 large egg
1 tsp vanilla extract
1 1/2 cups of blueberries ***
Instructions
Please read the notes section before starting.
1. Preheat your oven to 400F and Line or grease a muffin baking pan.
2. In a large bowl, whisk together flours, baking powder, and salt.
3. In a second large bowl, combine Greek yogurt, milk, oil and sugar. Whisk in egg and vanilla extract.
4. Add wet ingredients to the dry ingredient bowl and mix until just combined. Do not over mix.
5. Gently fold in the fresh blueberries into the batter.
6. Fill muffin cups 2/3 of the way and place in oven to back for 22-25 minutes. They are finished when a toothpick inserted into the center comes out clean, or they just start to slightly brown on top.
Notes
* You can substitute the whole wheat flour for all purpose if needed. Please note it will change nutritional facts.
** Feel free to use almond milk or half and half. It will change the nutrition facts. If using a non dairy alternative, you may consider adding 1 tbsp more to the batter if it seems too stiff.
*** I personally think fresh blueberries work best in this recipe. If you only have frozen, I recommend letting them thaw out before use. Also tossing them in flour will help them from turning the batter blue or sinking to the bottom of the batter.
Recommended Products
As an Amazon Associate and member of other affiliate programs, I earn from qualifying purchases made by clicking some links. I only recommend products I use personally.
Nutrition Information
Yield

12
Serving Size

1
Amount Per Serving
Calories

171
Total Fat

6g
Saturated Fat

1g
Trans Fat

0g
Unsaturated Fat

5g
Cholesterol

17mg
Sodium

144mg
Carbohydrates

27g
Fiber

2g
Sugar

15g
Protein

4g
Nutrition values are automatically calculated by third-party software using global standards. Please note that values can vary based on product brands and different nutritional calculators. The values stated here are only for a basic reference and are not evaluated by medical or nutritional professionals.