Tender, juicy and full of flavor, these naked chicken tenders are air fried in no time. There's no breading so these chicken fingers are low carb and fuss-free!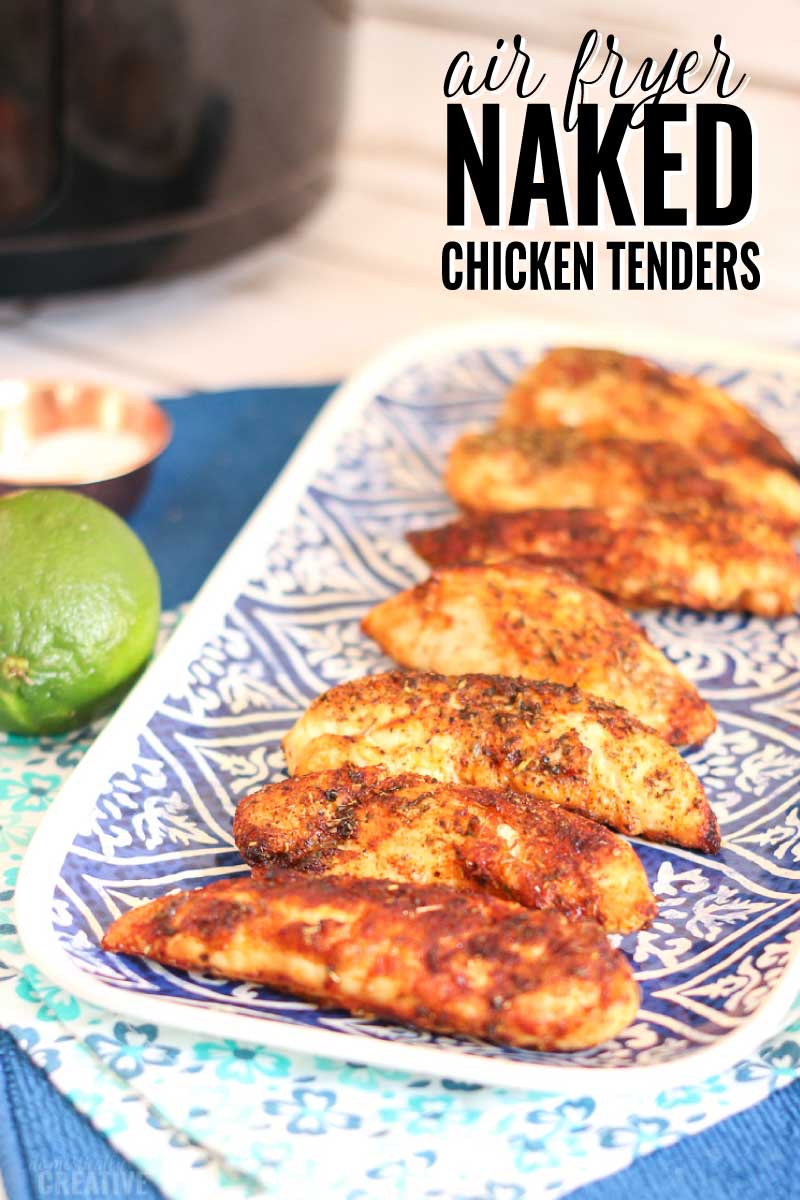 Have you hopped on the air fryer bandwagon yet? We purchased an air fryer a little over a year ago, and I am just now sharing our first recipe. Now, that doesn't mean this is my first time using our air fryer! In fact when we first got it I was using it all the time! I love cooking chicken wings in the air fryer, as well as quick roasting veggies.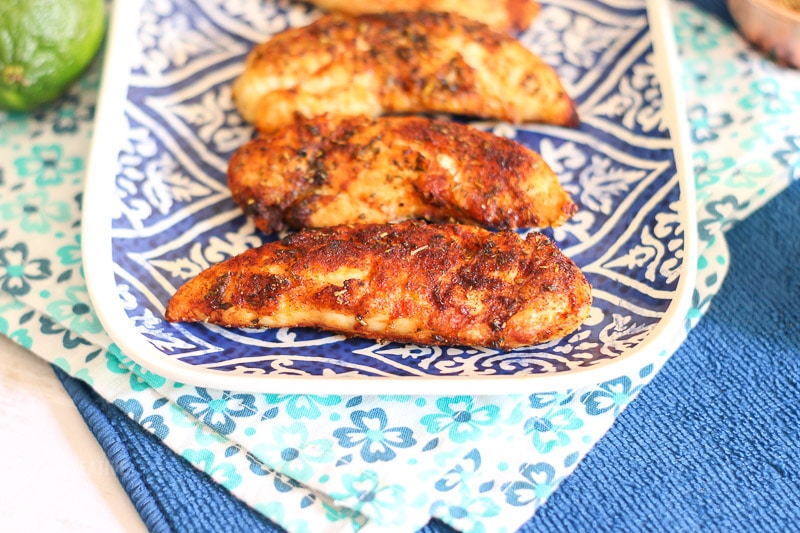 However, the thing we cook most in our air fryer are these naked chicken tenders! Now this is a simple recipe that only requires some seasoning and lime juice. You could also use lemon juice if you don't have lime. Simply coat the chicken tenders in lime juice and oil. Then season liberally!
These naked chicken tenders are juicy, flavorful and have a nice crispier outer coating. It's amazing how close you can get to a fried chicken tender without breading and without skin with an air fryer! Plus with no breading these naked tenders are low carb and gluten free!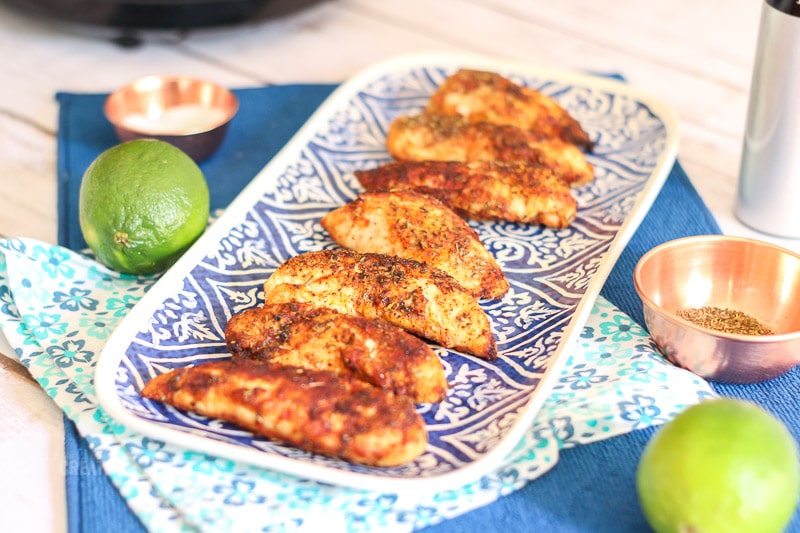 A few tips for cooking in an air fryer.
First, don't crowd the meat inside the cooking basket. Air fryers work by circulating hot air around the food to create an even crispness. If the chicken is crowded and overlapping, then the air cannot circulate evenly, resulting in uneven cooking. Of course we have a smaller 3 qt air fryer, if you have a larger air fryer that has trays you can slide in and out, it may not be a problem for you.
The second tip for cooking chicken or other meat in an air fryer is making sure to use a liquid or oil to keep the seasonings in place. Like I mentioned before, hot air will be circulating around the meat, which could result in the seasonings blowing around and not sticking to the chicken. This could cause problems with your air fryer working properly. Giving the chicken a soak in some liquid first not only helps keep it moist and tender, but it gives the seasonings something to stick to. This will give you those nice crispy but juicy and flavorful naked chicken tenders.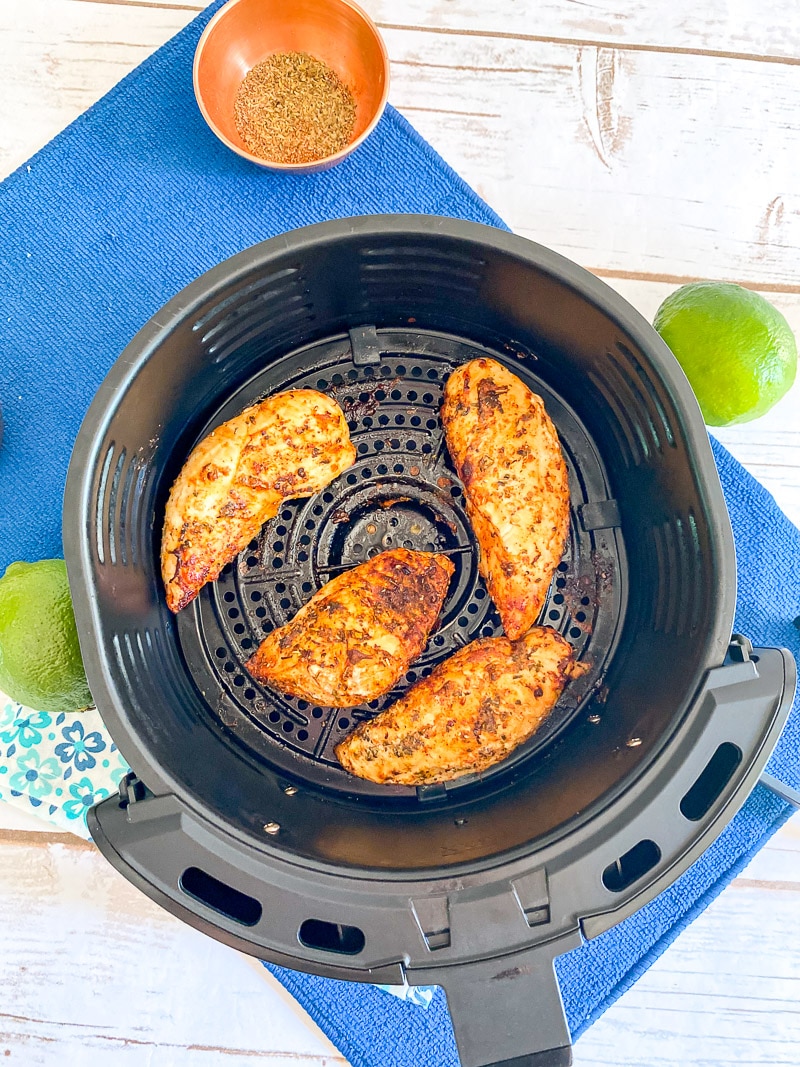 The last tip for cooking in an air fryer doesn't only apply to chicken or meat, but applies to everything. Buy an oil mister, don't use those oils that come in a spray bottle. Generally those spray oils have a preservative in them that can cause the non-stick surface of the air fryer to start peeling over time. You don't want that happening believe me! I use a Misto Oil Sprayer that you just put plain oil in (I use olive in our air fryer) and pump air into to create a spray.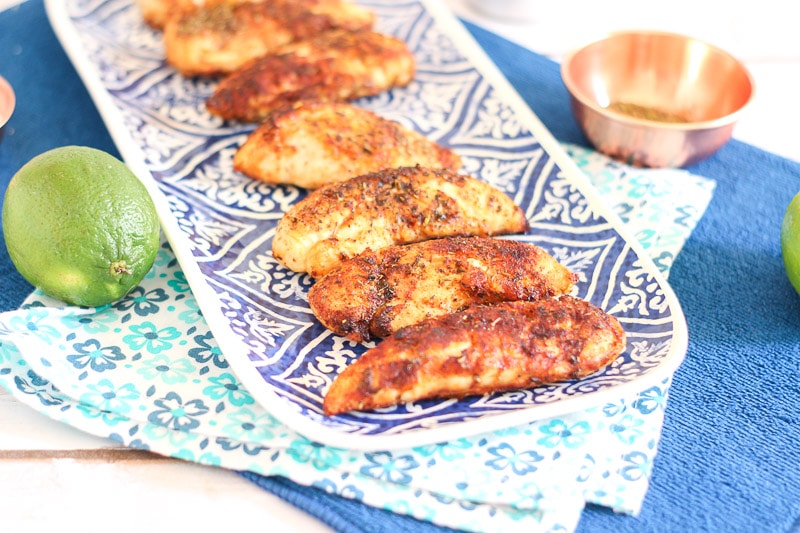 Can I use frozen chicken tenders in an air fryer?
This is another thing I have learned with our air fryer. Yes, you CAN use frozen chicken tenders and simply cook them a little bit longer. However, in my experience the cooked from frozen chicken tenders tend to be a little more dry when cooked. They also create exponentially more mess to clean up in the air fryer basket. For these reasons and the best flavor I highly recommend using chicken tenders that are thawed out.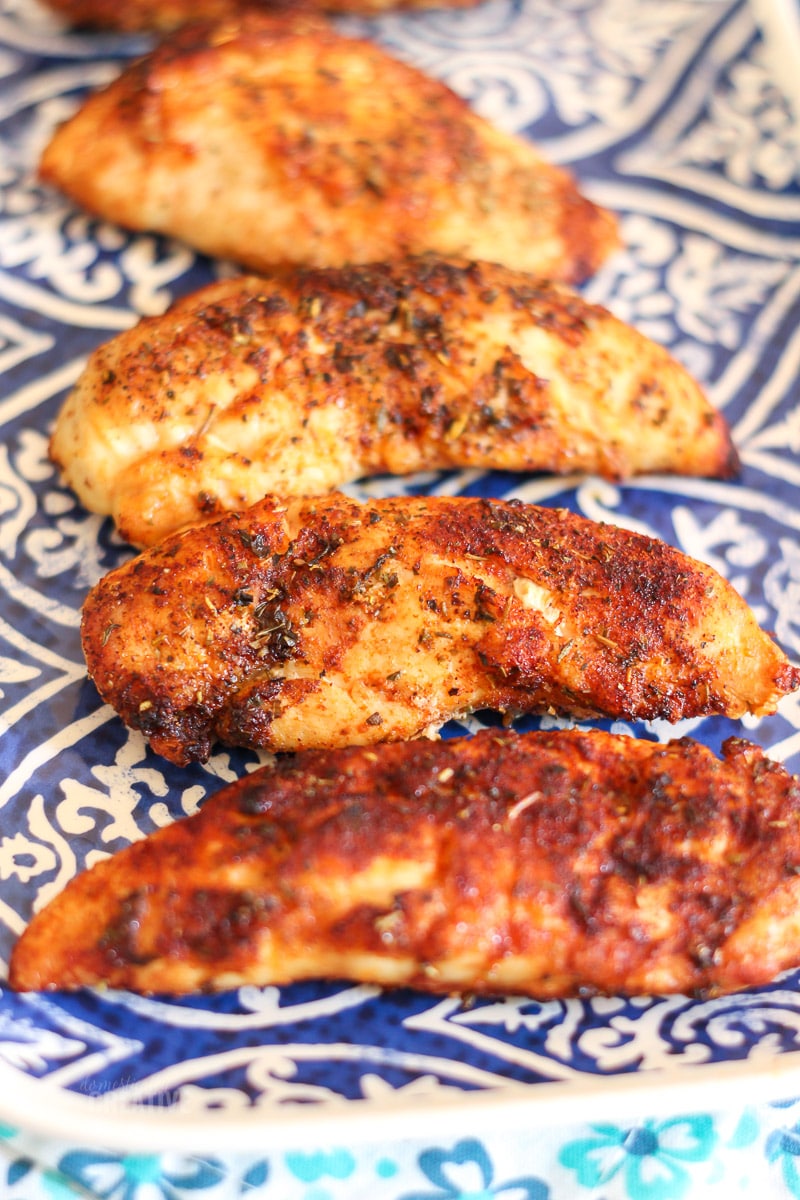 I don't have an air fryer. Can I bake the chicken tenders instead?
You absolutely can bake these naked chicken tenders if you don't have an air fryer. I recommend placing them on a baking sheet lined with parchment paper. Heat your oven to 350, and once warmed, bake the tenders for 15-20 minutes. You'll want to check them around the 12-13 minute mark if your chicken tenderloins are on the smaller side. It is important to note that baked chicken tenders will not be as "crisp" on the outside as when cooked in an air fryer.
Looking for more recipes using chicken tenders? Check these out!
Love it? Pin it for later!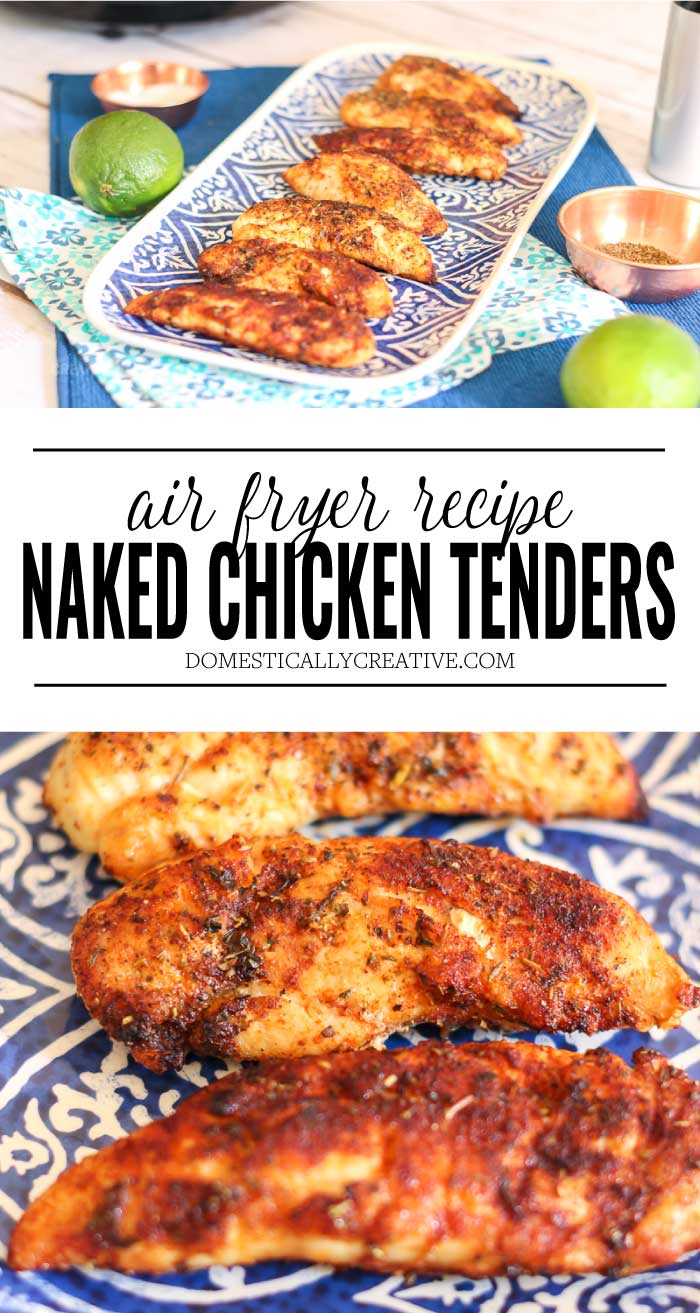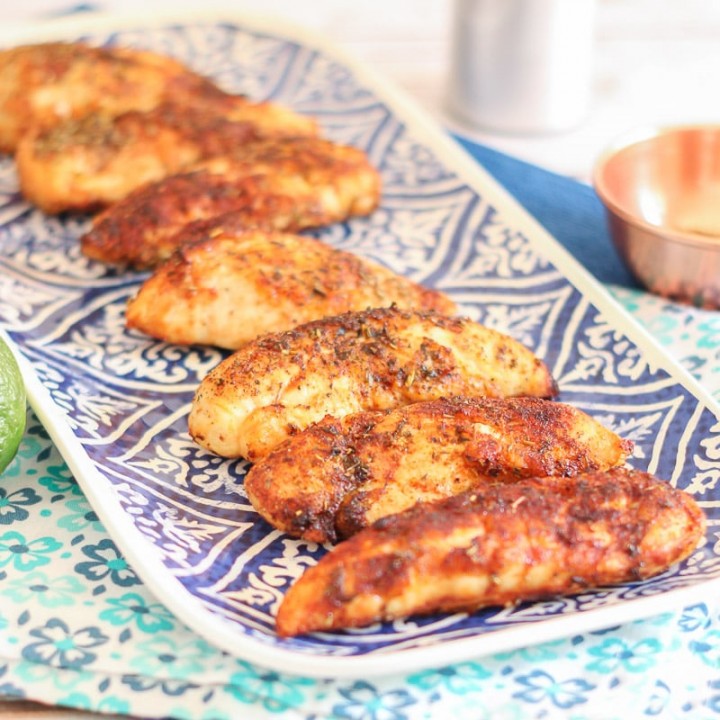 Naked Chicken Tenders Air Fryer Recipe
Tender, juicy and full of flavor, these naked chicken tenders are air fried in no time. There's no breading so these chicken fingers are low carb and fuss-free!
Ingredients
8 chicken tenderloins
1 tbsp garlic powder
2 tsp onion powder
2 tsp paprika
2 tsp chili powder
2 tsp oregano
1 tsp salt
1 tsp pepper
3 tbsp lime juice
1 tbsp olive oil
Instructions
In a small bowl, combine all dry seasonings and set aside
Add lime juice (or lemon juice) and 1 tbsp olive oil to a large ziploc bag. Toss chicken tenderloins in the liquid. Remove the chicken and discard bag.
Coat both sides of chicken tenderloins with seasoning mix.
Preheat air fryer to 375 for 3 minutes.
After preheated, spray inside tray of air fryer with olive oil mister.
Place chicken tenders in basket in a single layer. Do not crowd.
Cook for 12-15 minutes at 375, flipping chicken tenders half way through cook time. If tenders are on the smaller side cook for 12 minutes and check for doneness. If juices run clear they are done.
Serve warm with dipping sauce or your favorite side dish.
Notes
Using an oil mister over prepackaged spray oil is preferred for most air fryers. Some prepackaged spray oil contains a chemical/preservative that can cause damage to the non-stick surface of the air fryer.
A small air fryer will fit 4-5 chicken tenders at a time. Cook the first batch fully, set on a plate and cover in foil while the second batch cooks. Once the second batch is cooked, place the first batch back in the air fryer for an additional 1 minute to heat back up.
Nutrition Information
Yield

8 tenders
Serving Size

1
Amount Per Serving
Calories

117
Total Fat

5g
Saturated Fat

1g
Trans Fat

0g
Unsaturated Fat

4g
Cholesterol

38mg
Sodium

345mg
Carbohydrates

3g
Fiber

1g
Sugar

0g
Protein

14g
Nutrition values are automatically calculated by third-party software using global standards. Please note that values can vary based on product brands and different nutritional calculators. The values stated here are only for a basic reference and are not evaluated by medical or nutritional professionals.