Last Minute Gift Ideas–that don't suck!
This post may contain affiliate links for your convenience. Read our disclosure policy.
You waited until the last minute, and now you have no idea what to get all of those people on your list. Here's a list of last minute gift ideas that you can buy or craft and still have time to wrap them and put under the tree for Christmas.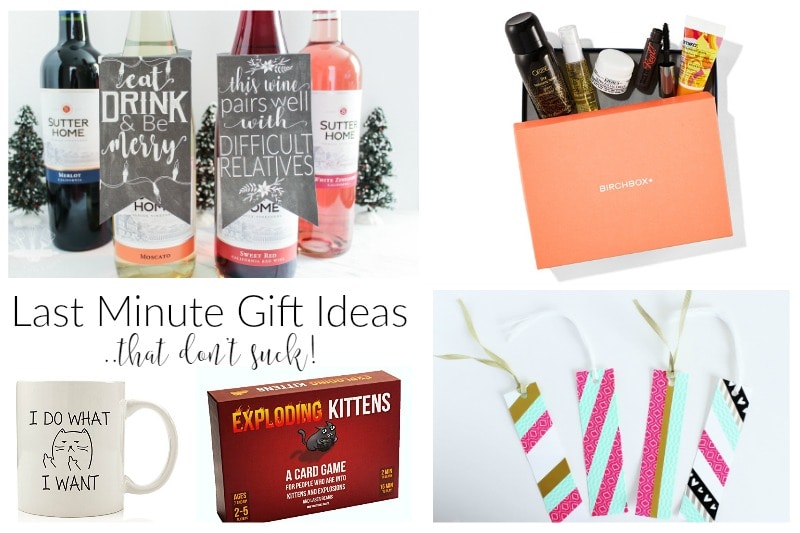 This post contains affiliate links, but don't worry; there's no extra cost or hassle to you. Read my full disclosure here.
If you are a procrastinator like me you may be in a slight panic mode. Well, while you may have a week left to shop in the store, you are just about out of time to shop online. Plus a lot of stock is dwindling away. But I have a secret to last minute shopping online–Amazon Prime.
The best way to get your items fast is with Amazon Prime . Not only do you get free 2 day shipping on tons of items, but you also have access to hundreds of videos, tv shows and movies, plus free streaming music. Or, if you don't want to mess with ordering and wrapping why not give a Prime membership for Christmas? I can't think of anyone that would hate that…
Last Minute Gift Ideas
Happy Planner–There is bound to be someone on your list that would love a Happy Planner! They are so versatile and really help you keep your life organized.
Kindle–If you have a book lover on your list, the kindle e-readers can make a great gift!
Exploding Kittens–My husband and I LOVE this game! It's really addicting and super funny. There is even an expansion out now called Imploding Kittens that we just ordered. Plus it's family friendly (as long as you don't order the NSFW version that is).
Roku–There are several versions out now, but we personally have the Roku 3 and love it! We are a no cable family, so the Roku has made streaming things like Netflix and Amazon Prime videos SO easy!
Daily Calendar–Everyone could use a calendar for the new year. These day to day calendars are so fun! My personal favorite is "Texts from Dog".
Moscow Mule Set–These mugs have become insanely popular and this set even comes with a free cocktail e-book!
Bottle of wine (with cute printable gift tags)–Wine, or another type of alcohol always make great gifts!
Subscription box— I know I would love to get a subscription box for Christmas–and there's one for just about everyone on your list! Here are a few of my favs:
Breakfast Station–Ok I just think this thing is cool!
Bluetooth Shower Speaker–My husband listens to podcasts every morning while he gets ready for work. This would be perfect!
Skillshare Subscription— Great for those that like to learn new skills! Skillshare Premium is an amazing gift idea for the hard to buy for person that loves to learn. There are a ton of online classes from art to business for someone to take.
Christmas baking–Instead of buying a gift, try baking up some goodies to give!
Custom Family artwork–-If you feel like getting crafty, try out this tutorial for a custom piece of art that the recipient will be sure to cherish.
Washi Tape Bookmark— If you have some washi tape and cardstock you can make these bookmarks really quickly!
Amazon Gift Card–-For the person who already has everything, an Amazon gift card can make a great gift! Maybe they are saving for an expensive item; a gift card can be a great way to help out!
Ok, so spill it! Are you completely finished shopping, almost finished, or haven't even started yet?
Pin it for later:
---
Looking for more gift ideas? Here's some other gift guides to help out!