Boston Cream Pie Cupcakes
Boston Cream Pie flavor packed into cupcake form. This recipe can't get any easier!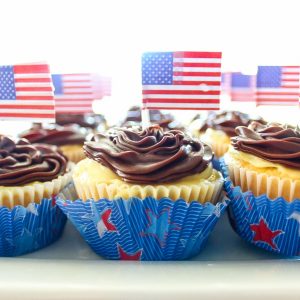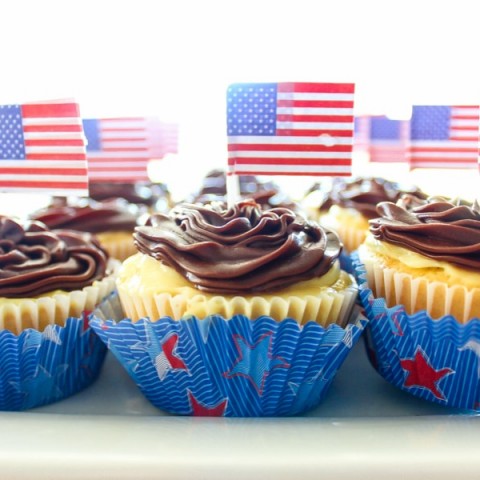 This post may contain affiliate links for your convenience. Read our disclosure policy.
If you love the flavor of Boston cream anything, you will go crazy for these addicting Boston Cream Pie Cupcakes. Yellow cupcakes filled with vanilla pudding and topped with a creamy chocolate frosting, these Boston Cream Pie Cupcakes definitely won't disappoint.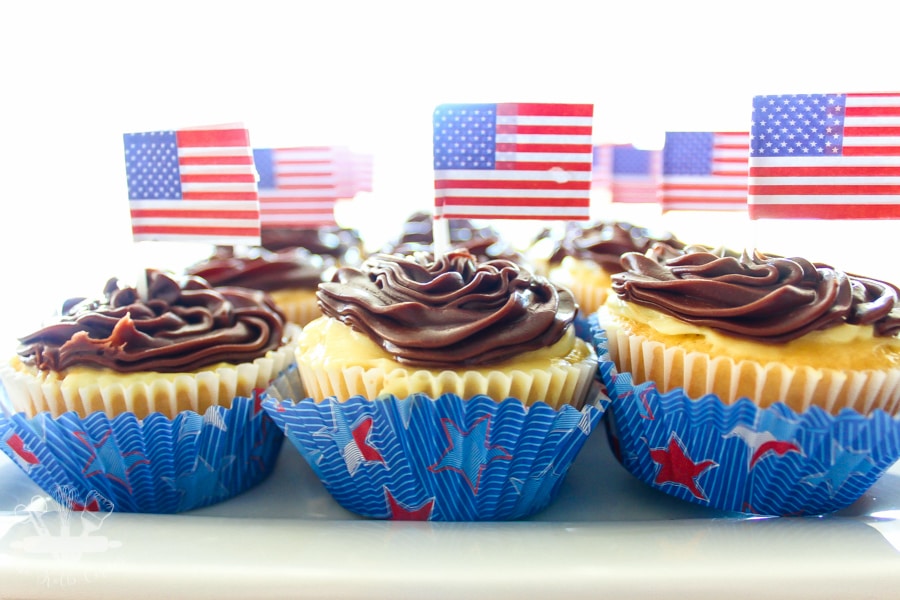 I mentioned last week how my husband and I threw a little party with a few friends of ours. Whenever we have a get together I always volunteer to provide the eats as long as everyone else provides their own adult beverages. It just works out so much easier that way, plus I get to experiment with new recipes on some of the best critics.
For this party I decided to take requests from my friends for different foods to make. One friend suggested grilled corn, another one literally demanded I make my famous garlic bacon ranch cheeseball, another liked the idea of a buffalo chicken dip. Yes, the foods I ended up making were one giant hodge podge of appetizers, but it was all delicious!
One friend didn't really suggest anything specific to make, but I just so happen to know that he loves boston cream–especially in donut form. I knew that these Boston Cream Pie cupcakes would be a hit with him, as well as with everyone else. But let's be honest, I think I was the one who was the most impressed.
Some may call it cheating to use a boxed cake mix and pudding, but I call it genius. Not only did it save me a whole ton of time, but sometimes you just can't beat the flavor. Plus, these cupcakes are so delicious that most people won't even realize you made them from a box.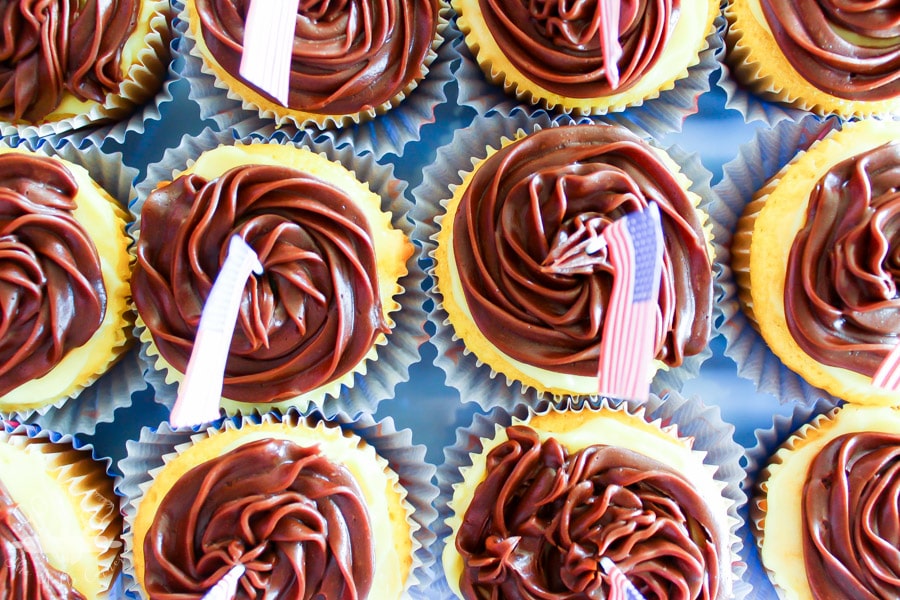 What makes these cupcakes even easier to make is I made them into poke cupcakes. You know that huge phenomenon going around Pinterest called poke cakes? Ok, well maybe it's not that huge, but it seems like every other day a new version of a poke cake pops up on my feed.
If you've never attempted to make poke cupcakes before, it's not as hard as it sounds. You do have to work rather quickly after you mix up the pudding to be sure it doesn't thicken before you can pour it into the holes of the cupcakes. It's not rocket science, but it may end up being a little messy. It helps if you set out the cupcakes on a tray or large plate and use a ladle or large spoon to pour the pudding over the cupcakes. You will probably have leftover pudding too.
After the pudding has thickened, I like to use a little extra and spread some on top of the cupcakes to give it an even creamier taste. The only downside to these Boston Cream Pie cupcakes is that you have to pipe the frosting on, if you try to use a knife to spread it on, it will slide right off the pudding. But if that is the only hard part of this recipe I think the creamy, chocolatey benefits way outweigh the work.


Boston Cream Poke Cupcakes
Boston Cream Pie flavor packed into cupcake form. This recipe can't get any easier!
Print Recipe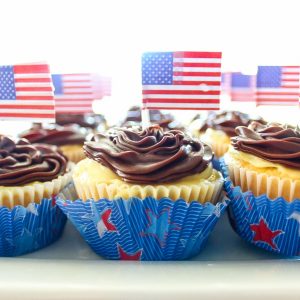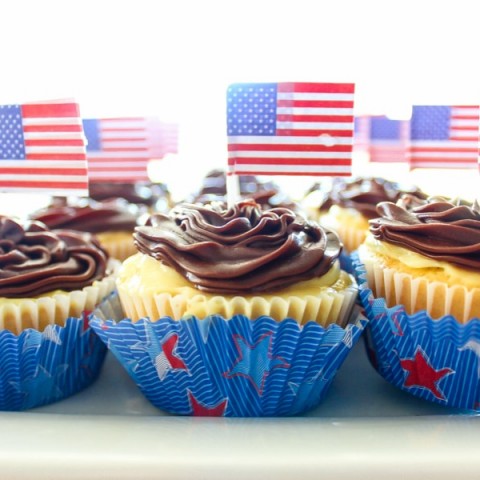 Ingredients
Yellow Cake Box Mix

plus ingredients needed to prepare

1

LARGE Box instant Vanilla Pudding Mix

3

cups

cold milk

1

can chocolate frosting or make homemade
Instructions
Preheat oven to 325 and prepare 2 muffin tins with baking liners

Prepare cake as directed and spoon into prepared muffin tins filling 2/3 way full.

Bake according to box directions (about 18 minutes) or until toothpick inserted into the center comes out clean.

Using a bamboo skewer, poke several larger holes in the center of the cupcakes.

Set cupcakes out onto a large pan or plate. You will need to work fairly quickly for the next steps.

Whisk together pudding mix and milk.

Using a ladle or large spoon, quickly spoon pudding mixture over cupcakes being sure to fill the holes, before the pudding starts to set.

Once the pudding starts to set, spoon a small amount onto the tops of each cupcake. Cover and chill in the fridge for at least 30 minutes.

Remove from fridge, and using a knife smooth out pudding on top of each cupcake to create a flat surface.

Pipe on chocolate frosting to finish off the cupcakes. Using a knife to spread it on will only allow the frosting to slide off the pudding, so piping it on works best.

Store in the refrigerator.
Nutrition
More cupcake ideas:
Don't forget to pin it!