Easy Way to Organize Desk Drawers
This post may contain affiliate links for your convenience. Read our disclosure policy.
Get your office space in check with this easy way to organize desk drawers. Hint–it's a simple solution!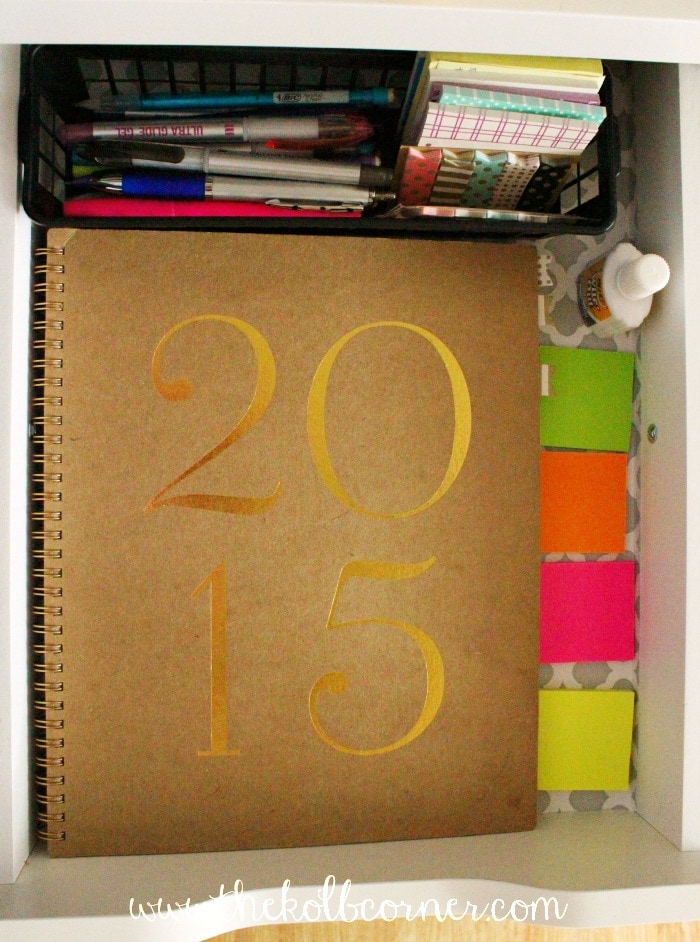 When I bought my new desk from Ikea a few months back, I was uber excited to have drawers to keep my things in. Is that sad?
I imagined all of the possibilities to organize each desk drawer, and make them look like every crafter's dream–beautiful, and chic, with every crafting supply easily visible.
Cut to two weeks later and I couldn't find a single thing in those drawers. Turns out, having drawers at your desk makes it really easy to "clean up" when you can just slide everything that doesn't have a place, in those drawers.
Those unorganized desk drawers that I had once imagined to be neat, tidy and beautiful, were driving me insane! Until one day, I just decided to empty them out and start from scratch…again.
This time I gathered up my arsenal of supplies that I foraged from my craft supplies, basket stash, and–recycle bin.
Yep, you read that right. I used things I found in recycling (like an old plastic butter dish) to help me organize those desk drawers.
How to Organize Desk Drawers
Items you'll need:
contact paper
glass jars
baskets/bins–these can be store bought, or get creative with your recycle bin! Cut down cereal boxes, use plastic tubs (butter containers etc) or even aluminum cans.
label maker
First take everything out of the drawers and wipe them out. Then line each drawer with contact paper–this just gives those drawers an extra pretty factor. And everything needs a pretty factor.
Next, sort out the items you took out of the drawers. Throw away anything that is not needed and group like items together. For me I have several notepads, sticky notes, pens and pencils in my drawers, as well as my camera and other electronics.
Once the items are grouped, it's easier to put everything in the bins and baskets. My top drawer holds my planner, planner accessories like sticky notes, and pens/pencils.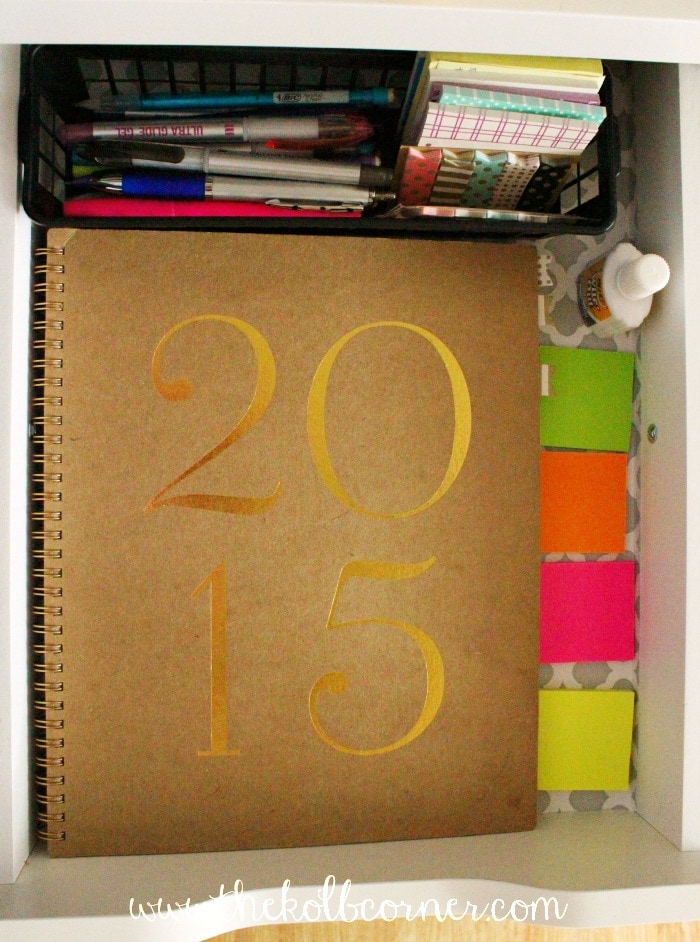 The second two drawers hold extra notebooks, my label maker, magazines that I am currently reading/enjoying and extra office supplies.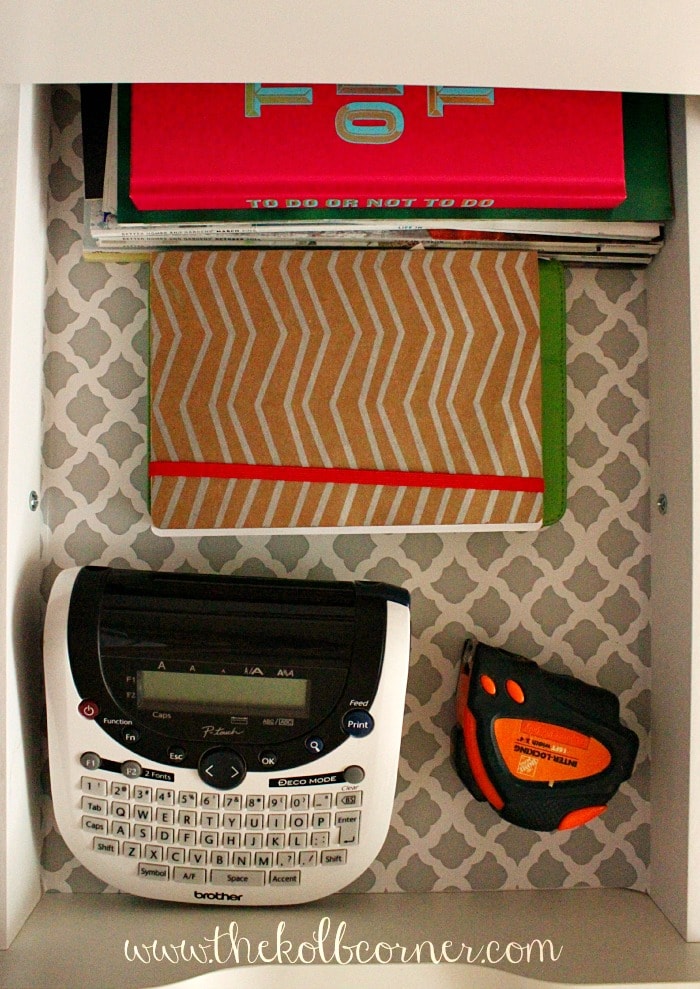 The next drawer is my frequently used crafting supplies. I placed small items like push pins and binder clips in jars, my washi tape in small buckets etc. You could replace the buckets with aluminum cans (be sure to clip off any sharp parts) and the baskets with cut down cereal boxes.
Finally my last drawer holds my camera, camera accessories and other necessary cords and electronic accessories. I used an old check box and a thank you card box to help organize.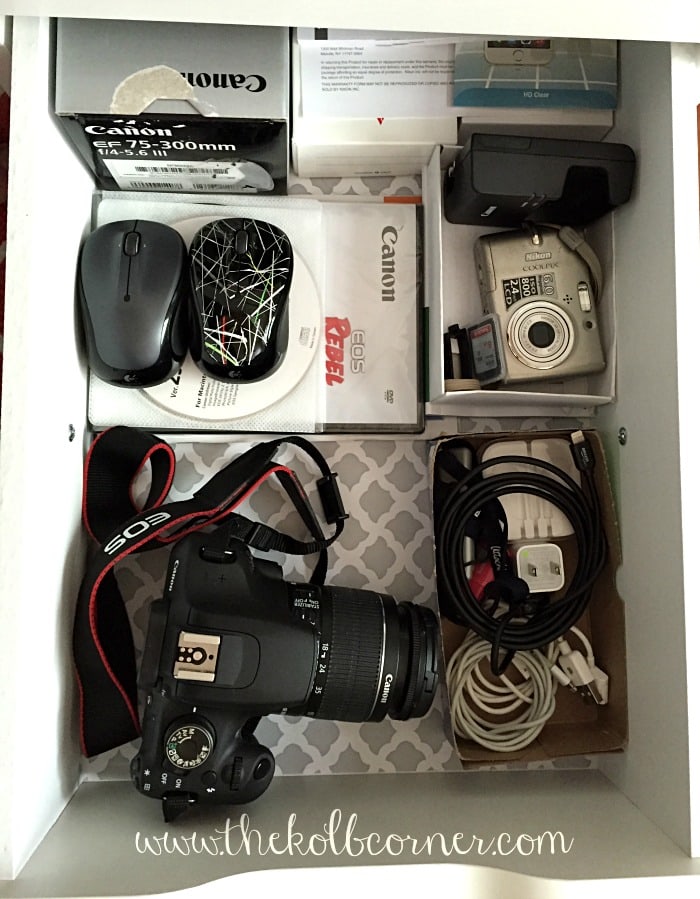 What things do you use to organize your desk drawers?
If you missed them, be sure to check out my other office organization posts HERE and HERE