How To Organize Planner Supplies
This post may contain affiliate links for your convenience. Read our disclosure policy.
Have a ton of planner stuff taking over your office space or craft room? I did too. See how easy it is to organize planner supplies with these simple tips.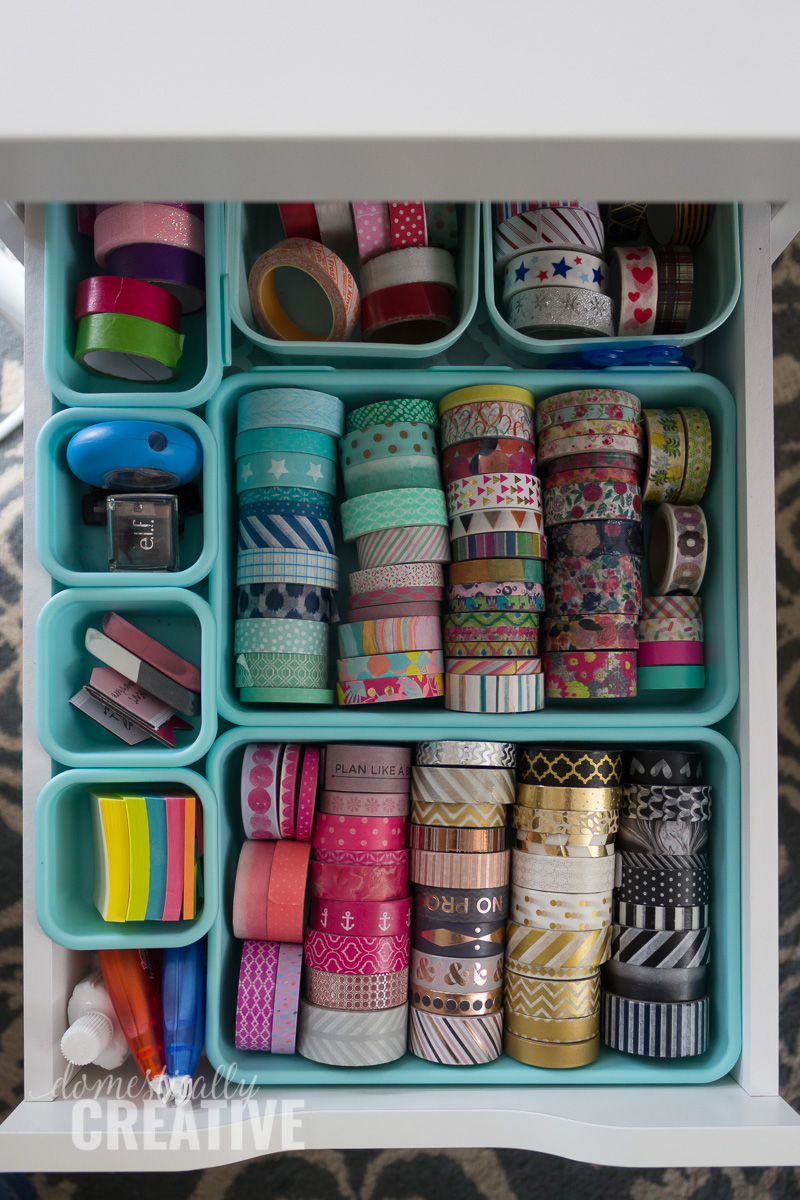 I am a planner fanatic. There, I've said it and I can't take it back. I'm actually almost a little embarrassed to share with the world just how many planner supplies I've accumulated over the last year. I've always been a fan of planners and the idea of having some sort of semblance of getting my life organized, but once I was introduced to the Happy Planner world, it turned into a full blown obsession.
I need to have all of the pretty washi tape, stickers, note pages, and pens. Since I've started hoarding collecting these planner supplies, my organized desk drawers have just exploded with chaos. Scroll down to see my before photos and read about how to organize planner supplies (when they are taking over your life).
---
Welcome to the Drawer Organization Blog Hop!
For the entire month of April, 11 bloggers will be sharing the process of cleaning and organizing drawers around our homes each week.
We kicked off the first week in the kitchen! This week we have been doing drawer organization in our Office, Craft, and Living Rooms.
My Pinterventures • Intelligent Domestications
DIY Adulation • Domestically Creative • Cookies Coffee and Crafts
Domestic Deadline • Across the Boulevard • Michelle James Designs
Mom Home Guide • Centsably Creative • Olives & Okra
---
This week is all about our Office or Living space drawers. Because I spend the majority of my time in my office/craft room I thought it was appropriate to tackle my desk. I have an Ikea desk with one side being an Alex drawer unit. To say I love this drawer unit would be a huge understatement! I have been planning to get a second unit to help me keep my hoards from taking over my space completely, but I have yet to get out to Ikea to purchase one.
A few years ago I shared how I organized those desk drawers when I first purchased them. Since that post, these drawers have taken on many, many craft supplies, but most recently they have been hiding my piles and piles of washi tape and stickers.
Using my Happy Planner is a very creative outlet for me. Before I started using one, I didn't see why someone would take so much time to decorate their weekly planner when they would just end up writing all over it and tossing it later on. Well, now I look forward to my Sunday mornings when I sit down with my cup of coffee and start planning.
I love using washi tape and all of the fun Mambi sticker books to decorate my week. It's kind of like therapy! But that therapy has slowly turned into a bit of chaos every time I open my drawers. Something had to be done!
At the beginning of the year I bought this desk organizing set in teal. I loved the pop of color it gave my white desk, and the drawers lock together to keep them from sliding all over the place. Plus they fit in there pretty well!
As you can see I have one drawer pretty much dedicated to my washi tape hoards, but the problem I was running into was that there was no room to add more! First world problems ya'll. The drawer right below it held all of my sticker books and extra note pages. It was also supposed to be able to hold my actual planners. Yes, plural. I have an everyday planner, an old planner turned recipe binder, and then a business/social media planner.
How to Organize Planner Supplies
Tips/Tricks
Clean everything out of the drawers you are organizing. Wipe each drawer out and line with pretty contact paper.
Sort by type. For my planner supplies, I have washi tape, Mambi sticker books, extra inserts (like note pages, meal planning sheets, etc), loose sticker sheets, and then basic office supplies I use in the planners like white-out, binder clips, erasers, pencil sharpeners, etc.
Break it down further. For me, I sorted my washi tape by color, and my stickers even further by type (books vs. loose sheets vs. rolls)
Think about how you use each item and come up with a plan to organize the drawers in a way that is the most user friendly.
Use trays, baskets, and small jars to keep things contained. I used small jars to store small items like paper clips, binder clips, and push pins, and the drawer trays to hold washi tape and other items. I used a white photo box that I was no longer using for craft paint storage to hold my extra inserts and loose stickers. This way they are contained, but easily accessible.
Then just place everything neatly back into the drawers! Here are my organized planner supplies all neatly put back in their space! The top drawer holds extra notebooks, my business planner, recipe binder, journals and extra calligraphy pens that don't fit in my desk carousel.
The drawer under that houses all of my washi tape. And guess what? There's room to buy more!! This drawer also holds my sticky notes, white out, erasers and pencil sharpeners.
Finally, the third drawer holds all of my stickers, planner inserts, and small supplies like binder clips, paper clips, and push pins. The large white photo box in the back holds the planner inserts and loose sticker sheets I don't use as often. Then the two trays hold my Mambi sticker rolls, some loose sticker sheets that I use more frequently, as well as my lettering guide and a small craft knife.
I'm so much happier with all of my newly organized planner supplies. I can find the things I need so much easier, plus they look so pretty when I open the drawers!!
Love it? Pin it!
Please visit the other host blogs below for more Office, Craft and Living Room Drawer Organization Ideas