Repurposed CD Tower for Craft Paint Storage
This post may contain affiliate links for your convenience. Read our disclosure policy.
Don't throw out that old CD Tower just yet! Turn it into chic storage for all of that paint you have lying around with this easy repurposed craft paint storage DIY.
For this month's Thrift Store Challenge, I may have cheated just a tiny bit. My CD tower didn't come from a thrift store, rather it's been sitting in a closet begging to be repurposed into something new. While mine may not have come from a thrift store, there are plenty of these CD towers to choose from at any given resale shop so you can recreate this project with ease.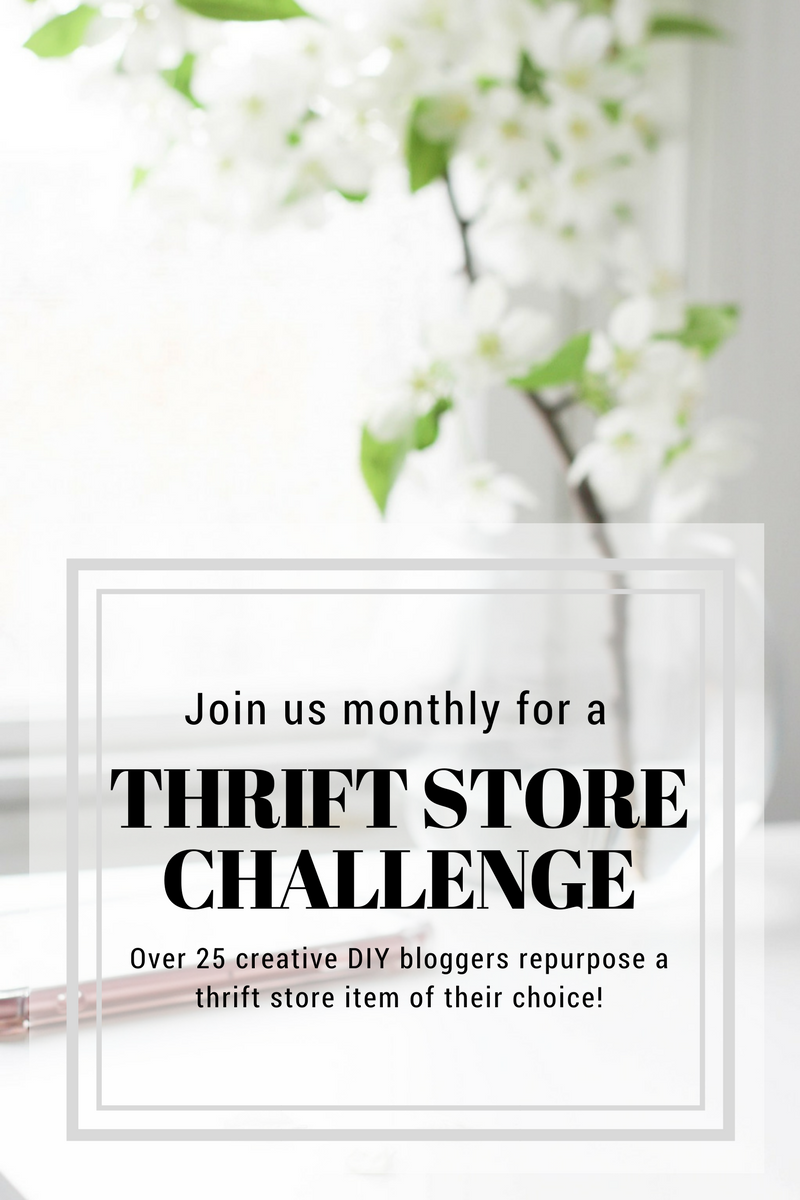 The Rules:
Upcycle an item(s) from a thrift store, resale store, or garage sale into a new piece of decor.
There's no monthly theme.
There's no budget to stick to.
Meet the Hosts
Amanda | Domestically Creative
Angela | Simply Beautiful by Angela – Michelle | Michelle James Designs
Molly | Just a Little Creativity – Victoria | Dazzle While Frazzled
Marie | The Inspiration Vault – Marie | DIY Adulation
Kathleen | Our Hopeful Home – Gail | Purple Hues and Me
Jennifer | Cookies Coffee and Crafts – Ann | Duct Tape and Denim
Karen | Dragonfly & Lily Pads – Debra | Shoppe No. 5
Denise | My Thrifty House – Florence | Vintage Southern Picks
Deborah | Salvage Sister & Mister – Yami | The Latina Next Door
Pili | My Sweet Things
Make sure you follow our board on Pinterest for more upcycled decor inspiration!
---
Repurposed CD Tower for Craft Paint Storage
Items You'll Need
This really has been one of the easiest thrift store upcycles I've done in a long time! This poor CD tower has been with me since I was a teen, as evidenced by all of my punk rock/teen angst cds that decorated it. I have been meaning to get rid of it, but just never got around to doing so.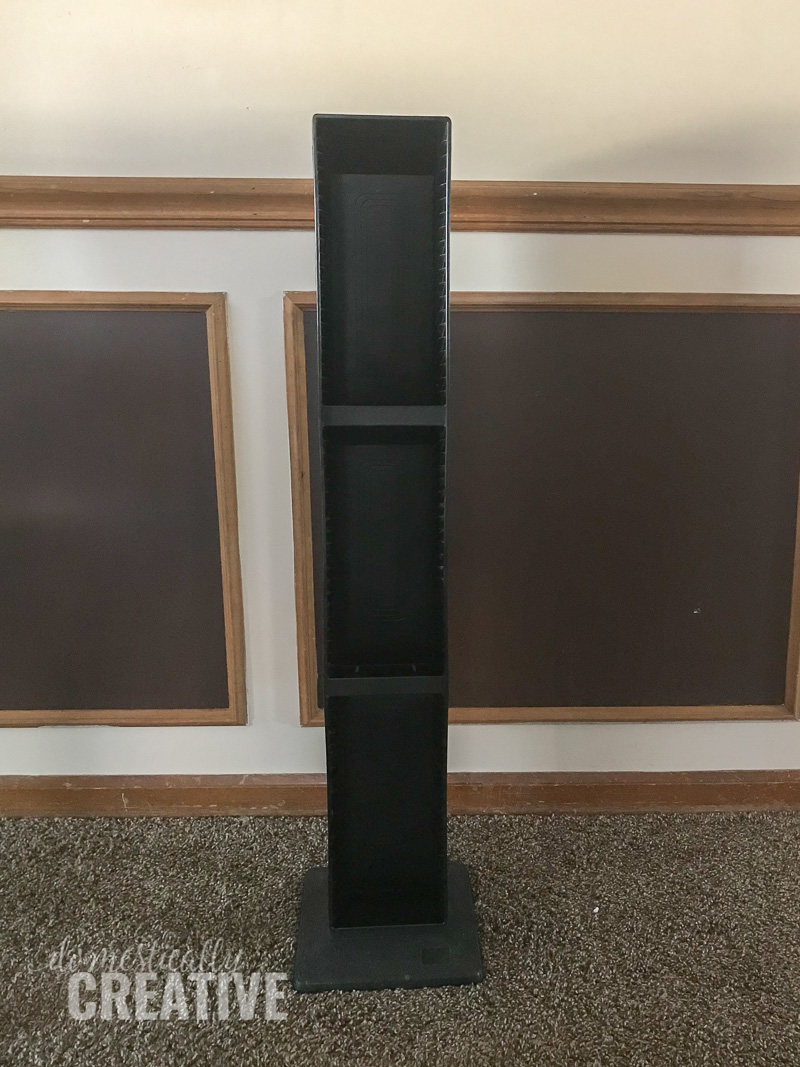 When I was in a purging and organizing mood a few weeks ago, I finally got it out of the closet it's been living in since we moved here. I set it and all of the cds in my "donate" pile and quickly moved on. Later that day, I was pulling my hair out trying to come up with a better solution to my craft paint storage. I had everything in white photo boxes, sitting on a bookshelf. While it looked neat and tidy, it was a nightmare trying to figure out which color I needed was in which box. Plus, I had some that didn't fit in the boxes, and it was next to impossible to tell the colors when I opened the boxes.
Then it dawned on me that maybe I could repurpose that CD tower into a new craft paint storage solution where I could see all of the colors I had at a glance.
I quickly emptied out all of those CDs and tried out a few bottles of paint to make sure they would fit. It was the perfect solution!
It just so happened to be pretty nice out the next day, so I decided to give my new craft paint storage tower a few coats of my favorite spray paint in semi-gloss white. I used white so the craft paint would stand out. It took 4 coats of the white to fully cover all the original black. It was a little more difficult to get the inside completely covered, but that's hidden by the craft paint.
My CD tower also happened to have these slits in the back, and my husband pointed out that I should think about covering those incase some paint happens to drip out. It's like he knows just how messy I am with any kind of paint. All I did to cover those holes was use some white Gorilla Tape. It blends in, and I know that no paint would leak around it. Plus it will be easy to replace the tape if paint does leak out.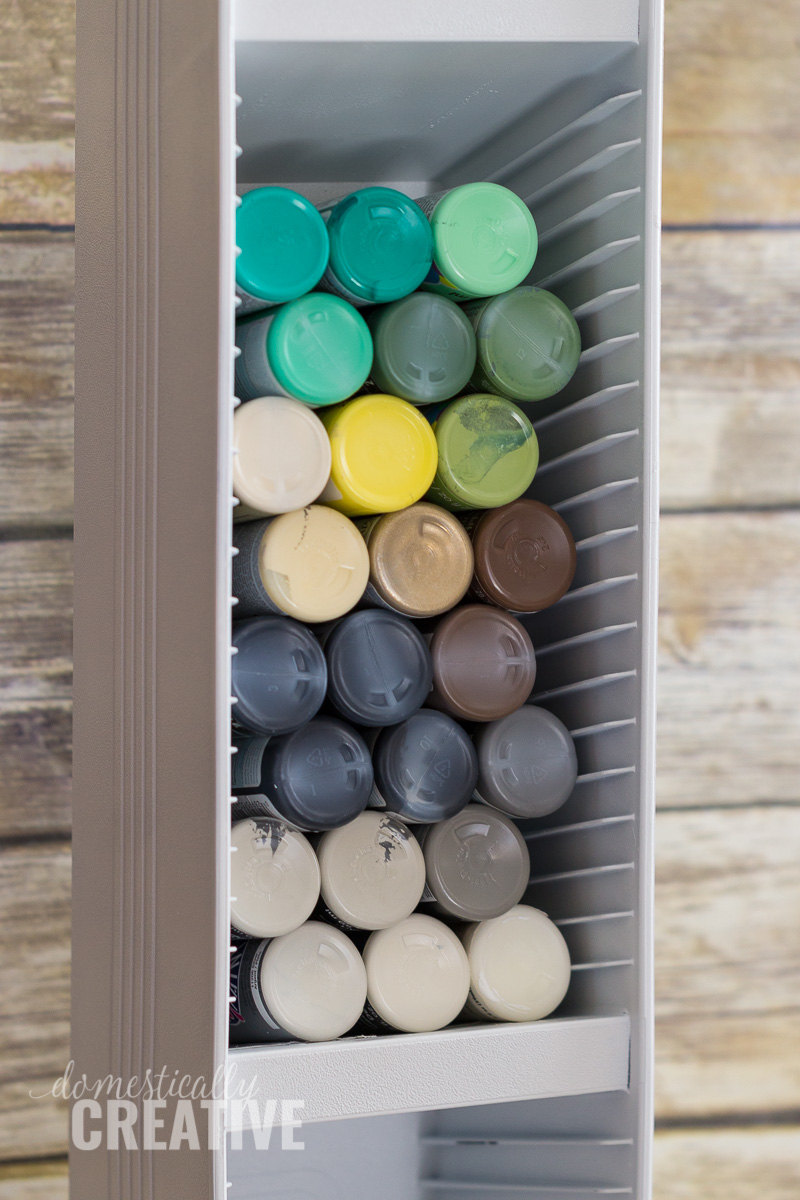 Once that was done all I had left to do was sort all of my craft paint by color. I also chose to put a few bottles of specialty paint I had in there as well, like a few colors of milk paint and pickling wash. You can see that I still have some space left. That means I need to get more paint colors right!?
I also happen to have some premium acrylic paint from Deco Art that isn't in your standard 2 oz bottle. For those I think I may put some clear command hooks on the sides of the tower to hang the paint. Or I may just leave it as it is. Only time will tell!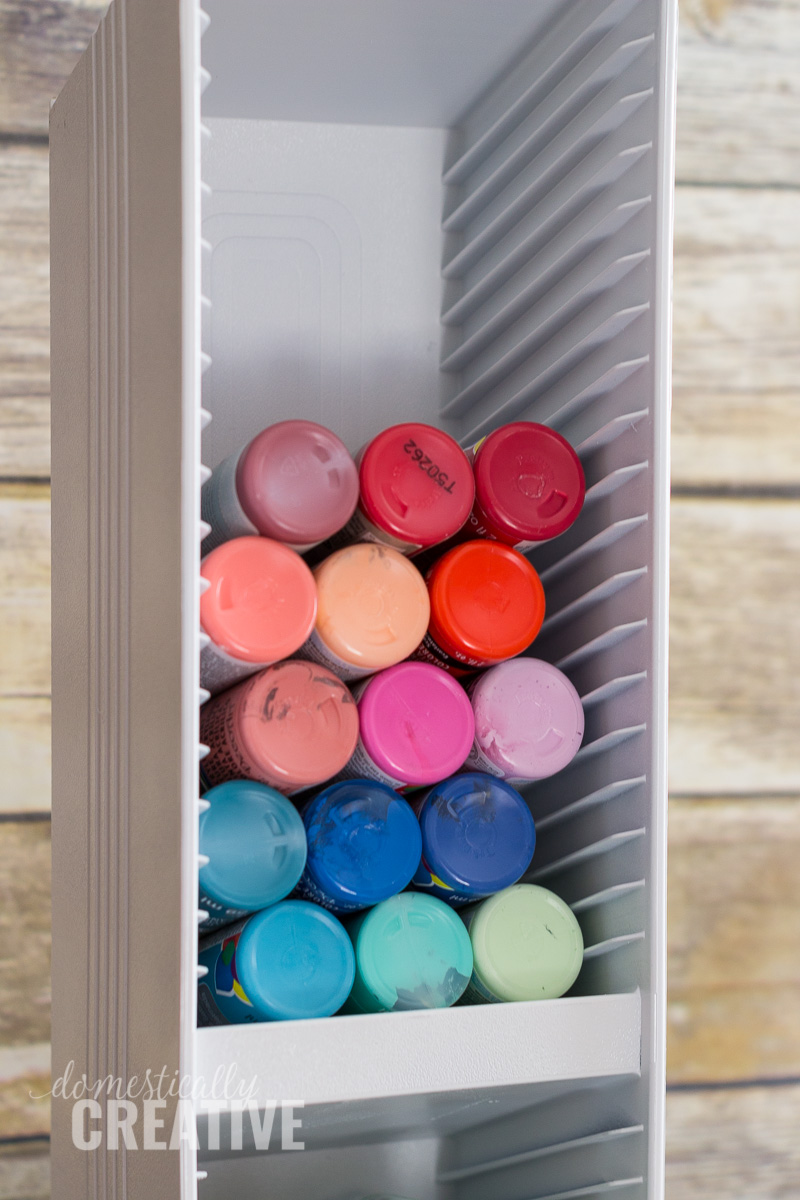 I only wish all of my Americana Decor Chalky Finish paint would fit in it, but those photo boxes are actually the perfect size for those for now. Someday I'll come up with a better solution!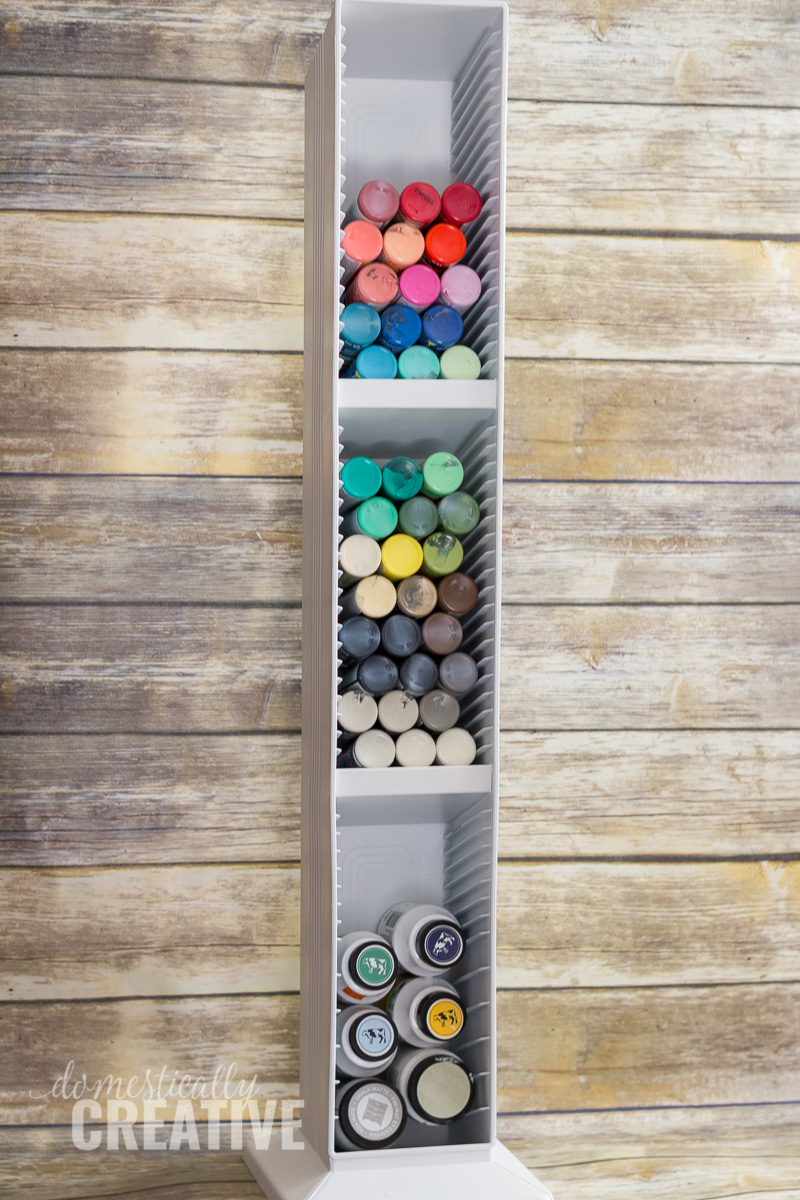 More Upcycle Ideas:
Love this? Don't forget to pin it!
---
And now for more thrifty goodness!