Easy Bathroom Drawer Organization Solution
This post may contain affiliate links for your convenience. Read our disclosure policy.
Find out just how easy it is to get your bathroom whipped into shape with these easy bathroom drawer organization solutions.
Would you believe me if I told you we had an entirely empty drawer in our guest bathroom? Since it's just my husband and me, and we have plenty of drawer space in our Master bathroom, I just never had the need to fill the drawers in our guest bath.
I do keep my makeup, hair straightener, and hairdryer in the guest bath (because that's usually where I get ready) but there was an entire drawer that was just sitting there unused. I decided to tackle that drawer along with my makeup drawer for this week's bathroom drawer organization challenge.
---
Welcome to the Drawer Organization Blog Hop! For the entire month of April, 12 bloggers will be sharing the process of cleaning and organizing one drawer in our homes each week. For week 3 we are focusing on bathroom drawers!
My Pinterventures • Intelligent Domestications
DIY Adulation • Domestically Creative • Cookies Coffee and Crafts
Domestic Deadline • Across the Boulevard • Michelle James Designs
Mom Home Guide • Centsably Creative
If you missed the first two weeks, make sure you check out my organized kitchen utensil drawer and office planner supplies.
---
Bathroom Drawer Organization
This week was pretty easy once I decided on the drawers I wanted to tackle. I don't usually wear a ton of makeup on a daily basis. I'll put on a bit more on the rare occasion we go out, but for the most part, I'm a mascara and foundation girl. Even though I don't wear much, I was still tired of digging through my makeup bag for the items I did need and decided a better solution was needed.
I picked up a couple of clear plastic trays from Dollar Tree that has 3 square sections. I also used a leftover basket from my kitchen utensil drawer to give me a base to work with.
For the clear 3 compartment tray, I decided my square and rectangular makeup items would work best since the shapes were similar. I divided it by eye shadow, powder foundation, and liquid foundation. In the longer rectangular basket, I placed my eyeliners and mascara. Then I used a short fat mason jar to hold my hair ties. Looks much better right?
Now on to the empty drawer! Ok, to be fair it wasn't exactly empty. I had put two washcloths in there for the rare guest that we have to use. I put those back in our linen closet which I felt is a more appropriate place to keep them. Easy to find and grab for guests when needed.
Instead, I thought the drawer would be perfect to put paper/toiletry items like cotton balls, q-tips, etc. I used a second clear plastic tray, as well as two small baskets that I already had (I used them HERE in another of our houses). I really like how neat and tidy everything looks, plus it's great to have those kind of things easy for guests to grab if needed.
More bathroom organization Ideas:
Love this? Pin it!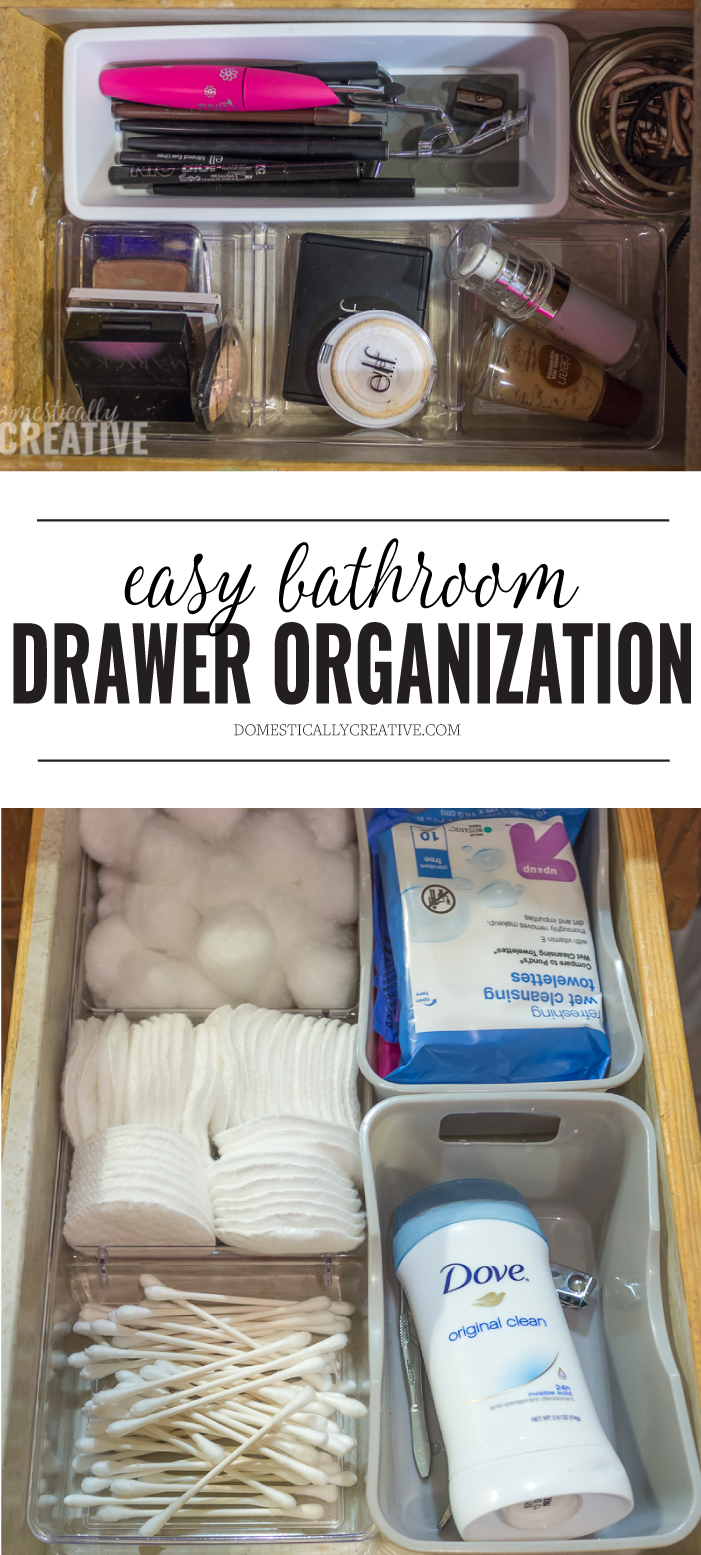 For more bathroom drawer organization ideas, visit the other host blogs below.