Chocolate White Chip Toffee Cookies
These rich and chewy Chocolate White Chip Toffee cookies are simple to make and can satisfy even the strongest chocolate cravings.
*This recipe was originally published December 23rd 2014 but has since been updated and improved.
I love holiday baking. When I was a kid, my mom and I would bake cookies, make candies, and dip pretzels, every year for Christmas. Some of my favorite recipes to make were sugar cookies, chocolate crinkles, and buckeye balls. As I grew older, my mom left most of the baking to me each year, and when I moved out, I carried on the tradition. Sometimes the best tasting cookies are also the easiest to make. At least that's the case with these chocolate white chip toffee cookies!
I use this chocolate cookie recipe as a base for different types of cookies, and you should too. It's a pretty easy recipe to follow, and you'll probably have all of the ingredients in your panty. The only thing that changes is the mix ins. For these chocolate white chip toffee cookies, we are using toffee and white chocolate chips. Feel free to use this with pretzels, peppermint bits, peanut butter chips or anything else!
What I love most about these Chocolate White Chip Toffee Cookies, is that they really resemble a brownie once they have finished baking–a rich, gooey, chocolately brownie. But instead it's in cookie form, which makes it that much easier to dip in an ice cold glass of milk. The trick to them is to undercook the cookies just a bit to get that gooey brownie like center.
The recipe for these white chip chocolate toffee cookies yields a very thick batter. Keep that in mind when you are mixing them up! To get a perfectly round cookie I suggest using a cookie scoop, or rolling the dough into a ball before placing onto the cookie sheet to bake. You can also just plop a spoonful of dough out onto the silicone baking mat, but your cookies just won't come out very rounded. Either way, they'll still be delicious!
More Cookie Recipes:
Love it? Pin it for later!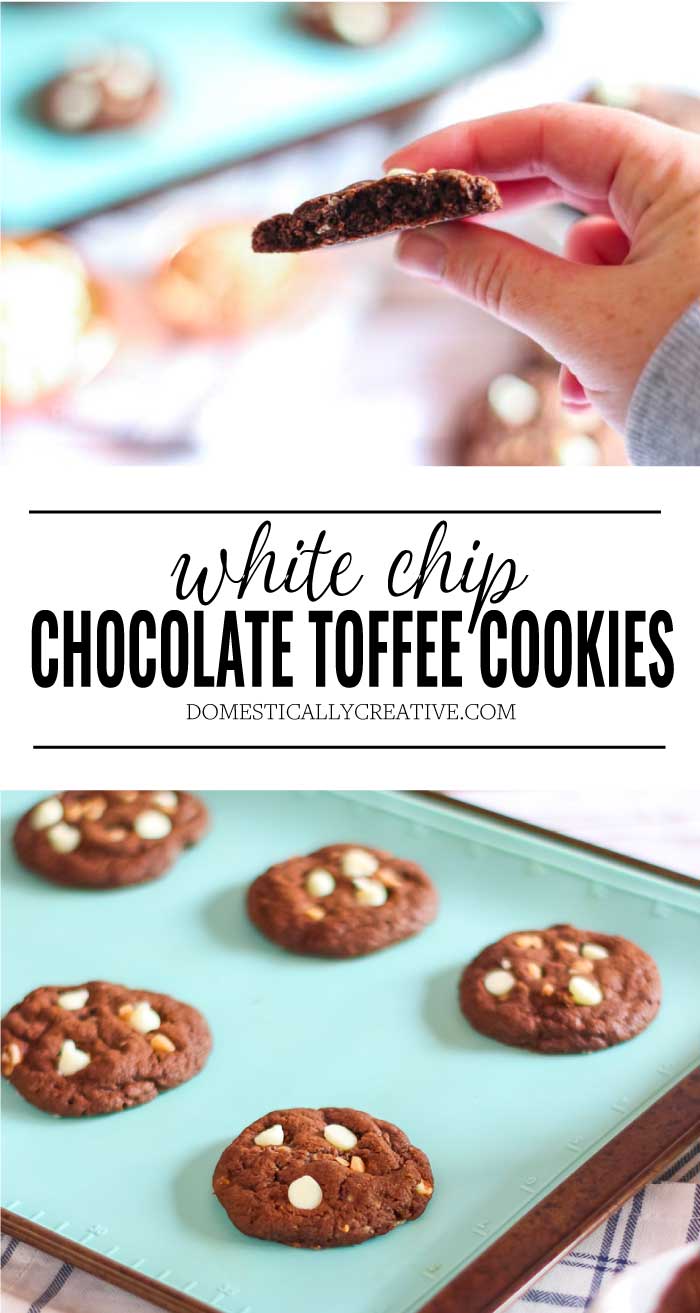 Chocolate White Chip Toffee Cookies
These rich and chewy Chocolate White Chip Toffee cookies are simple to make and can satisfy even the strongest chocolate cravings.
Ingredients
1 cup unsalted butter, (2 sticks), softened
3/4 cup sugar
3/4 cup brown sugar
2 eggs, room temperature
1 tsp vanilla
1 tsp salt
1 tsp baking soda
2/3 cup cocoa powder
2 1/4 cups flour
1 cup white chocolate chips
1/2 cup toffee pieces
Instructions
Preheat oven to 350 and line a baking sheet with parchment paper or silicone baking mat
In a medium bowl, combine the flour, salt, baking soda, and cocoa powder. Set aside.
In a large mixing bowl, cream together butter and sugar with an electric mixer. Beat in vanilla and then eggs, one a time, mixing well after each one.
Add the dry ingredients to the wet ingredients and mix together until well incorporated
With a spatula or mixing spoon, fold in the white chocolate chips and toffee pieces just until combined.
With a cookie scoop, drop dough onto prepared cookie sheet. They will spread some while baking so do not overcrowd.
Bake the cookies for 10 minutes at 350, until baked through in the center.
Notes
Don't have a cookie scoop? Chill the dough after mixing for about an hour, then roll the dough into ball shape using your hands.
Nutrition Information
Yield

28
Serving Size

1 cookie
Amount Per Serving
Calories

204
Total Fat

11g
Saturated Fat

6g
Trans Fat

0g
Unsaturated Fat

3g
Cholesterol

36mg
Sodium

147mg
Carbohydrates

25g
Fiber

1g
Sugar

16g
Protein

2g
Nutrition values are automatically calculated by third-party software using global standards. Please note that values can vary based on product brands and different nutritional calculators. The values stated here are only for a basic reference and are not evaluated by medical or nutritional professionals.