Old Fashioned Drop Sugar Cookies Recipe
This simple recipe for old fashioned drop sugar cookies is fool proof! No rolling, cutting and frosting required for these sugar cookies.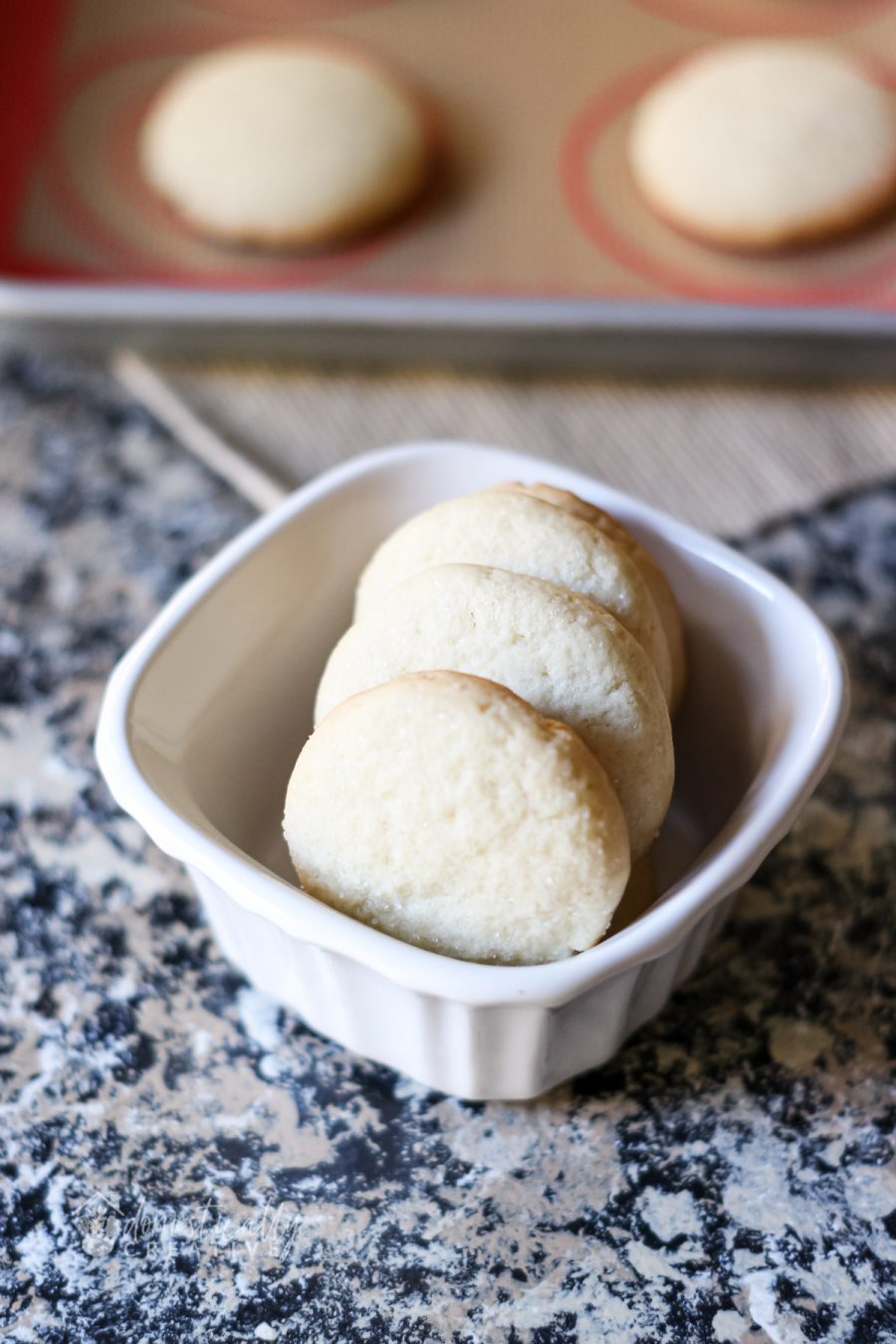 Today I am sharing a cookie recipe that has a little bit of nostalgia for me. It's a very simple recipe that my mom and I would always bake around the holidays. Drop sugar cookies are fast, easy, and not too sweet to make. You may even refer to them as old-fashioned sugar cookies.
There are a lot of recipes out there for your typical cutout sugar cookies, but sometimes you just want a quick and easy cookie recipe right? Looking back, I think my mom loved making this recipe with me when I was a kid simply because she didn't want to deal with the mess I made with cut-out cookies.
When my mom and I talk about this old-fashioned sugar cookie recipe, we always specify the one with cream of tartar. It's just something that has always stuck with me. Cream of tartar isn't something I use very often, but I think it really makes the difference in these drop sugar cookies.
What's the Difference Between Cut Out Sugar Cookies and Drop Sugar Cookies?
Typical drop sugar cookies, or old-fashioned sugar cookies, means taking a spoonful of cookie dough and "dropping" it onto a cookie sheet to bake that way. Sometimes flattening with a sugar-coated flat bottomed glass is required (as in this recipe). Cut out sugar cookies involve taking very cold or chilled sugar cookie dough, rolling it out onto a floured surface, and using cookie cutters to cut out shapes. Typically you would frost these after baking as well.
How to Make Old-Fashioned Drop Sugar Cookies
I already mentioned how simple this recipe is, but it really is! Start by creaming together softened butter and sugar. This is the base for many cookie recipes! I like to use our Classic Kitchen Aid Stand Mixer for most of my recipes, but a hand mixer will do the trick!
Add in eggs, vanilla and cream the dough together until it's creamy and smooth. Then slowly add in the dry ingredients; flour, baking soda, cream of tartar, and salt. This creates a soft, but very pliable cookie dough!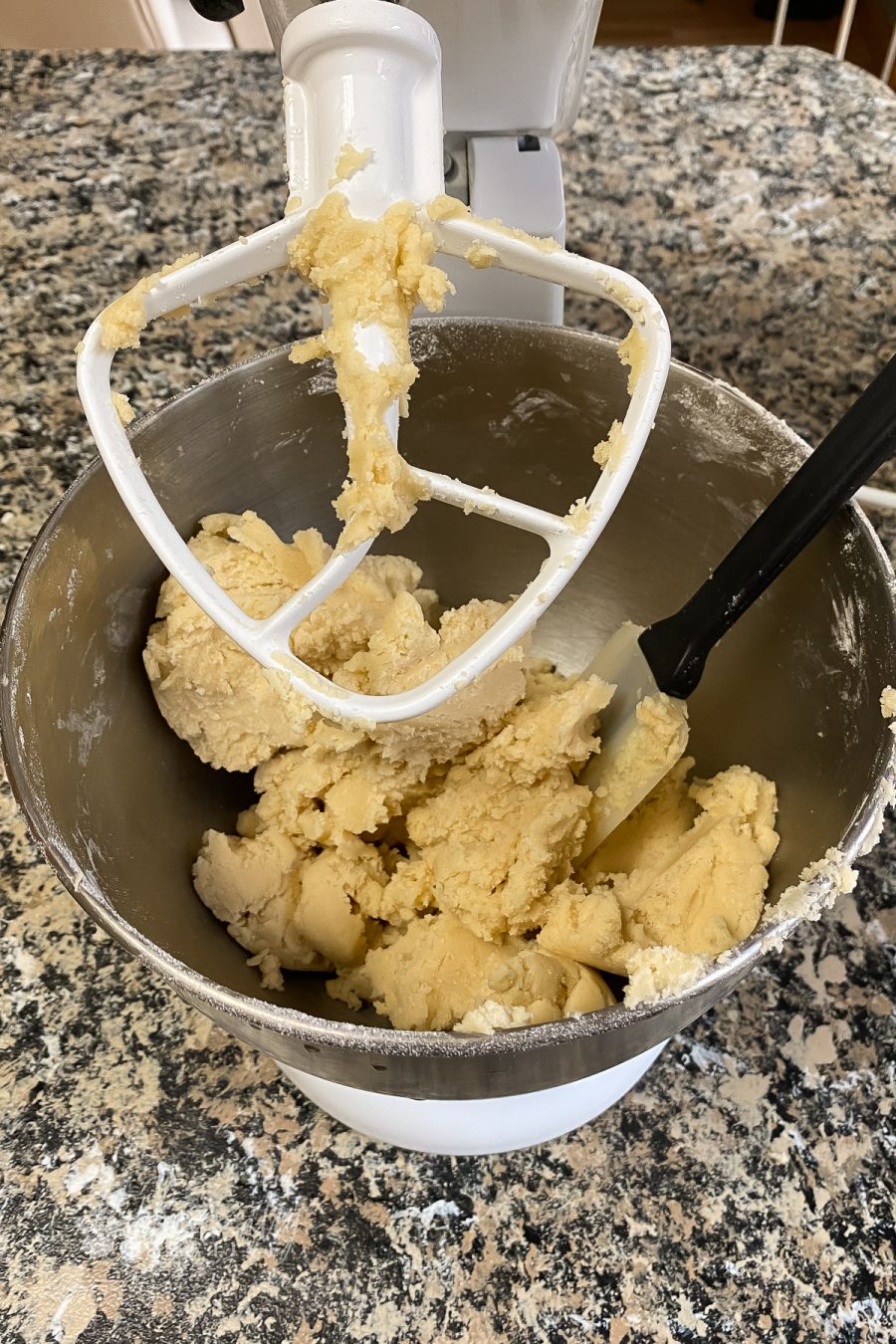 After the dough has been thoroughly mixed together, it's time to prep for baking! The oven should be preheated to 350, and I like to use a silicone baking mat on top of my baking sheets. This makes cleanup easy and I don't have to worry about the drop sugar cookies sticking to the baking sheet.
Using a small cookie scoop, or a teaspoon, scoop up some of the old-fashioned sugar cookie dough and place it onto the prepared cookie sheet for baking. Repeat the process until the baking sheet is filled.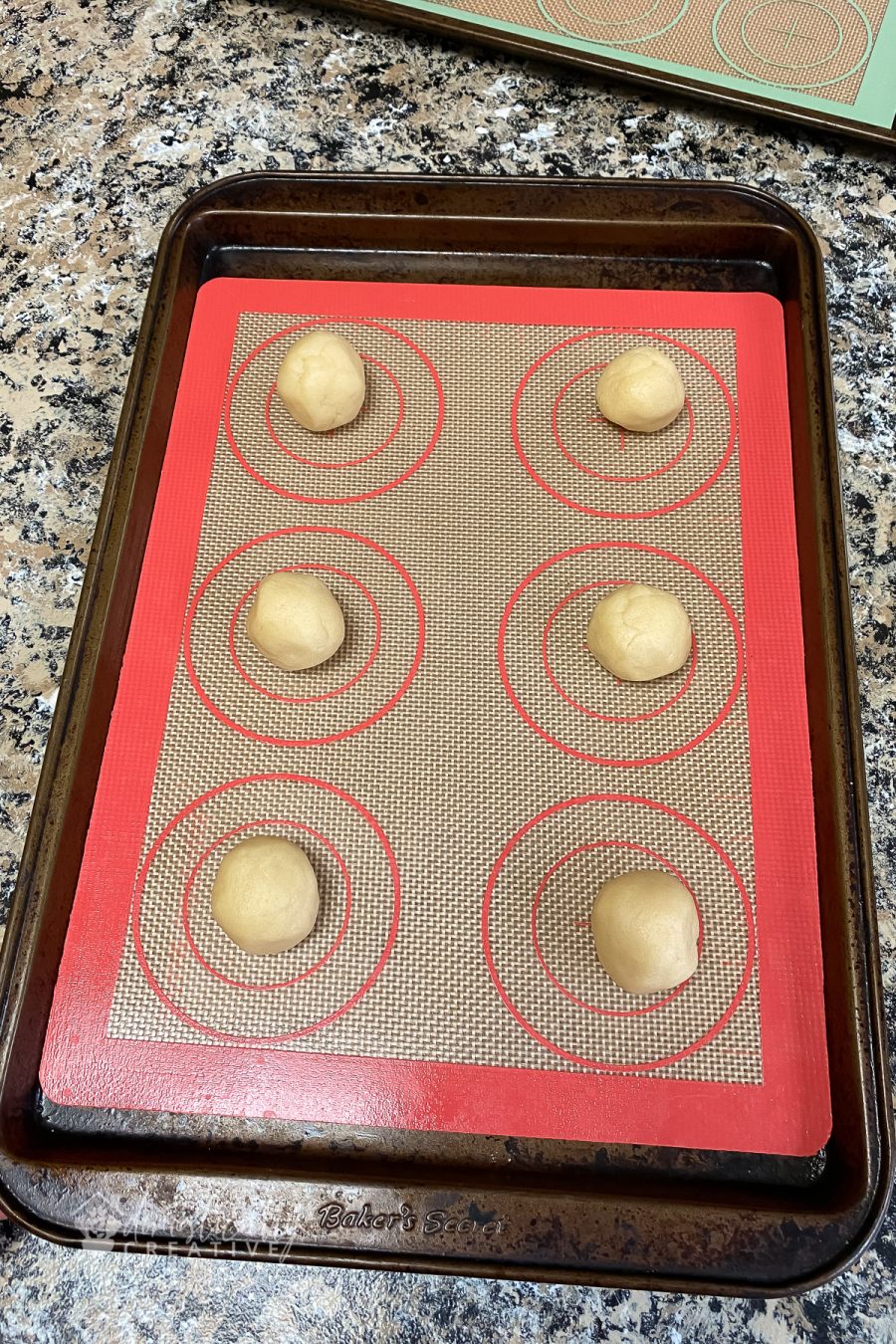 Next, take a glass that has a flat bottom. Dip the glass in a small amount of melted butter, or water will work in a pinch too. Dip it into shallow bowl filled with sugar until the glass bottom is coated in sugar.
Press the glass bottom onto one of the balls of cookie dough to gently flatten it. The goal isn't to flatten it completely, but enough to resemble a decent-sized cookie. You should leave behind sugar-coated cookie dough. Repeat the process until all of the drop sugar cookie dough balls have been flattened.
Bake the cookies at 350 for 15 minutes. I recommend rotating the baking sheet halfway through the bake time to ensure the sugar cookies bake evenly. The cookie dough won't spread much while baking, but they will rise some.
Let the sugar cookies cool on a baking rack before storing in an airtight container. These old-fashioned sugar cookies don't last too long in our house! My hubby doesn't eat a lot of sweets, but he does enjoy these cookies. He says they are just the perfect amount of sweetness without being overbearing.
Looking for More cookie recipes
Don't forget to pin it!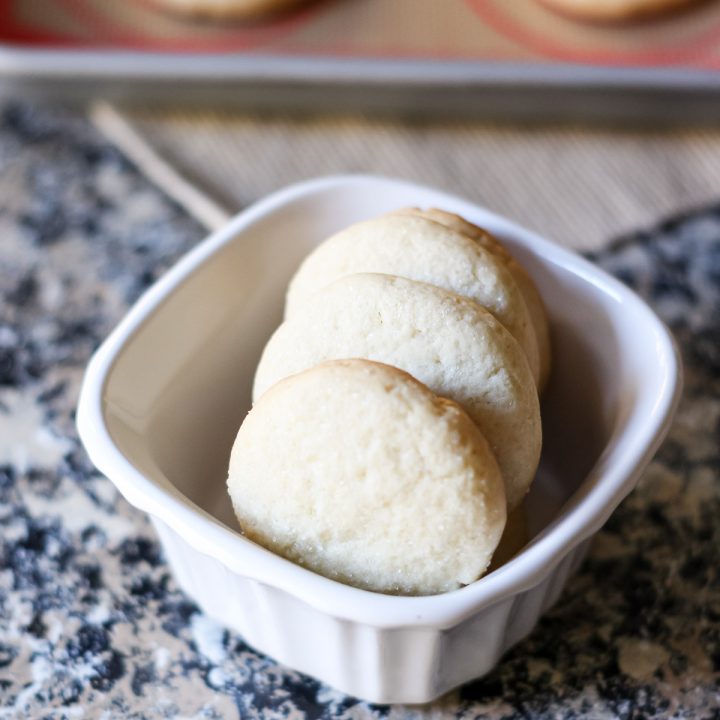 Old Fashioned Sugar Cookies
Total Time:
1 hour
25 minutes
This simple recipe for old fashioned drop sugar cookies is fool proof! No rolling, cutting and frosting required for these sugar cookies.
Ingredients
1 cup butter, softened (2 sticks)
1 cup sugar
2 large eggs
1 tsp vanilla
3 cups flour
1 tsp baking soda
2 tsp cream of tartar
1/2 tsp salt
1/4 cup sugar, reserved for flattening cookies
1 tbsp melted butter, reserved for flattening cookies
Instructions
Preheat the oven to 350 and line a baking sheet with parchment paper or a silicone mat.
In a large bowl, combine the butter and 1 cup of sugar and mix untli creamy.
Add in vanilla and eggs 1 at a time, until fully incorporated.
Mix in the baking soda, cream of tartar and salt.
Stir in flour 1 cup at a time, mixing throughly.
Use a teaspoon or small cookie dough scoop to drop rounded dough balls onto the prepared baking sheet.
Grease a flat bottomed glass with the reserved melted butter and dip in reserved 1/4 cup of sugar. Lightly flatten the dough balls into cookie shape, leaving behind a dusting of sugar.
Bake for 15 minutes or until cookies are golden and slightly browned on the bottom. Rotate the cookie sheet half way through baking
Let them cool for about an hour on a cooling rack before eating.
Recommended Products
As an Amazon Associate and member of other affiliate programs, I earn from qualifying purchases made by clicking some links. I only recommend products I use personally.
Nutrition Information
Yield

28
Serving Size

1 grams
Amount Per Serving
Calories

162
Total Fat

8g
Saturated Fat

5g
Trans Fat

0g
Unsaturated Fat

3g
Cholesterol

32mg
Sodium

154mg
Carbohydrates

21g
Fiber

0g
Sugar

10g
Protein

2g
Nutrition values are automatically calculated by third-party software using global standards. Please note that values can vary based on product brands and different nutritional calculators. The values stated here are only for a basic reference and are not evaluated by medical or nutritional professionals.