Simple and filling homestyle sausage gravy and biscuits makes a delicious breakfast that is perfect for weekends or holidays!
Growing up, my mom always made sausage gravy and biscuits every holiday morning–Easter, Christmas, Thanksgiving. So, naturally, this was the first breakfast recipe I could think of for the 12 Days of Christmas ideas blog hop. It reminds me of holidays as a kid!
Homestyle Sausage Gravy and Biscuits
This recipe is so quick and easy. All you need is a roll of sausage, flour, milk, and pepper. Make some homemade drop biscuits that don't take a ton of time, or buy a package of premade. I won't judge and either way you make them, this is a super simple breakfast that you can throw together in minutes.
How to Make Homemade Sausage Gravy
Brown the sausage in a skillet and drain off the excess grease. Only drain the excess–leave a bit of grease coating the meat to give the flour a nice base to stick to. Sprinkle about 1/2 cup flour onto the sausage and stir to make sure the sausage is coated nicely. The sausage should be really crumbly, but not clumped together.
Add about 1 cup of milk to start with and mix well. Then add in the remaining 1 cup of milk. There should be enough milk to just cover the sausage in the pan. Turn the heat up slightly to bring the mixture to a low boil. Turn down the heat to simmer and stir the sausage gravy to prevent it from sticking to the pan.
The sausage gravy should start to thicken up rather quickly. If it gets too thick for your liking, add more milk about 1/4 cup at a time until the gravy reaches your desired thickness. We like our homemade sausage gravy thick in this house, but if you prefer more gravy to sausage then definitely add more milk!
Serve your homestyle sausage gravy hot over easy to make drop biscuits fresh from the oven and you've got a yummy meal!
What are some recipes that remind you of your childhood?
More easy breakfast recipes for the holidays:
Don't forget to pin it!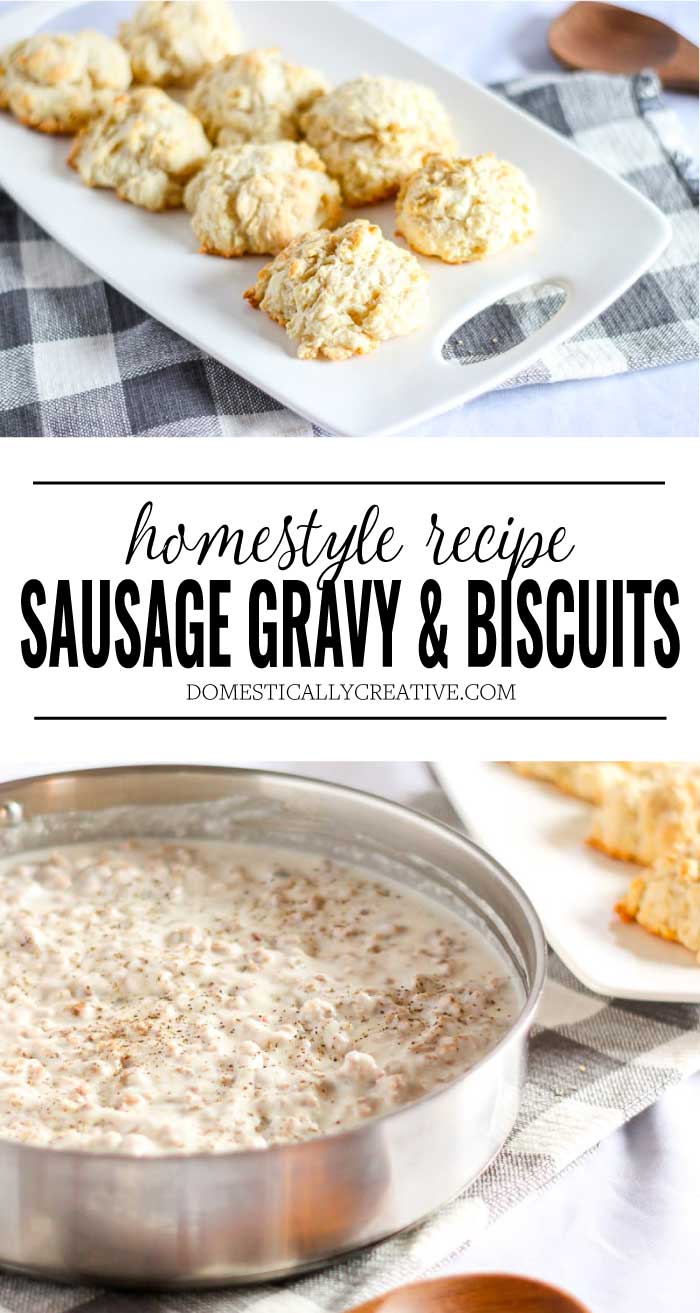 Homestyle Sausage Gravy and Biscuits
Simple and filling homestyle sausage gravy and biscuits makes a delicious breakfast that is perfect for weekends or holidays!
Ingredients
Drop Biscuits
3 cups all purpose flour
1 tbsp baking powder
3/4 tsp cream of tartar
1 tsp salt
1 tbsp sugar
3/4 cup butter, cold, chopped
1 1/4 cup milk
Sausage Gravy
1 lb ground breakfast sausage
1/2 cup all purpose flour
2 cups milk
Pepper, to taste
Instructions
Drop Biscuits
Preheat oven to 450 and line a baking sheet with parchment paper or silicone mat
In a large bowl, combine flour, salt, baking powder, cream of tartar and sugar. Whisk together well.
Using a pastry mixer, cut in cold butter until the mixture resembles coarse crumbs.
Pour in milk, and mix dough together just until moistened. Do not over mix.
Drop by rounded spoonful onto prepared baking sheet. Makes 12 biscuits
Bake for 13-15 minutes or until the tops have turned golden brown.
Sausage Gravy
While biscuits are baking, brown and crumble sausage in a large skillet. Drain off the excess grease but do not rinse meat.
Sprinkle flour over cooked sausage and mix to combine. The sausage should be coated and crumbly and not clumpy
Pour in 1 cup of milk and pepper to taste and stir well. Add in remaining 1 cup of milk and bring mixture to a very low boil.
Reduce heat to simmer and stir frequently until the sausage gravy thickens.
If the sausage gravy is too thick for your taste, add more milk 1/4 cup at a time until desired consistency is reached.
Serve warm over fresh from the oven homemade biscuits.
Recommended Products
As an Amazon Associate and member of other affiliate programs, I earn from qualifying purchases made by clicking some links. I only recommend products I use personally.
Nutrition Information
Yield

6
Serving Size

1 grams
Amount Per Serving
Calories

699
Total Fat

29g
Saturated Fat

11g
Unsaturated Fat

0g
Cholesterol

84mg
Sodium

1130.42mg
Carbohydrates

71.58g
Fiber

4g
Sugar

28g
Protein

26g