Air Fryer Donut Holes Recipes
This post may contain affiliate links for your convenience. Read our disclosure policy.
Here is an easy air fryer donut holes recipes that start with canned biscuit dough to make breakfast time easy, and they can be customized to fit any taste buds.
These donut holes make a quick and tasty holiday(or any time) breakfast! They cook in 5 minutes and can be customized to fit your family's taste preferences. Start with a can of biscuits, shape them into balls, and pop them into your air fryer. Starting with biscuit dough makes these air fryer donuts quick, easy, and incredibly delicious!
How to Make Donut Holes from Biscuits
To make these simple air fryer donut bites, you'll need a can of biscuit dough, a knife, and a topping of choice. Of course, you'll also need an air fryer! Have you used an air fryer before? They really are a cool little appliance. We use ours to cook chicken tenders, wings, cauliflower bites, and these simple donut holes!
If you are new to using an Air Fryer, you may be interested in this Air Fryer for Beginners E-Book from Recipe This. It includes 101 recipes great for beginner Air Fryer users. If you need a little more in-depth training on using the Air Fryer, then their Air Fryer Advanced Quickstart Mini Course would be perfect.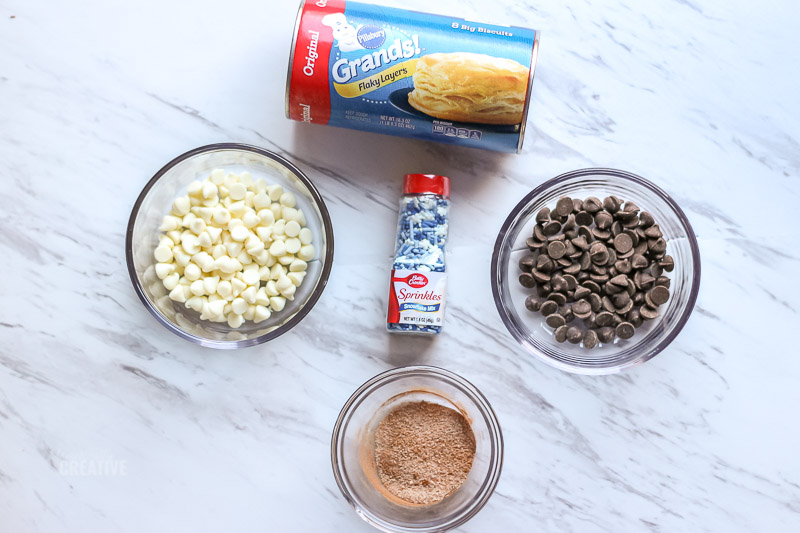 Start by busting open the can of biscuit dough and separate out each biscuit. Cut each one into 4 equal parts and roll each section into a ball. Spritz the pan of the air fryer with coconut or olive oil.
I recommend using a mister like this one, rather than buying non-stick oil in a can or spray bottle. Those contain preservatives that can ruin the non-stick finish on your air fryer!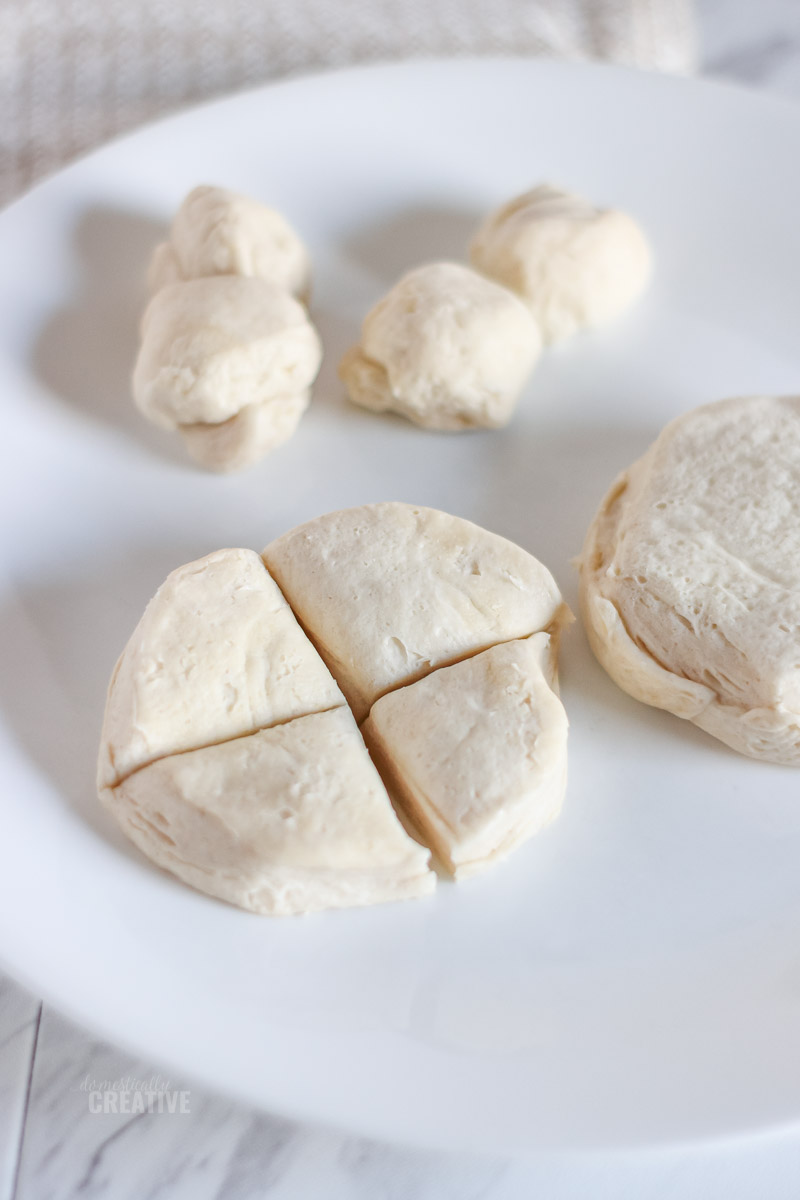 Next, place the balls of biscuit dough into the air fryer. You'll want to make sure not to crowd them too much, as the dough will expand some. Also, if they are too crowded, the air will not circulate around completely which may result in the donut holes cooking unevenly.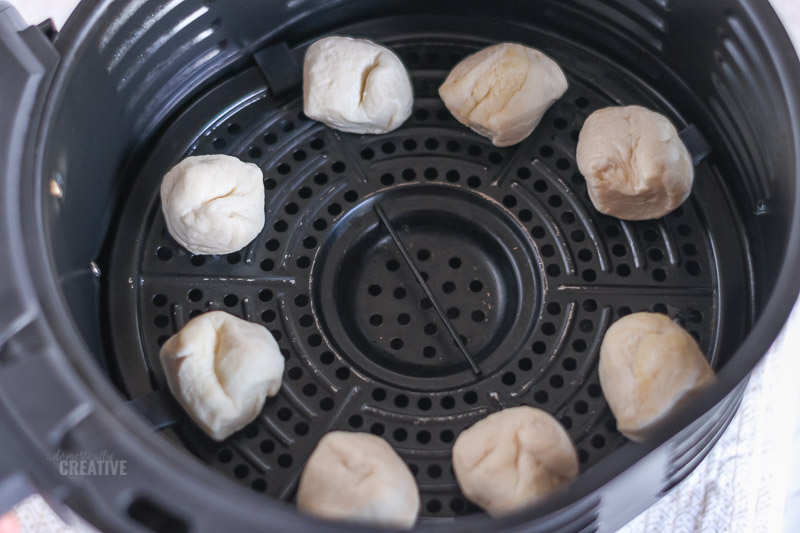 Air fry the donut holes for 5 minutes at 370 degrees. They are finished when the donut bites turn a nice golden brown, like in the photo below.
While they cook, prepare your toppings. For cinnamon sugar, melt 3 tbsp of butter in the microwave. Mix together 2 tsp cinnamon and 3 tbsp sugar.
While the donut bites are still warm, brush melted butter over the tops. Then, dip each donut in the cinnamon-sugar mixture.
For chocolate air fryer donut holes, melt 1/2 cup of white or milk chocolate in a microwave-safe bowl. Then dip each donut bite into the melted chocolate. If desired, top with sprinkles.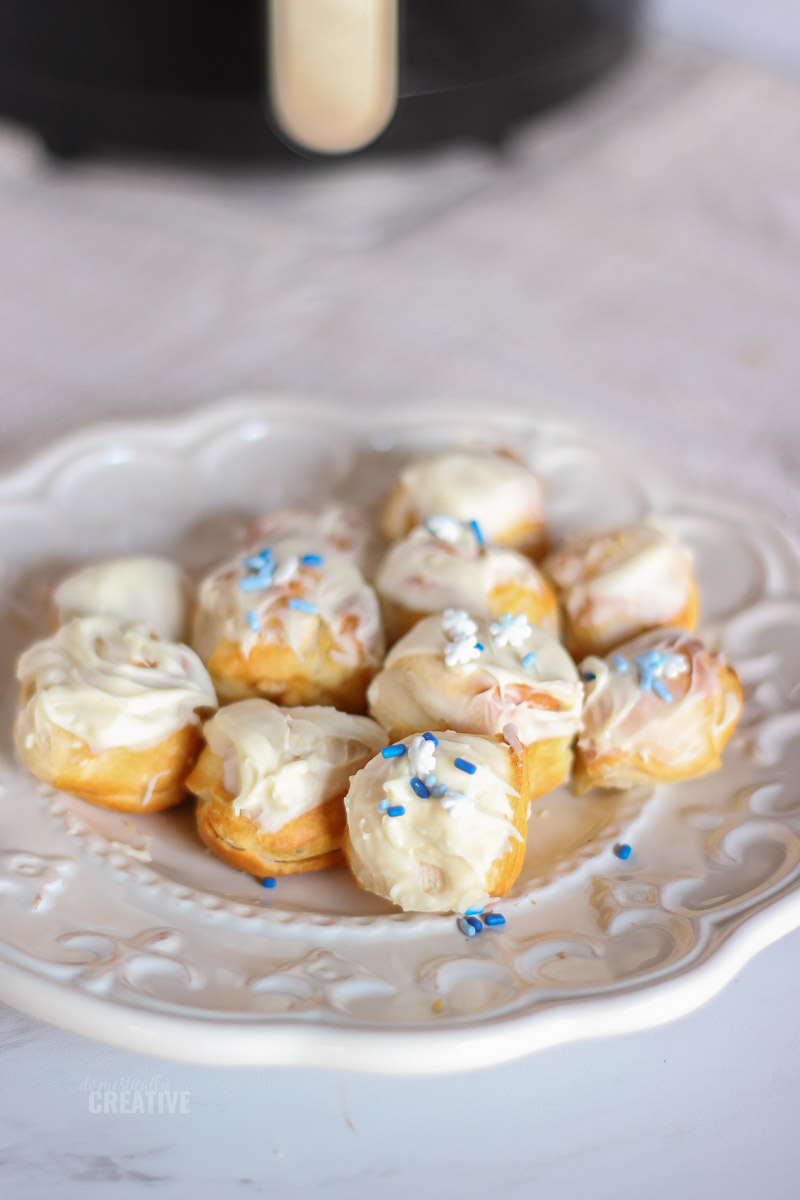 Which flavor do you want to try? As much as I love white chocolate, my favorite is the cinnamon sugar donut bites. Just the right amount of sweetness without being overpowering. Like eating a cinnamon roll, without the added messy icing.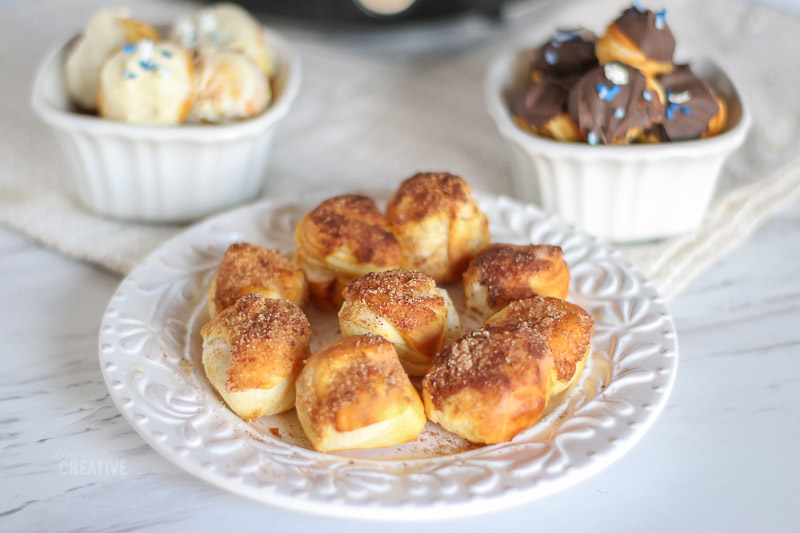 Can I make full donuts with biscuit dough rather than donut holes?
Absolutely! To make full-size donuts in your air fryer from biscuit dough, simply cut the center out of a biscuit. Use a 1″ round pastry cutter or a knife if you don't have one. Then place the biscuits in the air fryer on 370 for 6 minutes. Save the donut holes and cook those last. You'll get the best of both donut worlds!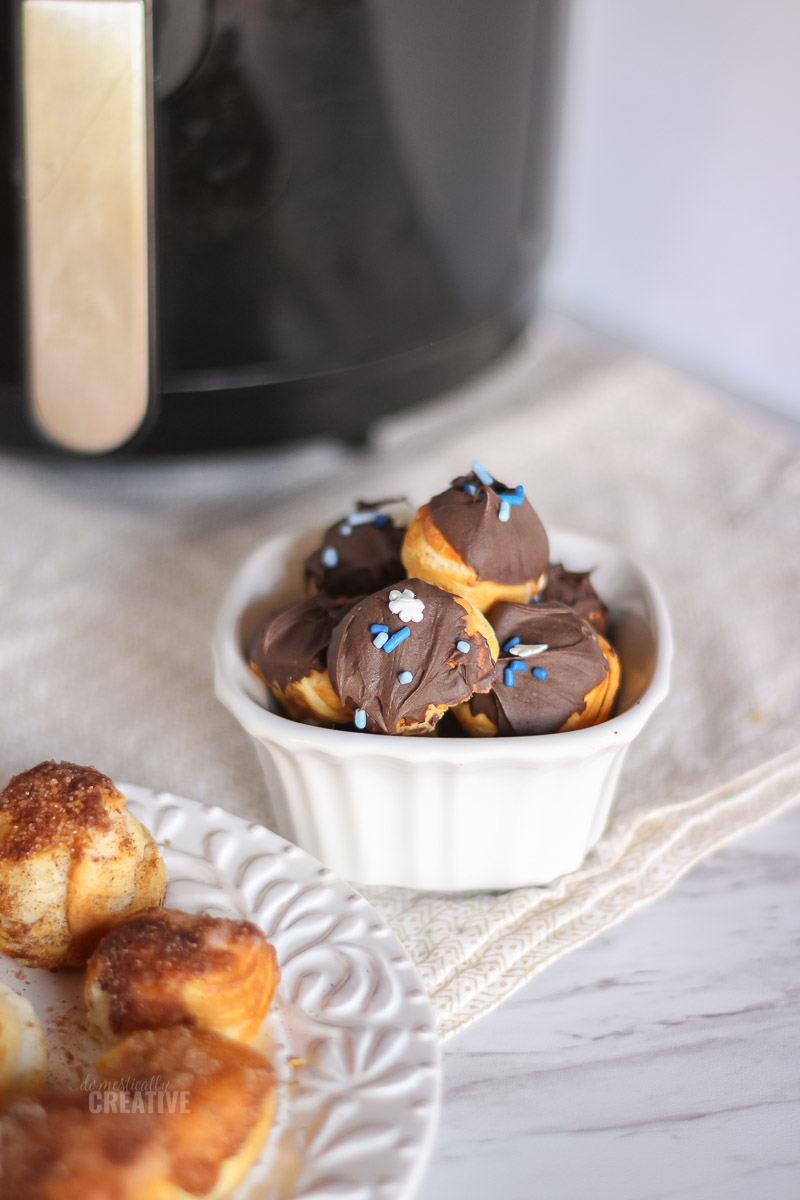 Which biscuit dough should I use for air fryer donuts?
I used the Pillsbury brand flaky layers original. This is the only type I have tried, as I really like how they puff up in the air fryer. You could try using regular (not layered) dough as well if you are looking for a more traditional round shape. I really don't think it matters but make sure you are using Jumbo size!
Don't forget to pin it!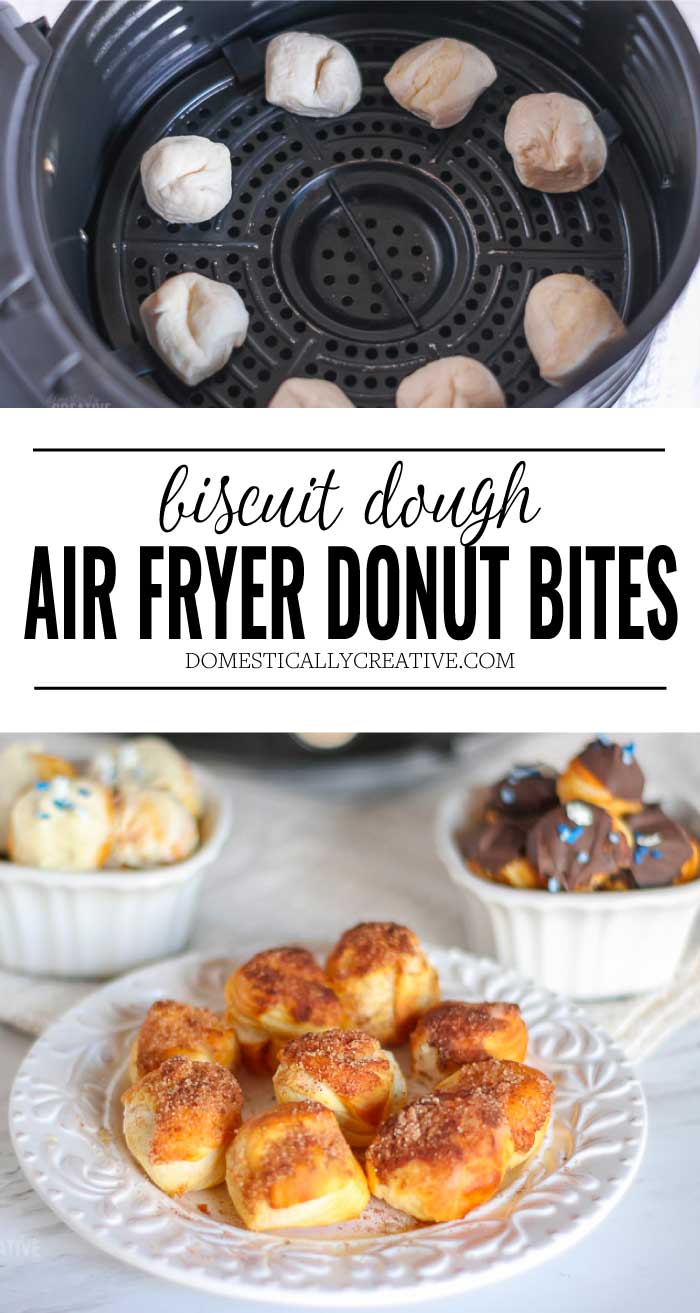 Ingredients
1

can Pillsbury Grands biscuits

Coconut Oil or Olive Oil for air fryer
Cinnamon Sugar Topping
4

tbsp

butter

1/2

cup

granulated sugar

2

tsp

cinnamon
Chocolate Topping
1/2

cup

white or milk chocolate chips

Sprinkles

optional
Instructions
For the donut bites

Preheat Air Fryer at 370 for 2-3 minutes

Open can of biscuits and separate the biscuits.

Cut each biscuit into 4 equal sections. Roll each section into a ball shape.

Spray the basket of the air fryer with coconut or olive oil mister.

Place the dough balls into the basket of the air fryer. Do not crowd.

Cook for 5 minutes, or until the donut bites become golden brown.


For the Cinnamon Sugar topping

Melt 4 tbsp of butter in the microwave.

Mix together cinnamon and sugar in a bowl.

Brush the tops of each donut bite liberally with butter.

Dip the donut bites into the bowl of cinnamon sugar.


For the Chocolate topping

Add chocolate chips to a microwave-safe bowl, and microwave for 30 seconds on HIGH.

Stir the chocolate, and place back into the microwave for 10-second intervals until the chocolate is melted. Stir well in between each interval.

Dip each donut bite into the melted chocolate.

Optional: top with sprinkles.
Nutrition
Serving:
4
donut bites
|
Calories:
212
kcal
|
Fat:
13
g
|
Saturated Fat:
7
g
More Holiday Breakfast Ideas