Simple Chocolate Chip Zucchini Bread
Here's an easy recipe for chocolate chip zucchini bread that you can whip up in no time. The hardest part of this recipe is letting it cool down before you inhale it.
I had some Zucchini in the crisper that was going to go bad soon if I didn't do something with it, so like any normal human I whipped up a batch of chocolate chip zucchini bread.
I use this super simple recipe that is in my Better Homes and Gardens Cookbook . This is the BEST present my mother ever gave me! This book has literally taught me how to cook, buy meat, and freeze and store produce–back before the time of Pinterest anyway. I even have a 1969 edition of the same book and I use recipes from that one as well.
The original zucchini bread recipe called for 1-1/2 cup All-Purpose flour–I used 1/2 cup Whole Wheat and 1 cup All-Purpose. I also like to add a little extra nutmeg to the original recipe as well. Another thing that's different? The chocolate. Now, if you don't like chocolate in your Zucchini Bread like I do then you should just leave now. Seriously.
OK that's a little harsh, but really? No chocolate? You're nuts!
Which brings me to the next subject. You may be the type that enjoys nuts in your Zucchini Bread and if you do I guess that's ok. We'll just have to agree to disagree.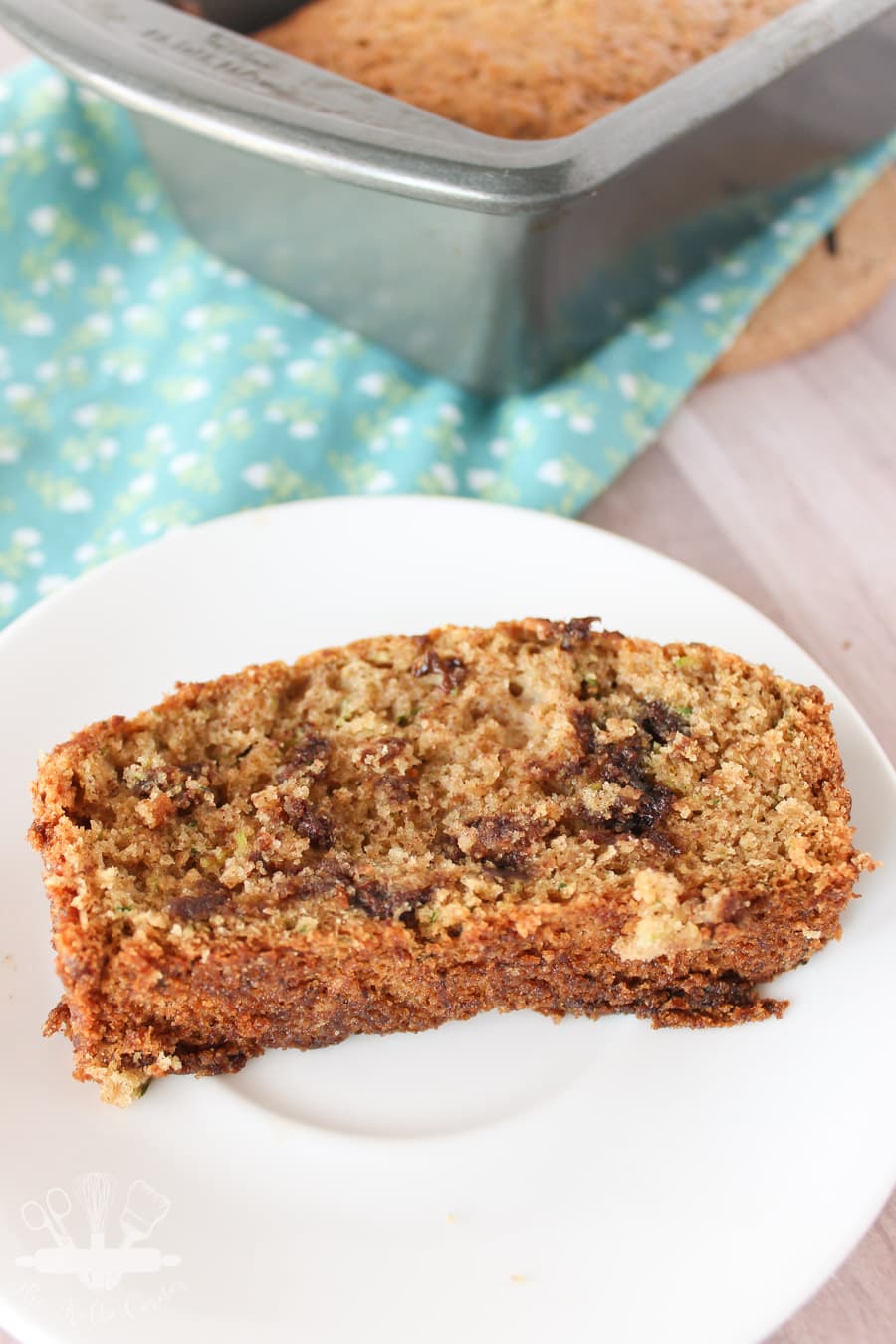 One tip I've learned when adding in the chocolate chips is to add a small amount of batter sans chocolate to the bottom of the loaf pan first. Then fold the chocolate chips into the remaining batter and pour that into the loaf pan. No burnt chocolate chips on the bottom causing headaches when it comes to removing the zucchini bread from the pan. I guess if it does stick you kind of have 2 loaves. Two very very thin loaves, but let's look at it from a glass half full approach.
Speaking of glasses. Slice yourself a nice thick piece of fresh baked zucchini bread and enjoy it with an ice-cold glass of milk. Or wine. I don't judge. Unless you are a chocolate hater.
More recipe ideas:
Love this? Pin it for later!
Chocolate Chip Zucchini Bread
Ingredients
1 1/2 cup All-Purpose Flour, (Sub 1/2 cup for Whole Wheat Flour if desired)
1 tsp Ground Cinnamon
1/2 tsp Baking Soda
1/2 tsp Salt
1/4 tspBaking Powder
1/4 tsp Ground Nutmeg, (I use 1/2 tsp)
1 Egg
1 cup Sugar
1 cup Zucchini, (unpeeled and finely shredded)
1/4 cup Vegetable Oil
1/2 cup Walnuts or Pecans, (optional)
1/2 cup Chocolate Chips, (optional)
Instructions
Preheat oven to 350 degrees
Grease the bottom of an 8x4x2" loaf pan and set aside
In a medium bowl, combine flour, cinnamon, baking soda, baking powder, salt and nutmeg. Make a "well" in the center of the mixture and set aside
In a second medium bowl, combine sugar, egg, zucchini, and oil. Mix well.
Add the zucchini mixture to the flour mixture. Combine just until moistened. The batter will be lumpy.
If using, fold in chocolate chips and/or walnuts/pecans.
Pour mixture into loaf pan and bake for 50-55 minutes, or until toothpick inserted in the center comes out clean.
Nutrition Information
Yield

16
Serving Size

1 slice
Amount Per Serving
Calories

176
Total Fat

8g
Saturated Fat

2g
Trans Fat

0g
Unsaturated Fat

6g
Cholesterol

12mg
Sodium

118mg
Carbohydrates

26g
Fiber

1g
Sugar

16g
Protein

3g
Nutrition values are automatically calculated by third-party software using global standards. Please note that values can vary based on product brands and different nutritional calculators. The values stated here are only for a basic reference and are not evaluated by medical or nutritional professionals.