Easy homemade refrigerator salsa you can make in no time. Adjust the spice of your homemade salsa by using jalapenos, or create a smoky mild flavor with smoked hatch green chiles.
We eat alot of Mexican and Southwestern dishes in our family and go through a lot of salsa. Luckily in the summer we grow many of the ingredients needed to make salsa from scratch, so I'm excited to share our family recipe for homemade salsa with you!
Equipment needed for Homemade Salsa
There isn't a whole lot of special equipment needed to make homemade salsa, but a few tools will definitely help.
To make refrigerator salsa from scratch, you'll need:
What tomatoes are best for making salsa
Generally speaking, the best tomatoes for homemade salsa recipes are paste tomatoes. Roma tomatoes are great for making homemade salsa because they have a rich flavor, and they tend to have fewer seeds and less juice.
However, I am a firm believer that you can use just about any tomato you wish to make homemade salsa. I like to use some of my heirloom tomatoes from my garden in homemade salsa because we prefer the extra juice. If you like a thicker, chunkier salsa, then stick with the paste tomatoes like Roma.
What is in homemade salsa
This simple salsa recipe doesn't require a ton of ingredients and can be adjusted to your own taste preferences. You'll need:
Several ripe tomatoes
2-3 jalapenos
1 large red onion
1 bunch of cilantro
2 limes
salt
garlic (cloves or powder)
cumin powder
How to make homemade salsa
Start by roughly chopping the tomatoes, red onion and jalapeno. For an extra spicy homemade salsa, you can leave the seeds and membranes in. If you'd like just a little bit of spice, omit the seeds and membranes. For no spice, use a mild pepper or no peppers at all.
Place the chopped up vegetables in the bowl of a food processor.
Give the food processor a few pulses to chop the vegetables a little further. You don't want to over process at this step.
Next, add in a handful or two of cilantro to your taste preference. We love cilantro in our home, but some don't like the taste. If this is you, feel free to omit it. If you have a lot of leftover cilantro, read all about how I keep it fresh to last longer.
Add in the salt, garlic cloves (or powder), and the juice from 2 limes.
Process until you reach the desired consistency you prefer for homemade salsa. We like our salsa to be a bit less chunky than some.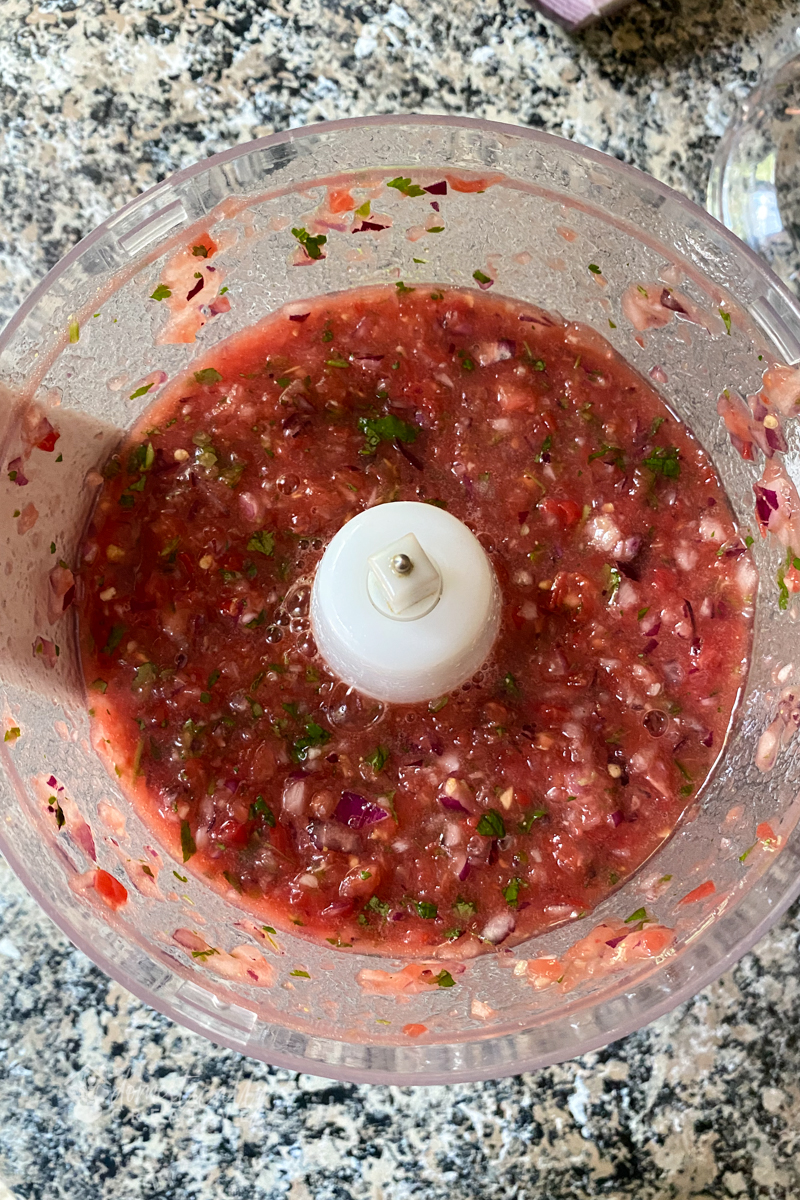 This homemade salsa recipe makes about 2 quart mason jars full. Store the salsa jars in the refrigerator with a tight lid and you'll have fresh refrigerator salsa that is good for 2-3 weeks. Ours usually doesn't last that long though!
We love using fresh tortilla chips from the grocery store bakery, but you can use any tortilla chip you'd prefer. If you need a low carb option, check out my recipe for Low Carb Tortilla Chips.
For some variation to this salsa, you may want to try smoking the tomatoes first. We have even used smoked hatch peppers that were smoked on our pit boss for about 1.5 hours. It added such a great flavor to the salsa! Don't be afraid to get creative!
Other recipes to enjoy with this homemade salsa recipe
Don't forget to pin it!
Homemade Salsa
Yield:
2 quart jars or 4 pint jars
Inactive Time:
10 minutes
This recipe for homemade salsa only requires a few ingredients and a food processor. Make it as spicy as you'd like by adding jalapenos or even switch it up with some smoked hatch chiles. Delicious to serve with chips or on tacos and quesadillas.
Ingredients
5 cups tomatoes (roma for the best flavor)
1 red onion
2 Jalapenos, seeds removed (optional for heat)
Cilantro to taste
Salt to taste
Juice from 2 limes
1 tsp cumin powder
2 tsp garlic powder or 4-5 cloves
Instructions
Roughly chop the tomatoes, onion and jalapeno and add them to the bowl of a food processor.
Pulse in the food processor a few times to get the vegetables diced.
Add in cilantro, garlic, salt, cumin and juice from limes.
Pulse until everything is mixed and chopped to your desired consistency.
Give the salsa a taste to see if more salt or cilantro is needed to your preference.
Spoon the homemade salsa into 2 quart jars or 4 pint jars.
Keep the jars refrigerated and eat within 2 weeks. d\
Notes
For a spicier homemade salsa, leave the jalapeno seeds and membranes in.
For less spice, decrease the amount of jalapeno, or don't add any at all.
For a nice smoky flavor, consider smoking the tomatoes first, or add in smoke hatch green chiles.
Recommended Products
As an Amazon Associate and member of other affiliate programs, I earn from qualifying purchases made by clicking some links. I only recommend products I use personally.
Nutrition Information
Yield

8
Serving Size

1 cup
Amount Per Serving
Calories

49
Total Fat

0g
Saturated Fat

0g
Trans Fat

0g
Unsaturated Fat

0g
Cholesterol

0mg
Sodium

100mg
Carbohydrates

12g
Fiber

2g
Sugar

7g
Protein

1g
Nutrition values are automatically calculated by third-party software using global standards. Please note that values can vary based on product brands and different nutritional calculators. The values stated here are only for a basic reference and are not evaluated by medical or nutritional professionals.