Easy Oven Roasted Broccoli and Cauliflower
Oven roasted broccoli and cauliflower makes the perfect vegetable side dish to any meal, and it only requires a handful of simple ingredients.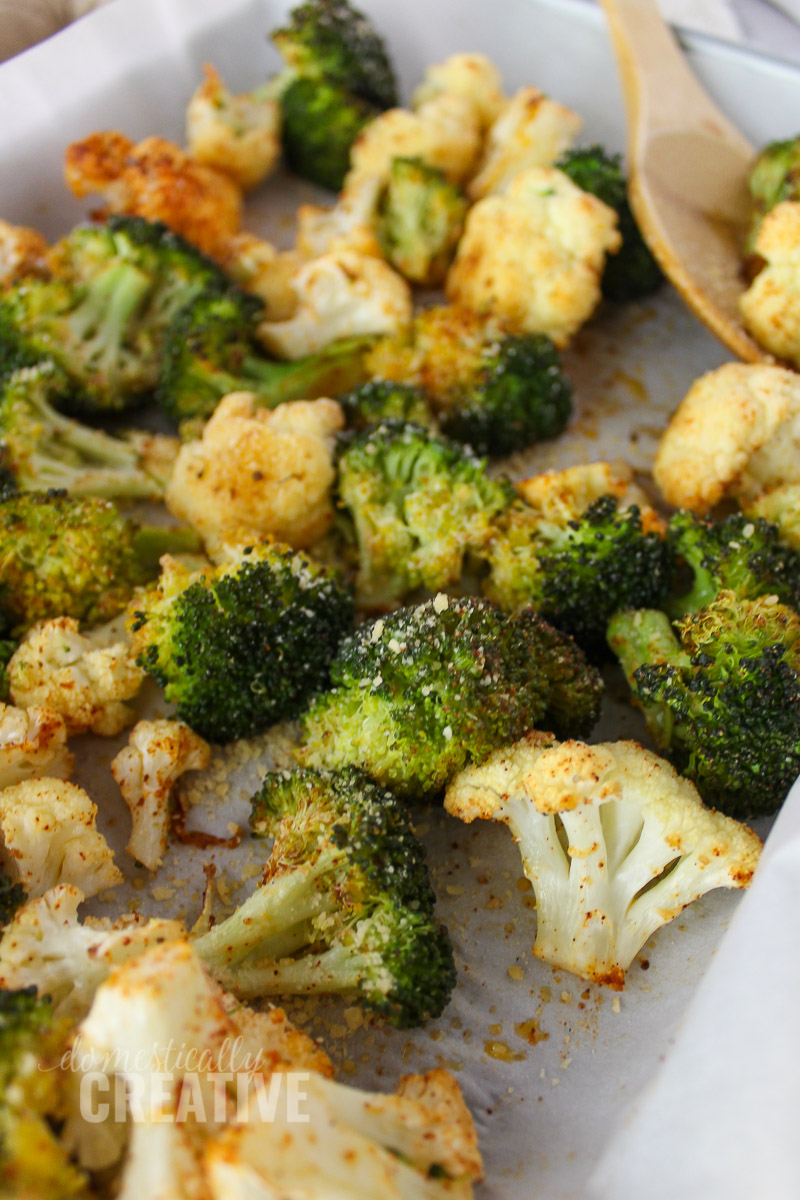 Sticking with a low-carb diet means we eat so much broccoli and cauliflower in our house. We seriously go through a whole head of cauliflower and at least 2 bunches of broccoli a week. Yes, you read that right–a week!
Because we eat so much of the stuff, I needed an easy way to prepare it, that isn't just your boring run of the mill steamed version. Not that there's anything wrong with steamed broccoli and cauliflower, but after awhile of eating it over and over again it gets a little old!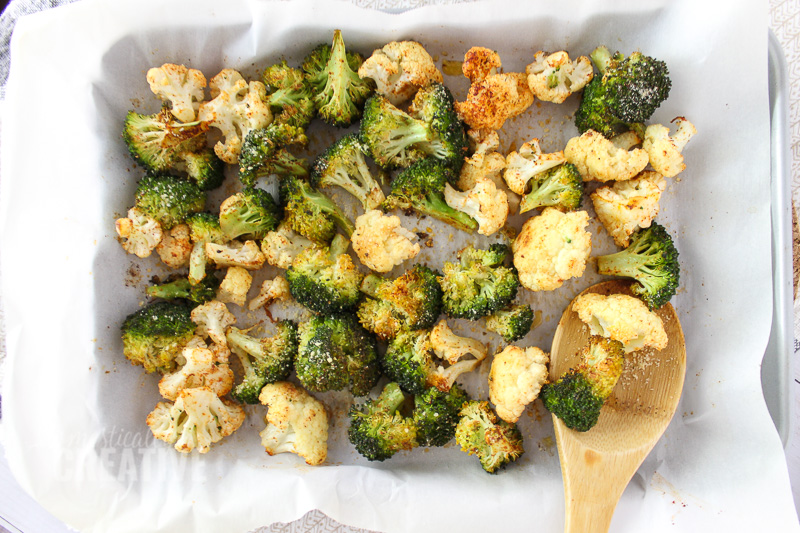 Oven roasted broccoli and cauliflower far from boring, and it's so easy to make! Just a few simple spices, some oil and you're set for a delicious side dish! You could even make this recipe as just broccoli or just cauliflower. It works out the same way.
The preparation is pretty similar to my oven roasted zucchini that I make quite often too. The blend of spices, mixed with oil and high oven temperature really brings out the flavor of the vegetables and makes them so tender and delicious.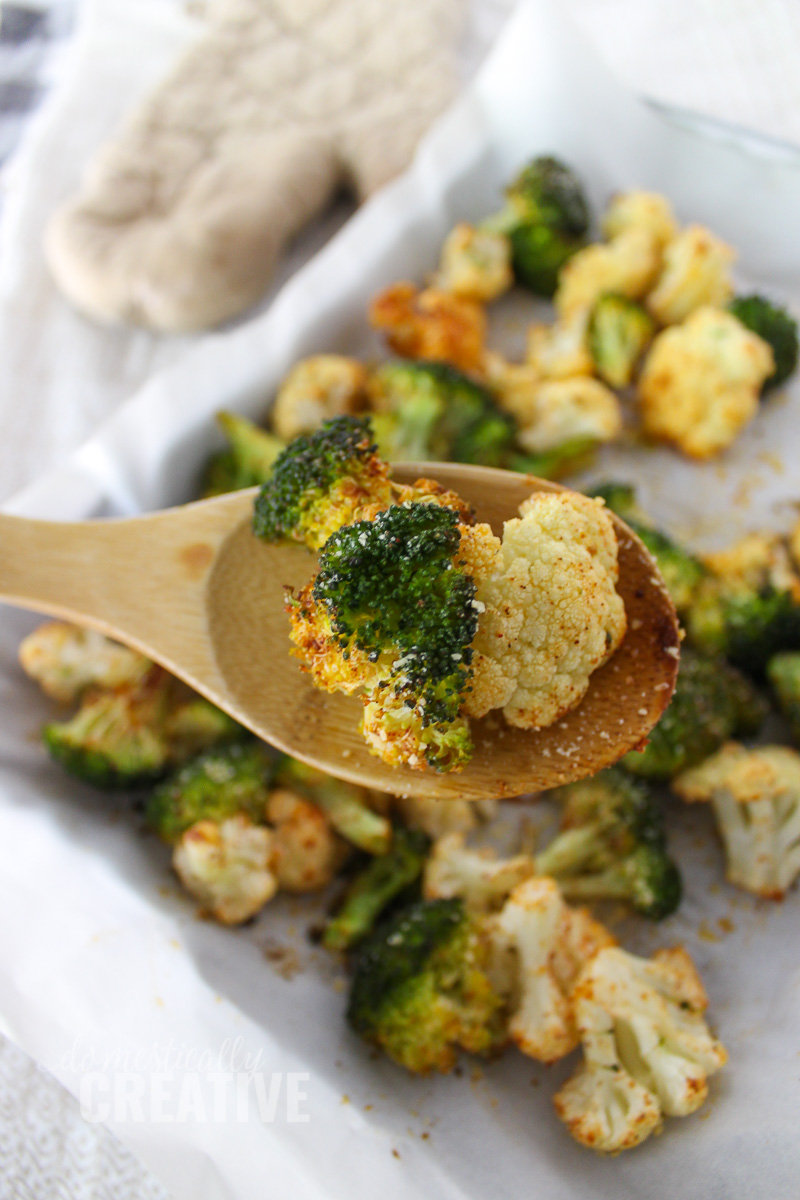 How to roast broccoli and cauliflower in the oven
First, heat the oven to 400 degrees. You'll need this high of temperature to roast the veggies to get a nice crisp/crunch! Add parchment paper to a baking sheet for easy cleanup.
Next, use a medium bowl to put the cut up broccoli and cauliflower florets into. Toss them in some olive oil to make sure they are fully coated. Just a light coating! They don't need to swim in the oil.
Then, sprinkle in your favorite seasonings and toss the broccoli and cauliflower florets around to coat. You could also use a plastic bag for these steps a la Shake and Bake style!
How Long to Roast Broccoli and Cauliflower in the Oven
Roast broccoli and cauliflower at 400 degrees for 20 minutes or until the broccoli and cauliflower are fork tender. When they are finished, remove from oven and sprinkle on some fresh grated Parmesan cheese.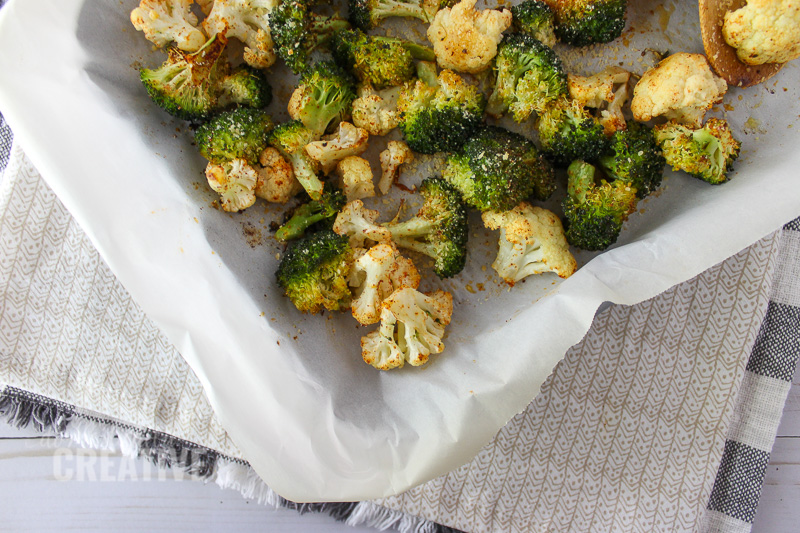 What to serve with Roasted Cauliflower and Broccoli
Oven roasted broccoli and cauliflower goes with just about any entree. Here are some of our favorite recipes to serve this roasted vegetable side dish with: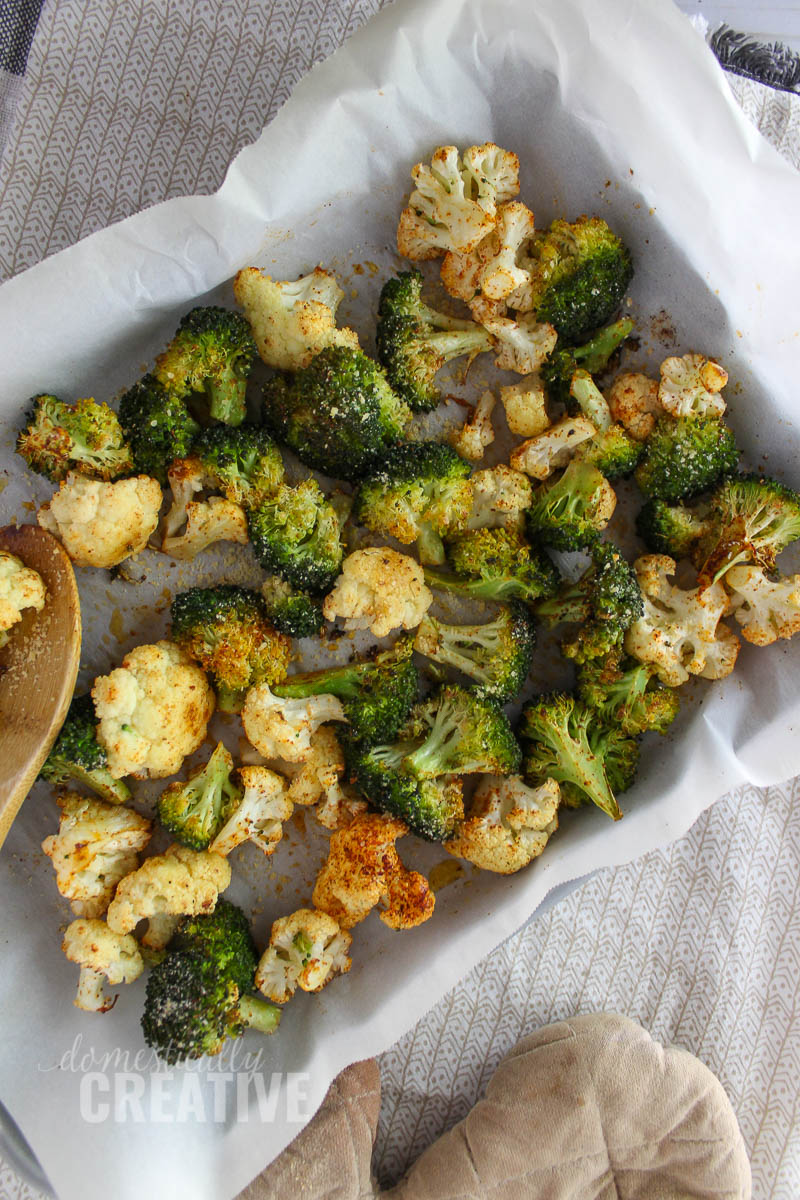 More delicious vegetable side dish recipes:
Pin it for later!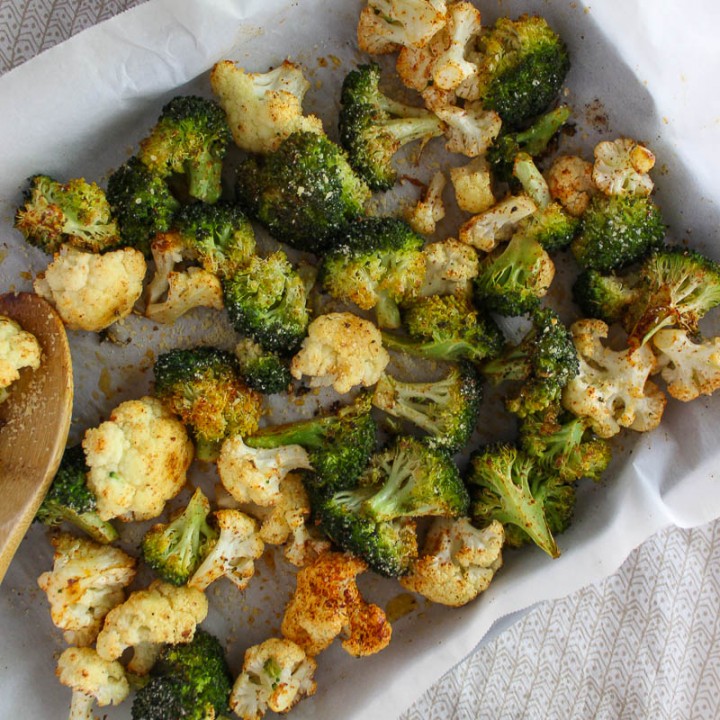 Roasted Broccoli and Cauliflower
Simple recipe for roasted broccoli and cauliflower that makes a great addition to any meal.
Ingredients
2 1/2 cups Broccoli, chopped
2 1/2 cups cauliflower, chopped
2 tbsp olive oil
1 tsp garlic powder
1/2 tsp salt
1/2 tsp pepper
1 tsp smoked paprika
1/4 cup parmesan cheese
Instructions
Preheat oven to 400 degrees
Line a baking sheet with parchment paper and set aside
In a large bowl, toss broccoli and cauliflower in olive oil and seasonings.
Place on prepared baking sheet, and place in the oven.
Bake for 20 minutes or until broccoli and cauliflower are fork tender.
Remove from oven and top with Parmesan cheese.
Nutrition Information
Yield

4
Serving Size

4 Servings
Amount Per Serving
Calories

144
Total Fat

9g
Saturated Fat

2g
Trans Fat

0g
Unsaturated Fat

7g
Cholesterol

5mg
Sodium

747mg
Carbohydrates

12g
Fiber

5g
Sugar

3g
Protein

6g