Cheesy Cauliflower Casserole | Low-Carb Cauliflower Mac and Cheese
You're going to love this low carb alternative to macaroni and cheese! This cheesy cauliflower casserole is so full of cheesy goodness and SO satisfyingly easy to make that you won't miss the original.
If you've been reading for a bit, you know my husband and I recently embarked on a new diet and lifestyle change. So far with the Ketogenic diet we have lost over 60 pounds combined since April. Pretty amazing right?
Well with any diet, there are certain cravings that can be enough to break some people. I would probably be one of those people if I didn't see first hand the results from this way of eating.
So what's on my list of things I miss? First off, bread. Like fresh, hot out of the oven with a crunchy crust, slathered in butter, bread. Excuse me while I wipe the drool from my chin.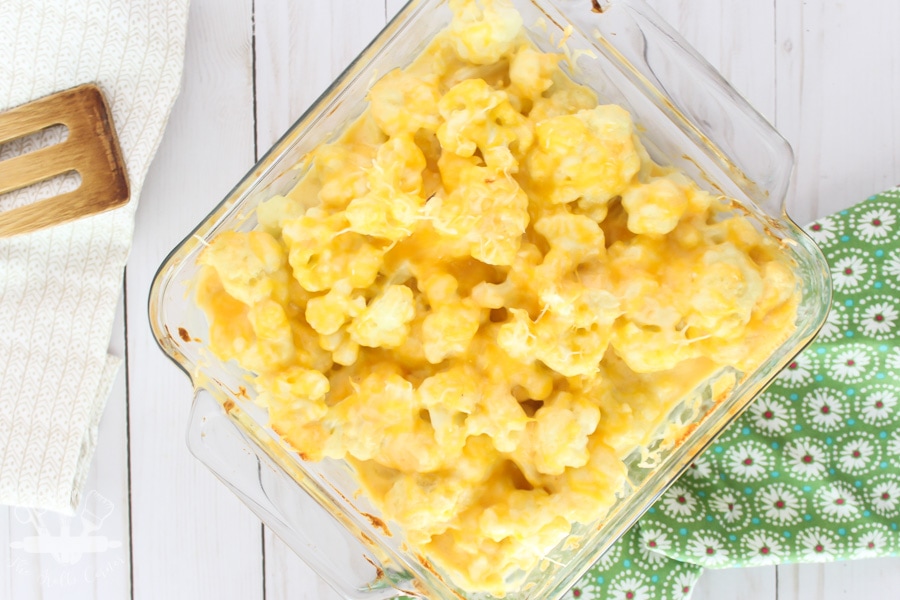 Something else I miss? Macaroni and cheese. I love mac and cheese, especially the homemade, topped with breadcrumbs, loaded with cheese kind. But let's be honest, right now I'd settle for the cheap blue box with powdered "cheese" kind and I would happily devour the entire box without remorse. Ok, maybe just a tiny bit of remorse.
But how do you make a low carb version of mac and cheese? With my favorite versatile veggie cauliflower of course! Who needs the blue box when you have this low carb cheesy cauliflower casserole instead?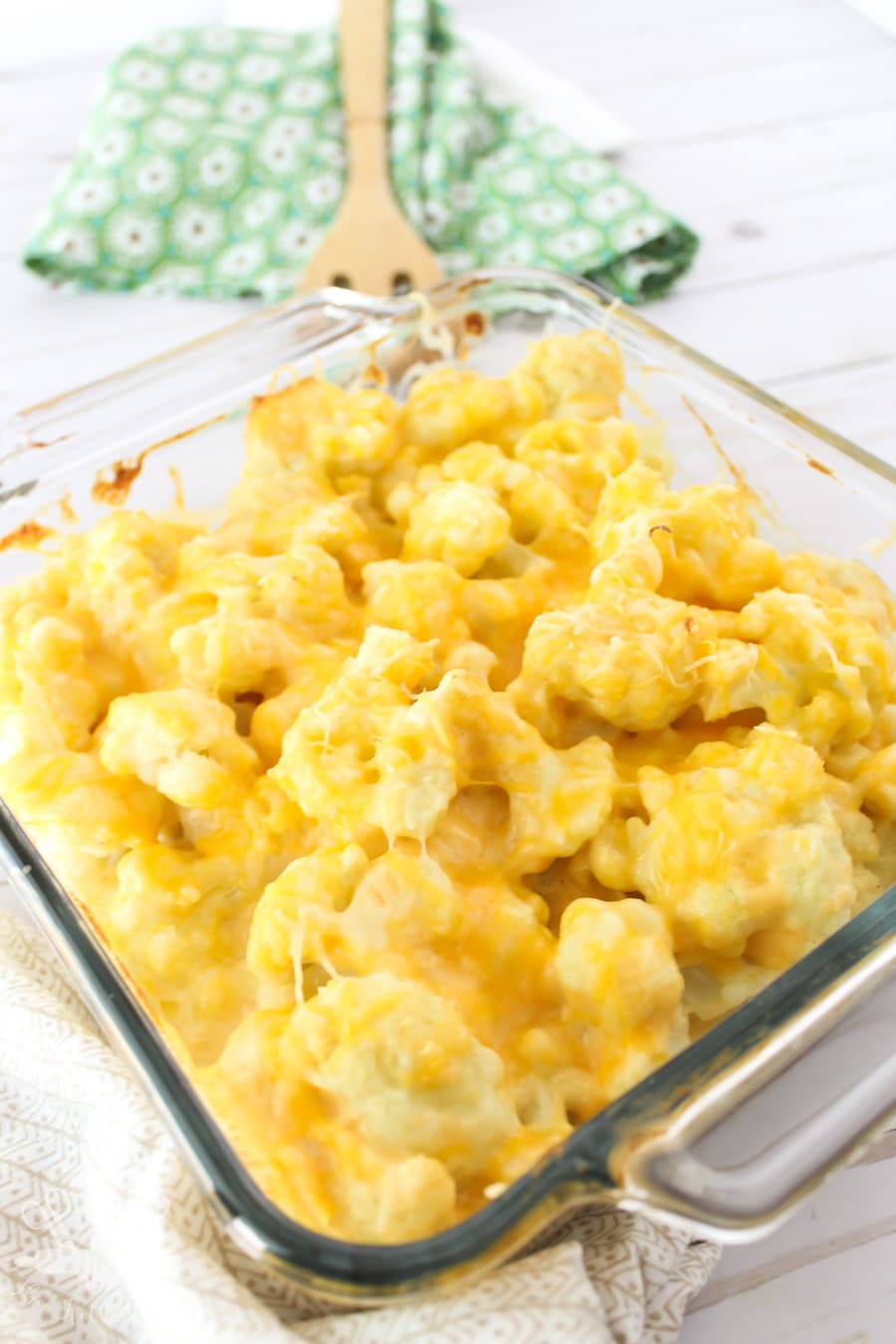 Even if you aren't following a low-carb or keto diet, you can still enjoy this cheesy cauliflower casserole. It's a great way to jazz up the everyday boring side dish and with only a few ingredients, it couldn't get any easier make. Go ahead and top it with crunchy bread crumbs or even crackers to give it a little crunch. I'll look the other way.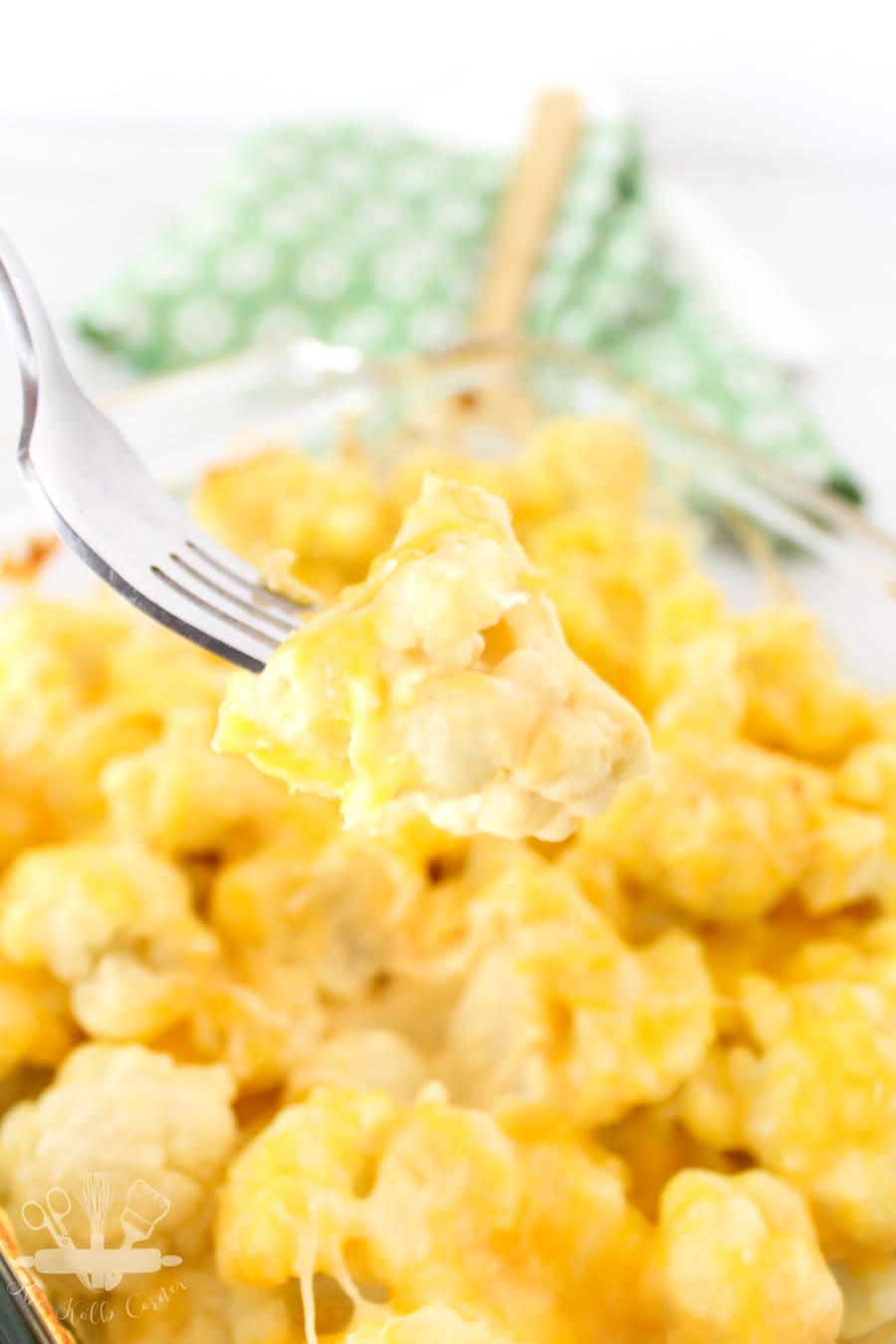 Tips for making Cheesy Cauliflower Casserole, AKA Low Carb Cauliflower Mac and Cheese
Make sure you drain off as much water as you can from the cauliflower after boiling. One reader even suggests roasting the cauliflower instead of boiling for extra flavor and to prevent the sauce from becoming runny from excess water. GREAT IDEA!
You can omit the mustard if you don't like the flavor. I prefer to use a dijon or spicy mustard for extra flavor and kick, but regular yellow mustard works fine too. You could also use powdered mustard in a pinch.
Make sure to continuously stir the heavy cream when bringing it to a boil to prevent scalding and souring. It's easy to scald heavy cream!
After the cheesy cauliflower casserole has cooked all the way, turn on the broiler for an extra bubbly topping. A few readers have suggested adding a topping of crushed pork rinds for an added crunch! Perfect!
Let the low carb cauliflower mac and cheese stand for about 5-10 minutes after baking to let the sauce get really thick.
More low carb recipes you'll enjoy:
Don't forget to pin it!
Cheesy Cauliflower Casserole | Low-Carb, Keto
Loaded to the brim with gooey, cheesy goodness, this cheesy cauliflower casserole is the perfect low-carb and keto friendly macaroni and cheese substitute.
Ingredients
1 whole head of cauliflower, , cut into florets
1/2 tsp salt
1 cup heavy cream
2 oz cream cheese
2 tsp dijon mustard
2 cups shredded cheddar cheese, , divided
salt and pepper to taste
1 tsp garlic powder
Instructions
Preheat oven to 375 and grease a 9x9 glass baking dish
Bring large pot of water to a boil. Add cauliflower and 1/2 tsp salt and cook until cauliflower is just fork tender. Do not over cook.
Drain cauliflower well and place back in pot. Set aside.
In a small sauce pan, bring cream to a simmer, stirring well to avoid scorching.
Whisk in cream cheese and mustard and stir until mixture thickens.
Remove from heat and whisk in 1 cup shredded cheese and seasonings.
Pour over cauliflower and gently mix to combine.
Place cauliflower in prepared dish. Sprinkle with remaining cheese and bake until cheese is bubbly and slightly browned, or about 15 minutes.
For an extra bubbly topping, broil on high for 2-3 minutes but be sure to watch carefully
Nutrition Information
Yield

6
Serving Size

6 servings
Amount Per Serving
Calories

344
Total Fat

31g
Saturated Fat

18g
Trans Fat

1g
Unsaturated Fat

10g
Cholesterol

92mg
Sodium

589mg
Carbohydrates

7g
Net Carbohydrates

5g
Fiber

2g
Sugar

4g
Protein

12g