How to Create a Typography Accent Wall
Learn the steps to create an inspiring typography accent wall for your home office to get you motivated and keep you inspired!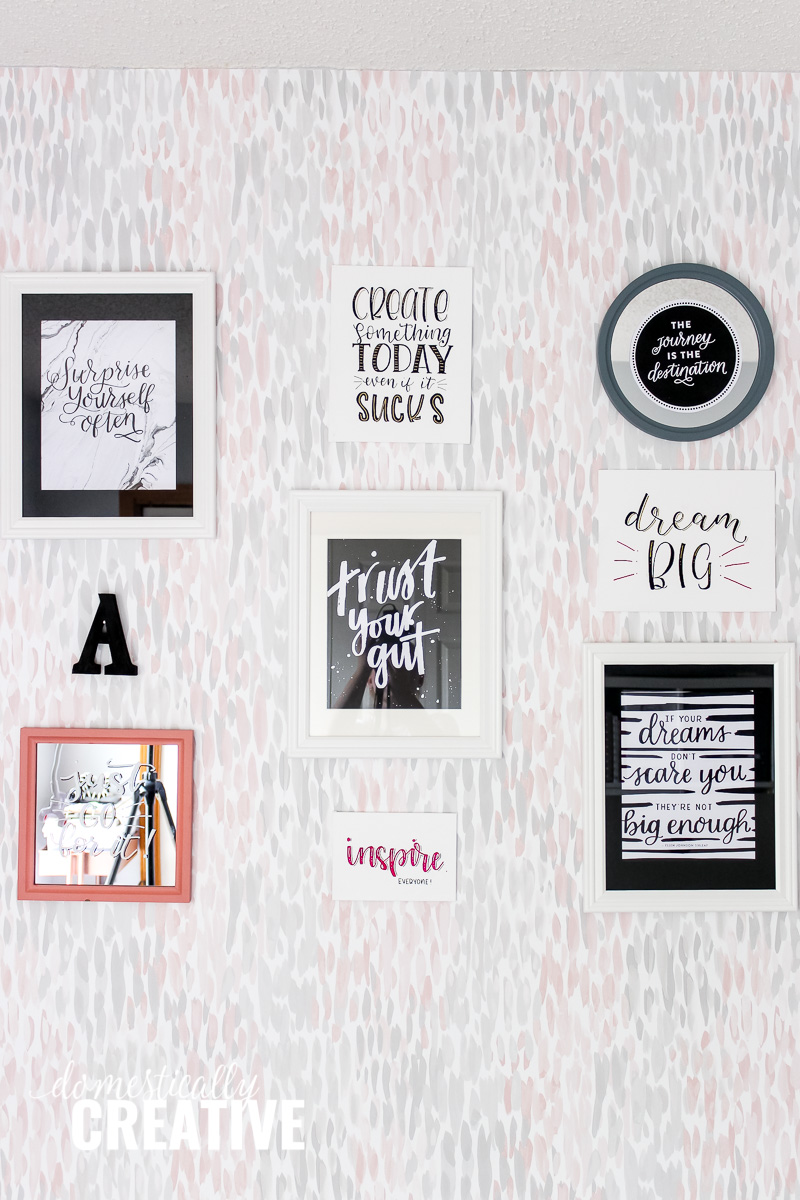 I've been working for the last few weeks on my home office makeover and I am almost finished! Last week I shared a fun DIY pegboard project and explained how I styled it to make it both pretty and functional. This week I am sharing my fun inspiration wall and telling you how to create a typography accent wall of your own!
How to Create an Inspiring Typography Accent Wall
Convey a mood
Do you want bold colors and strong typefaces? Or do you want the feel to be more subtle and feminine? Since I have a busy wallpaper as the background on my typography accent wall, I wanted to keep the artwork simple and in a mostly monochromatic color scheme.
Decide on quotes
Do you want funny or sarcastic quotes, inspirational or something else? While I enjoy a snarky, sarcastic comment just as much as the next person, for my feminine typography accent wall, I decided to stick with inspirational and motivational quotes. When I look at this inspirational typography wall, I want to be motivated and remind myself of what I'm working towards.
Combine different shapes/sizes of artwork
To give your typography accent wall more interest, combine different sizes and shapes of artwork. In mine you can see that I've used a few frames, different shaped mirrors and just plain canvas boards. You can even add in an initial letter like I have (or a few of them).
Create a template before hanging on the wall
This one is important for me, because I have the hardest time settling on a layout for accent or gallery walls. The easiest way to test different layouts without putting a bunch of holes in your wall is to arrange everyone on the floor. Make sure you snap a picture of each layout to refer back to! Once you have the layout set, you can cut pieces of paper to the sizes of each art piece and place them on the wall as a template. This will make it easier to get everything level and evenly spaced on the wall.
How I created my typography accent wall
For my own inspirational accent wall, I stuck with a mostly monochromatic color scheme because the wallpaper is a bit busy. I didn't want the art pieces and the wallpaper competing with each other! I also stuck with inspirational and motivational quotes to help inspire me when I am working from home. This wall is directly across from my computer and I see it any time I am working.
The three larger white frames came from Michael's, and I decided to place inserts from an old Happy Planner in them. All of The Happy Planners have fun artwork and inspirational typography so I decided to reuse them as artwork for my accent wall. They used to be the monthly calendar tabs, so I simply cut the punch holes and tabs off and stuck them in a frame. Easy and SO cheap! Plus the black and white fits seamlessly into my feminine home office.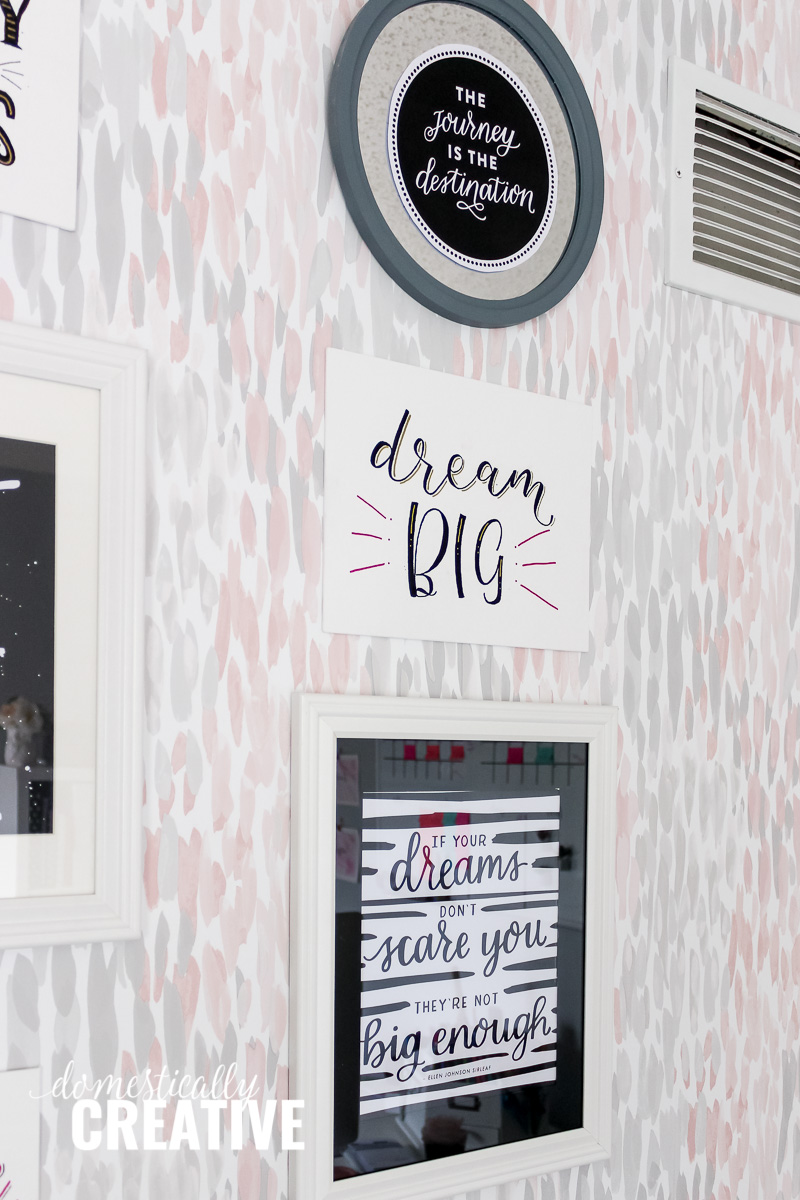 As for the other pieces, the two small mirrors came from the Target Dollar Spot a few months back. I thought it would be fun to hand letter an inspirational quote onto them to fit into my typography accent wall. While I did that on the blush pink mirror, the rounded gray mirror I decided to use another piece from the Happy Planner. I just loved the quote and thought it fit in perfectly!
The three canvas pieces are actually ones I lettered myself, which was a lot of fun! If you want to learn more about the art of hand and brush lettering, then make sure you check out my blog By Amanda Kay for more tips and inspiration.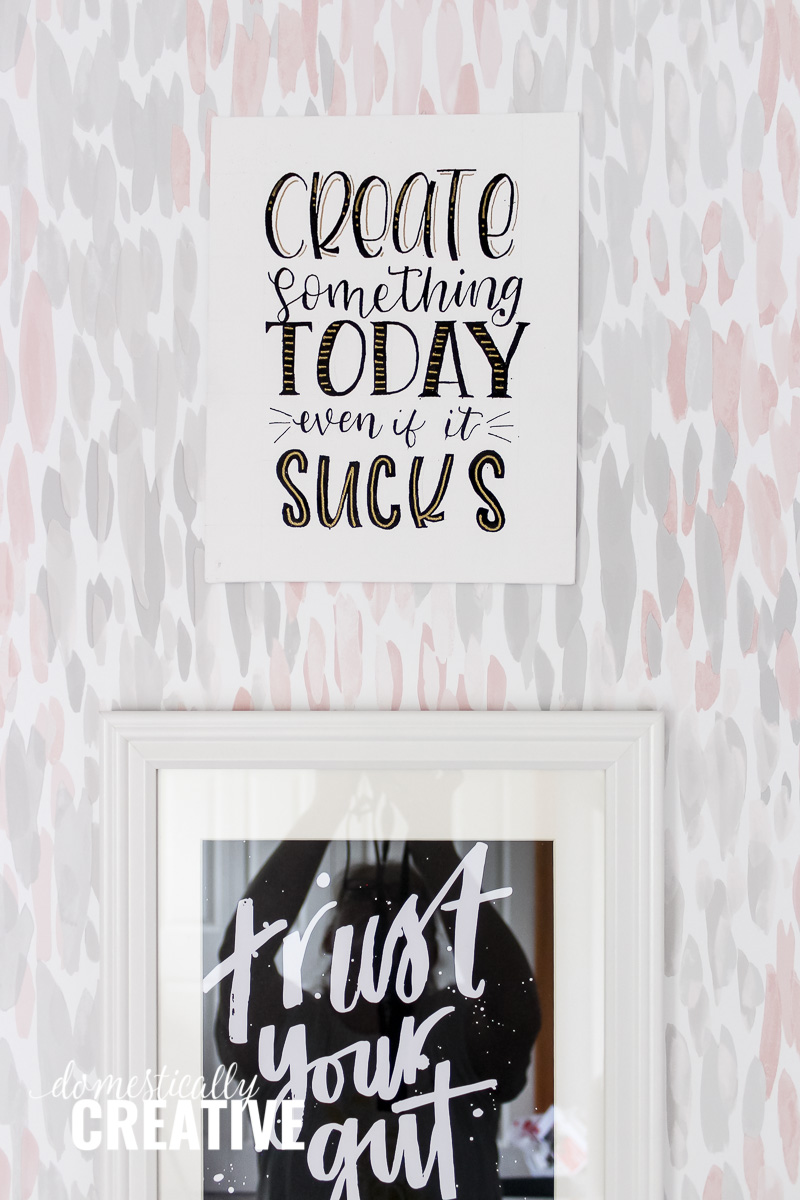 I'm so happy with how this typography wall turned out and I can't wait to show you the final results of my home office makeover next week!
More home office inspiration:
Love this? Pin it!