Homemade, delicious and easy to make, these sloppy joes are perfect for busy weeknights or for when you need to get dinner on the table fast. There are only a few ingredients needed that you probably already have in your pantry plus very little prep and cook time. Really you can't ask for an easier meal.
Growing up I used to hate when my mom made sloppy joes, but only because of the simple fact that they were sloppy. It had absolutely nothing to do with the flavor, I just simply hated having it drip all over the place.
As an adult though? I can totally appreciate all the reasons my mom would make these. They are cheap, they are fast, they are delicious, and they are easy to make. Are they sloppy? Yes. But I'm a much more careful eater as an adult. Ok, that last statement might not be 100% truthful, considering over the weekend my husband and I went out to eat and I spilled tomatillo sauce all down my shirt.
I will also admit, that up until a few years ago I truthfully had no idea that people made homemade sloppy joes. I always thought if you wanted sloppy joes, you had to buy the store-bought sauce. That is so NOT true.
What is true though, is homemade sloppy joes are actually better than using the store-bought stuff! No joke. And would you believe that sloppy joes from scratch are incredibly easy to make? You probably have every single ingredient already in your fridge and pantry.
How to Make Homemade Sloppy Joes
You'll need some ground beef, onion, garlic (cloves or powdered!), a small can of tomato sauce, some tomato paste, seasonings and brown sugar. Putting everything together is simple and you'll have homemade sloppy joes in no time.
First, you'll need to brown the ground beef. Cook it in butter for the most flavor, but you could also use olive oil for a lighter option. Make sure to saute onion and garlic with the beef while it cooks for the most flavor. When it's finished cooking, drain off the excess grease.
While the meat cooks, combine the tomato sauce, paste, mustard, sugar, seasonings and Worcestershire sauce. Bring everything to a low boil then reduce heat and let the sloppy joes sauce simmer for a few minutes. It should thicken and reduce some.
Once the meat is cooked, extra fat is drained off, and the sloppy joes sauce is done, combine everything together! Now you have some yummy homemade sloppy joes ready to go on a buttered hamburger bun.
What goes with homemade sloppy joes?
We like to eat ours with a slice of onion and a dill pickle. Here are some side dish options that go well with homemade sloppy joes too.
More EASY dinner ideas:
Don't forget to pin it!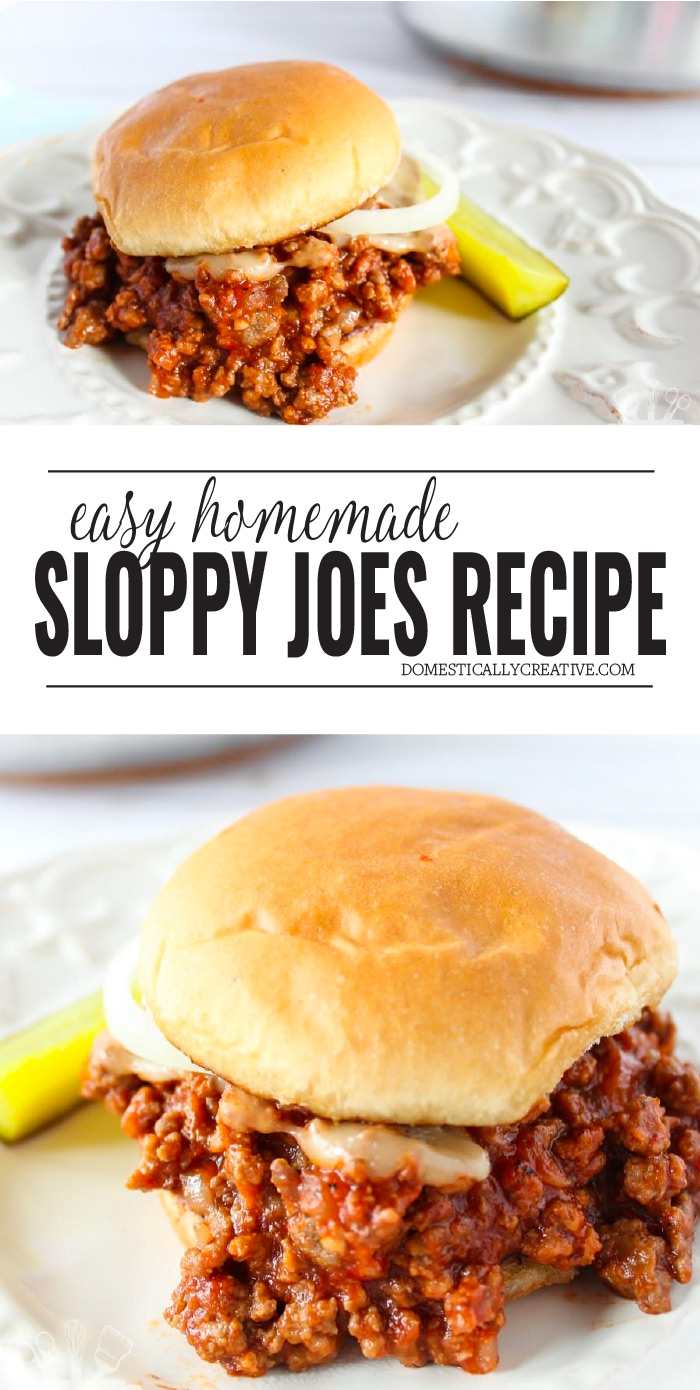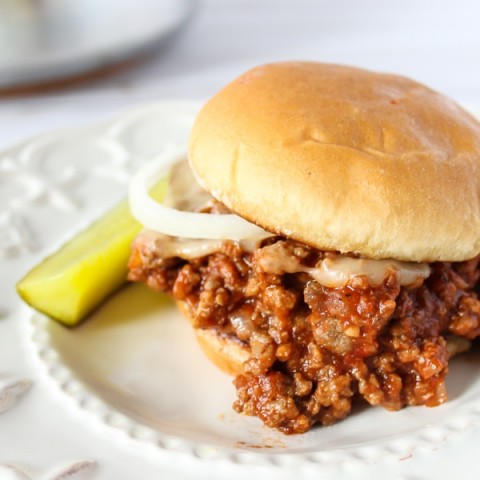 Easy Homemade Sloppy Joes
Yield:
4 over-filled sandwiches
An easy homemade sloppy joe recipe that requires little prep and cook time. Perfect for busy weeknights!
Ingredients
1 tbsp butter, (or olive oil)
1 pound ground beef
1/2 cup onion, , finely diced
4 cloves garlic, , minced
8 oz can tomato sauce
2 tbsp tomato paste
1/4 cup brown sugar
2 tbsp Worcestershire sauce
2 tsp yellow mustard
1/2 tsp onion powder
1/4 tsp paprika
1/2 tsp each salt and pepper
1/2 tsp red pepper flakes, (optional)
4 hamburger buns
Instructions
In a large saute pan, heat butter over medium low heat. Add ground beef, onion and garlic and cook until beef is completely cooked through. Drain off excess fat.
While meat is cooking, whisk together tomato sauce, paste, brown sugar, Worcestershire sauce, yellow mustard and seasonings in a medium bowl.
Pour mixture over meat and mix in well. Bring pan to a boil, then reduce heat and simmer for a few minutes until heated through.
Serve with pickles, onion and cheese if desired on hamburger buns.
Optional--brown hamburger buns in butter on a hot pan before serving for extra flavor
Nutrition Information
Yield

4
Serving Size

4 sandwiches
Amount Per Serving
Calories

547
Total Fat

25g
Saturated Fat

10g
Trans Fat

1g
Unsaturated Fat

11g
Cholesterol

109mg
Sodium

767mg
Carbohydrates

44g
Fiber

2g
Sugar

19g
Protein

37g