How to Eat Low Carb While Camping
This post may contain affiliate links for your convenience. Read our disclosure policy.
With a little bit of thought, preparation and these tips and food ideas, you can easily learn how to eat low carb while camping.
You've probably noticed it's been rather quiet around the blog lately and that's because my husband and I recently got back from a 10 day camping adventure to Colorado and Wyoming. We've been back for over a week now, but I'm still having a bit of trouble getting myself back into a routine. I keep finding myself day dreaming about our trip, and thinking about how amazing the views and experiences were.
So much so that we are already planning next year's camping trip(s). We know we will be going to Yellowstone, and trying to fit in a few more of the states we need to tick off our visited list. We may even try to venture into Canada!
So with all of our camping trips we have planned, and the trips we now have under our belts (I'm feeling like a seasoned pro) I thought it was time to address a question I actually get asked a lot. How do we eat low carb while camping? Is it hard and does it take a lot of time?
The short answer is no. It's not hard and it doesn't take a lot of time. However, it does help if you plan ahead. So I'm going to share with you just how we eat low carb while camping!
How to Eat Low Carb While Camping
Tips and Tricks
1) Have a big enough cooler
First off, let me start by saying we do have a travel trailer and bringing perishable food along for the trip isn't as big of a deal as it once was. We have a small (I'm talking dorm room sized) fridge that will run on both electricity and propane. Fortunately it does not use a ton of propane! For reference we ran it 5 out of our 10 days camping with only using 1/4 of our 20 gallon tank.
Bringing perishable food camping can be a little tricky, but can be done with a big enough cooler. Make sure you have one that will be big enough to hold everything that will need to keep cool plus a bag of ice. Also if you are bringing along a bunch of drinks, having a second cooler is always a good idea, or just put a few drinks in the cooler at once and replace them as you drink them. Make sure you change out the ice as it melts!
Check out this fun post to help your cooler keep ice longer from Diana Rambles.
2) Make a meal plan
Well sure I am known to be a pro when it comes to meal planning. Not because I'm some organized superstar, but more because I am constantly worried about what I'm going to be eating at any given time. Food is generally the first thing I think of in the mornings (after coffee of course) and the last thing I think about before bed. It is helpful though to have a clear, laid out plan of what you will be eating and what day when planning how to eat low carb while camping.
3) Prep as much food ahead as you can
I don't know about you, but bringing raw meat along for a camping trip kind of grosses me out. Even if it's in a sealed bag, water from melted ice always seems to find it's way in, and I worry about juices from raw meat leaking out. Maybe it's not really an issue but I try to avoid it at all costs. Instead, if I'm planning to have burgers, brats or even chicken I try to cook it all ahead of time and just worry about warming it up when it's time to eat.
Low Carb Camping Food Ideas
Low Carb Breakfast
Bacon and Eggs–Maybe this is a no brainer, but this is one of the easier low carb meals you can enjoy while camping. Pre-scramble the eggs and put them in a plastic bottle to make transporting the eggs easier. You could also buy a carton of eggs that are already scrambled too, but that convenience will cost you $$$.
We like to add onion, green pepper and cheese to our scrambled eggs. Cut up those veggies ahead of time and bring them in a small sealed storage bag. Precooked bacon also comes in handy for camping and can save some time cooking, but it isn't necessary. Regular bacon works just as well.
Protein Shakes–These can be a convenient breakfast or lunch option. We like to bulk ours up with either chia seeds or flax meal, and my hubby swears by adding a few freeze dried berries to his. Carrying a blender bottle with you makes mixing up a protein shake even easier! We have also used these Atkins Protein Shakes in a pinch and they are pretty tasty!
Read Also: My Favorite Low Carb Pantry Items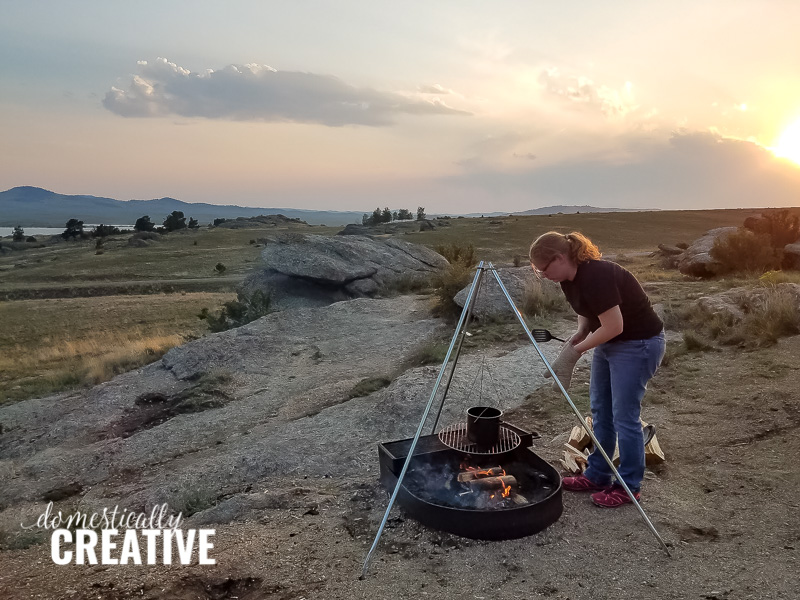 Low Carb Lunch Ideas
Bone Broth–This isn't something I've tried yet, but seems to be a pretty popular keto diet staple and would work with low carb too. Apparently the benefits are it replenishes your body of essential nutrients and works to keep you full. Many people swear by a cup of bone broth while doing a keto fast, but again, I haven't tried this so do your research
Lunchmeat Rolls–These are a great idea for lunches or if you just need a quick snack. Prepping them ahead of time can really cut down on the amount of cooler space they'll take up. Take a slice or two of your favorite lunch meat, spread some mayo and/or mustard on top, add a slice of cheese and pickle if you're feeling it. Then roll it up and you have an easy finger food for lunchtime!
Low Carb Wraps–Use a low carb tortilla to make a wrap! Use your favorite toppings, like ranch, chicken, lettuce and onion, to really make it your own. Make a bunch of shredded chicken in your Instant Pot ahead of time for chicken wraps!
Meat and cheese–This is seriously easy and can be quite filling! We also like to bring a bag of cheese curds, or cheese cubes to pop for a quick snack.
Dinner Ideas for Eating Low Carb
Hamburgers–If you feel like transporting raw meat for camping then hamburgers can be a great solution. Just trade the bun in on a lettuce wrap (or just eat it with a knife and fork!) and you've got a filling low carb dinner. Plus you don't necessarily need to cook them over a fire! If you've got a table top grill, or the campsite has one you are good to go. If you took my earlier advice, you could cook the burgers ahead of time and just warm them up over the fire.
Nachos–Ok this one may seem a little weird to include on a low carb list but hear me out. Trade out the traditional tortilla chips for PORK RINDS. Nope, I have not lost my mind it's actually delicious. We especially enjoy the hot and spicy kind from Aldi. You can also make Low Carb Tortilla Chips! To save even more time around the fire, cook the taco meat before leaving home. Warm the meat over the fire in a Dutch Oven, top with cheese, green onion, tomatoes, sour cream and salsa. Bam, easy delicious low carb dinner.
Hot dogs–While most people may think that you can only enjoy a hotdog with a bun that is definitely not the case. There are many different options to consider when it comes to hotdogs. You can still cook them over the campfire like normal, but maybe try wrapping them in bacon. Or, you could indulge a little and try topping your dogs with a small amount of bean free chili. I say small amount because even chili with no beans can still be higher in carb count. My husband and I like to do a few teaspoons of chili over of a hotdog, top it with cheese, onion and mustard and call it dinner. Sure, there's nothing too glamorous about it, but hey it's camping!
Brats–Just like hotdogs, you can skip the bun and still enjoy these with mustard, sugar free ketchup, and onion. Just eat with a fork and knife instead! They also make burger brats, which are brats but in patty form like a burger. You can easily enjoy these in a lettuce wrap!
Read Also: Low Carb Campfire Dinners
Low Carb Snack Ideas
There's something about sitting around a campfire that makes me want to snack! Ok, maybe I just like to snack all the time and a campfire has nothing to do with it. Either way, I like to stock up on these snack ideas at Aldi before any camping trip.
meat sticks
jerky
cheese sticks or cubes
cheese curds
mixed nuts
Peanuts
sunflower seeds
cut up vegetables and dip
pork rinds
Guacamole
Read Also: Low Carb Aldi Shopping List
Dessert Ideas
Who doesn't love the idea of making S'mores around the campfire? Well I have yet to run across or try to create a low carb s'mores recipe, so instead I bring along a batch of cookies. I get my sweets fix, and I don't have to feel bad about it. You can either try one of these low carb cookie options below, or check out Fat Snax keto friendly brownies, blondies and cookies. Grab the starter pack to try every flavor you won't be disappointed!
If you are looking for more camping ideas, be sure to follow my Camping Recipes, Tips and Fun Pinterest Board!
Love this? Pin it!