Sweet and creamy frozen peach yogurt is a great treat to cool down with in the Summer and a tasty way to use up an overabundance of peaches this season. Plus with only 4 ingredients, homemade frozen peach yogurt is easy enough for anyone to make.
When I was younger, I was a pretty picky eater. I hated anything with strange textures, such as beans, bread crusts, and lumpy mashed potatoes. My dad used to encourage me to eat foods I wouldn't normally by telling me they would make my hair curly. And what little girl didn't dream of long curly locks??
Now that I am an adult, I have long curly hair, thanks to good ol' genetics, and guess what? I hate it. What I wouldn't give for straight hair that you can wash and forget.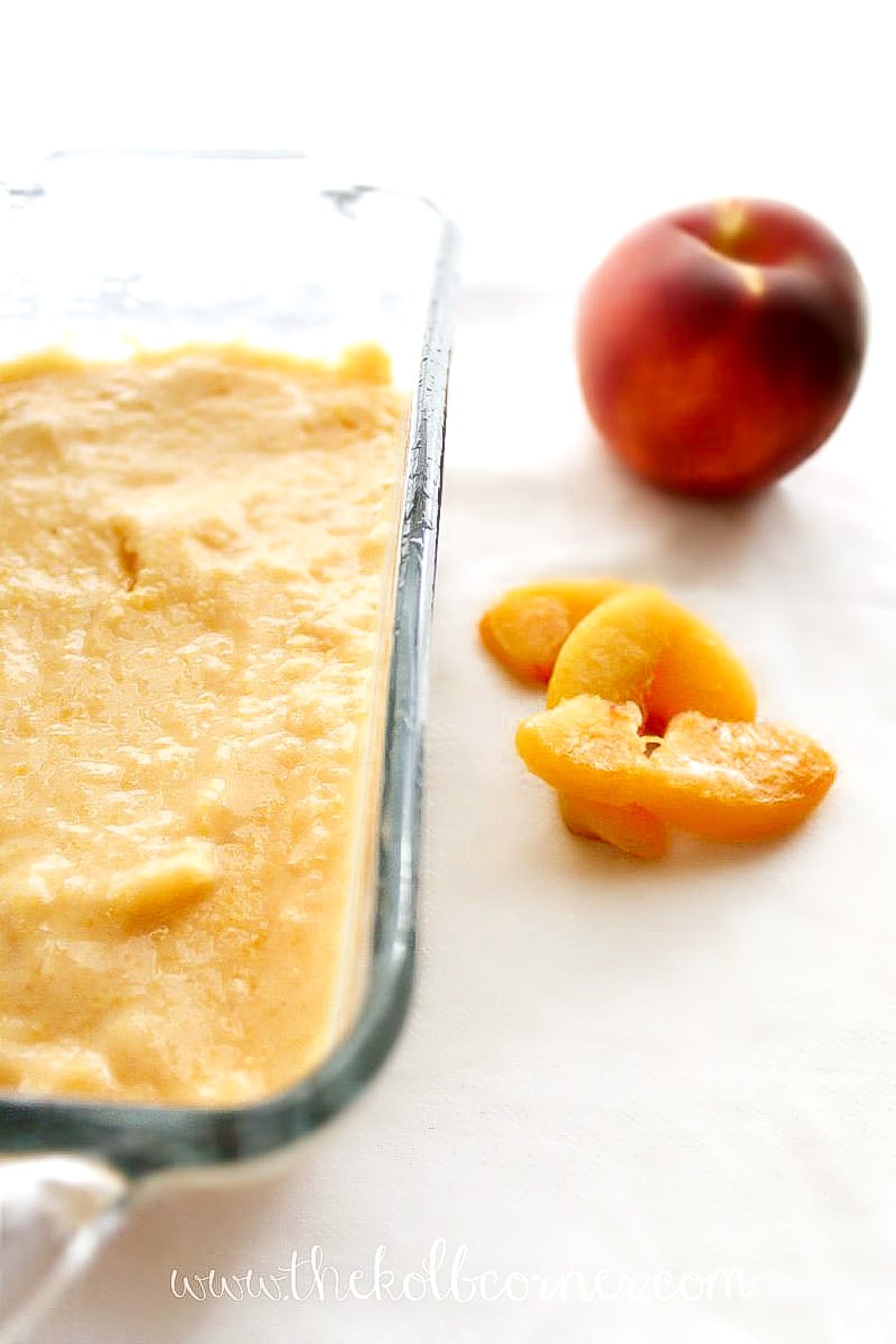 Why am I telling you this story? I absentmindedly bought quite a few peaches at the store last week, not taking into consideration that my husband would not be around to eat them. See, I am not a peach eater. Don't get me wrong, I love the flavor, but eating the fruit itself just makes my skin crawl. The texture of the skin and the fruit, gives me the heebie-jeebies, and activates my gag reflex. TMI? Sorry about that…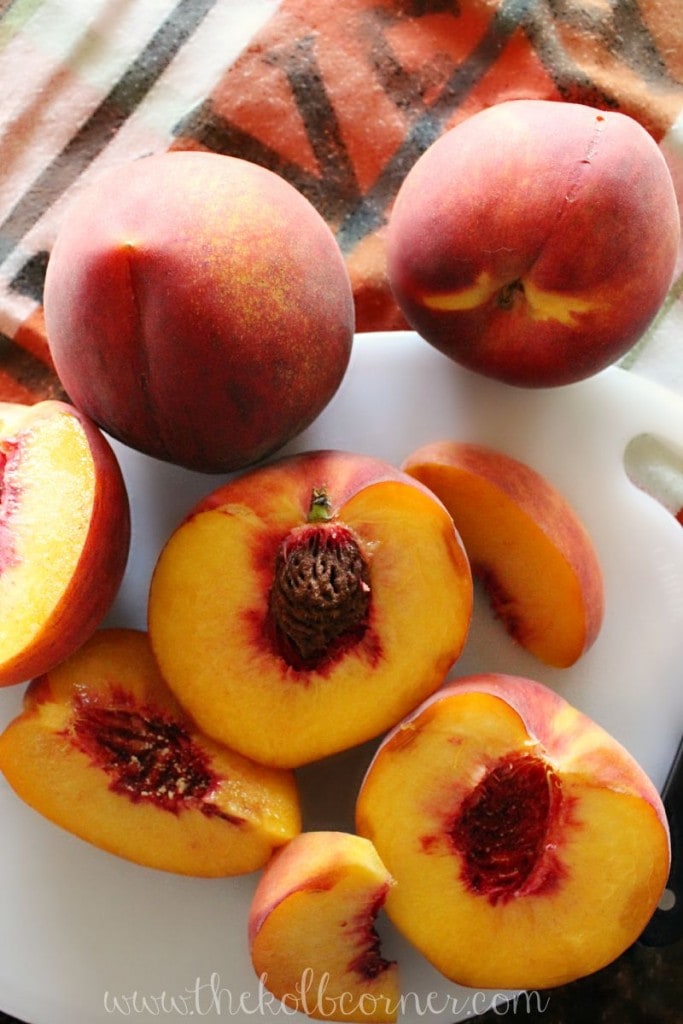 So now I was stuck with 5 peaches that were going to go bad very quickly. What's a girl to do? Whip up a batch of homemade frozen peach yogurt, of course. I love frozen yogurt in the summer! It's so much lighter, and healthier for you than ice cream, although I am known to indulge in that from time to time. Especially this no churn key lime pie ice cream.
To make this frozen peach yogurt, I simply added a few ingredients to a blender and pulsed until it resembled a creamy concoction. I did sweeten the mix with a little bit of honey to take away some of the tartness from the fruit and yogurt. It's the perfect blend of creamy, tart and sweet!

Summer may be winding down in most parts, but with the temperature still well into the triple digits in South Texas, this frozen peach yogurt really hits the spot!
More Summer Treats to enjoy!
Don't forget to Pin it!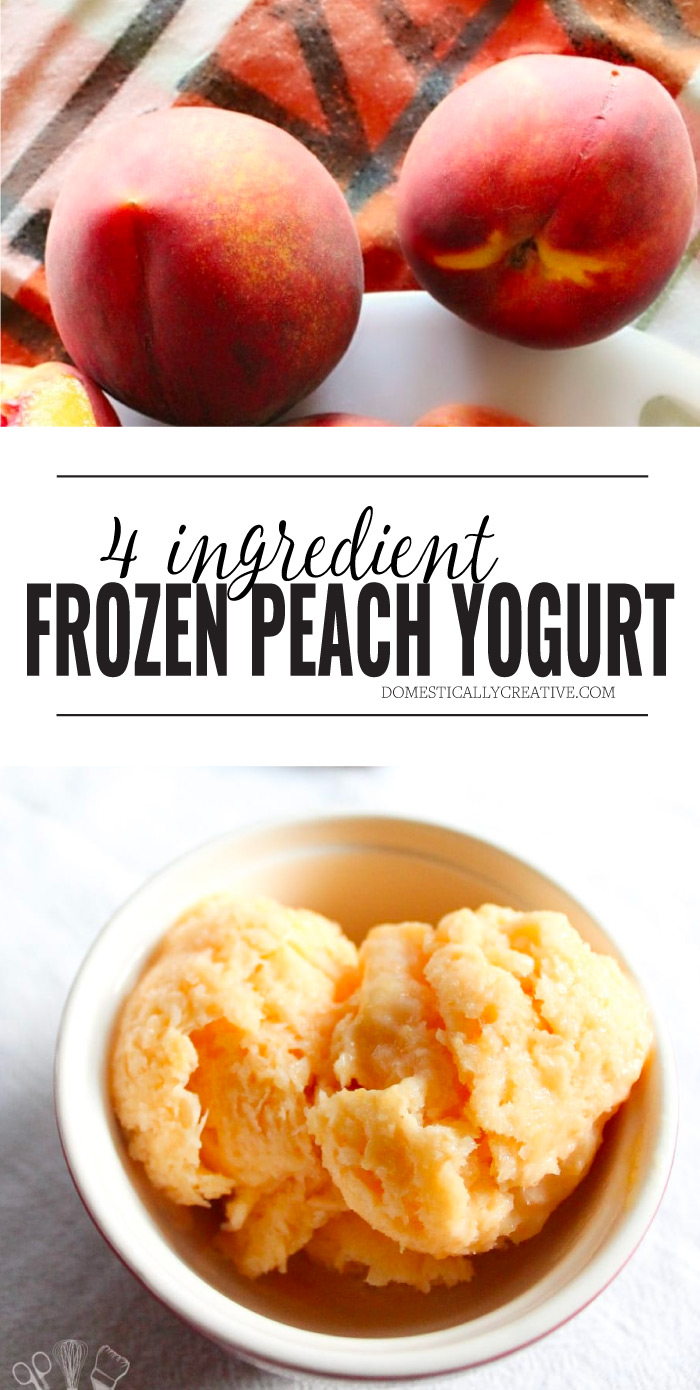 Frozen Peach Yogurt
Total Time:
2 hours
5 minutes
Ingredients
3 cups peaches, fresh or frozen
1/2 cup Vanilla yogurt
3 Tbsp honey
1 Tbsp lemon juice
Instructions
In a food processor, pulse ingredients until smooth.
Spread into a freezer safe container.
Freeze for 2 hours before serving.
Nutrition Information
Serving Size

1 grams
Amount Per Serving
Unsaturated Fat

0g