Low Carb Lemon Cookies | Sugar Free Low Carb Dessert
An easy recipe for a sugar-free low carb dessert! These low carb lemon cookies are perfectly chewy and lemony to cure those cravings for sweets.
If you're living a low carb lifestyle but still craving a low carb dessert from time to time then you need to try this easy recipe for low carb lemon cookies! The secret is in the sugar-free lemon pudding mix. Not only does it give these sugar-free cookies a boost of flavor, but it makes them so soft and chewy! Perfect for curbing those sweets cravings too without packing on the carbs. If you like these low carb lemon cookies, check out the base recipe for low carb pudding cookies.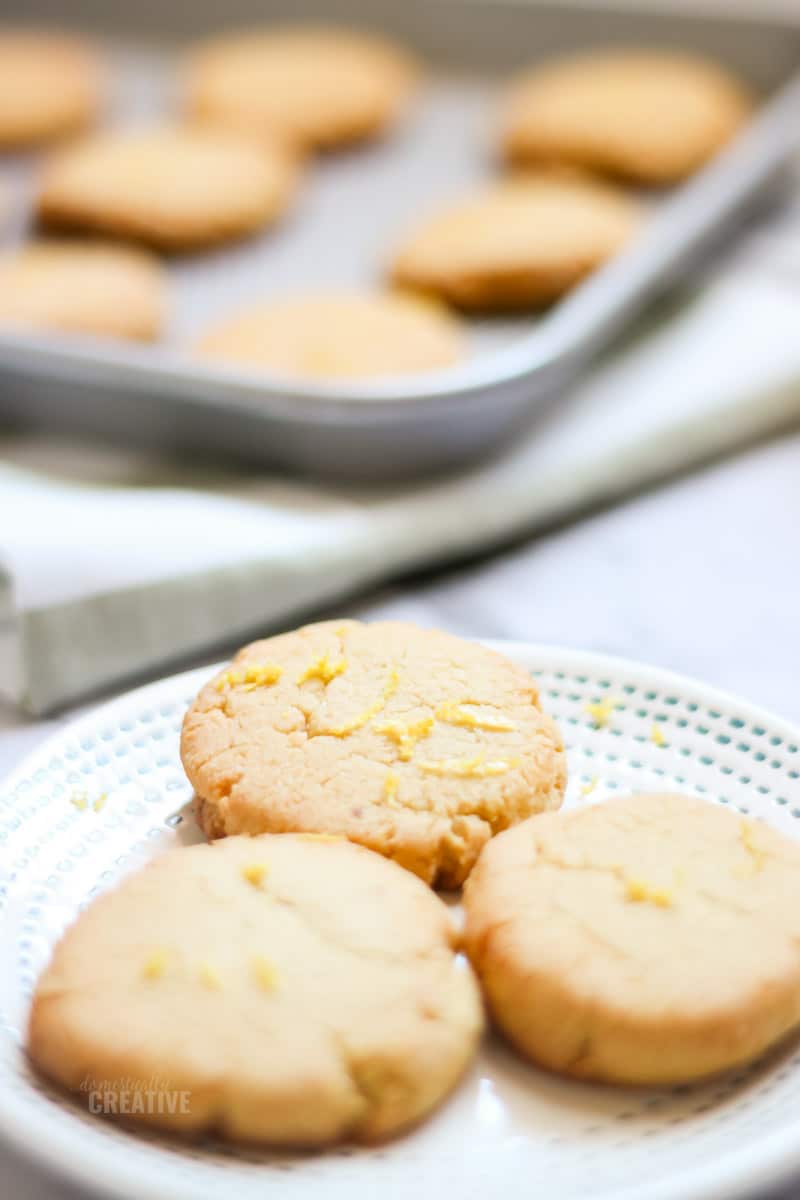 Tips to Make Low Carb Lemon Cookies
Use super fine almond flour, like Bob's Red Mill brand, for a smoother less gritty dough texture.
Roll the cookie dough into balls with your hands, and then press with the back of a spatula to flatten before baking. Since the dough does not spread while cooking, this step is necessary to get a flatter cookie shape and even baking.
For an added punch of lemon flavor, grate some lemon zest on top of the lemon cookies straight out of the oven before they have cooled completely.
You could also make a sugar free lemon glaze to drizzle on top with a bit of powdered Swerve and lemon juice.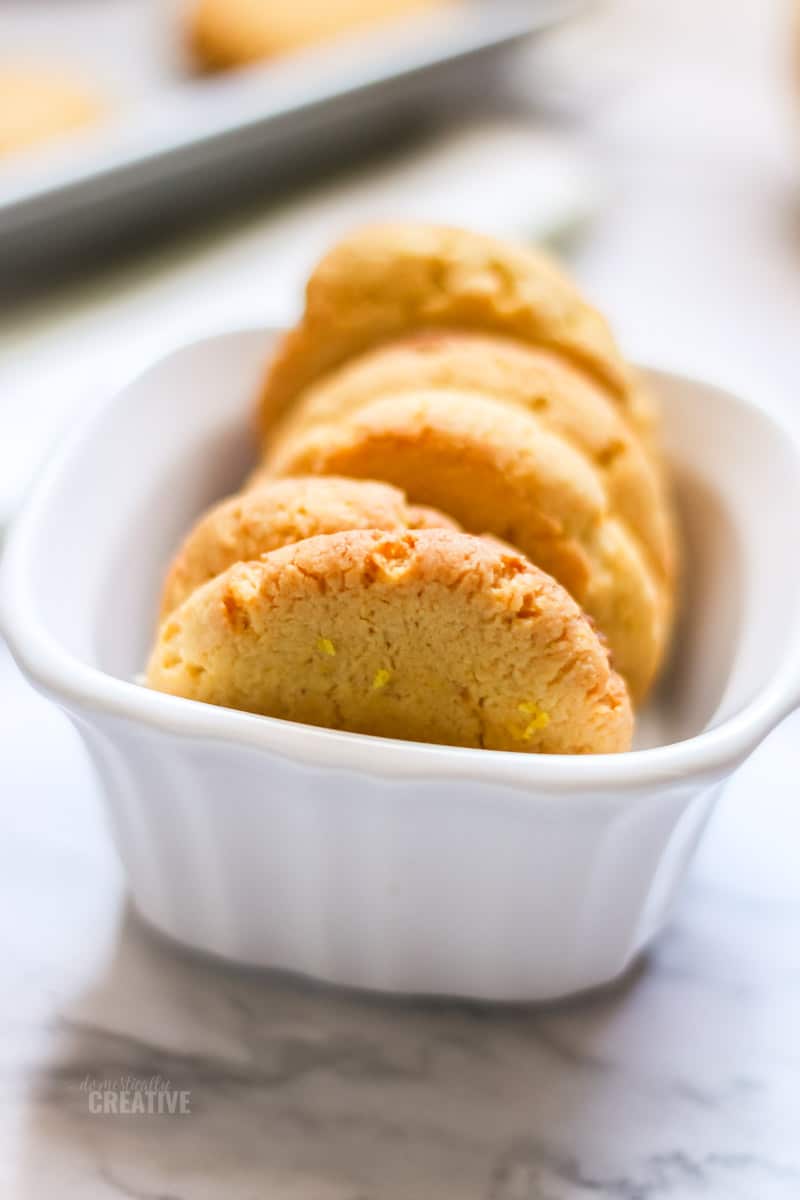 Can I substitute flours in this low carb dessert recipe?
I have not personally tried other flour combinations, so I cannot say for sure what works and what does not. It is important to note that many low carb or keto-friendly flours act quite differently in recipes than others, and may not have the exact 1:1 substitution ratio. Using 1 full cup or more of coconut flour in this low carb lemon cookie recipe would yield a very stiff and dry dough, as coconut flour will absorb all of the liquid.
Can I use another type of sweetener in these lemon cookies?
If you have an alternative sweetener or brand preference, you most certainly can substitute for Swerve granulated called for in this recipe. However, please keep in mind that many erythritols, monk fruit or xylitol sweeteners will have varying substitution ratios. Many brands will list what their substitution ratio to sugar is. Swerve's ratio to sugar is 1:1, so keep that in mind for this recipe using 1/3 of a cup of Swerve. It's also important to note that Stevia is much sweeter than erythritol or xylitol or even monk fruit so it will take far less than 1/3 cup. I would suggest sticking to a granulated or powder sweetener for this recipe instead of liquid.
My personal favorite sweeteners are Swerve and MonkSweet as both have a more mild flavor without the "cooling" effect that you sometimes get with other sweeteners. Read more about my favorite low carb pantry items.
More sugar-free low carb desserts you will love:
Don't forget to pin it for later!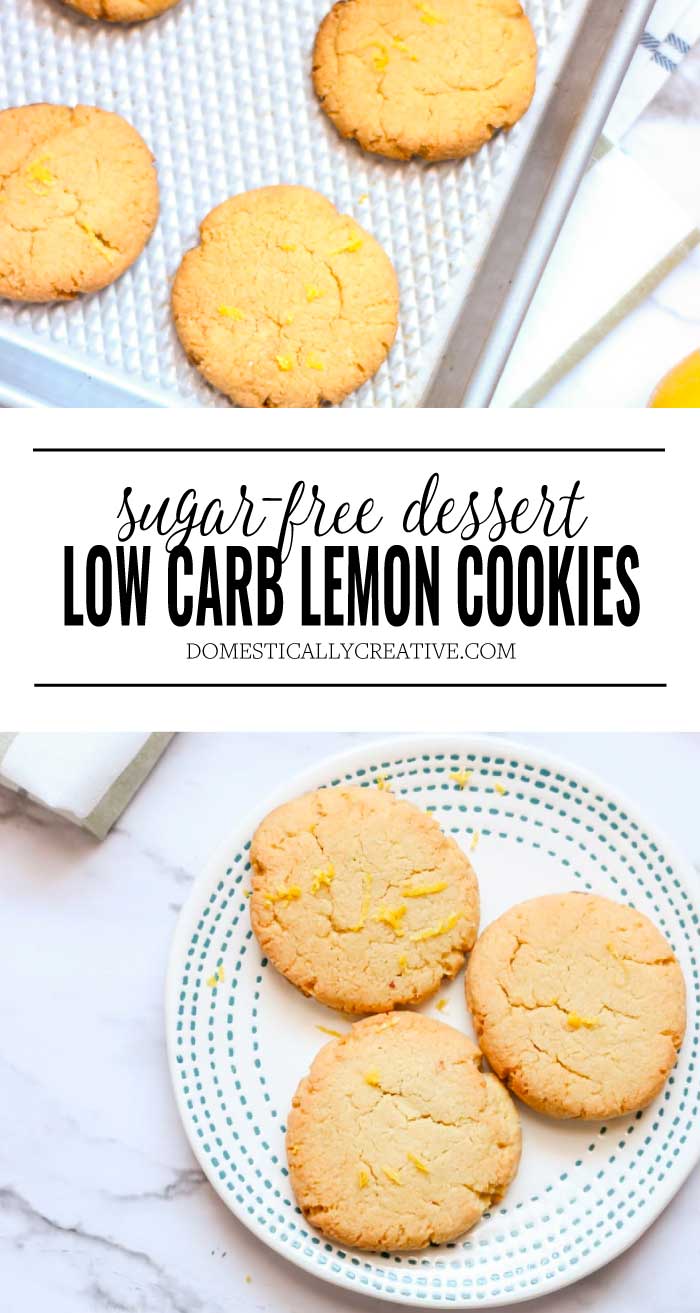 Low Carb Lemon Cookies | Sugar Free Low Carb Dessert
An easy recipe for a sugar-free low carb dessert! These low carb lemon cookies are perfectly chewy and lemony to cure those cravings for sweets.
Ingredients
1/2 cup unsalted butter, softened
1 large egg
1/3 cup granulated Swerve
1 package Lemon Instant Sugar Free Pudding (not prepared just the dry package) small box
1/2 tsp lemon extract
1 cup super fine almond flour
1/4 cup coconut flour
1 tsp baking soda
1/4 tsp salt
Instructions
Preheat your oven to 350 degrees.
Line a baking sheet with a silicone baking mat or parchment paper and set aside.
In a large bowl, cream together the softened butter, egg, and lemon extract until creamy and smooth.
Beat in Swerve granulated sweetener and sugar-free pudding mix until well combined.
In a small bowl, mix together the almond flour, coconut flour, baking soda, and salt.
Add those mixed dry ingredients to the wet ingredients and mix until a stiff dough forms.
Using hands, roll dough into 1" balls (makes approx 16) and place dough balls onto the prepared baking sheet.
Flatten each ball slightly to form a cookie shape.*
Bake at 350 degrees for 15 minutes, or until the edges start to turn slightly golden.
Remove from oven and let cool completely before removing cookies from the baking sheet
Notes
*The dough does not spread while baking, so flattening the dough will achieve the cookie look.
**The low carb lemon cookies will be very soft when removed from the oven. Allow them to cool completely so they do not fall apart when removing them from the baking sheet.
Nutrition Information
Yield

16
Serving Size

1
Amount Per Serving
Calories

108
Total Fat

10g
Saturated Fat

4g
Trans Fat

0g
Unsaturated Fat

5g
Cholesterol

27mg
Sodium

122mg
Carbohydrates

3g
Fiber

1g
Sugar

1g
Protein

2g
This data is automatically generated and in no way guaranteed for 100% accuracy. Please note that substitutions (such as different sweeteners) and different methods of nutrition facts calculations may yield differing results.