How to Upcycle Cardboard Boxes into Decorative Storage
This post may contain affiliate links for your convenience. Read our disclosure policy.
Learn how to upcycle ordinary cardboard boxes into decorative storage to fit any space! All you need are a few simple supplies. And even if you don't have gift wrapping skills, don't be discouraged! I have next to none and I still love how these upcycle cardboard boxes turned out!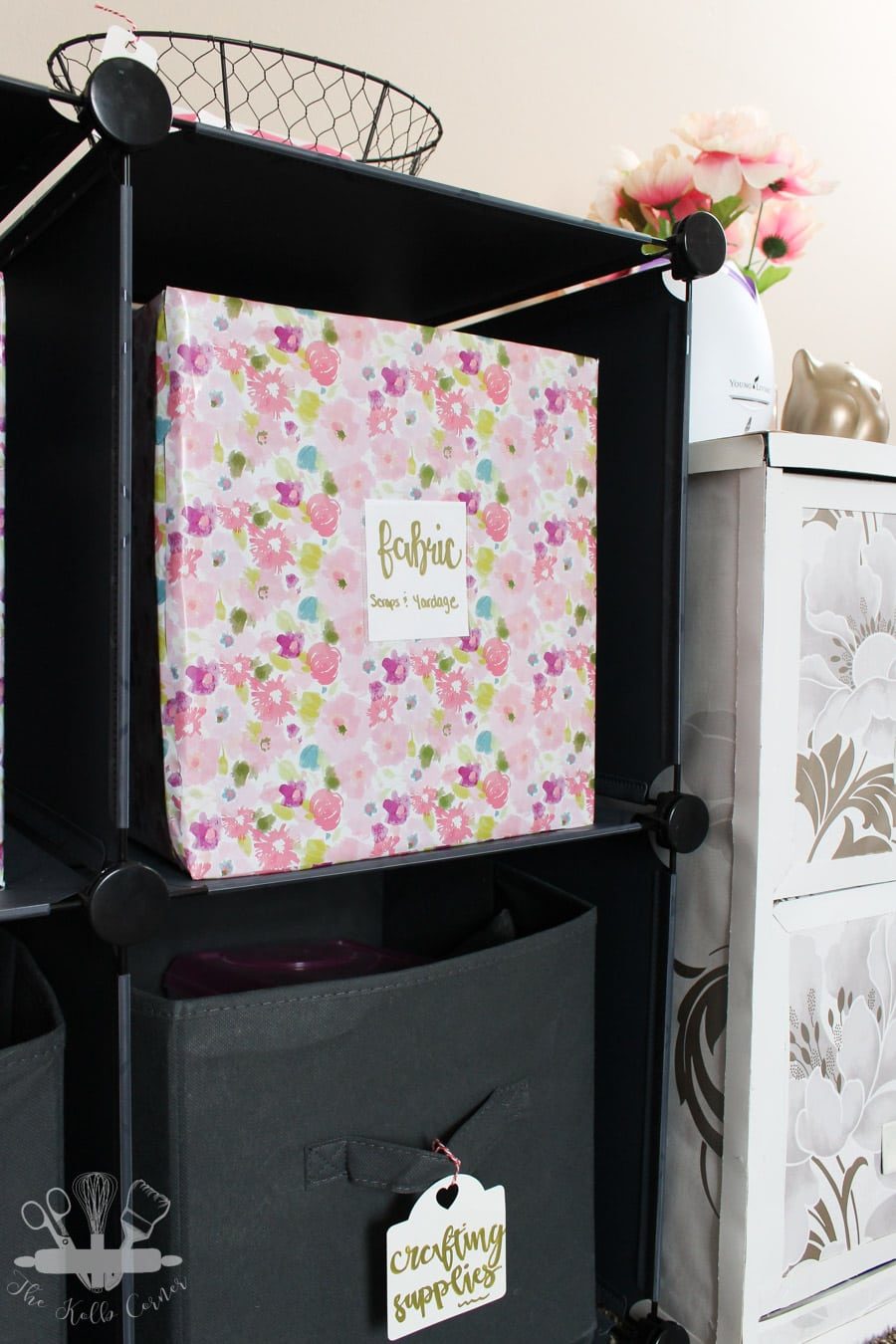 Some of you may know that my husband and I recently moved. You would think that someone who JUST moved, who hasn't really even finished unpacking everything (by this point maybe I should just throw the rest of the stuff away?) wouldn't really need to declutter and reorganize. Right?
Well, leave it to me to be that girl. Seriously my office space has already gotten out of hand! In our last home, I had a walk-in closet that I could just throw stuff in, shut the door, and walk away. I can't really do that in my new office. Sure I have a closet, but the storage it has pales in comparison to what I had. So I guess what I'm saying is, no more throwing stuff in a closet, closing the door, and walking away.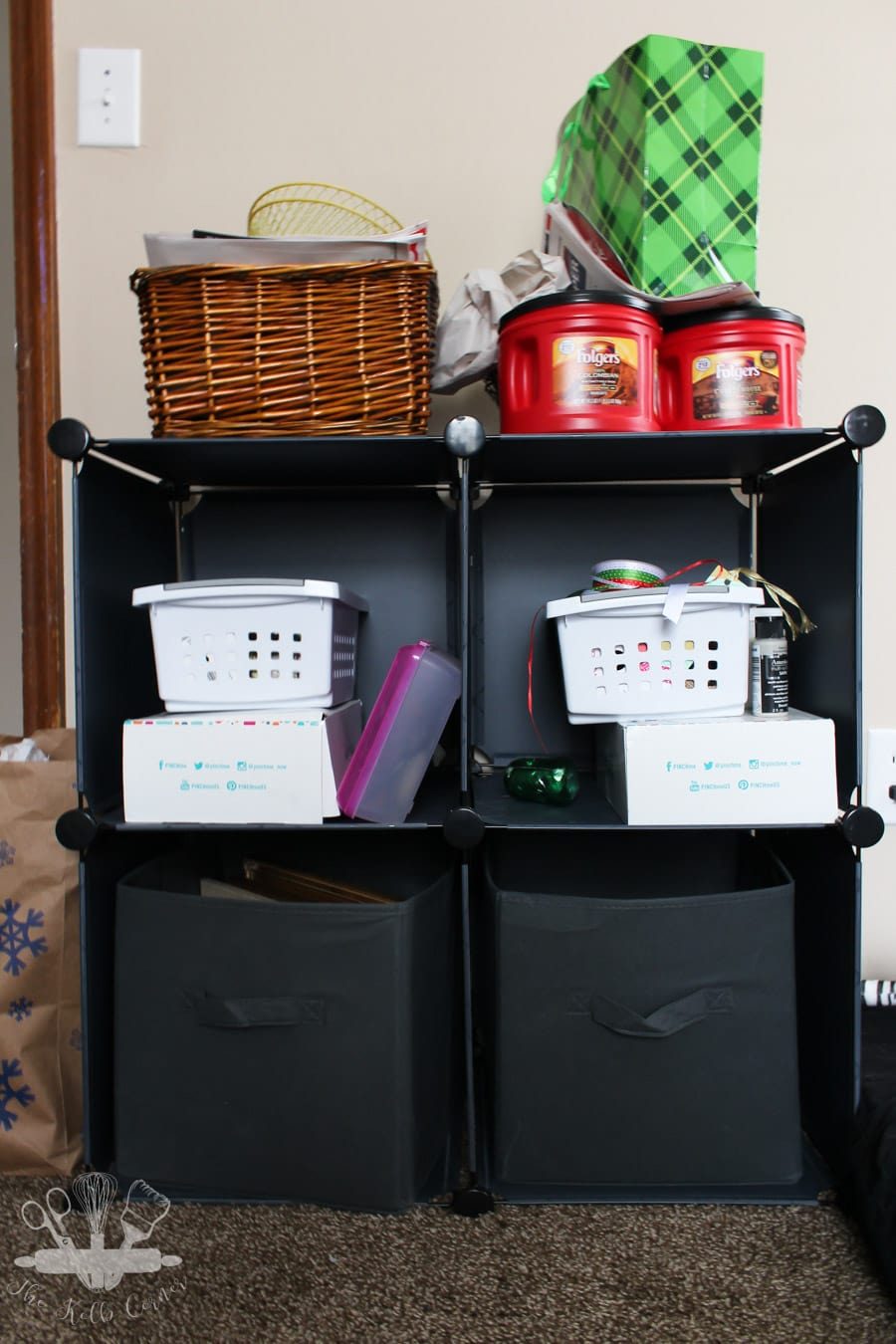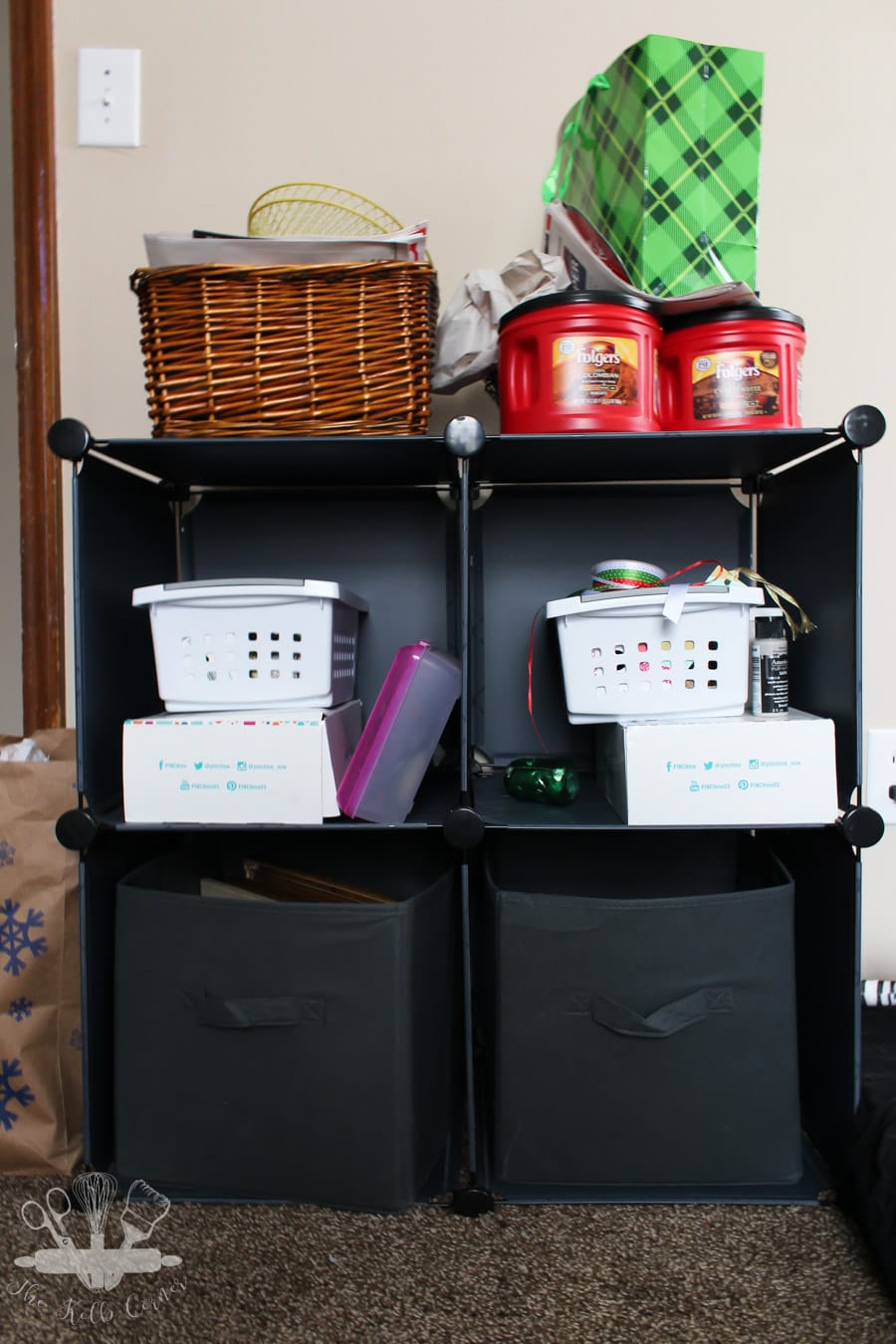 I learned that lesson very quickly here. I had tried to have some sort of organization when I first unpacked my office/craft supplies by using an ugly storage cube that I bought back when my office was black and gray. Sadly, it quickly turned into the above and I knew I had to get it under control–fast.
Luckily I had used some cat litter boxes to pack up some of my office supplies when we moved. You know when you are moving and you run out of boxes, you become desperate. Anyway, I held onto them thinking I could use them for something later on.
Of course they're not exactly pillars of beauty, but they are pretty sturdy boxes! Plus they already have handle cut outs. I figured I could make them pretty, and since they are already functional, it's a win win.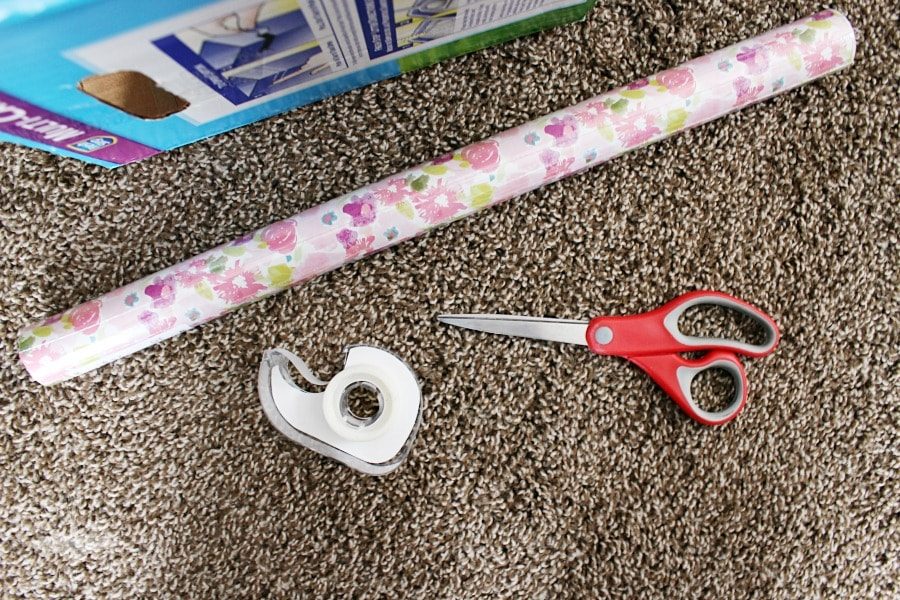 I picked up this pretty wrapping paper on clearance at Michael's many months ago knowing I would use it for something. Like maybe wrapping gifts? Or to upcycle cardboard boxes? So I gathered my supplies and set to work trying to figure out how to wrap these babies!
How to Upcycle Cardboard Boxes into Decorative Storage
What you'll need
cardboard boxes
wrapping paper
scissors
cutting mat (not necessary but having a sturdy lined surface is very helpful)
wrapping paper cutter (not necessary but handy)
Start by cutting the top flaps off of the cardboard boxes using scissors or a utility knife. To make them into decorative storage, you won't need their tops!
Next, unroll the wrapping paper and set the cardboard box on top. You will want to cut enough paper to go from the top of the cardboard box, down the side, under the bottom, and up the other side, leaving 2-3″ on all sides. Hint: do this on the part of the box you want to be facing out. Since my boxes are not square, I chose the wider sides to be my front and back, and then the shorter sides with the handle cut-outs will be the side of the decorative storage boxes.
Next let the wrapping paper lay down under the box for now. Place strips of double sided tape onto the edges of the box where the paper will be covering.
Once all of the tape is placed, carefully pull the paper up one side of the box (in my case it's the front facing side). Pull it taught and smooth out any bubbles. Repeat on the other side. Since you are using one continuous sheet of paper there is no need to secure the paper to the bottom of the box.
Next trim off excess paper in a straight line leaving 1-2″ on the sides and bottom. This is where that wrapping paper cutter and cutting mat sure made my life easy! I can't cut a straight line to save my life!! What I ended up doing was laying the box down on its side and using the wrapping paper cutter and the lines on the cutting mat, slid the cutter up the paper trimming it in a straight line. So much easier than trying to do it with scissors!
When you are done, you should have a box that is wrapped on 3 of the 5 sides with 2-3″ overhang on the tops and 1-2″ over hang on the sides and bottom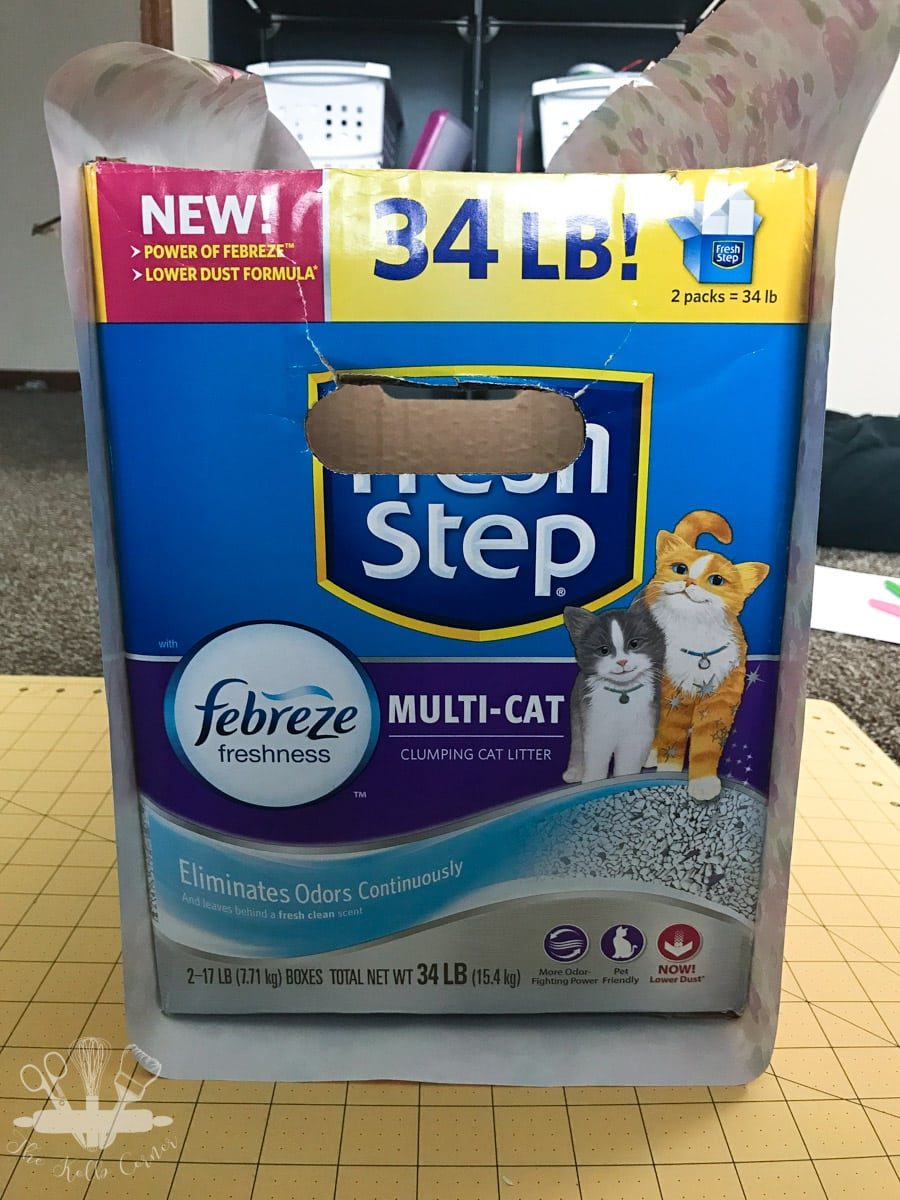 Next, cut a piece of wrapping paper to fit on each of the remaining sides leaving a 2-3″ overhang on the top. Place double sided tape on the edges and then place the cut piece of paper over the side. Smooth out any bubbles, and repeat for the last side.
Almost finished! Cut a triangle into the bottom corners of the wrapping paper overhang (see photo below) and place double sided tape directly on the paper.
Fold each side up to cover the corners, starting with the bottom piece. Smooth out each section as you go to get rid of any bubbles or creases.
The last step is to tape the top pieces down to the inside of the box! If your cardboard box has handles, you can cut the paper away to expose those. If not, you can add your own by punching two holes level to each other into both sides of the box. Then tie twine, rope or ribbon on to make a handle.
I had some white stick on label pouches that I picked up in Target's Dollar Spot a long time ago that worked perfectly on the front of my new decorative storage boxes. Then I made some hanging tags for the two fabric storage boxes I already had with my new silhouette cameo 🙂
Now, with the help of these freshly upcycled cardboard boxes, my craft room is starting to look more organized. And it didn't really cost me anything since I had all of the supplies. It just took a little bit of time and some patience but it was definitely worth it!
That big beautiful basket is one I found on a recent thrifting adventure. See how I transformed it to hold all of my crafting vinyl in this post. It fits the space so much better!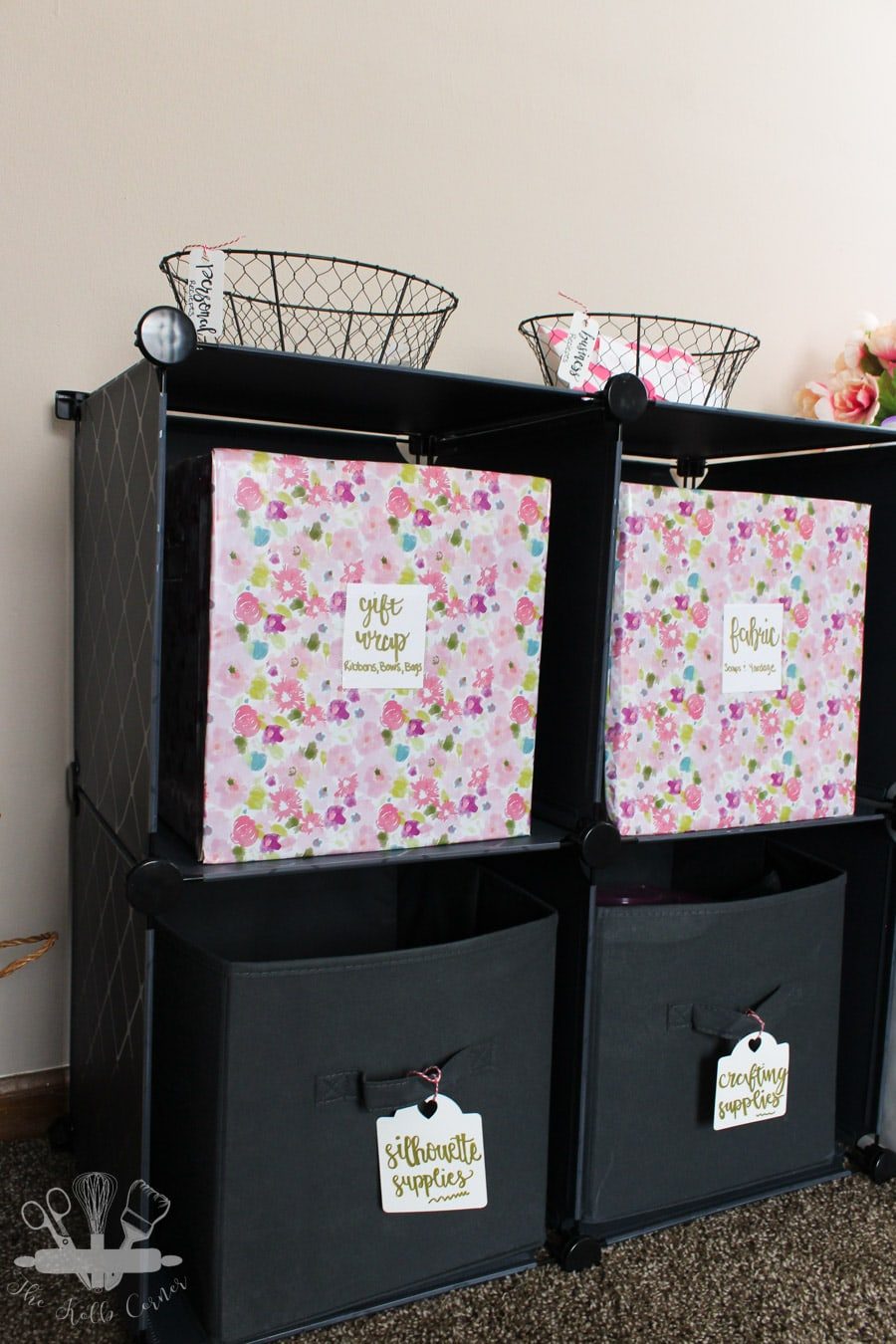 I still hate that cubby, but that's another project for a different day. I have no idea what to do with it!! It is definitely not very sturdy as it's held together with those ugly black round clips. It was originally made to be a versatile storage piece as you can arrange the cubes how you want. But along the way I've broken some clips so now it stays as a 4 cube piece. I'll probably replace it with white wooden cube storage from Ikea.
Looking for more upcycled inspiration?