Crispy No Bake Peanut Butter Bars
Chewy and crispy no bake peanut butter oat bars with just a hint of chocolate. Enjoy these for an on the go snack, quick breakfast or just as a little treat :)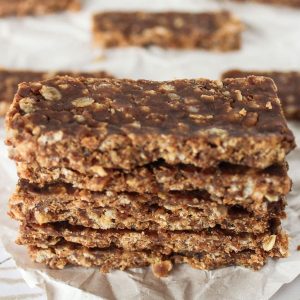 This post may contain affiliate links for your convenience. Read our disclosure policy.
Enjoy these chewy, crispy no bake peanut butter bars for a quick on the go snack, or as a sweet treat just because. With less than 8 grams of sugar (compared to 10+ in most commercial snack bars) and 150 calories, you don't have to feel guilty about this indulgence.
Most of you know I'm a huge fan of desserts, sweets, candy, really ANYTHING that has sugar in it. I'm a sugar addict. That's why trying to cut out all refined sugar, and most added sugar is really hard for me. I have quit drinking sodas, sweetened drinks, and candy more times that I can count but yet I always come crawling right back. Sugar is my vice. Some people drink or smoke, I sugar (ok and I drink too but that's not the point 😉 ).
I can always quit sugar cold turkey for about a month before the cravings really get to me. Don't get me wrong, the cravings are always there. There's always a little voice that is saying–sugar, sugar, soda, candy, sugar over and over again, but about 4 weeks in that little voice just starts screaming. I'm an addict.
This time around, I'm trying a slightly different approach. Instead of going cold turkey, I'm trying to wean myself off of added sugars. Some people have success with going cold turkey and that's great. But I have proved to myself time and time again that I am weak, and cold turkey doesn't work for me.
So on my quest to battle my sugar cravings, I've gotten more experimental in the kitchen. When I get a craving, whipping up a batch of chocolate white chip cookies just doesn't work anymore. Instead I'm working on building my arsenal of low sugar treats. And these crispy no bake peanut butter bars really hit the spot! There is the perfect blend of chocolate and peanut butter, but still low enough in added sugar for me to not feel guilty.
I've made these no bake peanut butter bars with and without the chocolate and they are yummy either way. I've even experimented with adding a tablespoon of chia seeds for a boost of protein and they turned out great.
Crispy No Bake Peanut Butter Bars
Chewy and crispy no bake peanut butter oat bars with just a hint of chocolate. Enjoy these for an on the go snack, quick breakfast or just as a little treat 🙂
Print Recipe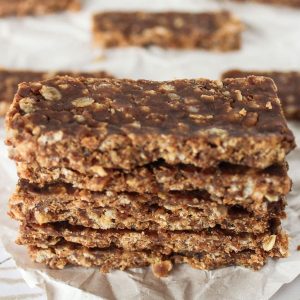 Ingredients
1

cup

creamy peanut butter

(look for natural, no sugar added)

1/3

cup

raw honey

1

tsp

vanilla

2

tbsp

dark chocolate chips

2

cups

crispy rice cereal

1

cup

quick oats

1

tbsp

milk*

(see note below)
Instructions
Line a 9x9 pan or 7x11 with parchment paper and set aside.

In a medium saucepan, heat peanut butter and honey over medium heat, stirring constantly to avoid burning.

Stir for 2 minutes until mixture is smooth. Remove from heat.

Add in vanilla and chocolate chips and stir to fully incorporate. The chocolate chips should melt with the remaining heat.

Mix in crispy rice cereal and oats until completely coated in peanut butter mixture.

Pour mixture into prepared pan, smashing down with the back of mixing spoon.

Place foil or plastic wrap on top of mixture and press down firmly to spread mixture throughout the pan.

Cover chill in the fridge for 2 hours.

Remove from fridge and cut into ~16 bars

*Note, if it seems too dry once adding in cereal and oats you can add in 1 tbsp of milk to get mixture to come together. I've made these several times, sometimes I need it, sometimes I don't.
Nutrition
Serving:
12
grams
|
Calories:
153
kcal
|
Protein:
5
g
|
Fat:
9
g
|
Saturated Fat:
2
g
|
Fiber:
2
g
|
Sugar:
7
g
What is your addiction–sugar, alcohol, tobacco, or something else–and what do you do to overcome it? Leave me a comment!
Looking for more low sugar snack ideas?