Blush, Gray + Black Feminine Home Office Reveal
The day is finally here to show you my feminine home office reveal! It took me a little longer to complete than I expected (because, life) but I'm so happy with the final results!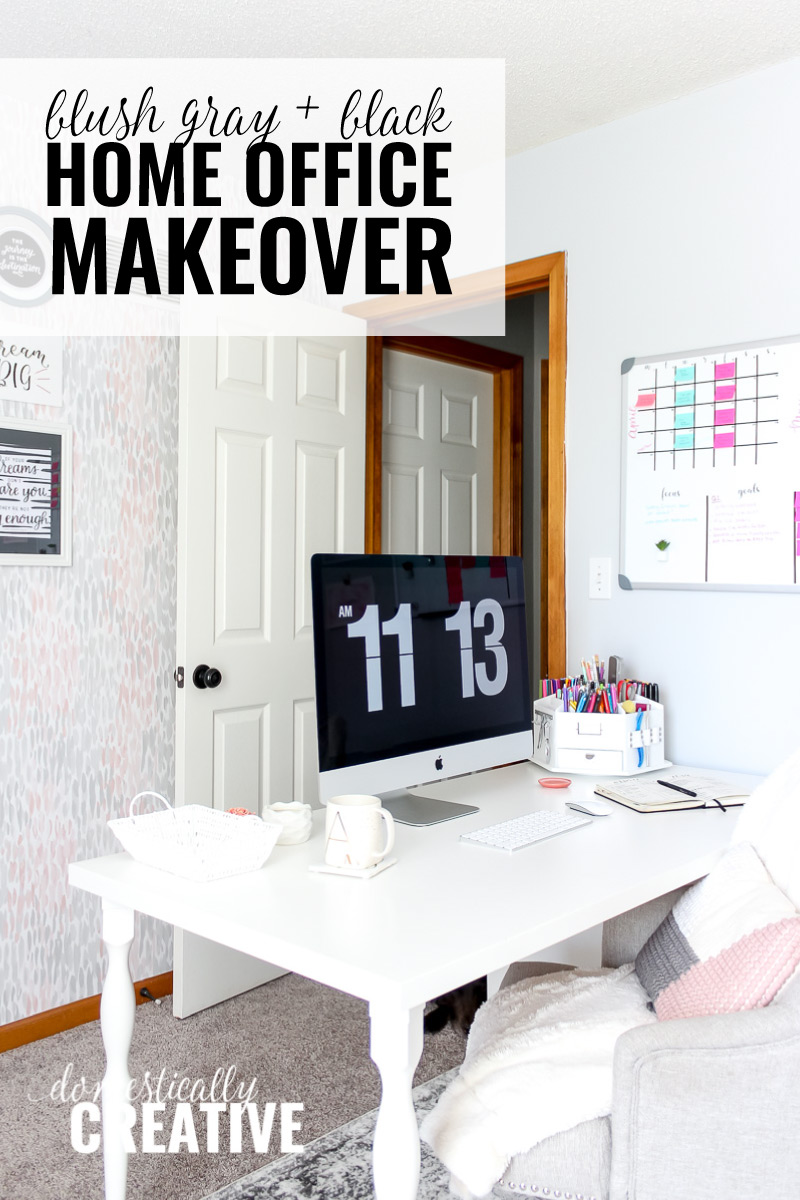 You can read my original plan for the space here. Reader beware, this post is very photo heavy!
Let's not forget where this space started. A terrible shade of pink mixed with a coral accent wall that actually hurt my eyes.
The new space has come a long way! Let's check out the After photos, shall we?
This view is the hub of my office, where I spend the majority of my time (and if you notice her little nose peeking under the desk, Delilah spends a lot of her time too). This is where I write blog posts, plan my content, edit photos, create graphics and do a lot of my graphic design stuff. Last year I upgraded from a PC laptop to an iMac desktop for more processing power and bigger screen. I had been saving for YEARS for a new iMac and I absolutely love it. I will never go back to a PC.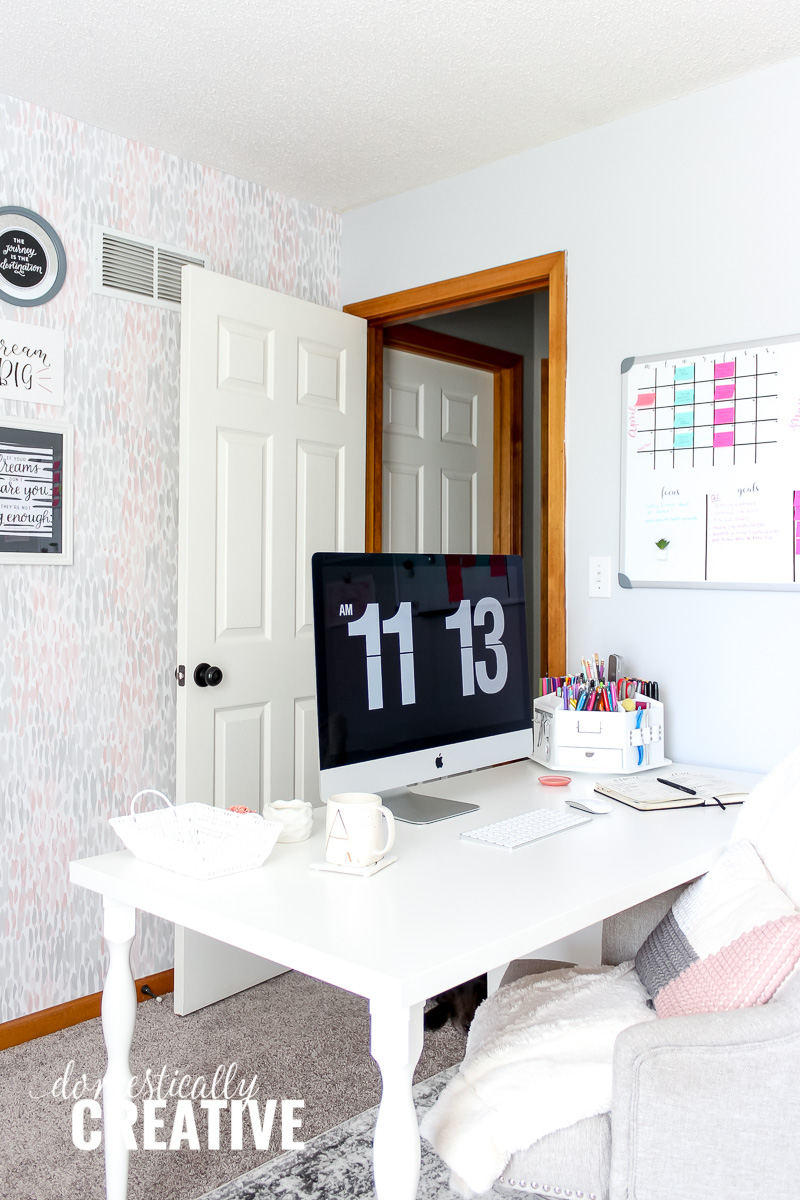 I upgraded desk chairs last year too to this one. I opted for an upholstered chair over a traditional office chair. It's comfortable, but after sitting in it for long hours, my back does get a little sore. The lumbar pillow helps!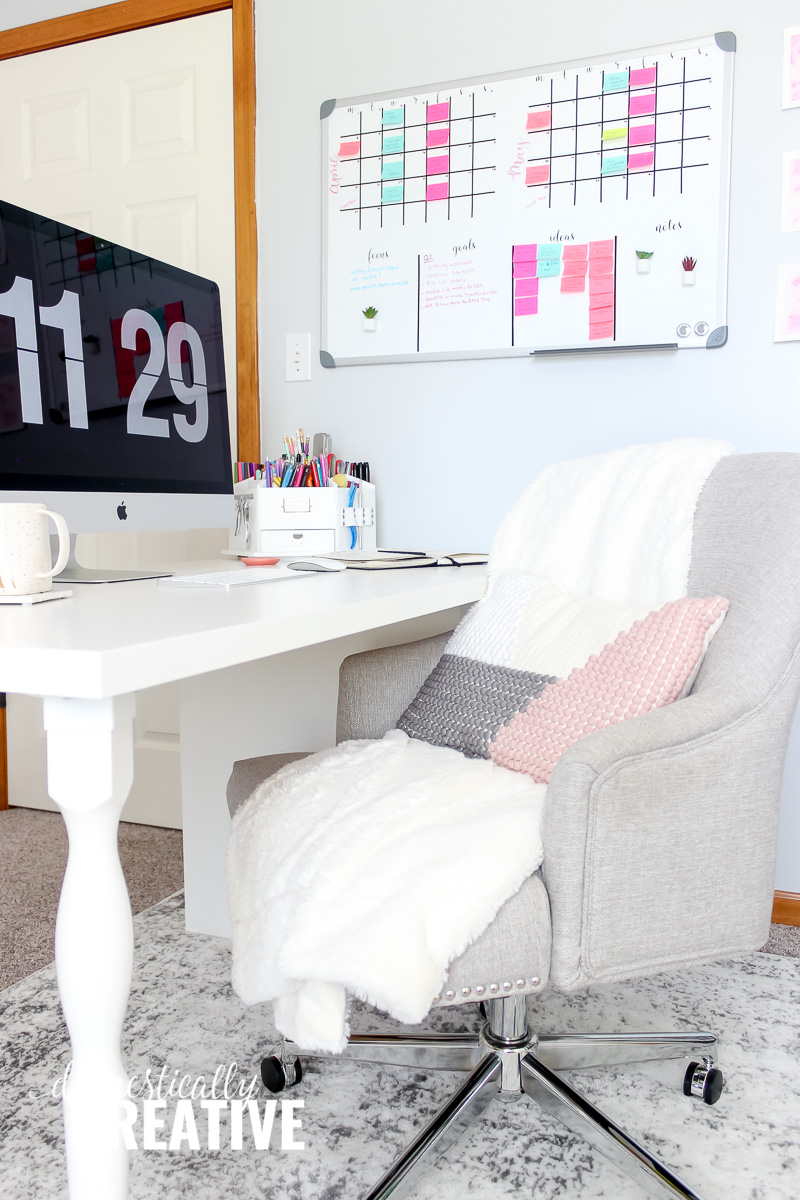 The DIY whiteboard calendar/planner I made has been a huge lifesaver! I can keep up with what my editorial content is at a glance, and if I have an idea for content I can jot it down quickly. Plus it's nice to have my quarterly goals right there where I can be reminded of them frequently.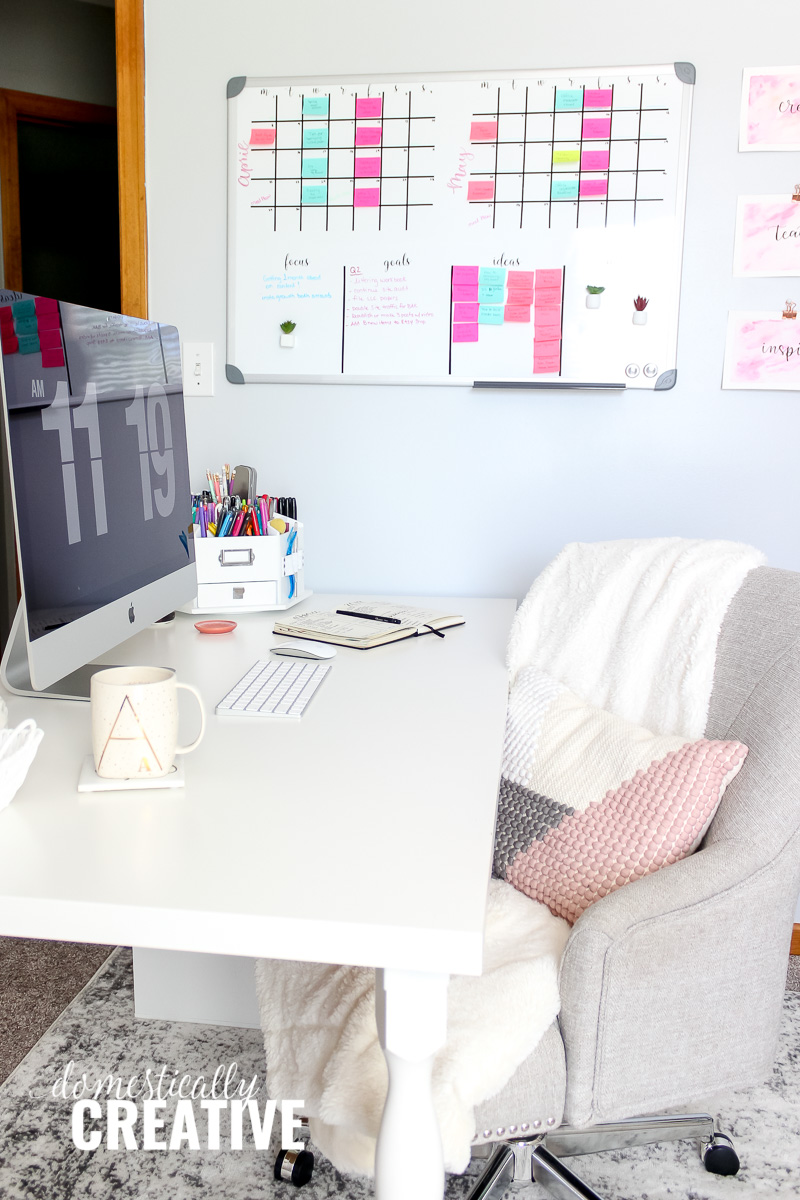 These watercolor art pieces are my favorite! I created the blush and gold watercolor backgrounds and then simply lettered "Create" "Teach" "Inspire" on them to remind me of what I want strive for in my work. I hung them on the wall with push pins and rose gold binder clips. Simple, inexpensive and one of a kind!
Behind the desk is an Ikea Kallax bookshelf that stores office supplies, paper, binders, and other items. I use the inexpensive white photo boxes to store things like scraps of vinyl, or small crafting blanks. Items that otherwise would be hard to corral can fit neatly in these boxes!
The inserts for the Kallax, like the drawer unit or cabinets, are fantastic! You can really make the bookcase your own with them. The fabric bins are great too! They are inexpensive and very sturdy! The bins here are keeping some of my miscellaneous tools, hardware and Silhouette Cameo supplies corralled.
I use one of the gold basket sling to store mail and other documents that I need to pay or sort. The dark gray magazine files also came from Ikea and are great for keeping different types of paper, bubble mailers, and envelopes organized. Plus they are right there for easy access when I turn around from my computer!
Beside the Kallax bookcase is the closet. I do plan to show you that at a later date but right now I'm still working on the best organization! The dresser I repurposed has helped a ton! I just wish there was room to have it out in room rather than tucked away in the closet.
In the corner tucked away is this rose gold cart from Michael's. I was so happy to find this color! It fits in perfectly with the rest of the room. The cart is great for storing my extra watercolor and art supplies in these locking totes. I also have extra bullet journal and planning supplies tucked away on the middle shelf. I can wheel this cart over when I need it and back when I don't.
On the other side of the window is my favorite part of the space! This is my lettering, planning and drawing desk complete with a brand new DIY pegboard for organizing all of the supplies.
I added wheels to this desk so I can easily move it in front of the window for shooting videos or taking photos. This is where I do all of my lettering projects/videos, and take the majority of my craft photos so having the ease of portability was very important to me!
This plastic storage cart is nothing fancy, but I shared a quick tutorial on my Instagram stories for how I gave it a quick facelift. The stories are archived under "office makeover" so you can still watch it!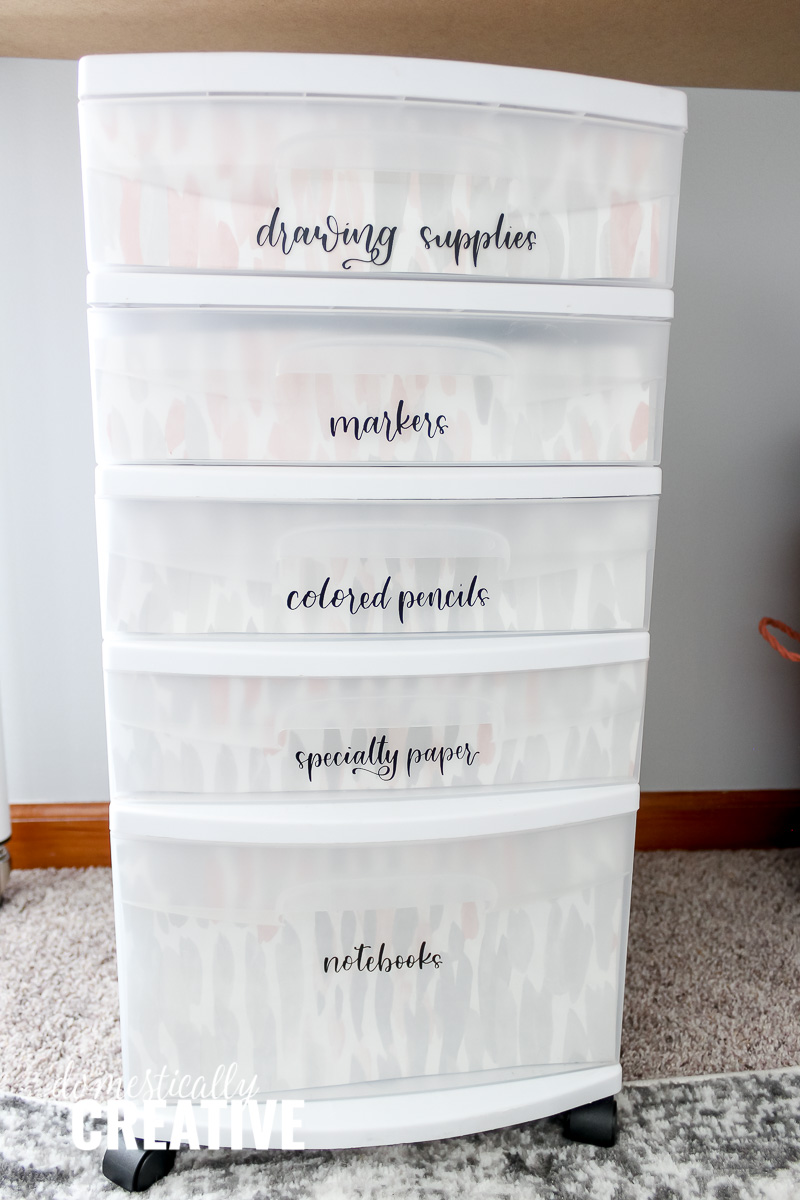 Next to the desk is this marble and gold filing cabinet that I recently made over from a thrift store find. Another thrift store makeover is the tall basket next to it where I store my large rolls of vinyl and contact paper.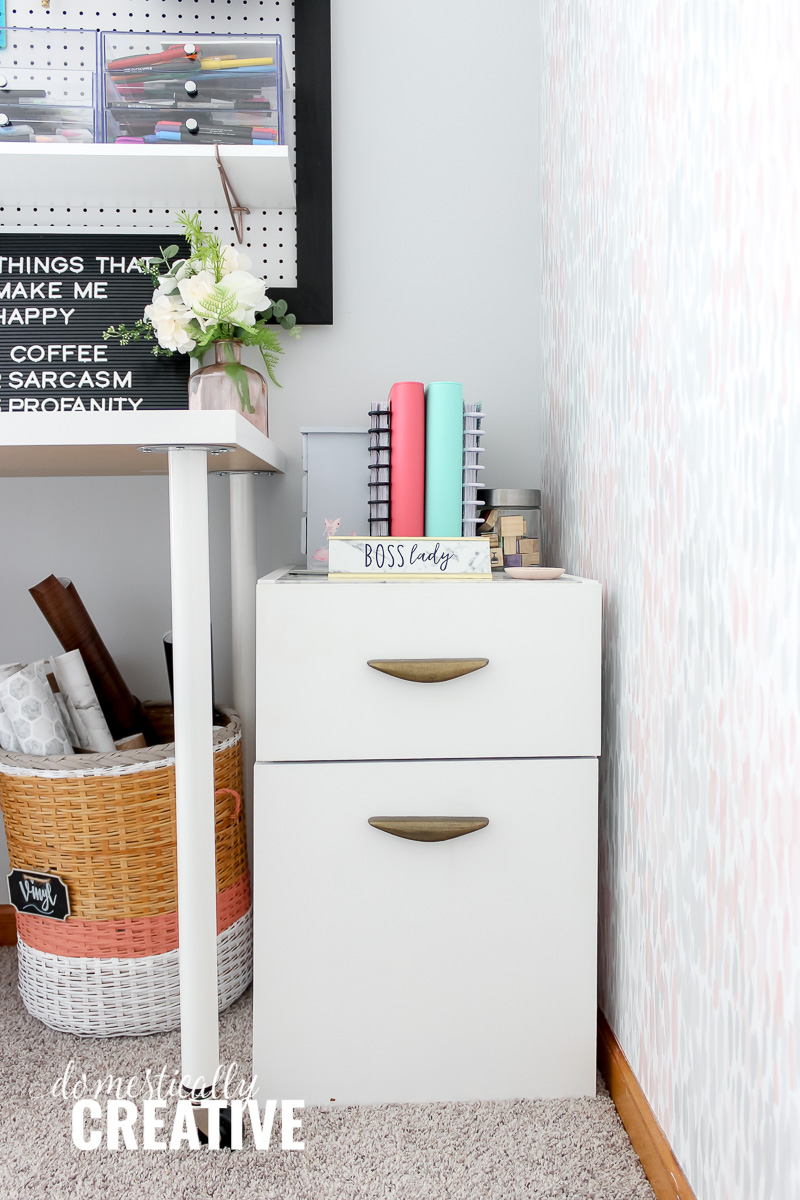 Finally is this accent wall that is directly across from my computer. I used this peel and stick wallpaper, and hung inspirational typography quotes for a small inspirational gallery wall.
It's nice to look up from my computer screen and see the inspiring and motivational prints.
Over all I'm pretty pleased with how everything turned out! To get a 360 view of the space, head over to Instagram and check out my archived stories under Office Makeover.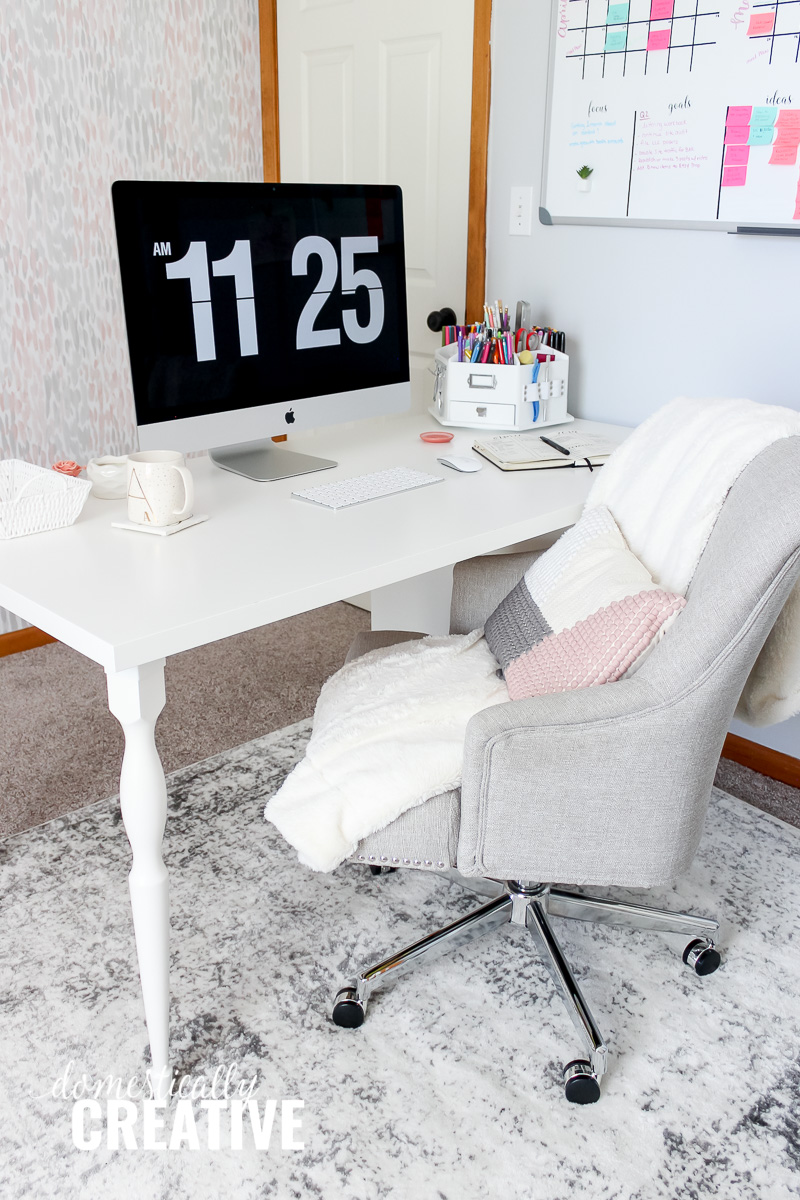 Shop the space
Desk tops | Desk Legs | Desk drawer unit | Office Chair | Throw (similar) | Rug | Bookshelf | Bookcase Drawer Insert | Gold Bookcase Insert | White photo boxes | Gray Magazine Files | Storage cart | Wallpaper
DIY projects
Pegboard | File cabinet | Whiteboard | Accent Wall
Love it? Pin it!