Learning how to keep cilantro fresh in the fridge isn't hard. Follow these simple steps and your leafy herbs and vegetables can stay fresh for up to 3 weeks!
If you're like me, you love any kind of Mexican cuisine. Especially homemade guacamole and Salsa! And you can't have either of those without fresh Cilantro. Unfortunately Cilantro is such a sensitive little herb that I haven't perfected growing it yet. Luckily here in Texas there is an abundance of the stuff at the grocery store–and the best part is–it's CHEAP! We're talking 25-30 cents a bunch. When it's that cheap, I'm OK with buying it on a regular basis. The only problem is, it doesn't last very long in your fridge. Maybe 2-3 days if you don't store it properly.
So what is the best way to keep Cilantro fresh? I have experimented with a few different methods. Such as keeping it in a jar with a small amount of water in the bottom for the stems to drink up. While that method does work OK, the leaves still wilt quickly. Maybe a week at the most. I've also tried rolling up the bunch in a paper towel and then putting that in a baggie. That works pretty well, making the Cilantro good for about a week and a half. But the method that I've found that works the BEST–meaning it keeps the Cilantro good for 2 -3 weeks—is storing the Cilantro in an airtight container lined in paper towels. Pretty easy right?
How to Keep Cilantro Fresh in the Fridge
When I get home from the store I make sure to rinse the Cilantro really well in COLD water. I find with any leafy veggie or herb it's best to wash them in really cold water. Even luke warm water can make the leaves wilty.
After I've cleaned it well, I put the whole bunch in my Salad Spinner
and give it a few spins. Make sure to get it as dry as you can.
Next, take an airtight container that will be big enough to fit all of the Cilantro with some extra room, and put a folded paper towel in the bottom. Then I take another paper towel and form it to fit the shape of the container.
Throw in the Cilantro, add another folded paper towel on top and its ready to close and go in the fridge.
The reason I use so many paper towels is because you want to keep the Cilantro in a moist environment, but if there is actual water on the leaves they will turn to mush. The paper towels will absorb any extra liquid from the leaves. After about 1 and 1/2 weeks you may start to see some leaves/stems turn brown. No big deal, just remove those and keep the rest in your container. You will need to change out your paper towels as well at this time to keep the remaining Cilantro as fresh as when you brought it home.
*****Update–I wrote this post on how I store Spinach, and have since used it to store Cilantro too. Both methods work VERY well.
What are some household tips you have for storing fresh produce and herbs in your fridge?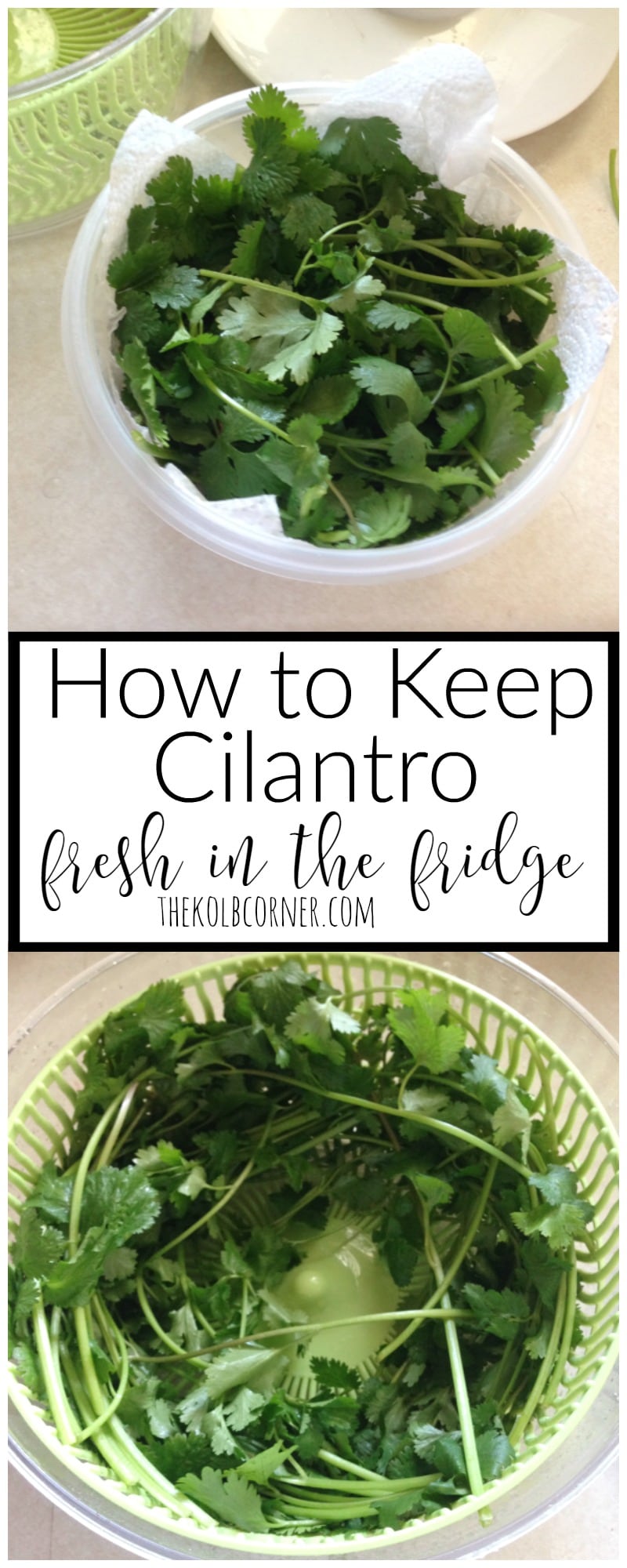 More helpful tips: