Low Carb Pizza Casserole | Deep Dish Style Pizza
Easy and flavorful pizza casserole that is low carb and boasts a delicious crust like cauliflower base for an extra punch of vegetables.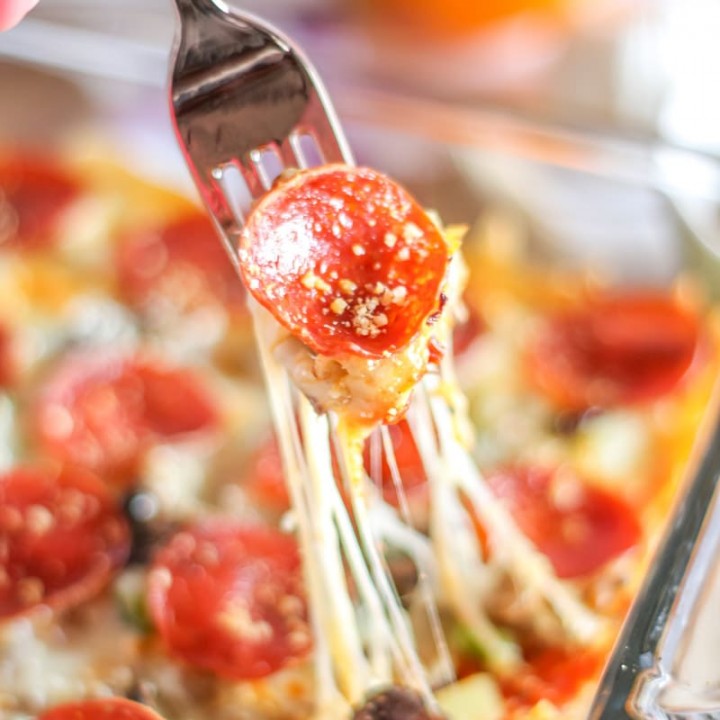 This post may contain affiliate links for your convenience. Read our disclosure policy.
Easy and flavorful pizza casserole that is low carb and boasts a delicious crust like cauliflower base for an extra punch of vegetables.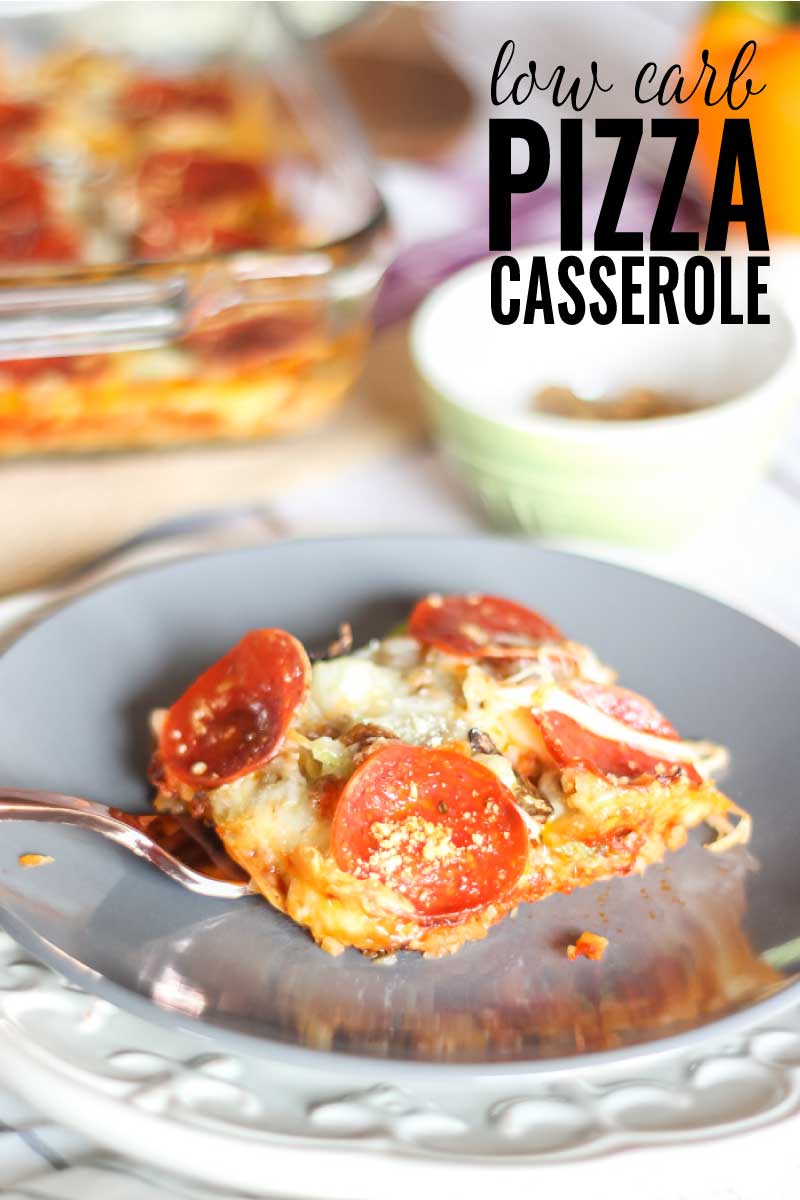 In our house we have pizza Fridays every other week. It's a tradition that started years ago when we were trying to stop our bad eating out habits. I wrote a little about it in this Deep Dish Skillet Pizza recipe. Since traditional pizza is not low carb however, I've had to get a little more creative lately.
Typically we'll go for a Fat Head dough crust, which is tasty! Sometimes though I don't feel like messing around with that sticky dough. Instead we use alot of these veggie crusts from KBosh. The Broccoli one is our favorites followed by the Mexi-Cabbage.
Even those crusts can get a little boring. That's when I started making this Low Carb Pizza Soup in our Instant Pot. That soup is so delicious and filling, but sometimes it's just not quite soup weather.
My husband actually blurted out the idea of a pizza casserole on one of our pizza Fridays when I was whining about being bored with our pizza selections. I accepted his challenge and successfully whipped up my own low carb version of a pizza casserole. There's no pasta in this recipe but there is a nice base layer of cauliflower giving you the illusion of crust (and a deep dish style pizza!) It's tasty, healthy, low carb and completely customizable to your pizza topping preferences.
The recipe card includes instructions for a traditional style pizza, but you can certainly switch out the toppings to suit your tastes. Do you prefer a white pizza instead of red? Try making some alfredo sauce, topped with chicken, bacon crumbles, red onion and pepperoncini peppers. That combination is my personal favorite when it comes to pizza!
How to Make a Low Carb Pizza Casserole
First prep the cauliflower "crust" by frying riced cauliflower in a pan until the majority of the liquid has been cooked out. Then toss it with some mozzarella cheese for a binder. Press that into a greased casserole dish and bake until it's slightly golden brown. This will create a nice base for the next steps and will also give the pizza sauce something to absorb into creating even more flavor!
Top the cauliflower pizza crust with pizza sauce or make your own with tomato sauce and italian seasoning. Take care to check the ingredients in store bought pizza sauce as some like to hide a lot of sugar in the sauce. Making your own can help with this.
After adding sauce, top with your favorite ingredients like crumbled sausage, onion, peppers and mushrooms. I personally prefer to use the Jimmy Deans crumbled sausage for our pizzas because it's quick. However, cooking some Italian sausage will give your pizza casserole even more flavor.
Top with more mozzarella cheese. Don't skimp on this part because every pizza or pizza casserole is made better with extra cheese!
Finally, add some pepperoni slices on top of the cheese, covering the entire low carb casserole dish. Bake for 15-20 minutes until the cheese is bubbly and the pepperoni have crisped slightly. You may even want to place it under the broiler for a minute or two for extra browning.
The result will be a delicious low carb pizza casserole. Slice into 9 equal squares for each serving. It's best to eat this low carb casserole with a fork even though the cauliflower gives it a base. Top with some grated parmesan and red pepper flakes for a traditional pizza experience!
More recipes like this:
Don't forget to pin it for later
Low Carb Pizza Casserole
Easy and flavorful pizza casserole that is low carb and boasts a delicious crust like cauliflower base for an extra punch of vegetables.
Print Recipe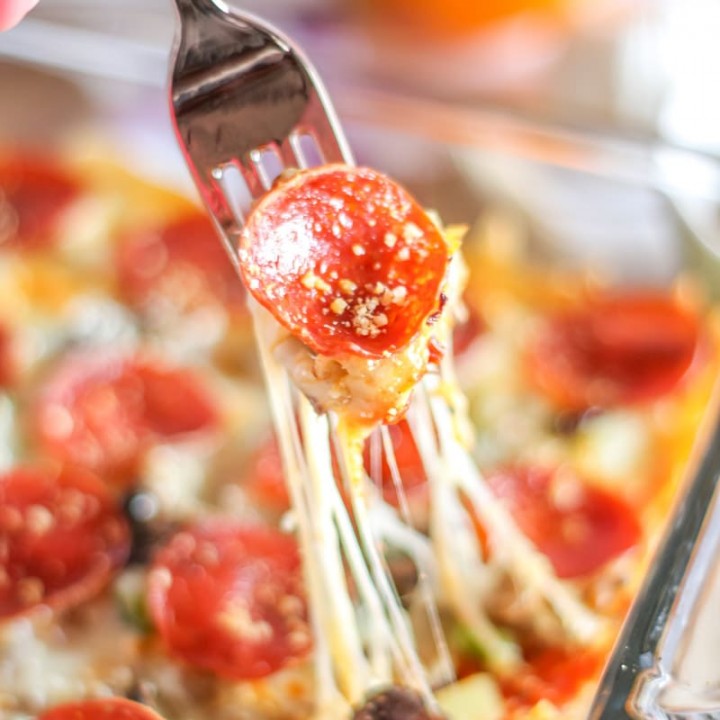 Ingredients
1

tbsp

olive oil

1/2

lb

Italian sausage

1/2

head of cauliflower

riced

1

tsp

Italian Seasoning

1 1/2

cups

shredded mozzarella

divided

1

cup

pizza sauce

1/2

cup

diced green pepper

1/2

cup

diced onion

1/2

cup

sliced mushrooms

1/2

cup

sliced pepperoni
Instructions
Preheat oven to 375 and grease a 9x9 glass baking dish. Set aside

Heat a large skillet over medium heat. Add olive oil and Italian Sausage to pan. Cook and crumble until no longer pink. Remove sausage from pan and set aside. Drain off fat from the pan.

Add riced cauliflower and Italian seasoning to pan. Saute over medium high heat until cooked through and the majority of liquid is cooked out. It will be crumbly!

Add cauliflower to prepared baking dish. Toss with 1/2 cup of mozzarella cheese. Spread cauliflower/cheese mixture in the bottom of the baking dish and press down with the back of a spatula creating a "crust".

Bake at 375 for 10 minutes.

Remove from oven. Top with pizza sauce, veggies, and crumbled sausage. Add the remainder of mozzarella cheese, and top with pepperoni slices.

Bake for another 15 to 20 minutes until the cheese is melted and bubbly.

Optional--Broil on high for 1 minute for a crispier cheese and pepperoni topping.

Cut into 9 equal squares and serve!
Notes
The toppings are all optional and up to personal preference. If you do not like sausage on your pizza, feel free to skip that step. You can also use already prepared sausage crumbles to save time.
Nutrition
Serving:
1
g
|
Calories:
215
kcal
|
Carbohydrates:
8
g
|
Protein:
11
g
|
Fat:
15
g
|
Saturated Fat:
6
g
|
Polyunsaturated Fat:
10
g
|
Cholesterol:
31
mg
|
Sodium:
509
mg
|
Fiber:
2
g
|
Sugar:
4
g