Instant Pot Low Carb Pizza Soup
Get all the flavor of a delicious pizza without the heavy crust with this flavorful Instant Pot Low Carb Pizza Soup. You can have dinner ready in just a few minutes!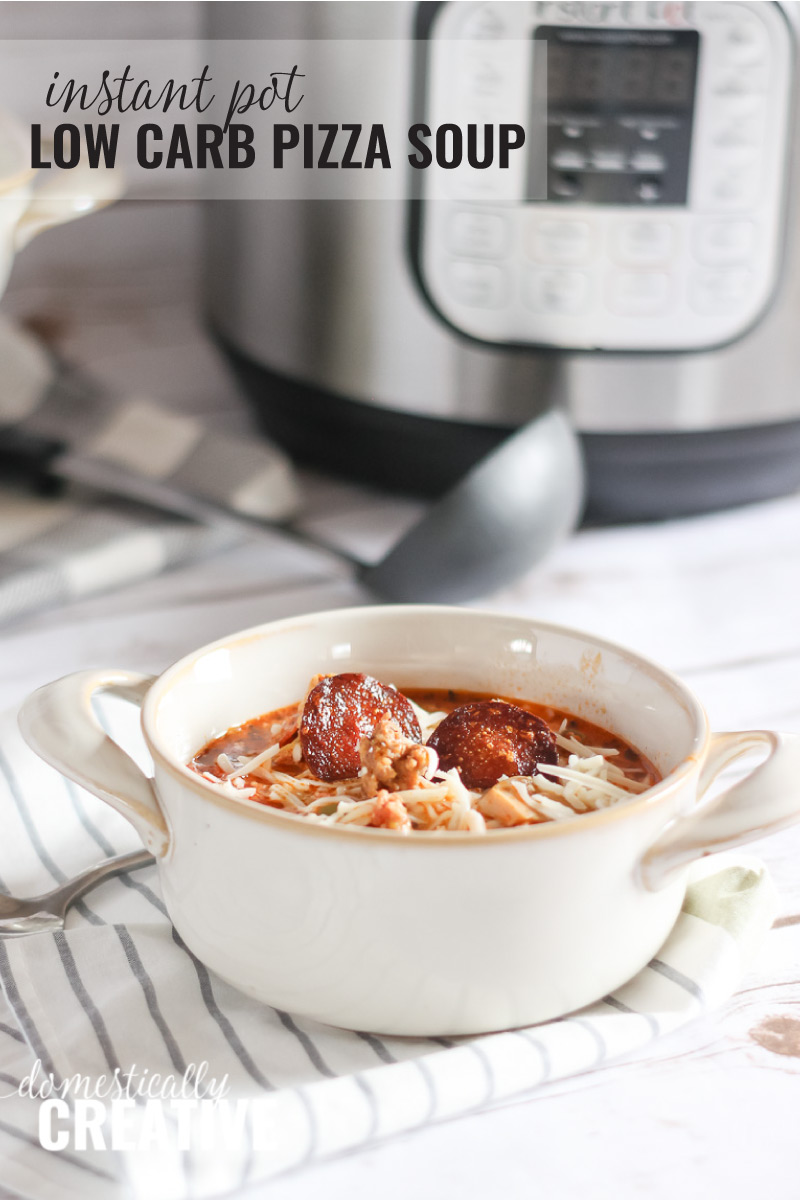 In our house we eat some form of pizza every other week. Up until recently, we were using fat head dough to make our pizzas. The fat head dough makes a great pizza crust and is really tasty. But we were craving something different, like this instant pot low carb pizza soup.
I've tried the cauliflower crust for pizza and it just isn't for me. It never seems to crisp up, unless I make it paper thin, and even then the edges almost burn but the center stays soggy. Maybe I just haven't found the right recipe. Either way, I was searching for a new way to enjoy our pizza tradition.
It's been an extreme Winter here in the Midwest, so my husband and I have been eating a lot of soup. When I was trying to come up with a new way to enjoy pizza without the crust and without the high carbs, that's when the idea of a low carb pizza soup came to mind.
Of course I've been making everything in our Instant Pot since we bought it around Thanksgiving, but you can easily make this soup in the Crock Pot as well. I've included the super simple instructions on the recipe card below.
Looking for even more easy Instant Pot recipes? Check out 101 Instant Pot Recipes for Beginners Cookbook from Recipe This. They have so many great recipes and help you navigate the ins and outs of the Instant Pot.
Before you jump to the recipe, make sure you read these super helpful tips and ideas for making your own low carb pizza soup.
Tips for making Instant Pot Low Carb Pizza Soup
Using the mini pepperonis makes prep time less since you won't be dicing up the greasy pepperoni slices.
To save time, prep the veggies while the Italian sausage cooks.
You can sub the tomato paste for 1/2 cup plain tomato sauce or pizza sauce, but note that tomato paste has more tomato flavor and helps thicken the soup just slightly.
Feel free to add whatever toppings your heart desires to your pizza soup! We like to add mushrooms, jalapeños and bacon, but you might like olives and Canadian bacon. You could also do 1/2 ground hamburger and 1/2 Italian sausage instead.
Stick some pepperonis under the broiler for a few minutes while the low carb pizza soup is cooking. Then use them as a "chip" to top your soup with. You could also do this with cheese!
Don't skimp on topping your pizza soup with shredded mozzarella. That's probably the best part!
More low carb soup recipes
Don't forget to pin it for later!
Instant Pot Low Carb Pizza Soup
Natural Release:
10 minutes
Get all the flavor of a delicious pizza without the heavy crust with Instant Pot Low Carb Pizza Soup. You can have dinner ready in just a few minutes!
Ingredients
1 lb italian sausage, or ground beef, seasoned with Italian seasoning
1/2 cup onion, diced
2 tbsp garlic, minced
1 tbsp olive oil
1 cup green onion, diced
3 tbsp tomato paste
1 cup pepperoni, diced (or use minis)
1 cup bacon, crumbled
4 cups beef broth
Salt and Pepper, to taste
1 tbsp italian seasoning
1 small can black olives, optional
1 small can jalapeno, optional
1 small can sliced mushrooms, optional
1/2 cup pepperoncinis, drained, optional
4 oz cream cheese, cubed
shredded mozzarella, for garnish
extra pepperoni, for garnish
Instructions
Add olive oil to the inner pot of the Instant Pot and select saute mode.
When the oil is heated, add onion, garlic, and Italian sausage to the pot. Cook until sausage is no longer pink, and crumbled.
Drain the excess fat from the inner pot and cancel saute mode.
Add rest of the ingredients, minus cream cheese and garnishes, to the inner pot of the Instant Pot and stir well. Replace and lock lid and turn valve to sealed position.
Select the soup setting, normal pressure, and cook for 10 minutes. It will take the pot 10-15 minutes to reach pressure before cooking time starts.
When finished cooking, let the Instant Pot natural release for 10 minutes, then release the rest of the pressure by flipping the sealing valve to the venting position.
Leave the pot on keep warm mode and remove lid. Stir in cubed cream cheese and mix until melted and incorporated into the soup. Turn off Instant Pot.
Serve warm, garnish with mozzarella cheese and extra pepperonis if desired.
Notes
Making in the Slow Cooker?
Follow the same instructions for browning the sausage, but do so on the stove top. Drain excess fat.
Add all ingredients minus the cream cheese and garnishes to the pot of the Slow Cooker.
Place lid on top and cook for 6-8 hours on low or 3-4 hours on high.
30 minutes before serving, add cubed cream cheese to pot and allow to melt. Stir to incorporate.
Serve warm with cheese and extra pepperoni for garnish.
Nutrition Information
Yield

6
Serving Size

1 grams
Amount Per Serving
Calories

591
Total Fat

53g
Saturated Fat

17g
Unsaturated Fat

0g
Cholesterol

101mg
Sodium

2650mg
Carbohydrates

9g
Fiber

3g
Sugar

3g
Protein

20g